In today's fast-paced world, safety on the road is more important than ever before. One of the most innovative technologies designed to keep drivers safe is the Collision Mitigation Braking System (CMBS).
This cutting-edge system uses advanced sensors and intelligent software to help drivers avoid collisions or reduce the severity of an impact. The system can prevent front-end collisions by alerting the driver, and even applying the brakes if necessary.
Think of CMBS as an extra set of eyes that never rest. The system is designed to quickly recognize and alert the driver to a decrease in the following distance, using two distinct warning methods, and applying the brakes when necessary.
This feature can assist even the most vigilant drivers in avoiding a front-end collision, as well as help prevent collisions with pedestrians.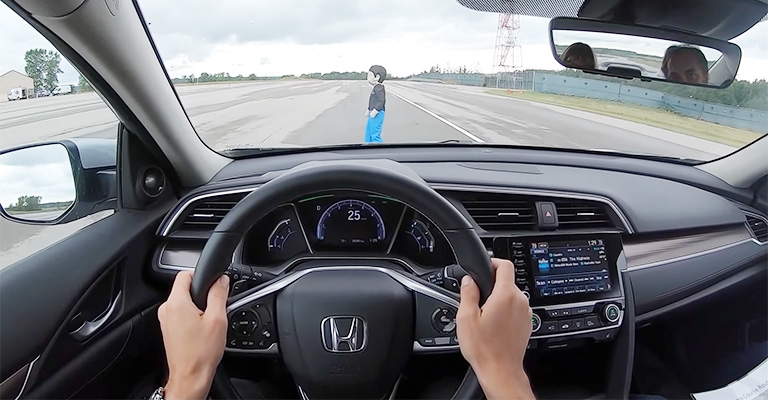 Understanding Collision Mitigation Braking System™ (CMBS™)
The CMBS™, or Collision Mitigation Braking System™, is a helpful feature that can assist you in situations where your vehicle may be on a collision course with either a vehicle or pedestrian in front of you.
This system can provide both visual and audible alerts to notify you of a potential collision and can reduce your vehicle's speed to help minimize the severity of the impact if a collision is deemed unavoidable.
In the event that a potential collision with an oncoming vehicle is detected, the driver information interface will display a BRAKE message, the warning lights on the head-up display will flash, and a beep will sound, all to alert you of the potential danger.
The CMBS™ system is designed to activate in certain situations, such as when the speed difference between your vehicle and the one in front of you, whether it be another vehicle or a pedestrian, is about 3 mph (5 km/h) or greater and there is a possibility of a collision.
It will also activate when your vehicle's speed is 62 mph (100 km/h) or lower and there is a chance of a collision with an oncoming vehicle or pedestrian detected in front of you.
What Is The Safety Benefit?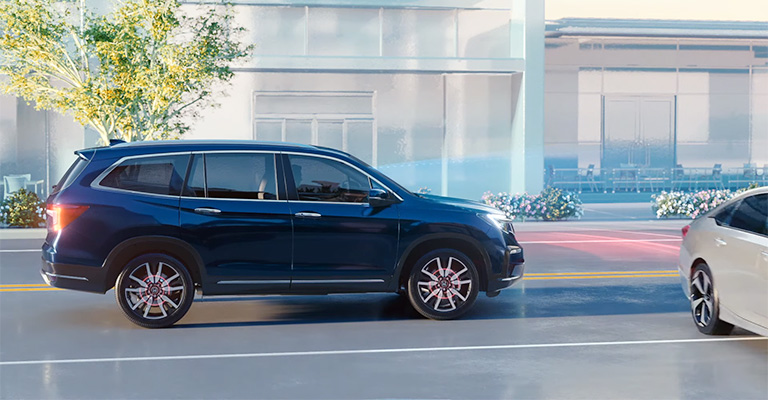 CMBS is a system that has been designed to help prevent rear-end collisions with stationary or moving vehicles. Studies have shown that driver distraction or lack of attention is a significant factor in the vast majority of rear-end collisions.
CMBS aims to warn drivers of an imminent collision from behind, both at low speeds typical of urban driving and at higher speeds typically found on rural roads and highways.
The most common types of injuries resulting from such collisions are to the cervical spine, thoracic soft tissue, and knees.
Honda estimates that if all cars were equipped with CMBS, approximately 19,000 accidents could be avoided and 153,000 could be mitigated annually by analyzing accident data in Germany and extrapolating it to the wider European community.
How Does CMBS Work?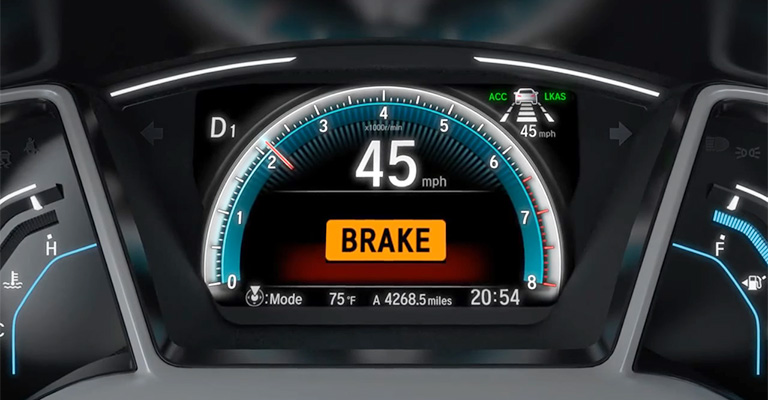 The CMBS system relies on a front-mounted camera and millimeter-wave radar to keep track of the traffic ahead.
If the system detects that the vehicle in front has come to a sudden halt or if there is a pedestrian in its path, it will alert the driver in three stages. However, depending on the circumstances, CMBS may not use all three stages.
Alert Stages
There are three stages of alert that the system uses to detect potential collisions. In certain situations, or if the CMBS settings are adjusted, the last stage may be activated before all three stages have been used.
Stage 1: Visual And Audible Warning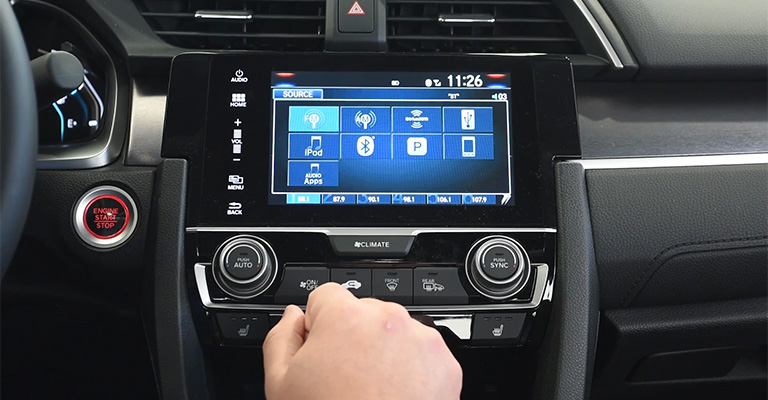 CMBS issues a visual and audible warning when the risk of collision is detected, prompting the driver to take corrective action (part of FCW).
Stage 2: Visual And Audible Warning, Light Brake Application 
CMBS applies gentle brake pressure if the driver fails to take action and the distance from the object shortens despite the audible warnings and visual warnings.
Stage 3: Visual And Audible Warning, Strong Brake Application
A collision is imminent if the driver does not take action and CMBS continues audibly and visually alerting the driver and applying the brakes fully. To prepare for a possible collision, the e-pretensioners are also engaged.
Can You Turn Off Collision Mitigation Braking System?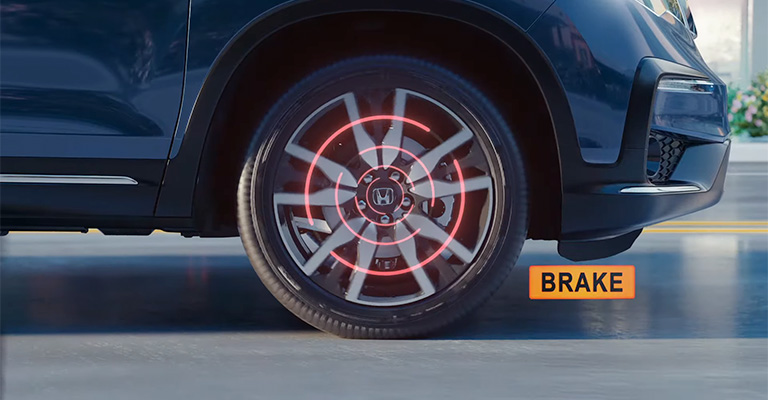 You can turn CMBS on or off by pressing the safety support switch and then using the left selector wheel to choose the CMBS symbol. 
Once you have made your selection, a message will appear in the driver information interface. If CMBS is not active, the CMBS indicator will be visible.
You can also reset your CMBS too, here we talked on it, How to resert Honda CMBS
Operating Conditions and Limitations
Some conditions may prevent CMBS from activating or detecting a vehicle. You can find a complete list of conditions in the owner's manual of your vehicle.
CMBS cameras are susceptible to malfunctioning when they receive scratches, nicks, and other damage to the windshield within their field of view.
The CMBS camera's field of vision should not be obstructed by any firm or objects applied to the windshield.
Keeping the vehicle in a safe state and avoiding collisions are the driver's responsibilities at all times.
Weather, speed, and other factors will affect the accuracy of the system.
Which Honda Models Feature Honda Sensing® with CMBS™?
Honda Sensing® and Collision Mitigation Braking SystemTM are available on the following new Honda vehicles:
| Vehicle Model | Body Type | Standard Trim Levels |
| --- | --- | --- |
| Honda Accord | Sedan | Standard on all trims |
| Honda Civic Coupe | Coupe | Standard on all trims |
| Honda Civic Hatchback | Hatchback | Standard on all trims |
| Honda Civic Sedan | Sedan | Standard on all trims |
| Honda Clarity Plug-In Hybrid | Sedan | Standard on all trims |
| Honda Fit | Subcompact | Standard on EX trim and above |
| Honda Insight Hybrid | Sedan | Standard on all trims |
| Honda CR-V | SUV | Standard on all trims |
| Honda HR-V | SUV | Standard on EX trim and above |
| Honda Passport | SUV | Standard on all trims |
| Honda Odyssey | Van | Standard on all trims |
| Honda Pilot | SUV | Standard on all trims |
| Honda Ridgeline | Pickup Truck | Standard on all trims |
How Do You Change The Honda CMBS Distance Setting?
You may want to adjust the distance setting if you want Honda's CMBS to intervene in frontal collisions with other vehicles, pedestrians, cyclists, and other objects.
Changing your Collision Mitigation Braking System's distance setting is as simple as following these steps:
Make sure the vehicle is in PARK
Select Settings from the home screen
Choose vehicle
Select the Driver Assist System Setup option
You can choose the warning distance for forward collisions
You can select Long, Normal, or Short
To exit the menu, press Back
Final Words
Even though not every automotive collision can be avoided, wouldn't it be nice to decrease your chances to the greatest extent possible? This intuitive driver's assistance feature utilizes audio and visual alerts, as well as brake assistance to prevent frontal collisions.