You can update your look with vinyl wraps, regardless of whether your chrome accents came from your vehicle's factory or were added aftermarket. From grills to window trims, most cars, sport or basic, come with a lot of chrome trimming.
These accents can be vinyl wrapped according to your preferences. Gloss Black, Matte Black, or Carbon Fiber are usually the colors I recommend for chrome deletes. Warranties and lease agreements will remain valid with this vinyl wrap chrome deleting option.
Painting voids warranties and does not qualify as a lease option. The vinyl wrap can be removed completely. Read on if you are wondering what vinyl is best for chrome deletion.
The best vinyl wraps to choose from is 3M vinyl, providing better water, salt, fuel, acids, and alkalis resistance. In addition, you can expect your chrome delete wrap to last five to seven years.
Depending on the kind of wrap you purchase, your wrap will be more durable or less durable. You don't need any special tools if you do the installation yourself. The majority of DIY kits include everything you need.
What Is Vinyl Wrapping?
Vinyl wrapping has many benefits for cars that painted cars do not have. In addition to being cheaper than painting, vinyl wraps protect from all kinds of elements and degradation and are completely reversible.
You can make your car stand out from the crowd with vinyl car wraps in various colors and textures. In addition, you can peel off the design or color anytime you want to try something new.
You can transform your car's appearance without spending a lot of money or changing it permanently with vinyl car wrapping.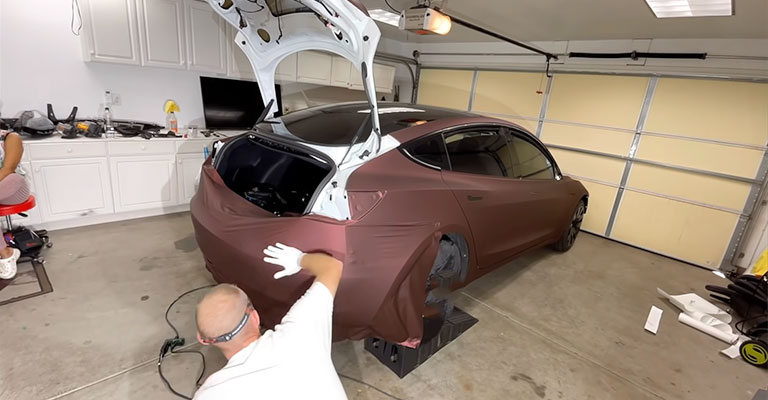 Why Choose Vinyl For Chrome Delete?
From dust to humidity to snow, cars are exposed to various elements. Therefore, vinyl wraps must be durable. A balance must be struck between the thickness of the vinyl and durability and between the strength and bulk of the adhesive.
The original chrome accents will not be destroyed by vinyl wrapping; they will simply be covered up. In addition to protecting original parts, this also enhances their appearance.
Don't overlook this little detail when investing in a truly customized appearance for your car. It has the potential to make a big difference between being noticed and blending in seamlessly with the rest of the car. You can mask older features with chrome deletion with vinyl tape by hiding the shiny metal trim.
Even though these accents look great in the showroom, they lack the type of distinctiveness that enthusiasts truly desire. In addition to these reasons, people frequently choose chrome delete for the following reasons: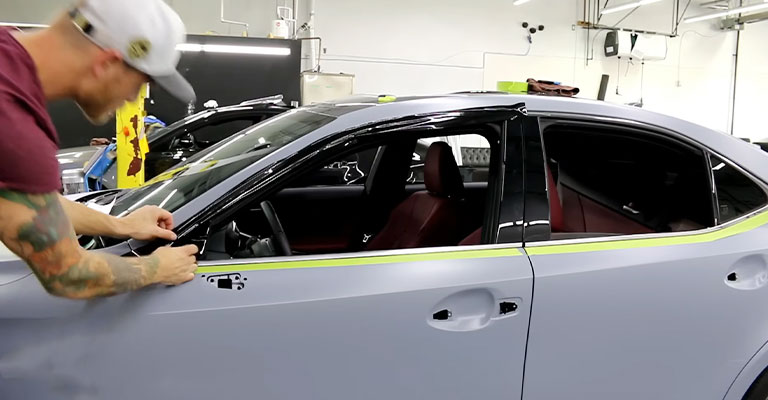 Creating custom appearances:
You can customize your vehicle's appearance with a chrome delete and get the perfect look.
Reduction of heat:
Using chrome delete, it is possible to keep door handles and other parts of the exterior cooler during the hot summer months.
Providing protection:
Additionally, chrome delete can be used rather than deleting factory chrome to protect it. It prevents fingerprints from being left on the chrome and potentially damaging it.
Advantages Of 3M Trim Wrap
GLOSS BLACK 3M TrimWrap is a premium cast vinyl that produces a smooth paint-like finish when applied to the exterior of a vehicle. 100% waterproof and guaranteed not to fade, crack, or peel.
TrimWrap vinyl can stretch to conform perfectly to irregular surfaces and complex curves because it's high-performance. In addition, vinyl's low caliper makes it highly durable and scratch-resistant due to its ability to stand up to abrasive forces.
When installed properly, this coating lasts three years on the exterior of vehicles.
It will not deteriorate, crack or lift over this period.
The existing substrate can be easily removed at any time without causing damage.
It is possible to reposition acrylic pressure-sensitive adhesive during application.
Oil, mild acids, grease, water, and dirt cannot penetrate this durable surface.
UV rays do not cause fading and discoloration.
Wrapped with top-quality 3M automotive graphics vinyl.
Achieves OEM factory-style trim at a fraction of the cost.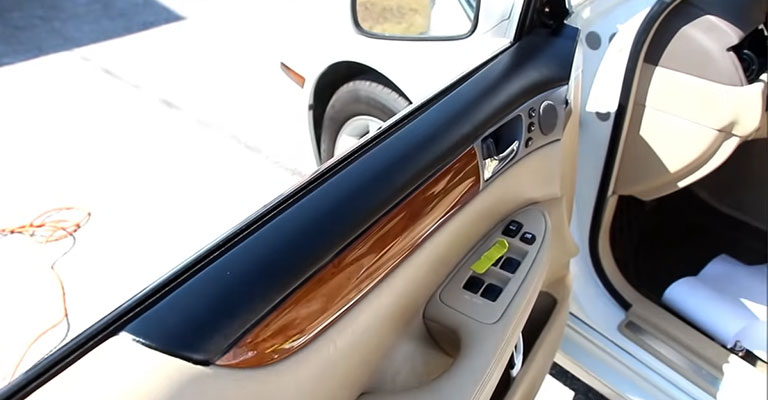 Types of Car Vinyl Wraps
You can customize the look of your ride with car vinyl wraps ranging from shiny and bright to matte and mature. However, there are some types you should be aware of.
Colored Vinyl
Wraps made from colored vinyl can be found in any color you can imagine. They come in various colors, from chrome to classic car colors like red and black, and all are designed to enhance the aesthetics of your car.
A grimdark is usually printed on the back of the product, which makes it easy to measure precisely. Despite its stretchiness and ease of application, colored vinyl typically lasts five years if cared for properly.
In addition to using it inside and outside a car, this type also has other advantages. No matter what you use it for, whether it's for your dashboard or your gearshift, it comes either flat or textured.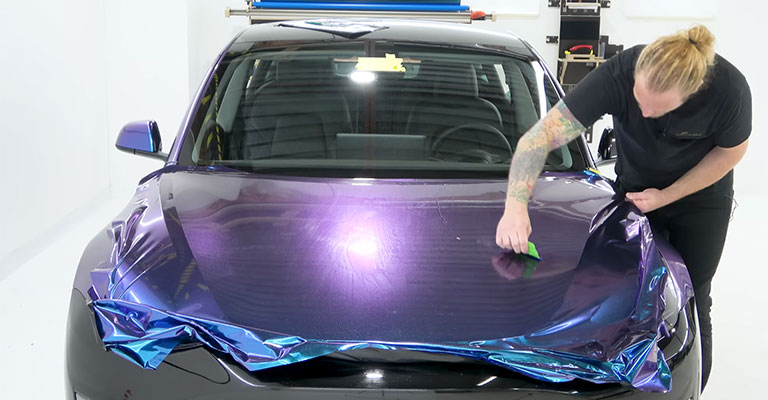 Protective Vinyl
Not all vinyl wraps are intended as aesthetic statements; the functionally focused category, though less common, is nonetheless noteworthy.
Some drivers prefer clear vinyl (made in the same way as other types of vinyl, just without pigments). Its main purpose is to protect the paint from damage.
Dust and debris in the air can be avoided, and your vehicle's paint can be protected from fading in the sun.
A matte appearance or varying degrees of gloss are available within this category. This way, a matte paint job can be transformed into a glossy one for a fraction of the cost.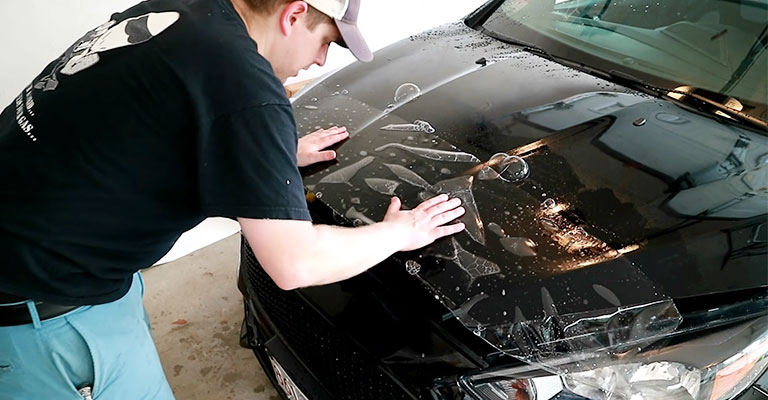 Cast Vinyl
The vinyl that is used to wrap a whole car, despite being more expensive to manufacture, is generally preferred. In addition to being durable, it adds value because of the plasticizing agent used in construction.
It is made from a chemical slurry called organosol, which is poured onto a casting sheet (hence the name). In the end, a sheet is left behind after it has been put on a conveyor belt and slowly dried. To apply adhesive later, this is rolled up.
This adhesive is usually included in vinyl car wraps, but not all of them. Use high-viscosity glue to avoid air bubbles and imperfections in the two-millimeter-thick vinyl.
Calendared Vinyl
A car wrap uses this type of vinyl material, which is cost-effective to manufacture. Polyvinyl chloride polymer, also known as PVC, is the main ingredient. Then, an agent that adds flexibility is added, while one that gives it color is added.
Because a solvent is not used in paint casting, it typically has a thick consistency. It is constructed by applying heat and then rolling it through rollers to form a paste. There is a difference in thickness between three and six millimeters at the end.
A flat part of the car is the best place to apply this and is an excellent way to add accents. The average lifespan of an automobile is between one and seven years, though it is likely to be shorter if you drive a lot.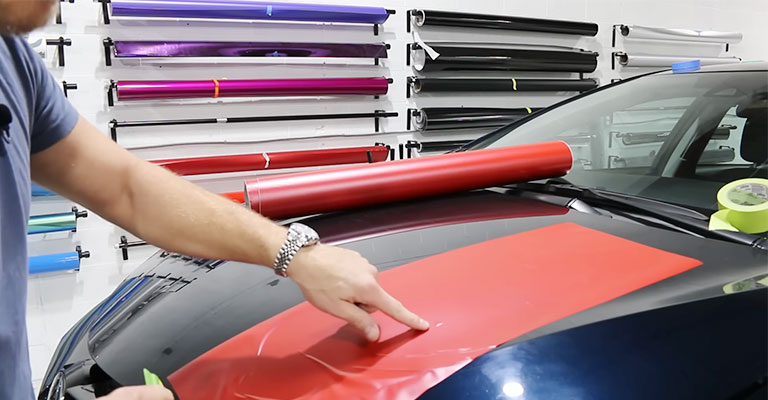 What Is The Reason For The Sudden Popularity Of Chrome Delete?
Since the Tesla Model 3, chrome delete wraps have become more popular. But, of course, they have been around for a while. The Model 3, in particular, which is popular among Tesla fans, uses an excessive amount of chrome on its exterior.
In addition to those who prefer a more understated finish, some prefer a sleek appearance with all-matt trim. As a result, chrome delete wraps have become increasingly popular lately to offset the Model 3's chrome.
Chrome-delete wraps for other vehicles have also gained attention due to the new Tesla vehicle's increased exposure. Some DIY chrome delete kits, especially geared toward Tesla vehicles, are available on the market.
However, to get the wrap installed properly, it's recommended that you work with a professional unless you are confident you can do it yourself.
The Bottom Line
Wrapping your car in vinyl can revitalize it and make it look like a new vehicle. Best of all, it only takes a short amount of time and produces professional-looking results. In addition, the versatility of vinyl makes it an impressive material.
In material science, it is classified as an organic polymer that becomes increasingly durable and flexible as time goes on. So, no matter what type of wrap you're looking for, whether you're looking to cover scratch damage or completely transform the look of your ride, there's something for you.
You can easily remove your chrome delete wrap if unsatisfied with it. However, to prevent damage to the chrome finish, be careful when using your heat gun and a plastic scraper.
In the latter case, restoring the original chrome finish can be extremely difficult and costly, which is one of the reasons why chrome delete wraps are preferred to painting or re-plating.