No matter how efficiently you ride your ATV off-road, you can't deny that you are riding on a plastic body and it will fade no time sooner.
Can you prevent this? Surely, regular maintenance and service will prolong the durability of your ATV plastic, but it is not entirely possible to prevent fading or oxidation.
Over time, the plastic body of your ATV will experience decay and turn out pale.

But, you have us here. We are going to write down the best way to restore ATV plastic.
Stay hooked with us and learn what is the best way to restore faded/oxidized plastics.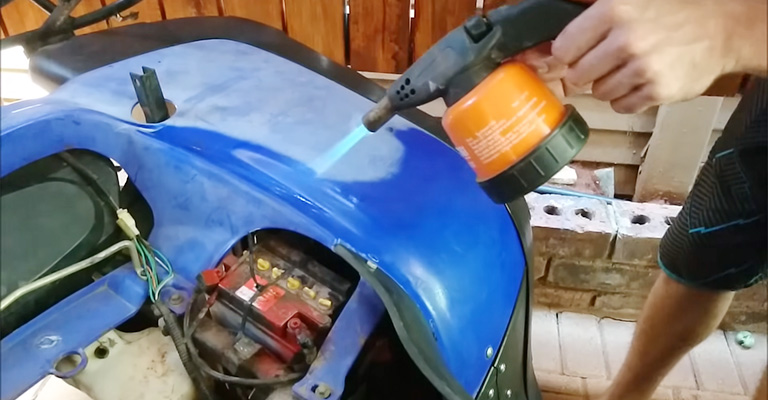 Why ATV Plastics Fade/ Oxidize?
A set of external factors can be the culprit behind fading or oxidization. A few of the reasons are mentioned below.
Be aware of them and you can delay the rate of corrosion or fading away.
1) One of the main factors behind faded or oxidized plastic is exposure to ultraviolet (UV) radiation. UV rays break down the molecular structure of your ATV's plastic surface.

2) Most polymers are vulnerable to oxidation, and that includes ATV plastics too. It results in a poor and dull look due to chemical reactions between oxygen and the molecular structure of the plastic.
3) Temperature can often fluctuate, generally in regions with hot summers and cold winters. It can result in the expansion and contraction of plastic and lead to microcracks on the surface of the plastic.

4) You ride the ATV off-road on bumpy terrains. Airborne pollutants, dirt, dust, and debris can settle on the surface of ATV plastic and create an extra layer on that.
5) Also, certain chemicals, such as those found in cleaning products or motor oils, can react with the ATV plastic surface and contribute to oxidation.

6) You might use harsh chemicals or materials on your ATV during the cleaning process without your awareness. It can strip away protective coatings or even cause micro-scratches on the ATV's surface.
Here are a few reasons you should be careful. Additionally, plastic ages naturally. Over time, plastic materials become less vibrant and lose their original shine.
You also have to regularly maintain and service your vehicle to increase its durability.
What we have here is mostly natural. When using an ATV there is no other way to regularly restore the plastic every once in a while.

Earlier, we have an article on how to polish ATV plastic. But the best way is yet to be described. Continue reading and find out!
What Is The Best Way To Restore Faded/ Oxidized Plastics?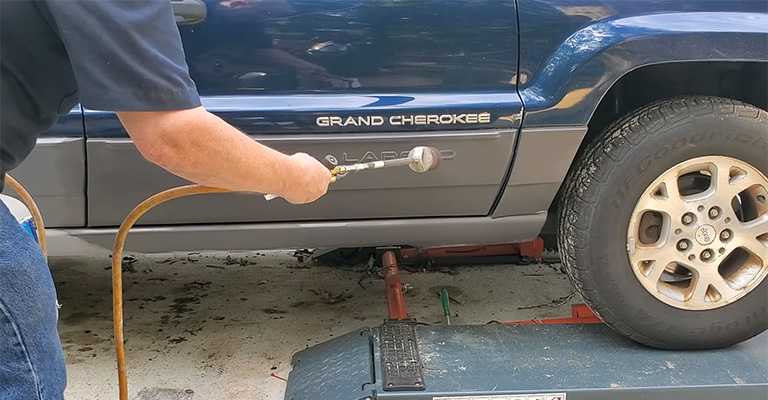 Earlier, we had four possible methods to restore the ATV plastic. They are, in short,
1) Linseed Oil + Paint
2) Waxing with vinyl floor liquid
3) Heat gun
4) Restoring Products
The combination of Linseed Oil and Paint is a gentle solution, and it can be quite beneficial for the occasional ATV rider. Plus, it is budget-friendly!
But for regular riders, you need something long-lasting and robust that sustains more than 4-6 weeks.
You can use a heat gun but, it has some potential risk of burning the ATV plastic (if not careful).
Additionally, you will find plenty of restoring agents in the market. But they are just a mix-up of the elements listed above but only costlier.
That leaves us with only one option – waxing with vinyl floor liquid. Yes! Waxing is more durable and within budget for most of our rider friends. It can last for months once you have done it, plus comparatively within budget.
Here's Why Waxing Is Our Top Selection Among Other Polishing Techniques,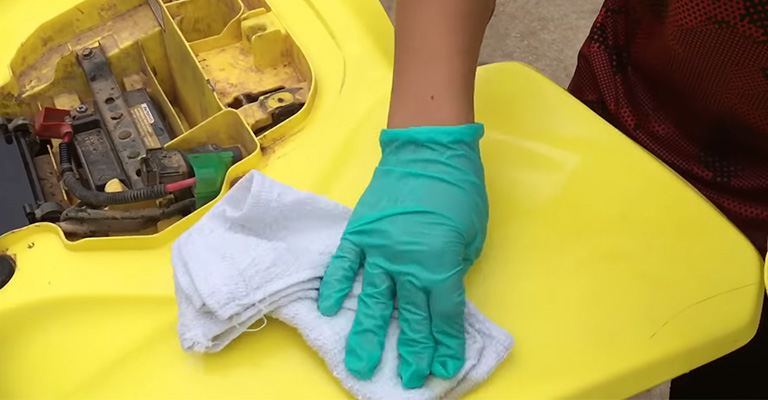 1) It's Simple to Apply
Waxing is generally a simple process and anyone over 25 can do it. It is a user-friendly process and easily performed by ATV owners without much technical experience.
2) Creates A Shield
You have a protective barrier on the plastic surface after waxing. It protects the plastic from UV rays, harsh conditions, and moisture. Thus, degenerating the process of oxidation.
3) Durable Results
You can preserve the look for several months before reapplication is necessary. Quality wax creates a protective layer to drive long-lasting results.
4) Do it Fast
You can wax relatively quicker than with more intensive polishing. Plus, except for the sanding phase, you will only need a little time to apply the wax.
5) Gentle Abrasion
Good news for you! Most polishing techniques involve more abrasive compounds, while waxing typically involves gentle abrasion. Even though ATV plastics are sturdy and efficient, regular abrasive elements can quickly fade the ATV surface.
6) Protection from The Sun
An added layer of protection offers better UV protection for the ATV. You can use special UV-resistant waxes such as – Optimum Car Wax, to counteract the damaging effects of UV rays.
Sunburn is no joke! Even for your ATV.
These are a few reasons why you should go with wax than other methods like using oil or a heat gun! However, it mostly depends on what you prefer as a user.
Either you use linseed oil or any restoring agents, that's completely alright and legit.
Last Words
Every once in a while you have to polish to restore faded/ oxidized ATV plastic.
Oxidization or fading can't be prevented but you can surely slow it down with proper maintenance. We hope our articles were useful in providing the right tips you need to take care of your ATV.
Also, we share regular tips on your favorite Honda ATVs. Stay in touch with us to get more helpful information on Honda ATVs.
Leave a comment below and let us know which polishing technique is your favorite and why.