Do you know what was the first Honda Rancher model in the world of Honda? It was the Rancher 350 model.
The Honda Rancher 350 was a legendary name in the world of All Terrain Vehicles. It featured a longitudinally mounted motor with 329cc and derived power with all-exclusive performance.
But in 2006, the production of Rancher 350 all models came to a halt! So, if you are today, looking for a Honda Rancher 350 and wondering where all the models have gone, you can end your search and pause a bit to read our article.
By the end, you will know why Rancher 350 stopped production. And, if you are ever going to find one again.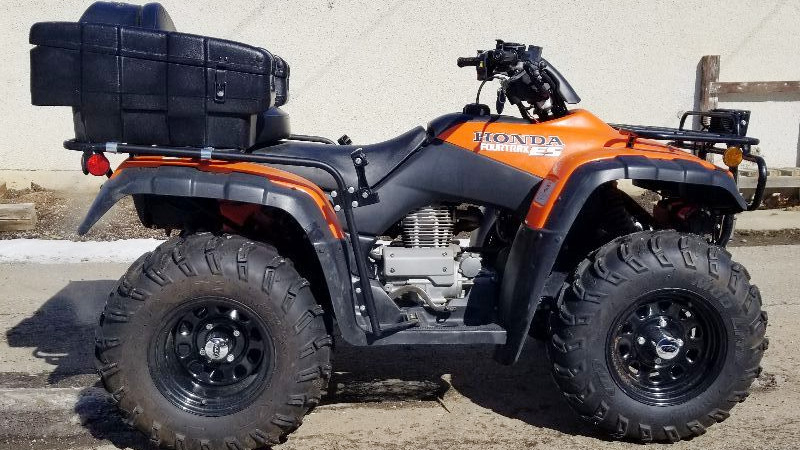 Honda Rancher 350 Features
Honda introduced the Rancher 350 model to offer a better deal between the smaller Recon and Larger Foreman. The young beast was available in three colors, olive, yellow, and red body colors.
It featured two variants – 2X4 (two-wheel drive) and 4X4 (four-wheel drive). It has been a privilege for the 350 riders to easily turn on/ off the four-wheel drive with a switch.
Plus, you can either manually shift the Rancher 350, or enjoy the electrical shifting. Honda also added the fully automatic transmission.
When it comes to technical specifications, we had
– A 329cc single-cylinder, air-cooled, four-stroke, overhead-valve engine.
– Without any load, the Honda Rancher 350 weighs 535 Pounds.
– It could hold a little more than 2 quarts of oil, while the successive Rancher Models – 450 & 500 have 3 & 3.3 quarts of oil capacity.
– You can either utilize both the traditional five-speed manual transmission or a seamless variable transmission.
– The Rancher 350 uses a single constant velocity carburetor to deliver oil to the engine.
Other specifications,
Like any other Honda vehicle, the Rancher 350 also had a specific vehicle identification number.
With one exclusive seat for the rider, you can instantly mount like a motorcycle. The genuine four-tire configuration would prepare your vehicle for a sturdy long ride.
Even though the latest Honda models have specific top-grade brakes, the first Rancher didn't fall short of the quality too!
It had a hydraulic drum braking for the tires in front and a sealed drum braking for the rear tires.

Additionally, the cargo maintenance was also impressive for Rancher 350. You had two cargo – one front cargo and one back cargo, both can respectively support 66 pounds and 133 pounds.
So, what went wrong? Keep reading to find out.
When did they stop making Honda Rancher 350?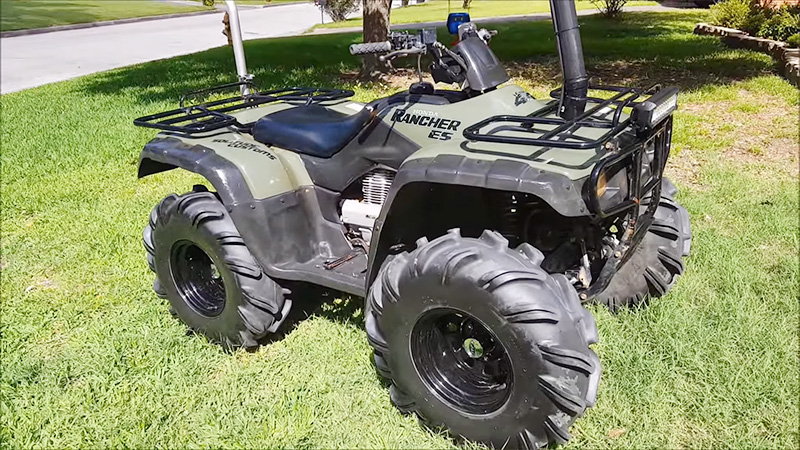 The Honda Rancher 350 enjoyed a successful production run, that lasted for several years.
Between 2000-2006, the entire ATV community was thrilled with its presence.
As the first model of the Rancher series, the 350 was not fuel injected. Rather it used the Carburetor to deliver fuel to the engine.
And, it has been proved that fuel-injected vehicles had smaller carbon footprints and offered efficient combustion.
Around 2006, Honda was in the midst of the process of introducing something more eco-friendly. Plus, technology evolved and emission regulations became more strict.
Honda eventually decided to retire the Rancher 350 to make way for newer models to follow modern standards.
It was around 2006 when Honda stopped the production of their Rancher 350 and phased out the Rancher 350 in favor of its successor, the Honda Rancher 420 – a powerful 420 cc fuel-injected mounted engine.
Any Chance to Have Honda Rancher 350 Back in the Market?
The Rancher 350 Series stopped production due to possible environmental hazards. Carburetors were more prone to pollution and had less fuel efficiency.
Additionally, carburetor vehicles were more sensitive to variables in altitude. Also, not as effective as fuel-injected systems under heavy loads.
After careful consideration, Rancher 420 deserved the limelight and started where the 350 Ranchers left behind.

So, No! The older 350 models won't be re-introduced in the market any time soon.
What Are You Thinking?
The departure of the Rancher 350 is a part of the ever-evolving science and technology.
As time passes, vehicle manufacturers are more interested in creating completely eco-friendly, zero-emission vehicles that leave almost no carbon footprint.
Electrical vehicles have opened up a new door for us, but they are not entirely within our reach.
Newer and more improved versions of any machinery will come and take over the previous ones for betterment and safety! Let's accept the change and use machinery to offer a safe environment for all.
Do you like our article? Feel free to share it with your friends. Also, stay in touch with us for more on the Honda Rancher series.