A car battery dies if not used because it needs to be charged. It is like a cell phone or laptop. The battery life of these devices depends on how often they are charged.
If the car isn't driven enough, the battery will eventually die. Likewise, if your car sits for too long without being started, the alternator may not have enough power to keep the battery charged, eventually leading to a dead battery.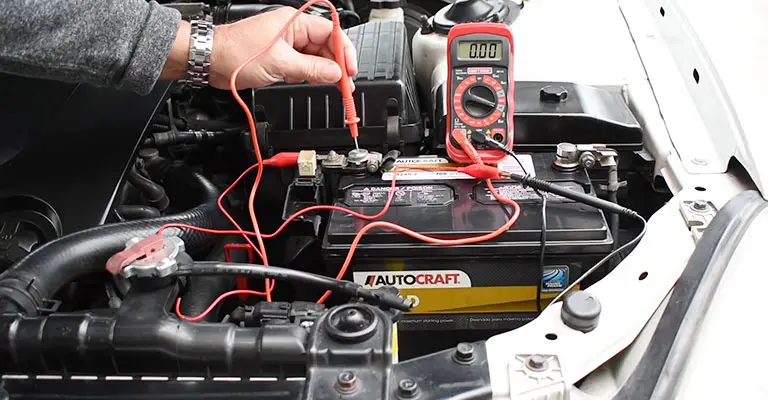 What Causes Car Batteries To Die When They Are Not Being Used?
The battery in your car can die within two weeks of being unused. What causes this to happen? Despite the technological advancements in our cars, there is a cost associated with these advancements.
In today's vehicles, various gadgets and computer technology constantly monitor the car's systems around the clock, which is due to the various gadgets and computer technology manufacturers include.
What is the source of power for this? It's the battery in your car. A dead battery results when the car's battery isn't regularly recharged, which occurs when it isn't regularly used.
Can A Car Battery Be Left Unused For A Long Time?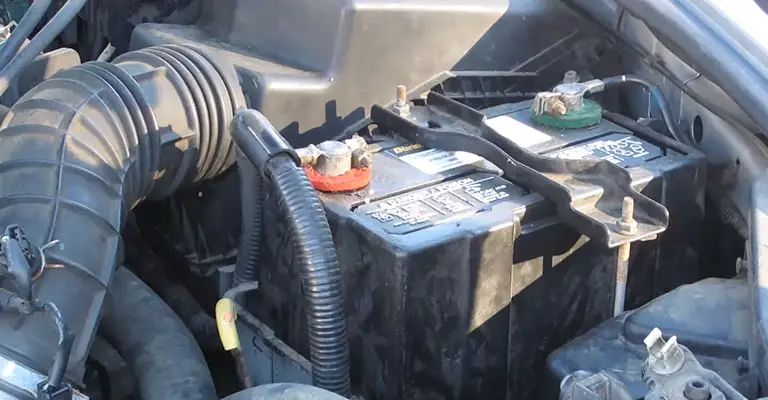 Any vehicle can develop problems if it is not used regularly. So, what is the maximum time a car can sit before the battery dies?
Your car battery will continue to drain even while collecting leaves on your hood, as it is constantly being used in some way.
This is mainly because it still generates power for your car's alarm system, climate control system, and computer system.
You should also be aware that heat can cause your battery to lose its charge more quickly if you live in a hot climate.
Car batteries typically last four weeks, but their lifespan varies based on the vehicle and age.
How Long Does A Car Battery Last Without Driving?
In hotter weather, car batteries discharge faster, but with more high-end electronics to power, their discharge will also be accelerated.
In addition, keeping a battery charged is difficult when the alternator is not working because the car is not used.
For your car's electrical system, the alternator acts as a generator. In addition to supplying energy to other electrical components, such as headlights, interior lights, and the stereo, it helps the battery maintain its charge.
Battery Disconnected From Car
If your battery is connected to your vehicle, it will drain faster than if it is disconnected. However, a detached car battery can last up to six months when stored properly.
Recharging it regularly is the key to making it last. So, it is a good idea to charge the battery every 12 weeks.
New Car Battery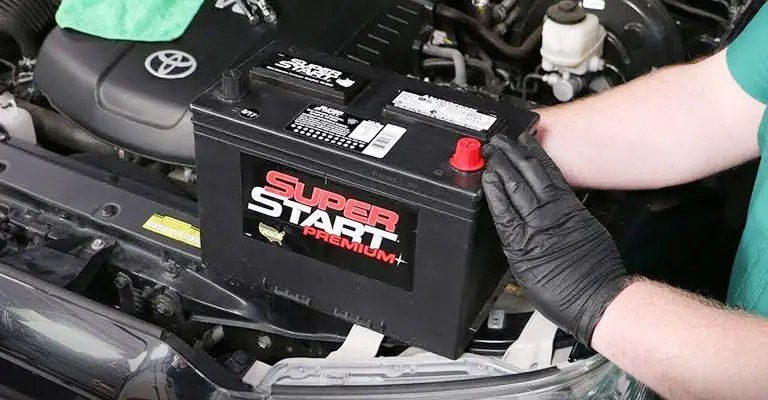 New models of cars have an average battery life of three to four years. However, you should keep in mind that this applies only to regularly driven cars.
If you don't recharge unused new batteries frequently, their life span will be shortened.
How Do Car Batteries Go Bad?
The most common reasons a car battery fails are infrequent use, an unknown parasitic draw, and age. Eventually, the battery may die due to a combination of two or all three of these factors.
Older batteries may suffer from extreme temperatures in extreme climates, so if you live in such a climate, your battery may degrade faster.
What Is The Best Way To Prevent Car Battery From Dying?
Starting your car once a week and letting it run for five to ten minutes is all you need to do to keep your battery from dying. It will last for another week or two if you drive it around the block, which should recharge the battery.
It may be best to disconnect your car's battery completely from the vehicle if you won't be using it for a while or won't be able to recharge it regularly.
A detached car battery can last up to six months when stored properly in a secure place out of the car.
The battery will also need to be charged, but not as often as if it were attached. A good rule of thumb is to charge the battery once every 12 weeks.
How To Store Car Battery For the Long Term?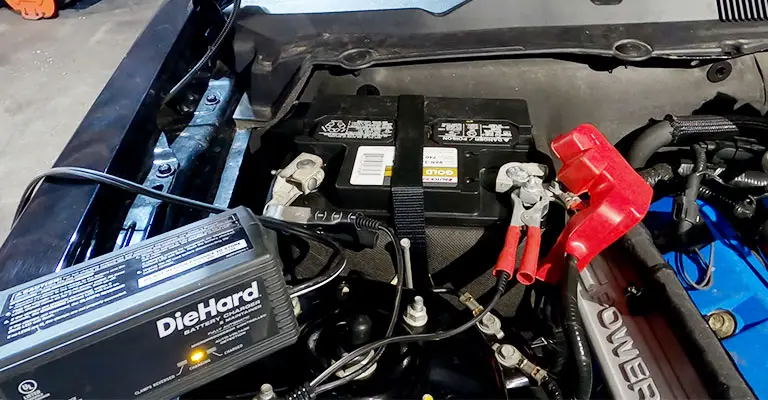 It may be a good idea to remove your car battery and store it away if it is left unused for more than a month.
You will be able to prolong the life of your battery by doing this. It will also reduce wear on the battery and increase its capacity.
Now that you know more about storing your battery, your garage shelf isn't your only option. Battery storage can be accomplished by following these steps.
1. Maintain A Regular Battery Charge
You should monitor your battery while it's in storage to ensure it lasts as long as possible. Your battery should be checked at least every 12 weeks (though it is best to check it more frequently).
You can gauge how much power your battery still has by testing the voltage with a voltmeter. It should be recharged when it reaches 70% or less.
2. Locate The Right Storage Facility
You can limit the amount of power that is depleted while your battery is stored, even though you can expect some discharge while it is in storage.
Temperature is the main factor affecting your battery's discharge rate, aside from how long it has been stored.
Therefore, battery storage should be in an area that is dry, well-ventilated and retains a temperature between 40°F and 60°F.
It is important to avoid places that may become too hot or cold, as they may cause the battery to discharge faster. It would help if you also avoided places with excessive humidity; this can cause the battery to corrode.
3. Make Sure The Battery Is Clean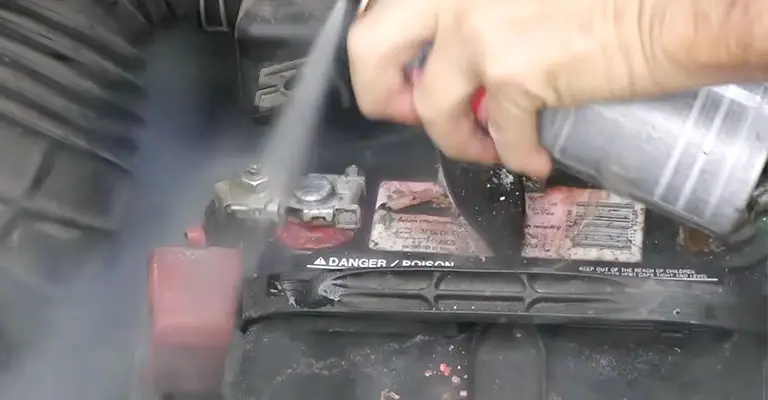 A battery should be cleaned before it is put away to prevent corrosion and electrolyte buildup. Battery terminals can be clogged with grime like this, causing them to discharge more quickly.
Cleaning batteries at home is as simple as scrubbing them with a wire brush and baking soda mixture. After removing the deposits, wipe down the battery's casing as directed by the manufacturer.
4. Check For Possible Damage
Batteries can crack or corrode over time, so inspect your battery for any signs of damage. Depending on the severity of the damage, you may need to replace it.
What To Do If Your Battery Is Dead?
Keep your battery fully charged at all times. Doing so will prevent most damage and deterioration that can occur while in storage.
The most effective way to jump-start a dead battery in your car is to sit it for a long period. If your battery and vehicle are relatively in good condition, this will usually get your vehicle going again.
In the unlikely event that that doesn't work, you'll probably need to replace your battery. Make sure there are no signs of a faulty alternator as well. Find out what your options are by contacting your preferred mechanic.
Can You Leave a Car Battery Charger Overnight?
It is safe to leave on an overnight charger for a car battery that regulates the output voltage. However, the charger should be turned off if it is old and has no regulation of its output.
It is always advisable to check the manufacturer's instructions before leaving your charger on overnight since most car battery chargers today have safety features to prevent overcharging.
The safety features of classic cars detect the battery condition and apply charge accordingly, so many owners leave their trickle chargers on for weeks at a time. The charger stops charging when the battery is full.
The Bottom Line
Your vehicle's battery is one of its most important components. The battery provides the power needed for your vehicle to perform all its functions, from starting it to running all its accessories.
The vehicle's alternator charges your battery while driving under normal conditions. An unused car battery can be damaged if it sits for a long period. In addition, it can be deadly for your battery if it is over three years old.