Are you in search of a mid-size car that combines impressive performance with exceptional reliability?
Look no further than the 2010 Honda Accord. Renowned for its enduring popularity, this vehicle strikes the perfect balance between exhilarating performance and steadfast dependability.
Whether you're commuting through city streets or embarking on a long journey, the 2010 Accord delivers a driving experience that is both engaging and reliable.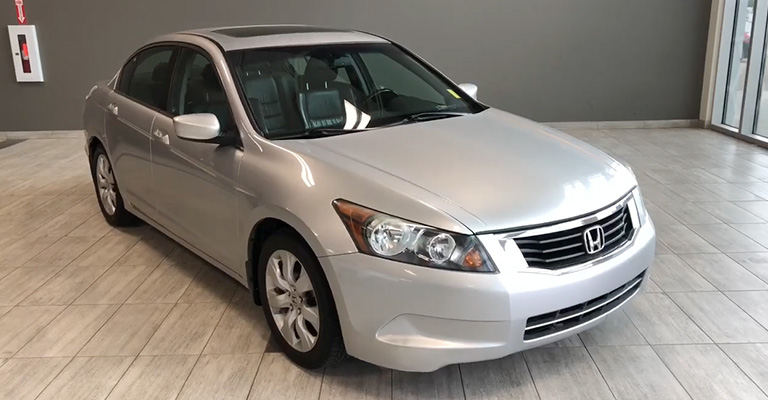 Key Specifications of the 2010 Honda Accord
Car Type: Mid-size sedan
Overall Rating: 4.3/5
Manufacturer: Honda
Curb Weight: 3,175 to 3,583 lbs
Dimensions: 191-194″ L x 73″ W x 56-58″ H
Engine Options:

2.4 L 4-cylinder engine
3.5 L V6 engine

Horsepower: 177 to 271 hp
Acceleration (0-60 mph): 6.1 to 8.5 seconds
Wheel Size: 16-18″ diameter, 6.5-8″ width
The Good (Highlights)
Solid reliability and durability.
Comfortable and spacious interior.
Strong engine options with good performance.
Smooth and refined ride quality.
Good fuel efficiency, especially with the 4-cylinder engine.
Safety features and crash test ratings are commendable.
Well-balanced handling and precise steering.
The resale value remains high.
Advanced technology features and amenities.
User-friendly controls and infotainment system.
The Bad
Limited rear visibility due to thick pillars and small rear window.
Some users may find the ride quality to be slightly firm.
The V6 engine's fuel efficiency may be lower than the 4-cylinder option.
Cabin noise could be noticeable at higher speeds.
Lack of some high-end luxury features available in competitor models.
Limited availability of advanced safety features compared to newer models.
Improvements Over Previous Honda Accord Models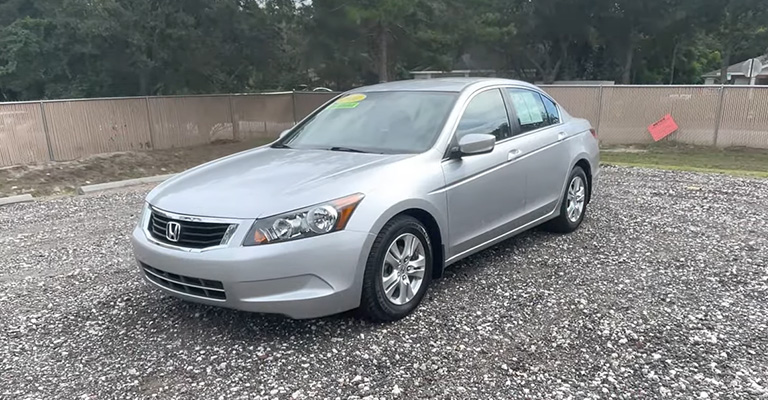 Compared to previous Honda Accord models of similar segments, the 2010 Honda Accord introduced several notable improvements:
Enhanced Styling
The 2010 Accord featured updated exterior styling, giving it a sleek and modern appearance compared to its predecessors.
Increased Performance
The Accord offered improved engine options with increased horsepower, resulting in better acceleration and overall performance. The V6 engine option, in particular, provided a significant power boost.
Upgraded Technology
The 2010 Accord incorporated advanced technology features, including an available navigation system, Bluetooth connectivity, and an upgraded audio system. These enhancements aimed to improve convenience, connectivity, and entertainment for the occupants.
Improved Fuel Efficiency
Honda made efforts to enhance fuel efficiency in the 2010 Accord. The introduction of a 4-cylinder engine with better fuel economy allowed for a more economical driving experience without compromising performance.
Enhanced Safety Features
While safety has always been a priority for Honda, the 2010 Accord featured additional safety enhancements. It offered improved crash test ratings, standard antilock brakes, stability control, and side curtain airbags, enhancing the overall safety of the vehicle.
Refined Interior
The interior of the 2010 Accord received updates in terms of materials, fit, and finish. The cabin was designed to be more comfortable and visually appealing, providing a pleasant driving experience for passengers.
These improvements aimed to make the 2010 Honda Accord more competitive in its segment and offer a better driving experience compared to its predecessors.
The Trim Levels of the 2010 Honda Accord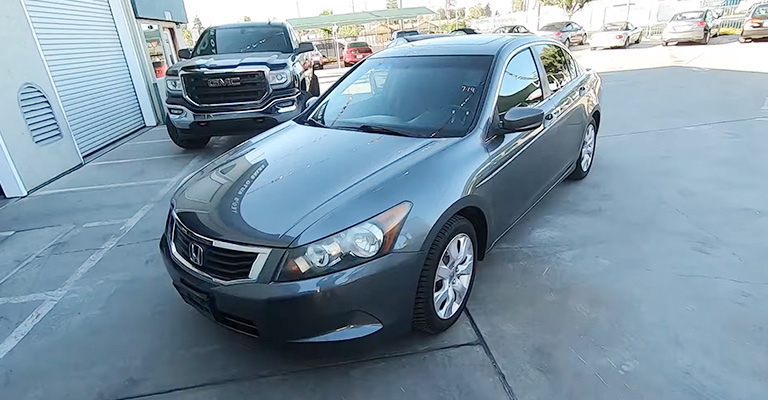 a. The 2010 Honda Accord was available in several trim levels, each offering its own set of features and options to cater to different customer preferences. Here are the trim levels of the 2010 Honda Accord along with some key specifications:
1. LX
The LX trim was the base level option for the 2010 Honda Accord. It came equipped with a 2.4 L 4-cylinder engine, producing 177 horsepower. Standard features included power windows and locks, air conditioning, cruise control, keyless entry, a tilt-and-telescoping steering wheel, and a four-speaker sound system with a CD player.
2. LX-P
The LX-P trim added some extra features to the base LX model. It included 16-inch alloy wheels, an upgraded six-speaker audio system, and an optional power driver seat.
3. EX:
The EX trim offered a blend of comfort and convenience features. It added a power moonroof, 17-inch alloy wheels, heated mirrors, dual-zone automatic climate control, an upgraded audio system with an in-dash six-CD changer, and additional interior accents.
4. EX-L
The EX-L trim further enhanced the luxury and comfort of the Accord. It included leather upholstery, a power-adjustable driver seat, heated front seats, and available options such as a navigation system and a premium audio system.
5. EX V6
The EX V6 trim level was equipped with a more powerful 3.5 L V6 engine, delivering 271 horsepower. It shared many features with the EX trim, including dual-zone automatic climate control, 17-inch alloy wheels, and an upgraded audio system.
6. EX-L V6
The top-of-the-line EX-L V6 trim combined the luxury features of the EX-L trim with the performance of the V6 engine. It added features such as a premium audio system, navigation system, driver-seat memory settings, and available adaptive cruise control.
Comparison Table of 2010 Honda Accord Trim Levels
Here's a comparison table highlighting some key features of the different trim levels of the 2010 Honda Accord
| Trim Level | Engine | Key Features |
| --- | --- | --- |
| LX | 2.4L 4-cylinder | Power windows and locks, air conditioning |
| LX-P | 2.4L 4-cylinder | 16-inch alloy wheels, upgraded audio system |
| EX | 2.4L 4-cylinder | Power moonroof, 17-inch alloy wheels |
| EX-L | 2.4L 4-cylinder | Leather upholstery, power-adjustable driver seat |
| EX V6 | 3.5L V6 | Dual-zone climate control, 17-inch alloy wheels |
| EX-L V6 | 3.5L V6 | Premium audio system, navigation system, |
| | | driver-seat memory settings, adaptive cruise control |
Performance of the 2010 Honda Accord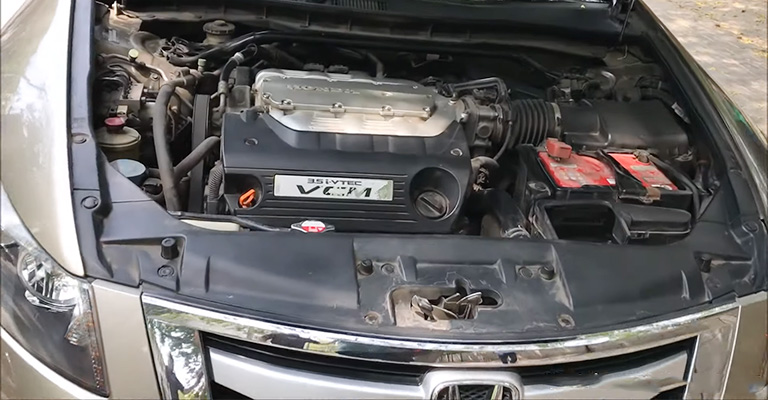 Engine Size, Power, and Type:
The 2010 Honda Accord offered two engine options:
2.4 L 4-cylinder engine: This engine was available in most trim levels of the Accord. It provided a balance between fuel efficiency and performance. The 2.4-liter engine was known for its smooth operation and reliability.
3.5 L V6 engine: The V6 engine was available in the EX V6 and EX-L V6 trims. It delivered more power and performance, making it suitable for those seeking a sportier driving experience.
Horsepower
The horsepower ratings for the 2010 Honda Accord varied depending on the engine choice and trim level:
2.4 L 4-cylinder engine: This engine produced 177 horsepower, providing adequate power for daily driving situations. It offered a good balance of fuel efficiency and performance.
3.5 L V6 engine: The V6 engine option boasted a higher horsepower rating. It delivered 271 horsepower, providing stronger acceleration and increased power for those who desired a more spirited driving experience.
Torque
Torque refers to the rotational force generated by the engine. It affects the vehicle's acceleration and towing capability. The 2010 Honda Accord's torque output would depend on the specific engine choice.
Transmission Options
The Accord offered both manual and automatic transmission options. The manual transmission provided more control and engagement for driving enthusiasts, while the automatic transmission offered smooth and effortless gear changes.
Fuel Efficiency
Alongside performance, fuel efficiency is an important consideration for many car buyers. The 2010 Honda Accord, particularly with the 4-cylinder engine, delivered good fuel economy, making it an economical choice for daily commuting and long-distance driving.
Suspension and Handling
The Accord's suspension system and handling characteristics influenced its overall performance. The 2010 Accord was praised for its well-balanced handling, offering a comfortable ride with responsive steering and good stability on the road.
Braking System
The braking system plays a crucial role in a car's performance and safety. The 2010 Accord featured a reliable braking system with standard antilock brakes (ABS), ensuring efficient and controlled stopping power.
It's important to note that performance can vary depending on factors such as driving conditions, maintenance, and individual driving habits. To fully experience the performance capabilities of the 2010 Honda Accord, it is recommended to test drive the vehicle and consult with a Honda dealer for specific performance-related information.
Off-Road Capabilities of the 2010 Honda Accord:
Off-road ability depends on several factors, including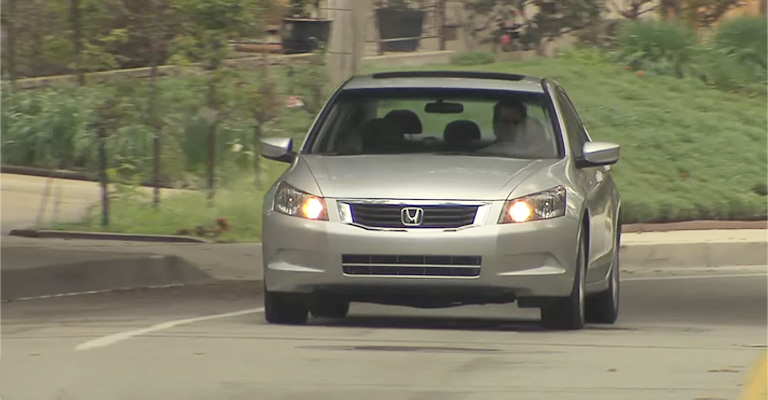 i. Four-Wheel Drive?
The 2010 Honda Accord is primarily a front-wheel drive vehicle. It does not come with a standard four-wheel drive (4WD) system. As a result, its off-road capabilities are limited compared to SUVs or trucks equipped with 4WD.
ii. Ground Clearance:
Ground clearance refers to the distance between the lowest point of the vehicle's undercarriage and the ground. The 2010 Honda Accord, being a mid-size sedan, has a moderate ground clearance, which is typically optimized for on-road performance rather than off-road adventures. It may not have sufficient ground clearance to handle rugged terrains or obstacles encountered during off-road driving.
iii. Traction System:
The Accord is equipped with a traction control system (TCS) that helps optimize traction on slippery or uneven surfaces. However, this system is primarily designed to enhance traction during on-road driving conditions rather than off-road situations.
iv. Towing Capacity:
The towing capacity of the 2010 Honda Accord is relatively limited compared to larger vehicles designed for towing purposes. While it can handle light towing tasks, such as small trailers or lightweight equipment, it may not be suitable for heavy-duty towing needs.
v. Cargo Space and Storage
The 2010 Honda Accord offers a decent amount of cargo space in its trunk, providing room for luggage, groceries, or other items. However, it does not have the spaciousness or cargo versatility of SUVs or larger vehicles that are better suited for off-road adventures.
2010 Honda Accord is primarily designed for on-road use, focusing on comfort, performance, and everyday driving. While it may be able to handle mild off-road conditions, it is not specifically built or optimized for rugged off-road terrain.
Exterior and Styling of the 2010 Honda Accord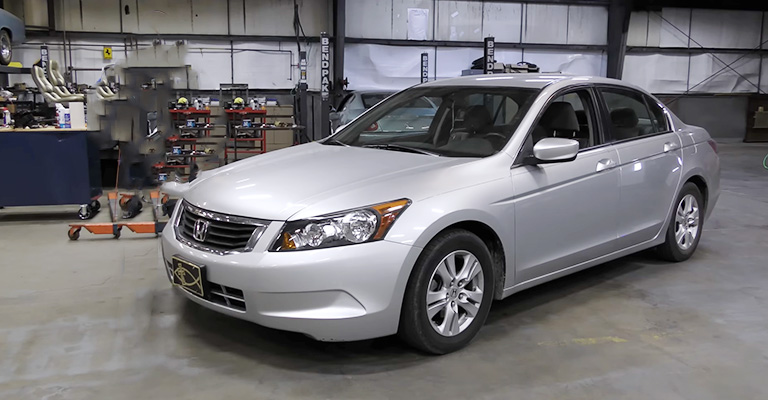 The 2010 Honda Accord featured a sleek and modern exterior design, showcasing Honda's attention to detail and aesthetics. Here are some key aspects of the exterior and styling:
Aerodynamic Profile:
The Accord had a streamlined and aerodynamic shape, designed to improve fuel efficiency and reduce wind resistance. It featured smooth lines and curves, giving it a contemporary look.
Bold Front Grille:
The front grille of the 2010 Accord had a distinctive design, often incorporating chrome accents, providing an elegant and upscale appearance.
Headlights and Taillights:
The Accord was equipped with stylish headlights and taillights, featuring clear lens elements and sometimes incorporating LED technology. These lights not only enhanced visibility but also added to the overall visual appeal of the vehicle.
Wheel Options:
The Accord offered a range of wheel options, with diameters ranging from 16 to 18 inches. These wheels featured various designs and finishes, complementing the overall look of the vehicle.
Exterior Color Choices:
Honda provided a variety of exterior color options for the 2010 Accord, allowing buyers to choose their preferred color scheme. Common colors included silver, black, white, blue, and gray, among others.
Body Dimensions
The Accord's dimensions, as mentioned earlier, were approximately 191-194″ in length, 73″ in width, and 56-58″ in height, contributing to its mid-size car classification.
Overall, the 2010 Honda Accord offered a visually appealing exterior design, combining elegance, aerodynamics, and modernity. Its timeless styling elements have contributed to its popularity over the years.
Interior Design and Aesthetics of the 2010 Honda Accord
The interior of the 2010 Honda Accord was thoughtfully designed to provide a comfortable and visually appealing cabin environment. Here are some key aspects of its interior design and aesthetics:
Quality Materials:
The Accord featured high-quality materials throughout its interior, including soft-touch surfaces, premium upholstery options, and refined trim accents. These elements contributed to an upscale and inviting atmosphere.
Spaciousness:
The Accord provided ample space for both front and rear passengers. It offered generous legroom and headroom, ensuring a comfortable seating experience for occupants.
Modern Styling:
The interior of the 2010 Accord showcased a modern and refined styling. The dashboard had a clean and uncluttered layout, incorporating attractive lines and contours. The overall design aesthetic was focused on simplicity, elegance, and functionality.
Instrument Panel:
The instrument panel was designed with clear and easily readable gauges and displays. It provided essential information to the driver, such as vehicle speed, fuel level, and engine status, in a user-friendly manner.
Center Console:
The center console housed the controls for various functions, including audio, climate control, and available navigation system. The layout of buttons and knobs was intuitive, allowing for easy access and operation.
Storage and Cargo Space:
The Accord offered multiple storage compartments, including door pockets, cup holders, and a center console storage bin. Additionally, the trunk provided a decent amount of cargo space for luggage and other belongings.
Smooth Driving Experience
The 2010 Honda Accord is known for delivering a smooth driving experience, both in terms of ride comfort and handling. When compared to other car models in its segment, the Accord's smoothness stands out due to several factors:
Suspension Tuning
Honda engineers focused on achieving a comfortable ride quality by fine-tuning the suspension system. The Accord's suspension struck a good balance between absorbing road imperfections and maintaining stability, resulting in a smooth and composed ride.
Steering Response:
The Accord's steering system was designed to provide precise and responsive handling. It offered good feedback and a sense of connection with the road, enhancing the overall driving experience.
Noise Insulation:
Honda put effort into minimizing road and wind noise in the cabin, creating a serene and quiet environment. The sound insulation measures reduced unwanted vibrations and disturbances, contributing to a smoother ride.
Transmission Performance:
The Accord's automatic transmission (available in some trim levels) delivered seamless gear shifts, enhancing the smoothness of acceleration and deceleration.
Ergonomics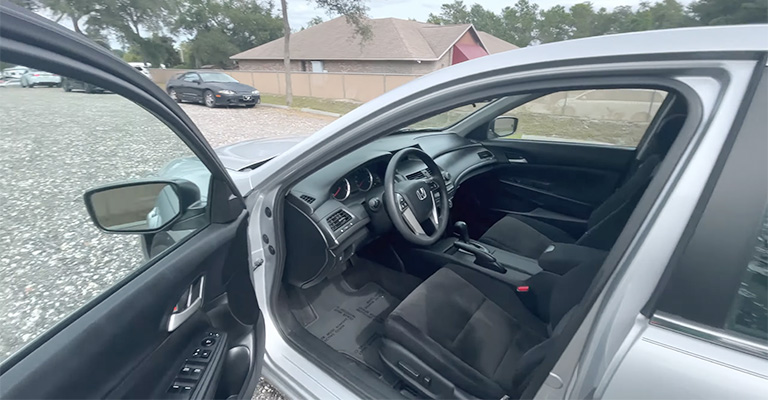 Upper Dashboard Size
The upper dashboard of the 2010 Honda Accord had a moderate size, providing a clear view of the road ahead. The placement and design of the dashboard elements ensured that essential information and controls were easily accessible to the driver.
Driving Position:
The Accord offered a comfortable driving position with a range of adjustability for the seat and steering wheel. The ergonomic design allowed drivers of various sizes to find a suitable position for optimal comfort and visibility.
Controls and Instrumentation:
The controls and instrumentation in the Accord were logically arranged and easy to operate. The placement of buttons, knobs, and switches was intuitive, allowing drivers to adjust settings without distraction.
Visibility and Sightlines:
The 2010 Accord provided good visibility thanks to its well-designed window placement and large side mirrors. The windshield and side windows offered a clear view of the surroundings, while the rear window and rearview mirrors minimized blind spots.
Comfort and Seating:
The Accord's seats were designed to provide comfort and support, even during long drives. The front seats offered sufficient cushioning and bolstering, while the rear seats provided ample legroom and headroom for passengers. The overall seating arrangement aimed to enhance passenger comfort.
Safety Features and IIHS Safety Ratings
The 2010 Honda Accord prioritized safety and was equipped with a range of standard and available safety features. Some of the notable safety features included:
Antilock Braking System (ABS): ABS helped maintain steering control during emergency braking situations.
Stability Control: The Accord featured stability control to assist in maintaining control and stability while cornering or during sudden maneuvers.
Front and Side Airbags: Dual-stage, multiple-threshold front airbags and side curtain airbags offered protection in the event of a collision.
Tire Pressure Monitoring System (TPMS): The TPMS alerted drivers to low tire pressure, promoting safer driving conditions.
Daytime Running Lights (DRL): DRL increased visibility for other drivers on the road, improving safety during daylight hours.
IIHS Safety Ratings: The Insurance Institute for Highway Safety (IIHS) rated the 2010 Honda Accord highly in terms of safety. It received top ratings of "Good" in moderate overlap front, side, and roof strength crash tests.
Warranty Coverage and Reliability:
Warranty coverage and reliability are important considerations for any vehicle. In terms of the 2010 Honda Accord:
Warranty Coverage: The Accord typically came with a basic warranty of 3 years/36,000 miles and a powertrain warranty of 5 years/60,000 miles. However, it is worth noting that warranty coverage may vary depending on the specific dealership and region.
Reliability: Honda has a reputation for producing reliable vehicles, and the Accord is no exception. The 2010 Accord generally demonstrated solid reliability, with many owners reporting few major issues or mechanical failures. Regular maintenance and adherence to recommended service intervals were key to ensuring long-term reliability.
Technology Used
The 2010 Honda Accord incorporated several notable technologies for its time. While it may not have the same level of advanced technology as more recent models, it offered features that were impressive for its segment and year. Some of the top technologies included:
Advanced Audio Systems: The Accord offered various audio options, including an available premium audio system and optional MP3/WMA playback capability. These systems provided enhanced sound quality and entertainment options.
Bluetooth Connectivity: Bluetooth hands-free calling and audio streaming allowed drivers to stay connected while keeping their hands on the wheel.
Navigation System: Some Accord models featured an optional navigation system, providing turn-by-turn directions and points of interest.
USB Connectivity: USB ports allowed for easy integration of portable devices, enabling playback of music or other media.
It's important to note that technological advancements have occurred since 2010, and newer models may offer more advanced features and connectivity options.
Problems
While the 2010 Honda Accord generally had a good reputation for reliability, like any vehicle, it was not entirely immune to potential issues. Some problems reported by owners of the 2010 Honda Accord included:
Brake Wear: Some drivers experienced premature brake wear, requiring the replacement of brake pads and rotors earlier than expected.
Power Window Issues: A small number of owners reported problems with power windows, such as motor failures or issues with window regulators.
Vibration Issues: A few owners experienced vibrations or shaking sensations at certain speeds, which could potentially be attributed to tire balance or wheel alignment.
It's important to note that these problems were reported by a minority of owners, and Honda generally addressed these issues through recalls or warranty repairs. As always, regular maintenance and prompt addressing of any concerns are key to maintaining the longevity and performance of any vehicle.