Drivetrain components such as transmission mounts play a crucial role in your car. This helps to keep the transmission in place while it is attached to the engine and frame of the vehicle. Your car may experience many problems if this part fails.
Strange noises, vibrations when accelerating and braking, chassis flex, and difficulty shifting gears. Your transmission mount may need to be replaced if you are experiencing these symptoms.
The purpose of this blog post is to explain what a transmission mount is, how it works, and how it can go wrong.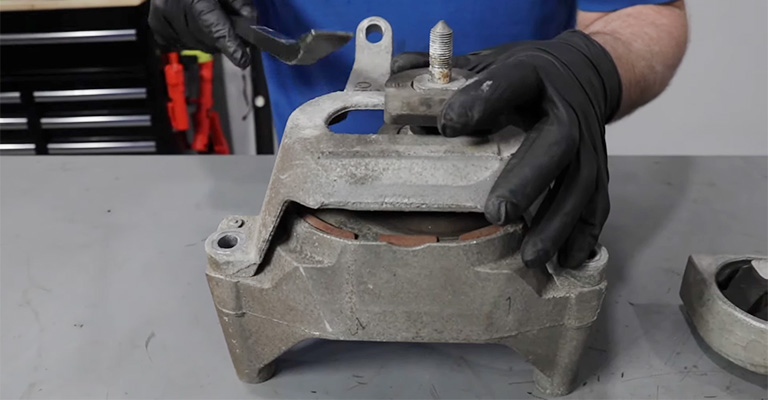 Bad Transmission Mount Symptoms
In order to prevent vibration and rattling, transmission mounts use rubber blocks to support the transmission.
The chassis of the car sits between the mounting bracket and the rubber blocks or bricks, which prevent noise from traveling through the body.
Here is how to know if transmission mount is bad –
1. Abnormal Noises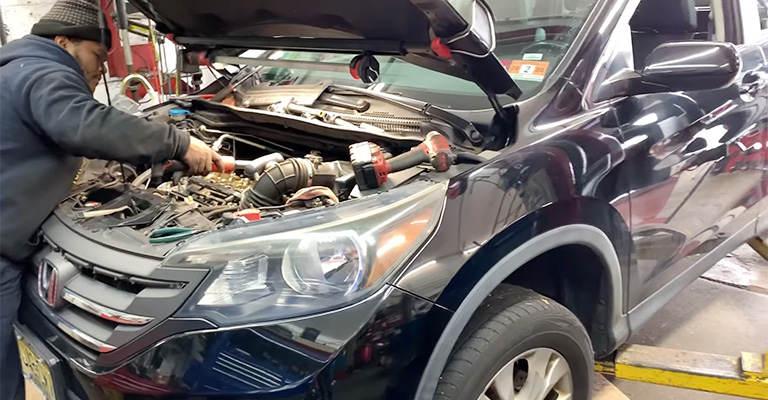 Clunking noises are one of the most common signs of worn-out transmission mounts. You can usually hear the sound when the transmission is engaged, when you are hard accelerating, or when you are abruptly braking.
The transmission moves around in the engine bay, causing these sounds. The transmission mount becomes loose and hits other parts in the engine bay, causing banging sounds.
Metal-on-metal contact is usually the cause of grinding sounds. Damaged or broken transmission mounts can cause this. When the transmission mount is loose, the clunking sound is generally heard.
2. Leaking Fluid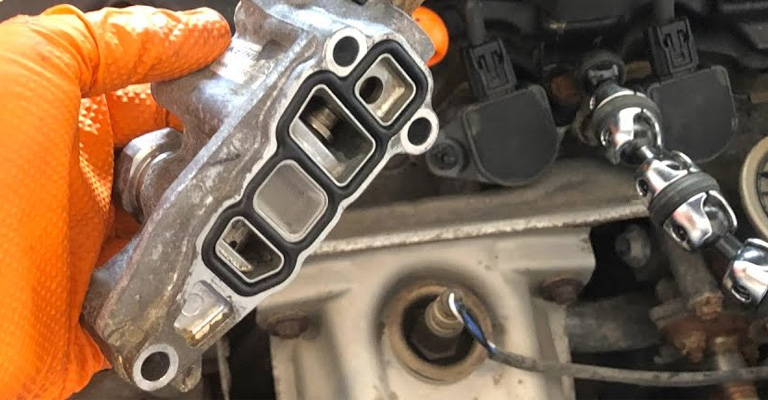 A malfunctioning transmission mount can be easily identified and diagnosed this way. ATF (Automatic Transmission Fluid) is a bright red fluid used in transmissions. This lubricant minimizes friction between components and prevents them from overheating.
Additionally, it serves as a hydraulic fluid to engage gears. The transmission will operate with low fluid if ATF leaks, increasing the risk of overheating. Transmissions can malfunction this way very quickly.
3. Shaking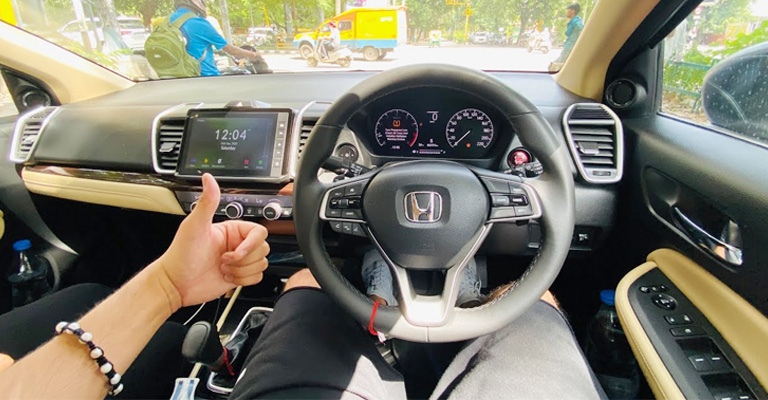 You may experience severe shaking and rattling when accelerating if you have a faulty transmission mount. Broken transmission mounts often cause this, but worn or damaged rubber blocks can also cause it.
During acceleration, a failure of the transmission mount may cause the transmission to shift completely, resulting in clunking or knocking noises.
The transmission may damage other components if it shifts and twists severely enough, resulting in additional noise and possible damage.
4. Excessive Transmission Movement
Transmission mounts that are worn out can cause the transmission to move more than it should.
During regular driving, you are unlikely to notice this movement. However, if a power brake test is performed, you're likely to see the movement.
By power braking, the transmission is put in drive, the brake pedal is pressed, and the engine is lightly accelerated without moving the vehicle.
During the test, an assistant should monitor the engine compartment. During power braking, a worn engine mount or transmission mount will cause the powertrain to move excessively up and down.
5. Vibrations
Vibrations caused by the transmission and engine are absorbed by the rubber portion of the transmission mount. In such a case, vibrations can travel through the chassis to the vehicle's cabin if the transmission mount fails.
6. Vehicle Pulling to One Side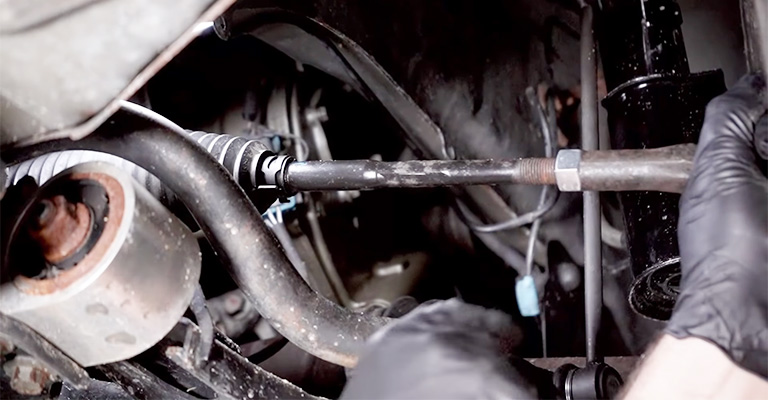 A bad transmission mount could cause your vehicle to pull to one side while driving. It is possible for the transmission to shift to one side if the transmission mount is bad.
The car will pull to that side as a result. In addition to making it difficult to control your car, vehicle pulling can also be dangerous. Getting it fixed right away is important.
7. Tilted or Misaligned Chassis
It will not be possible to hold the transmission properly if the transmission mount is damaged or broken. This can lead to the chassis tilting or becoming misaligned. Several problems can arise from a tilted or misaligned chassis.
In addition to making steering difficult, it can make the tires wear unevenly. By rubbing against other parts of the car, a misaligned chassis can damage the engine and transmission.
8. Body Roll While Turning
The flexing of the chassis caused by a bad transmission mount can also cause body roll in a vehicle. When a car turns, its body leans to one side.
The engine's and transmission's weight is not evenly distributed, leading to this problem. The car may feel unstable and difficult to control as a result.
Body roll can also be caused by damaged or broken motor mounts. Body roll occurs if the motor mounts aren't holding the engine in place correctly, causing it to shift around while turning.
9. Transmission Slipping
Transmission slippage can be caused by a bad transmission mount. A slipping transmission is one that is not engaged properly.
can a bad transmission mount cause the car to jerk?
Yes, the car may jerk or lurch when accelerating. There is also a possibility that the engine will rev without the vehicle moving.
When the transmission slips, it can eventually fail completely. Slipping transmissions are often caused by low fluid levels.
It is possible for transmission fluid to leak out if the transmission mount is damaged. Transmission slipping will eventually result from low fluid levels.
10. Loss
The transmission may fall from the vehicle if a transmission mount becomes damaged and breaks. It is not easy to repair and will result in thousands of dollars worth of damage.
Having a bad transmission mount can lead to your car's transmission slipping or even falling. Transmission mounts prevent the transmission from moving or jostling when you accelerate by holding it in place.
A bad transmission mount will cause the transmission to bang against the mount, causing a banging noise, and it will cause other components to become stressed.
You can prevent more serious car problems by correctly diagnosing a bad transmission mount.
What is a Transmission Mount?
Most cars and trucks have transmission mounts as part of their drivetrain. At least one transmission mount and two or three engine mounts are standard on most vehicles.
Transmission mounts keep the transmission safe and secure underneath the hood, along with bell housing bolts.
How do Transmission Mounts Work?
Transmission mount brackets and mounts themselves are the two main components of every mount. Steel brackets are often used.
The transmission bracket is attached to the mount by bolts, welding, or chemical bonding.
Transmission brackets secure transmissions to vehicles. By isolating drivetrain vibration and reducing cabin noise, the rubber or urethane bushings reduce vehicle vibration.
How is a Transmission Mount Made?
Parts manufactured by aftermarket manufacturers are often crafted from high-strength steel brackets and chemically bonded bushings.
Many vehicle applications require an entire assembly to replace a worn out or damaged bushing and bracket.
While installing newer engines and transmissions in older cars and trucks, automotive enthusiasts often mix and match engine and transmission mounts.
What Functions Does Transmission Mount Serve?
Now that we know what transmission mounts are and where they are located, let's discuss what they do. What is the purpose of one in a car?
Proper Meshing of Gears
Car gears are changed by the transmission. All gears must be properly meshing in order for this to happen smoothly.
The gears can become misaligned if the transmission mount is not correctly installed. Vibrations and noises are likely to occur in such a situation.
Keeping Driveshafts Aligned
A transmission transmits power from the engine to the wheels via the transmission. Driveshafts connect the transmission to the engine.
The driveshafts must be aligned correctly in order to transmit power efficiently. Keeping the driveshafts aligned is the most important function.
A faulty transmission mount would result in the driveshafts constantly moving and misaligned, eventually causing serious damage.
Support Transmission's Weight
The engine and frame of the vehicle would bear the weight of the transmission without a transmission mount.
As a result, metal fatigue and failure would eventually occur. Supporting the transmission and bearing the weight is what the mounts are for.
Dampen Vibration
Engine and transmission vibrations are dampened by the transmission mount. Due to the proximity of the engine and transmission in front-wheel drive cars, this is extremely important.
Transmission mounts don't have to work as hard to dampen vibrations in rear-wheel drive cars since the engine and transmission are farther apart.
When it comes to dampening vibration, the bushing does most of the work. Everything is held in place by the body of the mount.
Why does a Transmission Mount Fail?
Oxidation and vibration normally cause transmission mounts to fail after 60,000-100,000 miles.
In mounts, rubber or urethane fails due to oxidation.
Steel brackets fail due to vibration.
It is possible to break transmission mounts when lifting the engine and transmission assembly incorrectly during removal.
Damage to the front end caused by an accident.
What are the Implications of Ignoring a Worn Transmission Mount?
There is excessive wear at the attachment point of the transmission mount.
Wear to major drivetrain components, such as the driveshaft or axles, before they should.
Mounts on other engines and transmissions wear prematurely.
Excessive drivetrain movement can lead to broken or worn transmission lines.
Transmission Mount Replacement Cost
It costs between $150 and $400 to replace a transmission mount. A labor estimate of $80 to $200 is estimated, while a parts estimate of $70 to $200 is also estimated. Some vehicles, however, may be more expensive.
It may be more expensive to repair luxury vehicles or trucks due to the higher price of parts. By doing this yourself, you can save a lot of money on labor. A transmission jack will be needed for this task.
The price of the replacement mount and any special tools you need to rent or buy will determine the total cost of this job.
The Bottom Line
There are several problems your car can experience if it has a bad transmission mount. There is a risk of leaks and engine damage when the transmission moves around too much. Transmissions can also slip out of gear due to it.
Transmission mounts that are bad can only be repaired by replacing them. There are a few tools you'll need for this job, but it's an easy one for most people to accomplish.