The engine is one of the most important parts of Honda cars. You win if you get the right one, but choosing an inefficient engine would cost you a lot. Although Honda has manufactured several great engines, some are the best!
So, which are the best Honda engines of all time?
Honda F20C is one of the best engines of our choice. After that, Honda K20A and B18C5 are also 2 top-notch Honda engines you can use for your car. The J35 engine is another engine that is quite efficient!
These are the Honda engines considered to be the best. However, you still do not know about the specialty of these engines.
But you can unwrap all these insights that we got here in detail!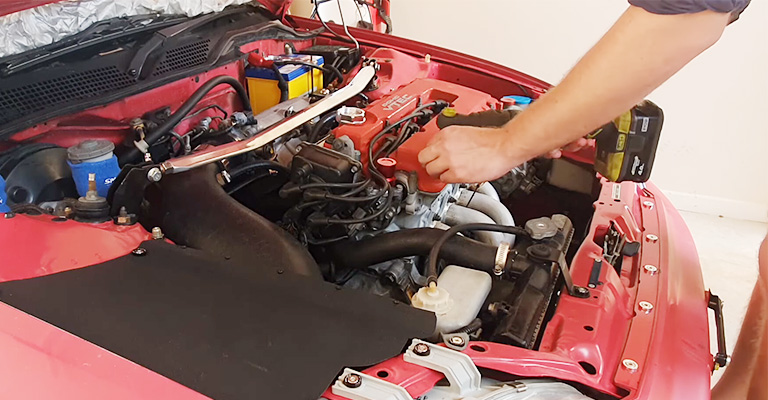 The Best Honda Engines That You Need to Know About
We know how important it is to get the ideal engine on our cars. Now, if it is Honda, you can get a list of choices to select your favorite engine.
So, here we have a list of the best Honda engines with every detail you can ever think of getting for your car. Take a look now!
Engine 1: Honda F20C
The Honda F20C engine is currently the best Honda engine, as per many users and experts. This engine first came to the market in 2000. The engine is made of aluminum in the outer cover.
About its HP, Honda F20C can reach 247 at max. Talking about the torque, it can go up to 162 lb. per foot. Its configuration aligns with an 87 mm bore and a stroke of 84 mm.
The engine weighs 326 lbs. and has 4 valves per cylinder with a compression ratio of 11.7 to 1.
Things We Love About F20C
The Honda F20C is one of the highest specific output production engines ever
This can reach a maximum torque of 162 and horsepower of 247 in just a few seconds
Things We Don't Like About F20C
The engine is not that much efficient with the economy of the fuel
Engine 2: Honda K20A
The engine is a similar version to F20C. It has an outer part that consists of aluminum. Moreover, Honda K20A generally runs and performs at a very high RPM.
The HP of this engine can reach up to 500 HP. This engine comes with four cylinders in it. Now talking about its compression ratio, it goes with 11.5:1 and 11.7:1.
Things We Love About K20A
It can reach up to 500 HP
This engine has four cylinders for which the engine can get more combustion; hence, your car gets more power
K20A is a very reliable engine that can last as long as 15 years or even more
This engine's size is compatible and convenient for a car size
Things We Don't Like About K20A
The engine, K20A, is noticed to make some grinding noise at times. However, it is not a common issue or seen every time
Engine 3: Honda B18C5
The engine, Honda B18C5, comes in a relatively rectangular shape and is surfaced by a unique red valve.
This red-covered engine can add up to 195 HP to your car with a default 4-cylinder engine system. It has a compression ratio of 10.6:1. In addition, cementing its legend status, it was an 8,500 RPM redline.
Things We Love About B18C5
The Honda B18C5 engine would add up to 195 horsepower with just 1.8 liters of fuel
Four cylinders in this engine enable it to gather more oxygen. As a result, there is more push, and the car gets strong power
This engine can easily get up to 8500 RPM
Things We Don't Like About B18C5
The size of this engine is a bit larger compared to many other engines, which can suffocate the bonnet.
Engine 4: Honda J35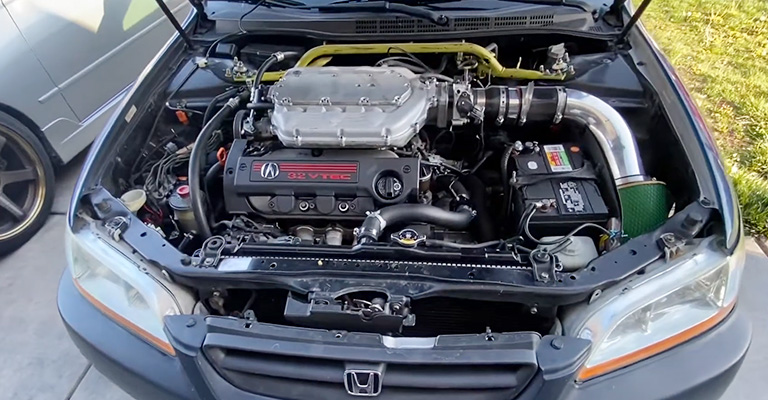 The Honda J35 engine is a standard-weight engine that weighs about 350 lbs. This engine is one of the most reliable engines as it is one of the few bulletproof engines.
With four cylinders, this engine can reach about 150 HP quite easily. Note that the engine has some sound while driving, but you may like it.
It has a compression ratio of 9.8:1, 10.0:1, 10.5:1, 11.0:1, 11.2:1, and 11.5:1.
Things We Love About J35
The engine's weight complements and enhances the car's overall weight. Due to this, the car has a better balance while running
There is an engine noise in the Honda J35 which would give you a sporty vibe while driving. However, the sound is not that significant to consider noise
The black engine cover helps the car prevent freezing in cold regions and weather
Things We Don't Like About J35
If you ride your car for a long time, the engine may sometimes overheat
So, these are the best engines of Honda that you will come across. You can get the perfect one from here for your car according to your requirements and budget!
Remember that the pricing can vary a bit from time to time. So, you need to look at their official sites to get the actual price when buying any of these.
Are Honda Engines Worth It?
Although Honda engines were not considered highly appreciable initially, they changed the impression over time. Today, they produce some of the engines that outstand the market in the industry.
Honda engines are doing quite well today with their efficiency, effectiveness, reasonability, and performance. So, you can definitely count on these engines anytime.
However, do not forget to go for an assessment before you purchase this at any cost.
Frequently Asked Questions
Are Honda engines cheap or expensive?
Honda engines are actually not that cheap in general. Rather they are considered a bit expensive. But that does not make them go out of the budget. In fact, these Honda engines are considered to be reasonable when looking at their reliability and effectiveness.
How long-lasting could be the Honda engines?
Today, Honda engines are on the list of top engines with their reliability. According to a survey, only 1 Honda engine goes out of order in about 350 of the engines. So this means the malfunctioning rate is as low as about 0.29, making them quite reliable.
How long can I expect a Honda engine to last?
A Honda engine can last longer than you would expect. On average, these engines are seen to go perfectly fine up to 350,000 km. However, this can easily go up to 500,000 km or even more if you take good care of it.
The Final Words
After going through this blog, you should now clearly understand the best Honda engines of all time. Now, you can pretty easily pick the best Honda engine for your vehicle.
Yet, you can always consult an expert to guide you if you face trouble while choosing your ideal engine.