Picture this: you're driving down the road, enjoying the feeling of the wind in your hair and the sunshine on your face. But then, as you start to turn the wheel, you hear an ominous noise coming from your car.
What could it be? Is it serious? Suddenly, your pleasant drive turns into a stressful situation. A car making noise when turning the wheel is annoying and can also be a sign of a more significant problem.
In this article, we'll explore some common causes of this issue and give you tips on what to do if it happens to you. So, buckle up and get ready to learn!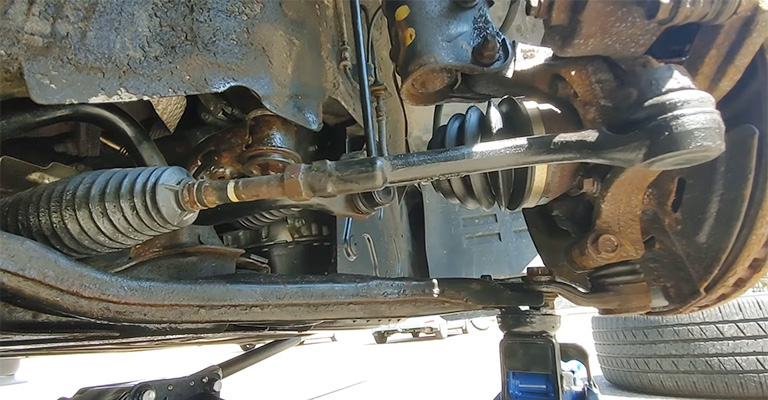 Common Car Noises When Turning the Steering Wheel
It is not unusual for a car to make no noise when turning its steering wheel when it is functioning properly.
It's important to find out if anything is clunking, popping, creaking, squealing, groaning, screeching, or whining.
The good news is that some of these issues can be easily fixed, and others can require an immediate service appointment.
Reasons Your Car Makes a Noise When Turning the Wheel
In this article, we'll break down the most common car noises and their causes, so you know what exactly is going on:
Struts and Shocks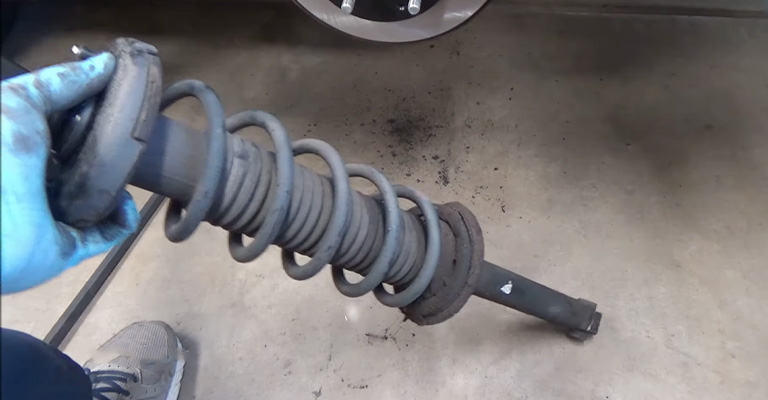 A noise and a bouncy and loose feel when going over bumps indicate you have a problem with your shocks and struts.
Generally, shocks and struts need to be replaced periodically because they are worn components.
When not repaired in a timely manner, shocks and struts can deteriorate to the point that they emit noise when a vehicle corners or travels over uneven terrain.
Strange noises are often associated with these problems, such as squeaking, clicking, or clunking. These key components likely need to be replaced every time this happens.
Upper strut bearings have the potential to cause considerable noise when worn to a significant degree. These bearings allow the wheels to rotate during cornering in all four directions.
When these bearings wear over time and are consistently exposed to the elements, they may cause a variety of clunks and pops when turning a vehicle's steering wheel, especially at low speeds. Wear on upper strut bearings can also cause stiffness while cornering in severe cases.
Bushing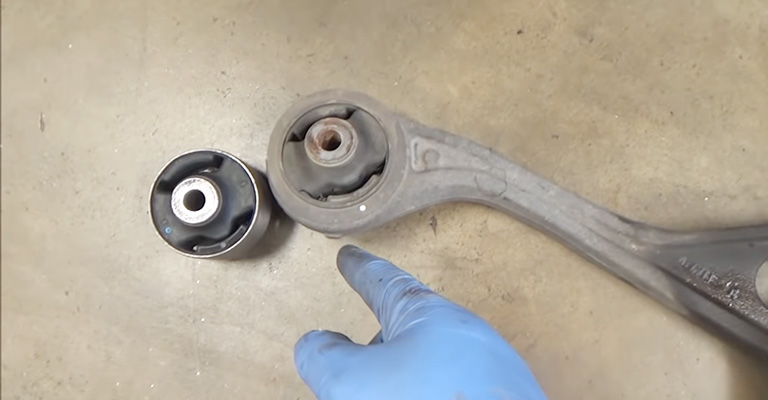 Many components on the vehicle's front end have bushings, most of which are incorporated into the design. Dry rot and excessive wear cause these bushings to wear out over time.
Vehicles use this type of bushing in ball joints, tie rod ends, and several suspension components. It is common for most of these bushings to create a lot of noise once they are worn past the point of performance.
You can need to lubricate or replace this joint as your suspension system wears out over time. When there is an issue, you will often hear a creaking noise.
Ball Joints
Over time, you will hear an increasing creaking noise due to your ball joints.
Sway Bar Link
The failure of a sway bar link will not only result in a knocking sound while you turn, but you will also have poor handling.
Tie Rods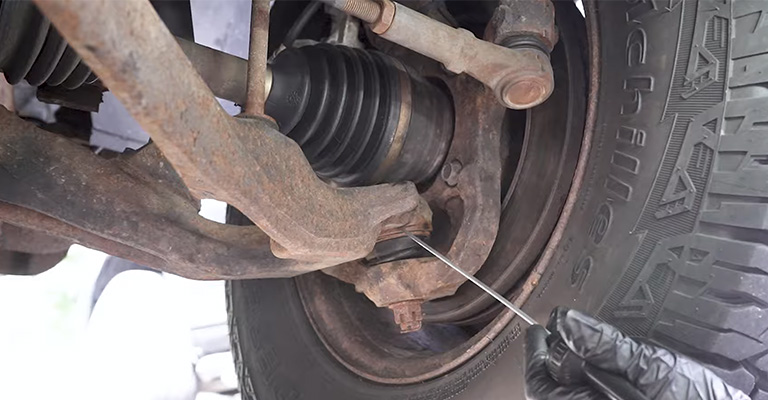 When the steering wheel turns, a clunking noise usually means a loose or broken tie rod is the cause.
Power Steering System
A vehicle's power steering system is usually the source of noise overheard when turning the steering wheel.
It is possible that there is an issue with the power steering system when the power steering is screeching or whining while turning at normal speeds.
There are often whining noises associated with lower power steering fluid or a restricted power steering filter that cause these noises.
In some cases, the power steering rack of a vehicle can also emit a noticeable whine due to faulty or damaged components.
During the diagnostic process, motorists should first check the power steering fluid level within their vehicles.
It is possible to make some repairs simple, like topping off the power steering fluid, while others require more extensive work.
Various hoses, belts, and other components in this complex system can break down over time.
CV Joints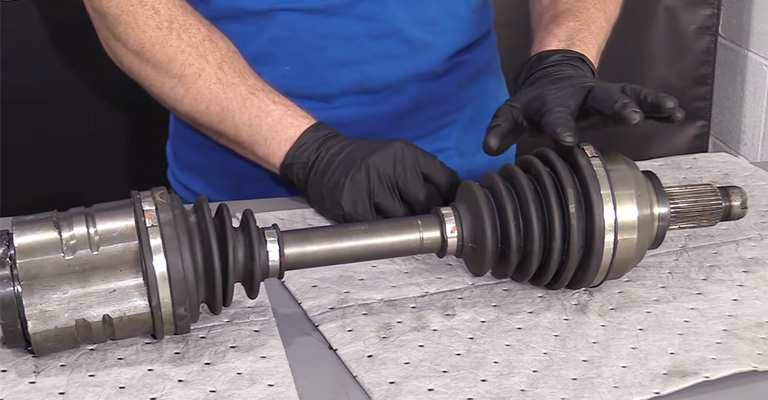 In most cases, CV Joints are the main source of crunching noises when turning at high speeds.
Power Steering Pump
When the engine is running at low speeds, this sound can also be described as a whining sound.
Suspension Joints
Craking, clunking, and popping sounds can indicate worn-out or broken suspension joints, especially when heard at lower speeds.
Other Reasons Why You Might Hear Noise When Turning the Steering Wheel
Most vehicles' steering systems produce many irritating noises, such as creaking, knocking, and everything in between.
Some of these sounds are significantly more difficult to pinpoint than others based on their source. While each noise represents an underlying issue, it also means something different to different people.
Find out how to address each of the different noises that can occur when turning a vehicle's steering wheel.
If you attempt to resolve the issue at hand and restore your vehicle to service, familiarizing yourself with the possible causes of such noises is extremely beneficial.
In most cases, abnormal noises overheard when turning a vehicle's steering wheel are caused by one or more factors.
Poor Quality Power Steering Fluid
Similar symptoms can also be caused by using cheap power steering fluid of poor quality, although it is not as common as a general lack of power steering fluid.
Furthermore, if the wrong type or viscosity of power steering fluid is used, secondary problems can result.
Modern power steering systems are characterized by tight tolerances and are not designed to operate with non-OEM fluids.
Fatigued Upper Steering Column Bearing
An upper steering column bearing that is worn can also make some noise, though it is somewhat less common than other failures on this list.
With this bearing, unnecessary slop within the steering column is eliminated while allowing smooth pivoting of the steering wheel.
As this bearing wears significantly, it can produce a tearing or roaring noise and noticeable free-play.
Steering Shaft Failures
The steering shaft of a vehicle is composed of one or more u-joints. When articulated at an angle, a u-joint(s) helps prevent binding within a vehicle's steering shaft.
Unfortunately, these u-joints wear out over time, often causing an audible clunking noise and increased steering stiffness.
While stationary, these sounds are also reproducible by cutting the steering wheel to each stop or full lock.
Is It Safe to Drive When the Steering Wheel Is Making Noise When Turning?
In general, any noise heard when turning a vehicle's steering wheel indicates that there is a problem of some sort or another. In this regard, motorists should exercise caution.
Overheard noises cannot be determined by their source, so safety is on the line if it is unclear from where they are coming.
Various noise issues can pose a little risk or indicate impending failures of a component, while others warn of possible hazards.
For this reason, you must assess whether proceeding down this route is worth the potential risk. A minimum of two to three hours should be reserved for continual driving.
Final Words
Whatever the cause, any abnormal sound that is heard when turning a vehicle's steering wheel should be diagnosed as soon as possible.
This prevents more issues from arising and reduces most of the risks associated with driving a vehicle in this condition.
A trusted automotive service center can assist you if you do not feel comfortable tackling these repairs yourself.