To circulate oil inside the cylinder head, the valve cover sits atop the cylinder head, and the valve cover gasket is sandwiched between them.
Molded rubber is the most common material for valve cover gaskets. Sometimes, the spark plug tube gasket is also part of the valve cover gasket, so they are replaced together.
There is a difference between valve cover gaskets and head gaskets. There is an average cost of $189 to $224 for replacing the valve cover gasket on a Honda Accord. There are a large number of Honda Accords on the road, with an average age of about ten years.
No taxes or fees are included in this range, and your specific model year and location are not considered. It may also be necessary to make related repairs. Between $105 and $132 are estimated labor costs, while between $84 and $91 are estimated parts costs.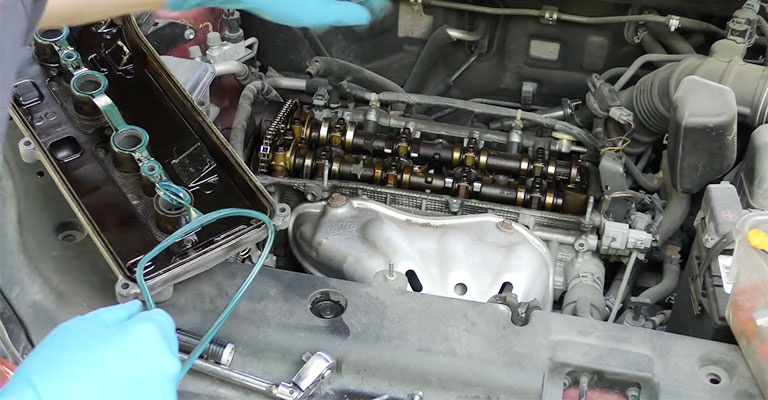 Gaskets for Valve Covers: What Are They?
Each cylinder head on your car's engine is bolted to a valve cover made of aluminum or plastic. Engine oil is prevented from leaking out through a gasket between the valve cover and the cylinder head.
To prevent leaks, the valve cover bolts compress the gasket. An engine oil leak occurs when a gasket becomes brittle over time due to engine heat or when bolts loosen, leading to a rupture in the gasket.
Valve Cover Gasket Replacement – How Often Is It Necessary?
Vehicles and driving conditions determine how often they need to be repaired. For example, valve cover gaskets do not wear out like tires or ball joints, but their rubber or cork eventually degrades to the point that they leak.
How Do I Know When To Replace A Valve Cover Gasket?
The valve cover gasket may leak oil if it shows the following signs:
1. There Is An Oil Leak At The Rubber Grommets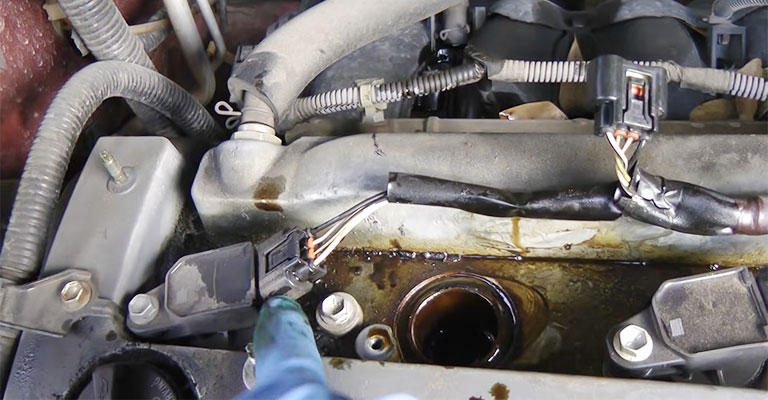 Sometimes there are rubber grommet seals under the bolt heads that hold the valve cover to the cylinder head. There will be oil seepage around the bolt heads if these seals leak.
2. An Accumulation Of Oil Inside The Spark Plug Well
A valve cover sealing system includes spark plug tube seals. Oil will likely be smeared on the spark plugs or wires if leaking tube seals. Therefore, when either of the valve cover gaskets or tube seals fail, they are all replaced at the same time.
3. Dripping Or Seepage Of Oil
Oil often becomes visible on the valve cover or cylinder heads when the joint between the valve cover and cylinder head fails. A dirty surface will usually be attracted to the oil and held there.
Is It Safe To Drive With A Leaking Valve Cover Gasket?
The leaky valve cover can still cause problems over time, but the vehicle can still be driven. In some cases, oil can fill the well of the spark plugs, causing the engine to misfire.
If coolant hoses are dripped with oil, they will become soft and eventually burst. As a result, the cabin will be filled with the scent of burning oil.
What Are the Risks of Driving With a Damaged Valve Cover Gasket?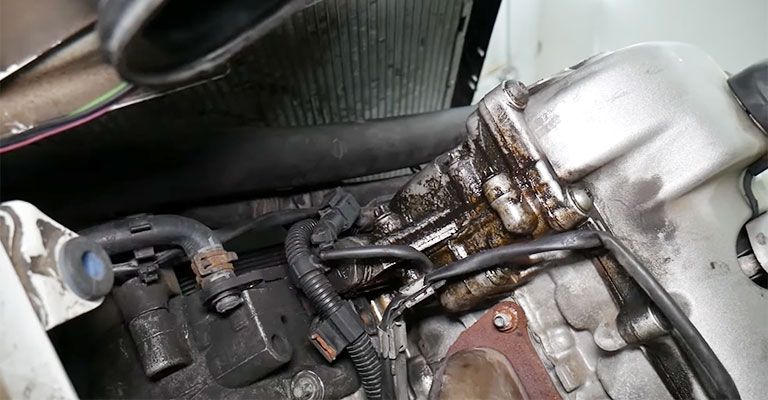 It is safe to drive your car until you have the opportunity to repair it, provided the amount of oil leaking is small, and it is not spilling onto hot engine parts.
Oil leaks under your parked car when you park it, and this is not a small leak. You should find and fix the leak as soon as you can. Of course, the engine's oil level drops as a result of any leak.
Whenever your engine has a leak, check the oil more frequently than usual to prevent it from running out and causing damage.
A Bad Valve Cover Gasket Can Cause The Following Symptoms:
There will be an oil leak if the valve cover gasket fails. A puddle of oil or other particles may appear under the hood or under the car. A burning smell might also be noticed while driving. Other symptoms include:
Misfiring of the engine
There is a burning smell coming from the exhaust manifold due to oil.
There may be leaks of engine oil.
How Do Mechanics Replace A Valve Cover Gasket?
Here are some steps a car mechanic will follow to replace a valve cover gasket. Of course, the cost of replacing will vary depending on how much your mechanic will charge you for repairs.
1. Remove The Engine Cover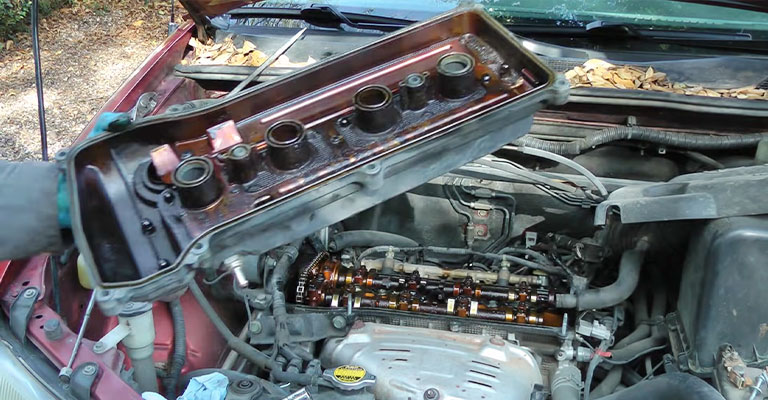 Some engines have a plastic cover covering the entire top. To access the valve cover(s), the plastic engine cover must be removed.
2. All The Components Should Be Removed
The valve cover of a 4-cylinder engine is typically easily accessible after removing all electrical components and emission control tubing, as well as accelerator linkages if necessary.
It might be necessary to remove the air intake plenum and perform additional steps on engines with 6 or 8 cylinders, depending on which valve cover gasket leaks.
3. Remove The Valve Cover
It is necessary to remove the cover retaining bolts and pull off the valve cover(s). In order to ensure that the valve cover sealing surface is flat, a straight edge is used to ensure the cover is reusable.
4. An Entirely New Gasket Must Be Installed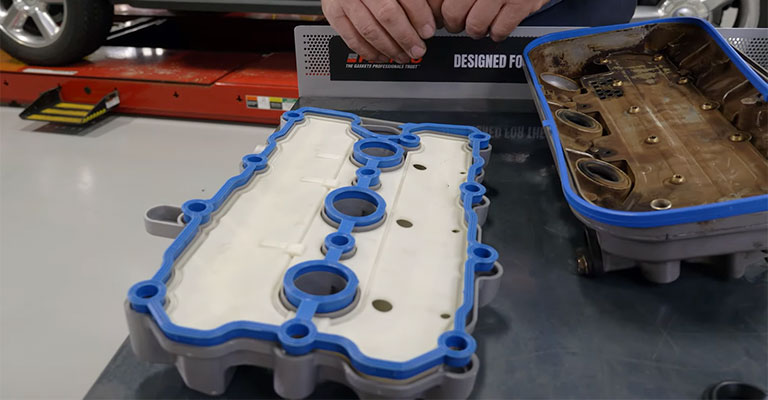 New rubber grommets are applied under the retaining bolt heads and the new valve cover gasket. In addition, the spark plug tube seals are also replaced.
A new gasket must also be applied to certain segments of the sealing surface with oil-resistant RTV (room temperature vulcanization) sealant to ensure a complete and effective seal.
All other components are restored to their original positions after reinstalling the cover using a calibrated inch-pound torque wrench.
5. Make Sure There Are No Leaks
As a final step, the car engine is run, and an oil leak is visually checked.
Advice On Repairing Valve Cover Gasket Sets
It is recommended that, if applicable, a valve adjustment be performed when replacing the valve cover gasket. It will save labor costs by removing the valve cover to adjust the valves.
When oil leaks into spark plug tubes, an engine misfire can occur. Therefore, it is always recommended to replace the tube seals along with the valve cover gasket at the same time.
You can reduce the risk of recurring leaks and additional repairs by using high-quality valve cover gaskets.
It is essential to replace valve cover gaskets and seals when they begin to leak oil. This type of leak can damage other engine components, including belts, hoses, and spark plug wires.
Keep These Things In Mind When Replacing A Valve Cover Gasket:
A rubber grommet in one of the valve covers usually holds the PCV (Positive Crankcase Ventilation) valve. It is possible to leak from an old rubber grommet as well as the connection to the PCV valve.
These components should be inspected and replaced if necessary if the valve cover can be accessed. You should request a complete leak inspection if the car has a valve cover oil leak since there are likely leaks elsewhere on the engine.
The cost may be more economical when multiple leaks are repaired during one visit. Engine oil or other vehicle fluids should never be treated with stop-leak-type products.
Besides not meeting the original equipment manufacturer's specifications, these materials may also cause additional problems that can be costly to repair.
Engine gaskets are typically replaced before the mechanical components of an engine wear out. Therefore, replacing many of these gaskets, including the valve cover gaskets is relatively easy.
Final Words
So, how much does it cost to replace a valve cover gasket? The cost of replacing a Honda Accord valve cover gasket is $118, with parts costing $23 and labor costing $95 on average. Of course, depending on where you live, prices may differ.
However, some vehicles may require valve cover gaskets that cost up to $100, or labor costs can be much higher if the engine configuration is complex.
In most cases, replacing this part in your vehicle is not very expensive. However, your mechanic's hourly rate and the parts' quality (and quantity) will determine the expense. You can reduce your labor costs if you choose a mechanic who works quickly and has a lower hourly rate.