The Acura Integra is a sport compact car that was manufactured by Honda's luxury brand, Acura, from 1986 to 2001. One of the most popular models of the Integra was the Type R, a high-performance version of the car specifically designed for racing and driving enthusiasts.
However, some people may be confused as to whether a DC2 Integra is a Type R or not. To provide some context, the DC2 Integra was the fourth generation of the Integra, produced from 1994 to 2001.
It was available in several trims, including the GS-R and the Type R. While the GS-R was a high-performance version of the base model Integra, the Type R was a more advanced version of the GS-R that was specifically designed for racing.
So, to answer the question directly, not all DC2 Integras are Type Rs. Only the DC2 Integra Type R is a Type R, while the other trims are not. However, it's worth noting that the DC2 Integra Type R is a highly sought-after car among Honda and Acura enthusiasts, thanks to its exceptional performance and racing pedigree.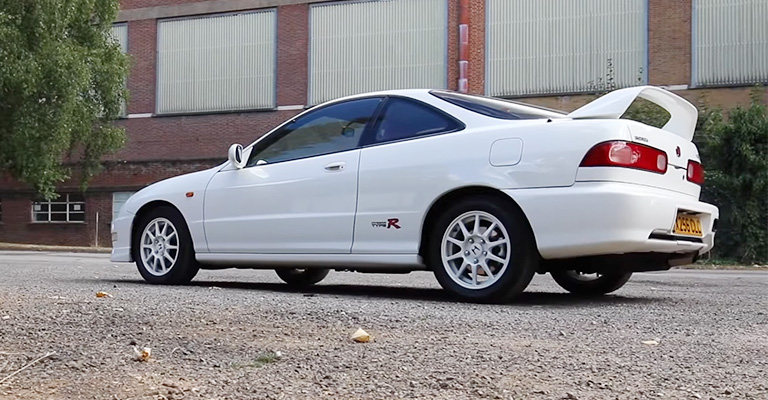 Honda Integra Type-R DC2 In Detail
In 1985, the Integra was introduced as a hatchback and saloon, though by 1997, when the first model was introduced here, it was actually in its third generation.
Up until the introduction of the Type-R, the GS-R topped the list for power, producing 170bhp from an atmospheric 1.8-liter. In terms of horsepower, Honda's skilled technicians released 17 more bhp from the 1.8 four.
Its engine, which was finely honed, featured lighter conrods, a larger throttle body, molybdenum-coated pistons, and a bigger exhaust bore.
In addition to being assembled by hand, the engine was ported and polished throughout the process (with the UK receiving a total of 500 cars on an official allocation basis).
The engineers at Honda improved the Type-R's engine performance to 187bhp at 8000 rpm and 131 lb-ft of torque at 7300 rpm.
The engine would rev to a magnificent 9000rpm, and to this day remains one of the highest specific outputs for a naturally aspirated four-cylinder.
At lower revs, it's an unassuming, unassuming VTEC unit, yet when the variable valve timing is engaged at 6000 rpm, it switches character and unleashes its manic, joyous nature.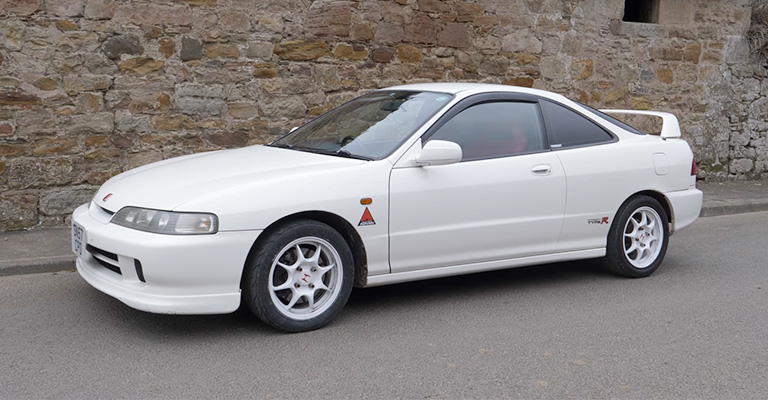 You could make rapid progress if you kept it boiling, thanks to a chassis that was equally finely tuned. Since the Type-R was designed for racing (that's what an R stands for, after all), the chassis was reinforced with spot welds and thicker metal.
This application put shorter springs on the Integra, which lowered the wishbone set up by 15mm, while bespoke dampers were fitted. Upgrades were made to all the bushings, and strut braces were added. Furthermore, the rear anti-roll bar was thickened.
There was also a limited-slip differential, which gave the Integra the uncanny ability to find grip where it should not have, as well as new 6×15-inch alloy wheels shod with 195/55 Bridgestone Potenza tires, which were still relatively small by today's standards.
Weight is the main enemy of performance cars, so the Integra has also been put on a diet. Several things were changed, including the sound deadening and the windscreen. Even the spare wheel cover was taken off.
In addition to Recaro sports seats, a titanium gear knob, some carbon trim, and alloy pedals were added on the inside. In terms of appearance, Honda kept things simple with a front splitter, a rear wing, and a Type-R badge up front.
Despite its age, a well-maintained model is still as thrilling today as it was over 20 years ago – you will enjoy its responsiveness, superb gripping ability, and tactility without risking your license.
Maintain that VTEC lump's oil change schedule and watch out for rust throughout the sills and rear arches.
Why The Honda DC2 Integra Type R Is A Modern Classic?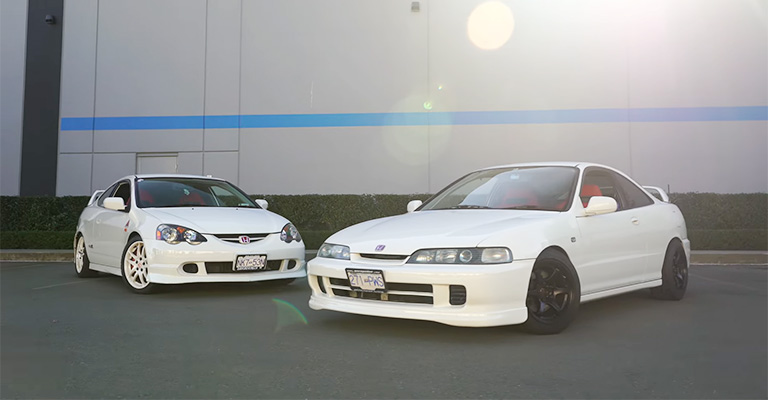 You can't go wrong with the original Honda Integra Type R DC2. Engagement, responsiveness, and agility came with the guttural roar of the world's highest specific-output 1.8-liter four-cylinder, a handcrafted, naturally aspirated four-cylinder bursting toward its redline at 8400rpm.
It created a cult of followers in no time, and it was easy to understand why. The first time you drive, you will be hooked for life. The next Type R didn't even come close to competing with Honda's first unless you lived in Japan.
In 1985, Honda introduced their ground-breaking Ferrari-benchmarking NSX sports car. While the regular NSX was an excellent all-rounder, the 1991 NSX-R was a brilliantly focused, narrow-minded racer.
Ultimately, it didn't care about comfort, convenience, or image. To keep up with the competition, it only cared about going fast. For the letter R, it abandoned the audio, air-conditioning, and other niceties.
It's important to note that the R stands for racing, an appropriate moniker for the NSX-R. And the NSX-R was inspired by the DC2 Integra, the first vehicle to sport the Type R badge.
Honda knew how to build small engines with great power and reliability, and the B-Series saw the F1 technology amortized across various mass-produced models such as the Civic, CRX, and Integra.
With this, the B-Series gave real-world benefits to Hondas bought by regular consumers without any interest in racing while also providing an incredibly versatile platform for aftermarket tuners – and a great Type R to boot.
It played a significant role in introducing Honda's legendary VTEC powertrain to the road through the B-Series. As a true game changer, Honda's VTEC (Variable Valve Timing and Lift with Electronic Control) engines now have a Jekyll and Hyde personality.
With both cam profiles switched, the engine could be driven more efficiently, experienced more power, and its wild side could be unlocked.
These engines are now one of the most popular of all time due to their ability to generate significant power without blowing up. SOHCs, DOHCs, VTECs, and non-VTECs were in the B-Series lineup.
With its five-speed manual transmission and unique second- and third-gear ratios (there was no automatic option, unlike its contemporaries), the DC2 Type R's B18C7 was a thrill to drive.
Although it was mostly engine-driven, there were other factors too. Under its nose, the Type R had a helical limited-slip diff that allowed it to drive through corners with ultra-sharp turning using Honda's torque-sensitive, rotary valve rack-and-pinion steering.
A key feature that distinguished Type R was its chassis, which was both light and stiff. We saved 40 kilograms by removing air conditioning, sound deadening, and stereo, as well as using lighter windscreen glass, Recaro bucket seats, Momo steering wheels, and titanium gear knobs.
Using suspension tower braces strengthened the chassis and reduced the variation in suspension geometry. It had a lower ride height of 10 millimeters, firmer suspension bushings, and harder shocks and springs, which improved body control significantly.
In addition to enhanced stopping power, NSX-size brakes were used. A Torsen LSD was another important addition, and it showed that Honda was serious about making the Integra Type R a racing car.
Final Words
Even though the latest models of Hondas have been improved, the poise and delicacy of the Integra Type-R remain unsurpassed in terms of performance.
Taking advantage of the original Integra Type-R is a rare opportunity – prices are rising, and the British climate hasn't been kind to them. Our recommendation? Make sure you find the right one and cherish it before time has passed.
The limited-slip differential produces tremendous traction, and even modest tires provide amazing grip levels. The torque steer is barely rippling with lb-ft so that probably explains why there's no torque steer.
Nevertheless, the absence of a torque-steer, taut but supple suspensions, a tremendously effective diff, abundant grip, and no torque-steer all combine to create one of the purest front-drive helms in existence to date.