When it comes to sparking plugs, there are many types to choose from, but an easy way to learn what you need is to check your owner's manual. Your vehicle's manual will tell you which plugs to use.
Spark plug's most important feature is that it matches the engine's design. There is usually a copper-core center electrode on spark plugs. Electricity is easily conducted through copper, and heat is transferred faster than other metals.
To prevent wear caused by high voltage sparks, copper alloys, platinum and Iridium are commonly used as protective coatings on copper. Iridium or platinum tips may be used on spark plugs to optimize performance.
Despite its low price and high conductivity, copper has a short life expectancy. Platinum and Iridium are harder metals, but they are more expensive; however, you should always use the metal that is designed for your engine.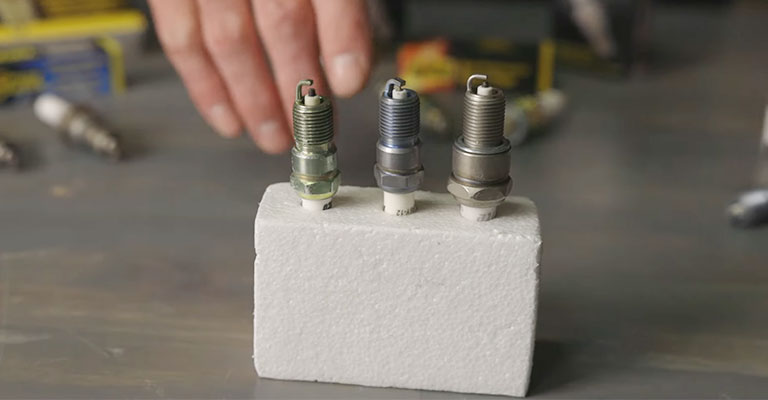 Will Any Spark Plug Fit Any Car?
A spark plug is one of the most important components of your engine, and there are three basic types: copper, platinum, and Iridium. There is also a "double" variant of both Platinum and Iridium, which will be explained in the next section.
Spark plugs should be purchased in matching sets for your vehicle, but not all spark plugs are universal. In addition to coming in different sizes and gaps, spark plugs are made from various metals.
Different Types Of Spark Plugs Material Explained
It is important to understand the terminology when analyzing different spark plug types. To connect to either the spark plugs wire or coil boot, spark plugs have a top, ceramic, and metal terminal.
There is usually a center electrode on the plug's core, which is usually made of copper, in addition to the side electrode, a threaded portion of the spark plug screws into the engine's cylinder head.
A "gap" is created between the side and center electrodes that allow the spark to jump. However, the electrode material differs between plugs. Therefore, spark plug recommendations from manufacturers are crucially important. You should refer to the owner's manual of your vehicle if you are uncertain.
Iridium Spark Plugs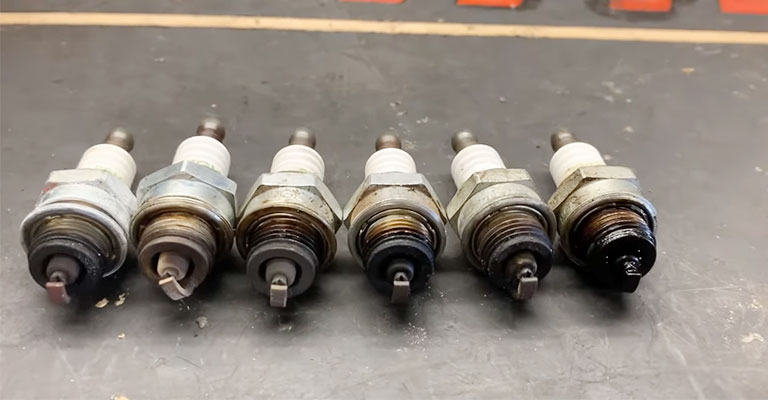 When coil-on-plug systems became more popular in the mid-2000s, Iridium plugs appeared on the market. Plugs made of Iridium typically have the smallest center diameter.
This way, the voltage required to create a spark can be reduced, increasing efficiency. Aside from its ability to continue to burn even under extreme conditions, Iridium is also known for its resilience.
To get the best performance, it is best to absorb the extra cost associated with iridium spark plugs if your manual specifies them.
Platinum Spark Plugs
A new type of ignition system emerged in the late 1980s when coil packs and DIS systems started to replace distributor-based ignition systems, which required a plug that could withstand higher-energy, more demanding systems.
Platinum and harder materials lasted longer, as manufacturers developed spark plugs and antifreeze that lasted 80-100K miles. Plugs made of platinum are welded to the center electrode with a platinum disc, which helps retain their edge better, meaning better conductivity than copper plugs.
In addition to running hotter, platinum spark plugs are less prone to fouling and building up deposits. Double platinum plugs are best for DIS "wasted spark" coil systems.
Copper Spark Plugs
Over a century ago, copper plugs were invented with a solid copper core and nickel alloy electrodes. Nickel has a much shorter life span than platinum or Iridium because it is softer. Therefore, older, low-voltage systems usually benefit from these plugs. In addition, several high-performance vehicles require copper due to its high conductivity.
Double Platinum Spark Plugs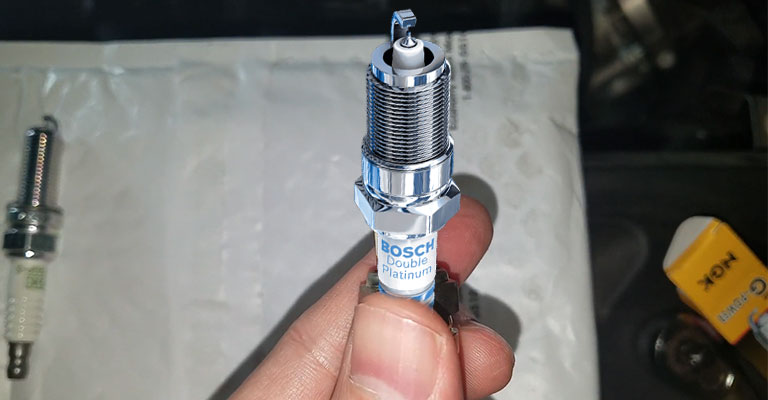 DIS "wasted spark" ignition systems were created in the early 1990s, which contain a coil pack that controls the firing of two spark plugs.
Due to this, both spark plugs connected to the single coil pack will spark simultaneously. This is known as a "wasted spark" since one spark occurs during the compression stroke, and another occurs during the exhaust stroke of the sister cylinder.
A positive polarity spark plug is attached to each coil, while a reverse polarity spark plug is attached to the opposite coil. One plug has a spark traveling between its two electrodes.
Sparks travel from the side electrodes to the center electrodes on the other plug, unlike traditional ignition systems, where the center electrode wears. In reverse polarity systems, the side electrode wears.
As a result, a double-platinum plug was needed, with a platinum disc on the middle electrode and a platinum disc on the side electrode. DIS systems benefit from this plug's durability, lasting more than 80-100K miles.
Your owner's manual recommends a double platinum spark plug, so don't use single platinum plugs. While the plug may work, it will wear prematurely and perform poorly.
Double Iridium Spark Plugs
The performance and durability of double Iridium spark plugs are enhanced by the inclusion of two discs of rare metal.
In comparison to a standard copper spark plug, Double Iridium Spark Plugs provide up to four times the service life of standard copper spark plugs under any driving conditions, including extreme heat and constant high speeds.
What Does a Spark Plug Do?
Spark plugs are screwed into each cylinder of an engine. They are necessary for starting and maintaining an engine. Getting the car started and running is the most demanding task for an ignition system.
This portion of the plug sticks out of the engine and is connected to the vehicle's ignition system, which generates sparks inside each cylinder with a certain amount of electric current.
Within the cylinder, two exposed electrodes are located on the opposite end of the spark plug. It is the center electrode of the plug that receives electrical current from the ignition system. For the spark to reach the second electrode, it jumps over a small gap.
That spark ignites fuel-air mixtures in engine cylinders. Sparks create small explosions inside the cylinder that pushes against the piston's top each time they are ignited. An automobile with four cylinders has four pistons; each plug serves an individual cylinder with six cylinders, six pistons, etc.
Spark plugs are dependable workhorses. For example, a 4-cylinder 2.0-liter engine with an idle speed of 800 rpm will fire 200 sparks per minute. The plug fires 500 times a minute when the engine speed increases to 2,000 rpm.
Note From The Author:
The owner's manual of your vehicle or machine will tell you which spark plugs are recommended. For example, it is not a good idea to downgrade to platinum or copper spark plugs if your owner's manual specifies iridium spark plugs.
Downgrading could result in poor engine performance. If you need help selecting the right spark plug for your vehicle, you may want to speak to your mechanic.
The Bottom Line
Follow the manufacturer's recommendations to get the best performance from your spark plug. It is always a good idea to consult your local auto service center if you do not have your owner's manual. You won't have a hard time changing spark plugs too.