If you've locked your keys in your trunk, there are a few things you can do. The trunk release lever or button inside your vehicle's cabin can be used to open the trunk without using a key.
A trunk release lever or button can be found in the cabin for releasing the trunk. Those who are locked out of there can save some money by using a slim jim, calling roadside assistance, or hiring a locksmith.
By using the trunk release lever or button inside your vehicle's cabin, you can open your trunk without a key. Of course, that's assuming it's not locked as well.
It is still best to open the trunk through the cabin if you have locked yourself out of the car. Again, depending on your mistakes, your car door can be opened by either calling a locksmith or using a slim jim.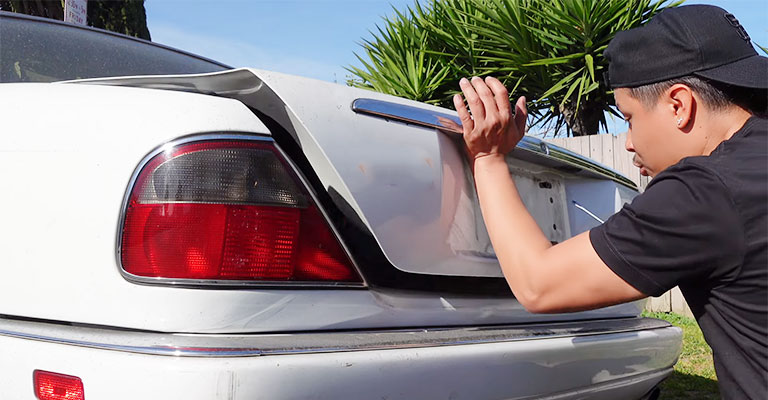 Best Way To Open A Trunk Without A Key From The Outside [Using Slim Jim]
The cabin access behind the back seat depends on the car; many bigger American cars have it, and many imports. If not, your next best option is to use a slim jim. Most auto parts stores sell slim jims, also called lock picks.
Before attempting this, make sure you are familiar with slim jims or other devices used to open your vehicle's doors without a key. The following steps will help you get your keys from the trunk:
The pick should be inserted between the window trim and the window.
Find a rod by feeling around with the pick.
By lifting the rod with the pick, you should be able to open the car door.
Look inside your car for the trunk release button or lever.
Unlock the trunk by pushing or pulling the mechanism.
You can usually get into the trunk by folding down either half of the rear seat back (or both) on most cars.
In addition, the truck has a pull handle that can be used to open it from the inside. A glow-in-the-dark handle is molded into the handle as a safety feature.
You might benefit from knowing a little bit about the anatomy of a car trunk lock if you're feeling adventurous.
The latch and the cylinder are the two main components of most car trunk locks. However, unlike the latch, the cylinder houses the keyhole, which is what opens and closes the trunk.
Several pins in the cylinder must be aligned for the key to turn and unlock the door. The following blog post discusses several ways to open your trunk outside the vehicle without a key.
Different Ways You Can Open A Car Trunk Without A Key
In some cars, it's possible to open the car's trunk without a key. However, it's important to remember that all cars are different.
You'll have to try a few different methods until you find the one that works for your specific make and model since one method might not work on another.
1. Make Use Of Wire Hangers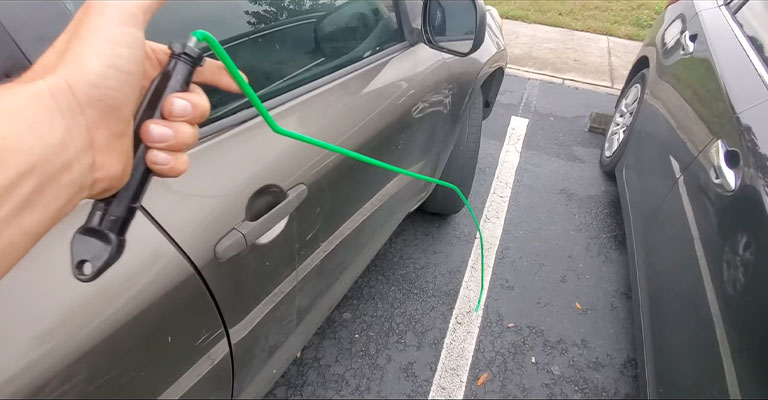 You may be able to open your trunk with a hanger if you're locked out of your car without a spare key. If your trunk has an inside release button, this method will work, so ensure you have one before trying it. You can do it by following these steps:
The first thing you need to do is straighten out the wire hanger. After that, bend over the hanger and twist it around to create a small hook at one end.
You will then want to insert the hook between the trunk and the backseat of your car. When you push the hook in far enough, you should feel resistance.
Find the lever or knob behind the back seat that opens the trunk. The trunk can be opened by pushing or pulling the lever. Use the hanger to probe around until you find the lever if you can't find it. That's it – your car is now open!
It is important to remember that only cars with an inside trunk release button will work with this method. You don't want to scratch the paint on your car if you use a wire hanger as a tool.
2. Check If Your Vehicle Has An Emergency Release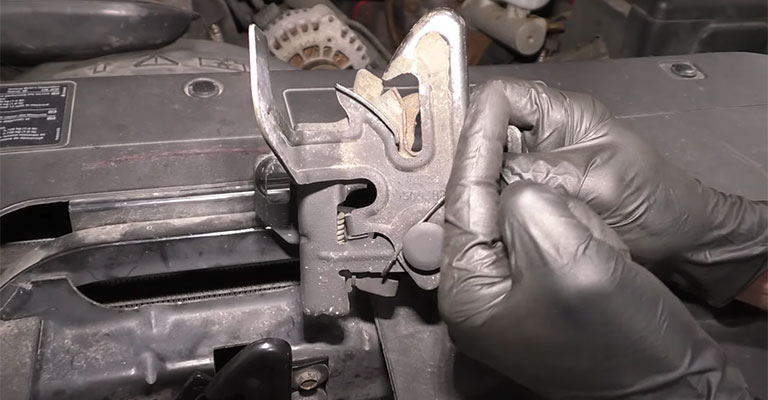 Many newer cars come with an emergency release cable that you can use if you are locked out and need access to the inside of the trunk.
In your user manual, you'll find out what type of cable you have, but it can be difficult for non-savvy people to locate them.
This may be in the form of a small hole in the rear fender well, just large enough to stick your fingers through. Once you have found and accessed the trunk, you should be able to pull the handle on the other end of this cable to unlatch it.
You can open your car's trunk without damaging it if you don't have a trunk release cable or can't locate it.
3. Call a Locksmith
A locksmith is your last resort if neither of those methods works or if you don't have a Slim Jim or wire hanger handy.
You will be able to get into your trunk with the help of a locksmith because they have tools that can open nearly every car door and trunk.
How To Access Your Keys If The Cab Is Unlocked?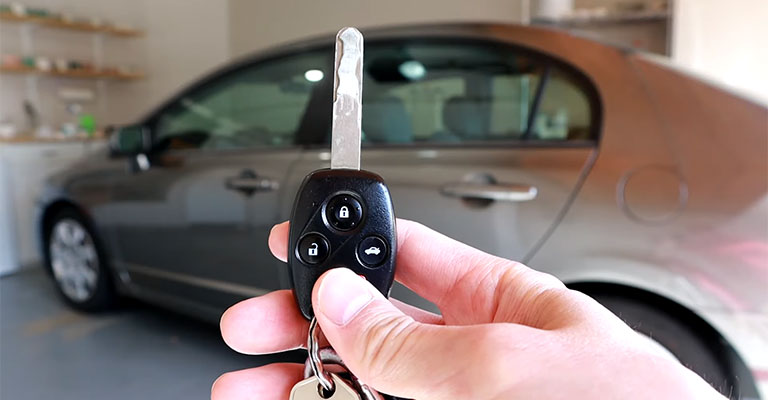 Depending on whether the car's cab is locked, you can find out what is the best way to free the keys from the trunk. Two easy tricks will let you enter the trunk if you can access the car's cab.
Make Sure Your Seats Are Folded
The rear seats of your car may fold down if it does not have a trunk release button. You can access the keys by folding the seats down and wriggling your way into the trunk.
The disadvantage of this option is that you must have access to the car's interior, and the interior may be locked.
Press The Trunk Release Button To Release The Trunk
You can also release the trunk using the button inside the car. This feature is common in modern vehicles. You can immediately resolve the problem by accessing the car's interior through an open door or window.
You may not think to look at your glove box, to the left of the steering wheel, on the underside of the steering wheel, a lever on the driver's side door, or in the middle console to find your trunk release.
How Could You End Up In This Situation?
The trunk of your car can be locked in a few situations. In the first case, your keys would have been misplaced, and you couldn't locate them.
A keyless entry system fails when the battery in your key fob dies, preventing you from unlocking your car doors. You could also lose your wallet or purse along with your keys in the worst-case scenario.
If you find yourself in a situation where you need to open the trunk of your car without damaging the vehicle, you must learn how to do it properly so that you can reach your belongings and get to where you're going.
If Your Car Is Locked, How Can You Access Your Keys?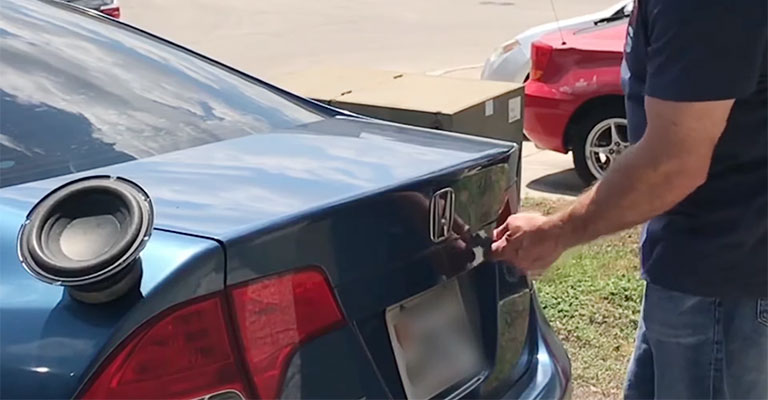 Getting into a locked car may require extra steps, such as overriding the locking mechanism.
In addition, you may have forgotten your spare set of keys as your brain is flooded with panic. If your entire car is locked, there are two ways to retrieve your keys from your trunk.
1. The Locking Mechanism Can Be Overridden
In addition to overriding the trunk lock mechanism, you can also consider other options.
It's possible to research the steps for your vehicle online, as each make and model has a different step-by-step method for completing the task.
The battery source, however, is usually required. Also, it is possible to release the trunk by shorting the fuse box in the car.
2. Find Out Where You Can Get Spare Keys
Being without your car keys is stressful, so you may have forgotten about your spare set of keys in your moment of stress.
The safest places to keep them are often inside your house, so you must walk a few feet to get there. Spare keys can sometimes be brought to you by your spouse or roommate.
Spare keys are not available to everyone, however. If you do, your house key may also be locked in your trunk, preventing you from getting inside.
Make sure you have a backup key prepared by your dealership or a local locksmith in case of emergency.
3. Seek Assistance
You can't fix a locked trunk on your own; there's no doubt about that. However, you can seek the help of a professional locksmith if you are still unable to gain access to your trunk despite trying the methods above.
Is Picking My Car Trunk Lock Going To Permanently Damage It?
Your method and execution will determine whether it worked or not.
For example, your car trunk lock may be permanently damaged if you use too much force, such as pushing it with a screwdriver. To prevent damage to your vehicle, call a professional locksmith.
Final Words
It's never fun to lock yourself out of your car, but it happens to everyone. The purpose of this blog post was to provide some ideas for opening your trunk from the outside without a key. Before you find the method that works for you, remember that not all cars are created equal.