If you ignore worn ball joints, your front suspension will come apart, and you will lose control of your vehicle if a catastrophic failure occurs.
A mechanic experienced in diagnosing and fixing suspension issues should check your vehicle if you suspect worn ball joints. Ball joints connect your wheel hubs and control arms.
A wheel hub and a control arm can pivot freely, allowing you to enjoy a safe and smooth ride and control your vehicle precisely.
Ball joints will likely last 70,000 miles or more, but they are not indestructible. In reality, the lifespan of your tires depends on your driving habits, the conditions on the road, and whether or not you are exposed to salt and road splashes.
The ball and socket will inevitably wear together over time, increasing the standard tolerance between them and a loosening of the joint.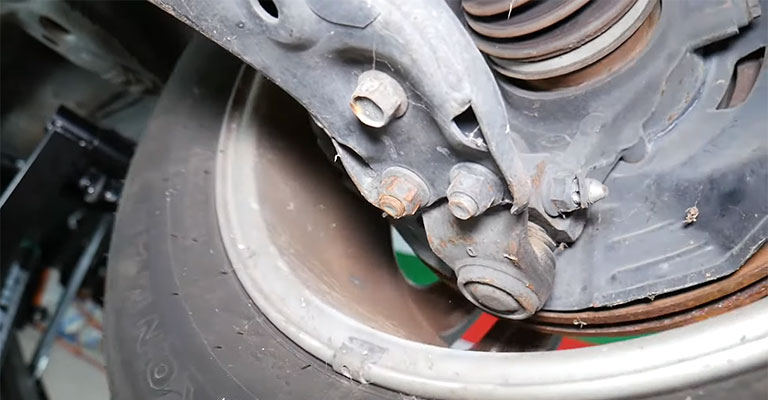 Ball Joints: What Are They?
Control arms connect a car's wheels, tires, and suspension system using ball joints, just like your own leg's ball-in-socket joint connects your leg to your hip bone.
Turning the steering wheel without them would make the tires immobile. In addition to moving up, down, left, and right, the ball joint also enables the tires to pivot. Thanks to them, your driving experience will also be smooth and stable, even over uneven terrain.
Lubricating grease is contained inside a steel casing that houses the ball joint. Dust and debris are also prevented from entering by a rubber boot. Depending on its make and model, there might be both upper and lower ball joints on your vehicle.
If there's a problem with a modern ball joint, you will likely need to replace it. Because they are sealed, they can't be serviced. So, if you replace one ball joint, you should also replace the other simultaneously to prevent the problem's recurrence.
How Can You Check For Worn Ball Joints?
Wear on ball joints can lead to slow symptoms that don't immediately appear. However, if you notice any of these symptoms or just want to ensure your ball joints are in good working order, it's best to examine them in motion before doing a visual inspection.
The Signs And Symptoms Of A Bad Ball Joint
Other common problems have many of the same symptoms as failing ball joints. Until you get a professional diagnosis from a trained mechanic, it's hard to know what's wrong with your car. The following are some common symptoms you may encounter.
1. Rattling And Clunking Noises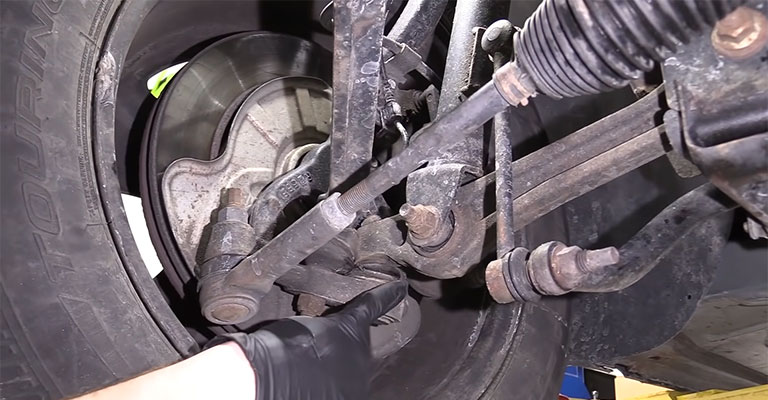 A loose suspension component is likely the source of any clunking, rattling, or clicking sound from under the car. A common cause of joint problems is ball joints.
Almost all cases, it's coming from a suspension problem if it rattles more when you go over bumps or dips in the road. In addition, your ball joint may wear over time and become even looser as you drive, making the sound louder.
2. Steering That Feels Loose And Wandering
Wearing ball joints can make the suspension system lose, causing the vehicle to feel unbalanced. In addition, worn-out ball joints may be causing the vehicle to drift out of the lane or difficulty tracking straight as you drive.
The ball joints are great for diagnosing this issue, but bad tie-rod ends, or an out-of-alignment front end can also cause similar symptoms.
3. A Lot Of Vibrations In The Cabin
The suspension may rattle slightly as you drive because of worn ball joints. When this happens at high speeds, the cabin may vibrate or rumble. A vibration could also be caused by unbalanced wheels, axles, or driveshafts. Other suspension parts can also cause vibrations.
Ball joints are much more likely to wear out than driveshafts or major suspension links during everyday driving. In addition to being relatively inexpensive, ball joints are also relatively easy to replace.
4. Front Tire Wear Is Uneven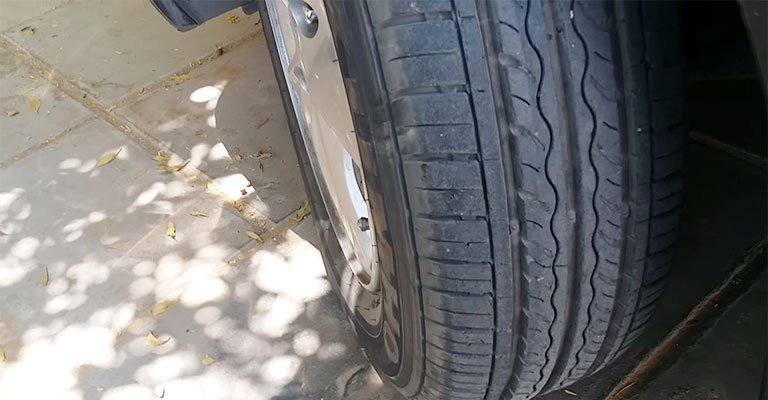 One of the front wheels can be out of alignment with the other when there is a loose ball joint in the front suspension.
A tire may wear out quicker on one side than the other, leading to uneven tire wear over time. One tire might show excessive wear on its inside or outside edge, or its surface may show uneven wear patches.
A different problem could be incorrect tire pressure if both front tires wear out rapidly. Your ride may need new ball joints if only one front tire is wearing out rapidly, as well as the other problems listed below.
5. Indicators Of Wear
Some ball joints with built-in wear indicators make diagnosing loose ball joints easier. A grease fitting is included as part of the wear indicator.
To determine whether a ball joint needs to be replaced, the grease-fitting collar must flush with the bottom of the ball joint housing. The bottom of some ball joints has a hole through which a wear indicator pin protrudes.
Ball joints are delicate as long as they have a pin visible. Replace the ball joint if it loses visibility or becomes flush with the housing.
Maintenance Of Bad Ball Joints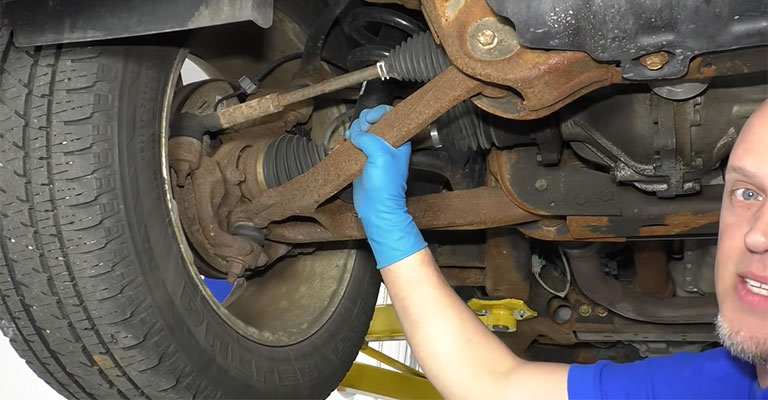 You should leave all ball joint maintenance to a professional due to the inherent dangers of working with a car's suspension system.
Your car will be lifted to the shop so a technician can inspect the ball joints, control arms, and other parts of the suspension system for wear, damage, and corrosion.
When only one ball joint has a problem, the technician may recommend replacing both. The reason for this is that one joint usually fails before the other.
The ball joints can be replaced on some cars, while the control arms need to be swapped out on others. The car's alignment will need to be checked as soon as the repairs have been completed.
Ball joints – and the entire suspension system – should be inspected and maintained regularly, even if it seems like a hassle.
It's more than just annoying when you hear clunking noises, feel vibrations, and have loose steering. Your vehicle's suspension is a major safety concern for you and other drivers.
Whenever you notice the first signs of something amiss, you should immediately take your vehicle to the shop for service. If you lose control of your car while driving, don't mess with anything that might lead to that.
What Should You Look For When Checking Your Ball Joints?
You can quickly check your ball joints while driving by following these steps:
1. Go For A Drive In Your Car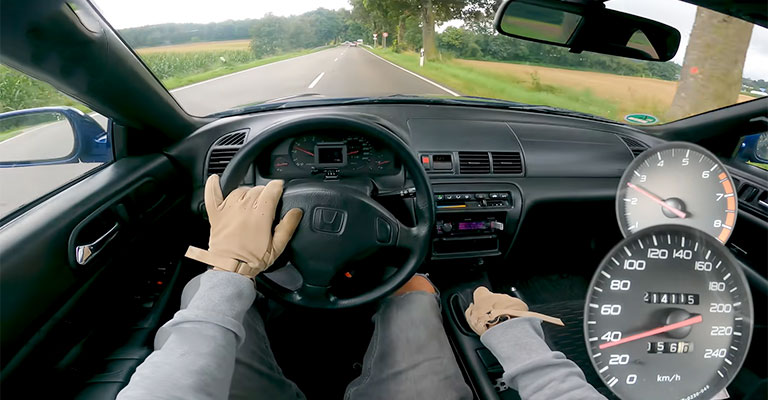 Pay attention to the engine, steering, and overall vehicle performance as you drive it on a public road at the speed limit.
During driving, you can feel vibrations caused by worn-out ball joints through the steering wheel or the floor.
The steering pulls to one side or the other due to worn ball joints. As a result, your tires may wear unevenly.
2. Overtake Speed Bumps
If you have driven at the speed limit, drive it at a low speed somewhere with speed bumps. You should stop and go a few times, and a few times, you should turn.
An example of noise is a clunking or squeaking sound. For example, as the suspension travels up and down over the road, worn ball joints rattle and cause a clunking noise.
A ball joint will start to squeak if the rubber boot protecting the grease inside the joint is damaged. Also, ball joints will make louder noises as they wear out.
3. Take The Wheel In The Direction You Want
Parking the vehicle is the last step, then turning the wheels back and forth while listening for ball joint noises.
Noticed Symptoms of Bad Ball Joints? What Should You Do?
Get in touch with a trusted auto repair shop as soon as possible if you experience any of these problems. It is complicated and expensive to repair loose or worn ball joints, which could collapse the suspension.
A simple driving test can tell you if something is wrong with the ball joints. Driving over speed bumps and turning right or left in your car will give you an idea of how the vehicle feels and sounds. You should bring your car in if any of these signs occur.
Final Words
Even over bumps and cracks in the road, your car's suspension keeps you comfortable in the cabin.
As a result, ball joints in the suspension let the wheels move without transferring movement to the cabin.
These joints can wear out over time. The lubrication can wear out, they can come loose, and they can lock up. Your ride will be bad because of this.