When it comes to automotive performance, there are numerous components working behind the scenes to ensure a smooth and reliable driving experience.
One such vital component is the torque converter, a critical part of an automatic transmission system.
However, just like any other mechanical component, torque converters can sometimes exhibit unexpected behavior, including producing noise when the vehicle is in park or neutral.
If you've ever heard unusual sounds emanating from your vehicle while it's idling in park or neutral, you may have wondered about the source of the noise and whether it indicates an underlying problem.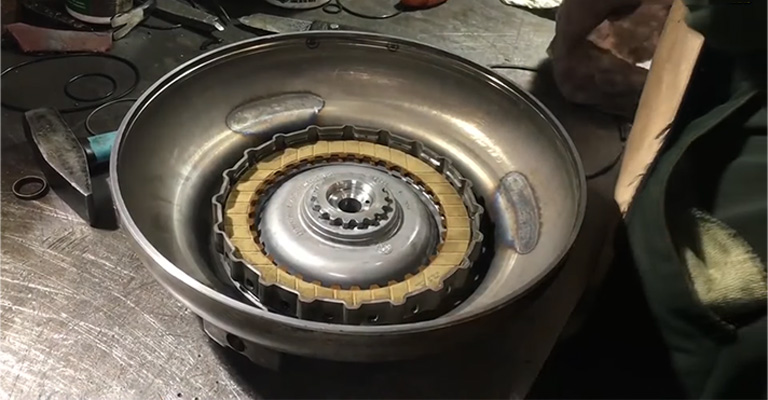 What Causes Torque Converter Noise In Park And Neutral?
Check the 3 bolts that hold the torque converter to the ring gear by removing the torque converter inspection cover from the bottom / front of the transmission.
Checking for loose torque converter bolts is a really easy way to diagnose this problem. It's important to note that diagnosing torque converter noise accurately requires a thorough inspection by a qualified mechanic or transmission specialist.
They can perform tests, check fluid levels, and examine the components to pinpoint the exact cause of the noise and recommend the appropriate repairs or replacements.
That being said, there are certain factors that can lead to torque converter noise in park and neutral. Here are some potential causes:
Insufficient Fluid Level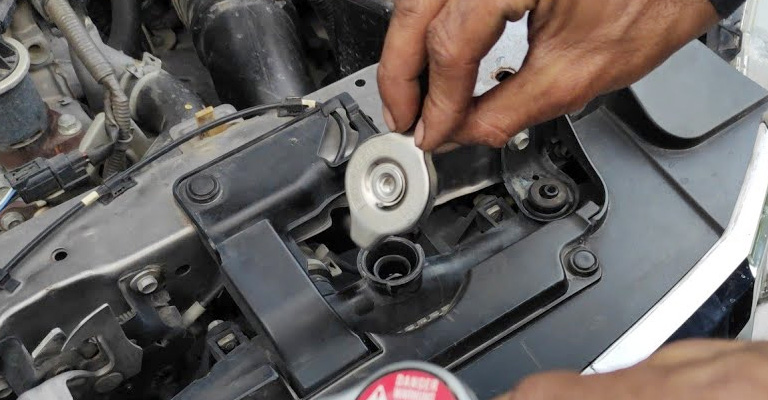 Low or inadequate transmission fluid can cause noise in the torque converter. The fluid acts as a lubricant and cooling agent, and without enough fluid, the torque converter may not function properly, resulting in noise.
Worn-Out Or Damaged Components
Over time, the internal components of the torque converter can wear out or become damaged. For example, the stator, which redirects fluid flow within the converter, may develop wear or breakage, leading to noise during park and neutral.
Damaged Or Worn-Out Needle Bearings
The torque converter contains needle bearings that support its rotating components. If these bearings become damaged or worn out, they can create noise, especially when the vehicle is in park or neutral.
Faulty Torque Converter Clutch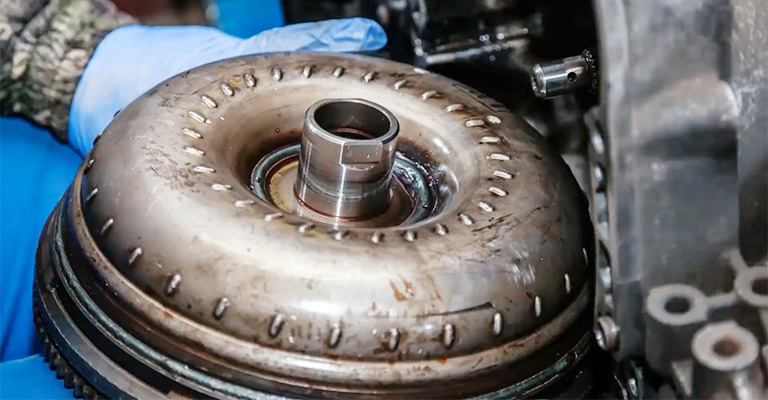 The torque converter clutch (TCC) is responsible for connecting and disconnecting the engine from the transmission. If the TCC is faulty or damaged, it may cause noise when the vehicle is in park or neutral.
Misalignment Or Imbalance
A misaligned or imbalanced torque converter can result in noise during park and neutral. This misalignment or imbalance could occur due to improper installation, wear and tear, or other factors.
Internal Fluid Pressure Issues
If there are problems with the internal fluid pressure within the torque converter, such as blockages or leaks, it can cause noise during park and neutral. These issues can affect the torque converter's performance and lead to noise.
Transmission Problems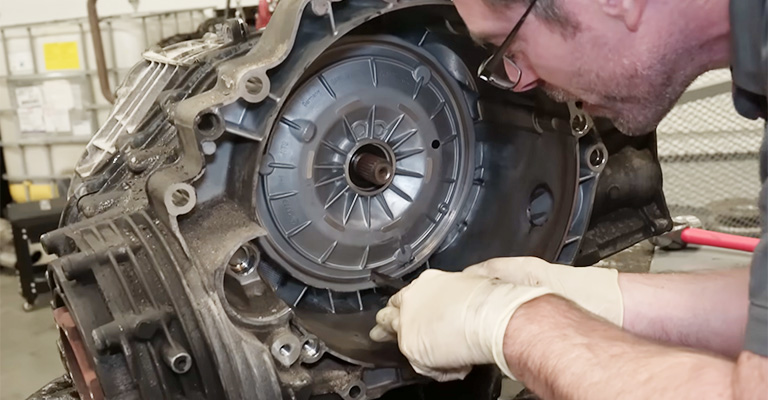 Noise from the torque converter can also be a symptom of broader transmission issues. Problems like worn-out gears, damaged solenoids, or a malfunctioning pump can impact torque converter operation and result in noise.
Common Transmission Warning Signs
It's possible the torque converter is causing the loud clunking noises you hear when changing gears, neutral, or reverse.
Whenever the vehicle is in gear, any noise caused by the torque converter will be heard from the torque converter, which is turned while the transmission is in park and neutral.
You will hear noises from the transmission if the torque converter has damaged needle bearings.
Every driver should be aware of the warning signs of a faulty transmission. Transmission noise may also be caused by the following factors:
When your vehicle is in park or neutral, you may hear a whining noise that increases with engine speed.
There may be a problem with your vehicle's transmission range switch
There may be a leak in your transmission lines
You may need to replace the transmission fluid along with a transmission flush if the transmission fluid level is too low or it's old and dirty
Wear or damage to fluid clutches can indicate a broken torque converter mount or a misalignment between torque converter and flywheel
About Noise Coming From Torque Converters
It is easy to isolate torque converter noises. With the transmission in park or neutral, a converter noise will disappear since the entire converter (pump, turbine, and stator) turns.
Because the turbine shaft in the torque converter is stationary when the transmission is in gear and the drive wheels are stationary, the turbine in the torque converter cannot spin.
A bearing between the turbine and the main housing of a converter is working when this happens. You should suspect a torque converter if the noise is only present in gear with the drive wheels stationary and disappears in neutral.
In the case of the AOD transmission, there is an exception. While the engine is running, the direct drum of an AOD is always turning.
Therefore, torque converter noise can easily be confused with direct drum bearing noise.
Tip: As the drive wheels roll slowly from a stop, torque converter noise will decrease.
Whining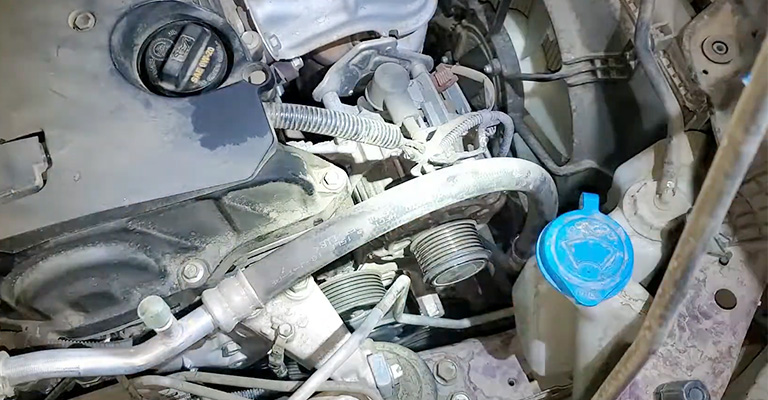 The transmission of your vehicle may whine when you're operating it. Transmission whining can be caused by a variety of factors.
This makes it difficult to pinpoint the problem without the assistance of a dealership maintenance professional. If you notice a whining noise, there are a few things you can check.
Clogged transmission fluid lines usually cause whining noises from your transmission when you are in reverse.
In many cases, a clogged transmission line indicates a much more serious problem with the transmission. Consequently, you should take your vehicle to your dealership's service and parts department as soon as possible.
Your torque converter may be malfunctioning if your transmission continuously makes whining noises when in gear.
Shift the vehicle into park or neutral to see if the noise stops. When your car is in gear, a constant whining noise should be addressed by a professional.
Transmission Oil Pump
Fluid pressure is provided by transmission oil pumps to the transmission and torque converter. Pumps with gears and rotors are considered fixed displacement pumps.
In most transmissions of today, fluid pressure is adjusted or changed according to the demands of the transmission.
Often, unneeded pressure is generated by fixed displacement pumps because their pressure increases with rotational speed.
By using a variable displacement pump, the pressure can be decreased as the demand decreases. By reducing output, it saves energy without affecting speed.
The torque converter drives the transmission pumps directly from the engine. When the engine is running, the torque converter housing is mechanically connected to the crankshaft, causing the pump to run.
Wear or faulty pumps produce a whining noise in all gears, including park and neutral. It sounds the same as a faulty transmission pump when a transmission filter is restricted or clogged.
In order to diagnose a transmission pump or torque converter, this is essential. Before replacing the pump, make sure the filter is in good condition.
The Bottom Line
As with any other problem, diagnosing a transmission often involves elimination. Before troubleshooting transmission noise or vibration, make sure the engine isn't at fault.
Remember that if something is not moving, it is not making a noise. When diagnosing drivetrains and planetary gearsets, it's crucial. Since the wheels are stationary, the entire drivetrain is stationary, eliminating these items as possible sources of noise.