Tires are a crucial component of your vehicle and maintaining them properly can help ensure your safety on the road while extending its lifespan. One important aspect of tire maintenance is monitoring your tire pressure.
Many people are unsure about the correct tire pressure for their specific vehicle, which can lead to underinflation or overinflation, both of which can be dangerous.
In this article, we'll dive into the topic of tire pressure and answer the question, "What should my tire pressure be?"
We'll explore why tire pressure matters, how to check your tire pressure, and what you should do if you find that your tires are over or underinflated. So, let's get rolling and ensure your tires are in tip-top shape!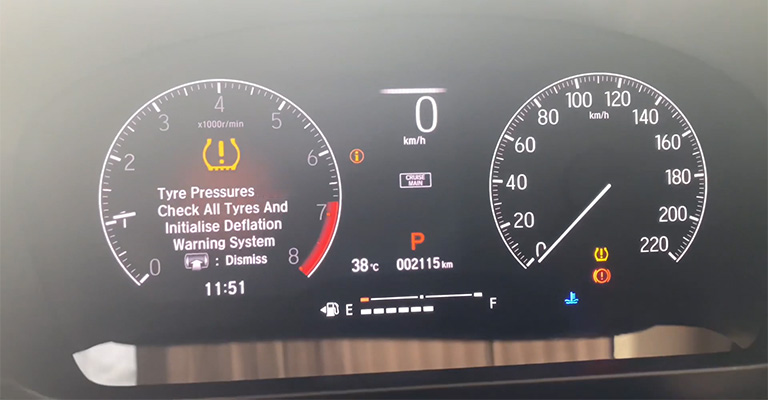 What Should My Tire Pressure Be?
Having the correct tire pressure to maximize gas mileage and tire life is very important. There is a recommended tire pressure for your car that will help you get the best gas mileage, handling, and tire life.
The information is printed right on the door of the vehicle. When filling them up, following the recommended pressure, measured in pounds per square inch, is important.
It varies from vehicle to vehicle what tire pressure is recommended, but most cars recommend three to five PSI (pounds per square inch). It is recommended that tires have 32 to 35 psi of air pressure when they're cold.
During cold weather, you should check tire pressure because friction between tires and the road generates heat, which increases the temperature and pressure.
If possible, leave the car sitting overnight or for a couple of hours before taking a reading. That will ensure you have the most accurate reading (not to mention the most consistent reading).
If you want to avoid poor brake performance and premature tire wear, you should avoid overinflating your tires.
Underinflated tires will cause premature tire wear due to increased friction, whereas overinflated tires will result in a bouncy ride and an ill-handling car.
You should put your tires at their recommended pressure to achieve maximum tire wear and vehicle performance – and to make your maintenance schedule easier when it comes to replacing your tires.
Maximum Pressure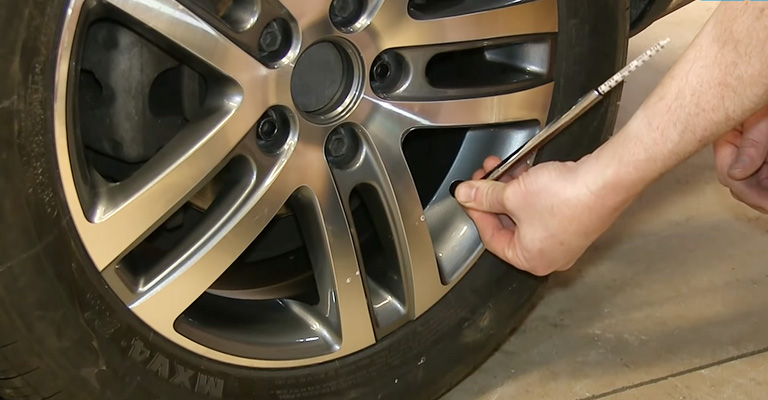 Ensure that you do not confuse the recommended pressure with the maximum pressure. You can find the recommended pressure in your owner's manual or on your vehicle's door jamb when filling your tires.
Tire manufacturers usually display the maximum pressure on the tire's sidewall near its bead (where the rubber adheres to the rim).
There is a maximum pressure that the tire can safely support. It is measured by the tire manufacturer rather than the car manufacturer.
Minimum Pressure
Most manufacturers specify no standard minimum tire pressure. Using this value, a car can handle properly and safely if its tires are at the recommended pressure.
In other words, the optimal value is also the minimum value because anything below that value isn't recommended.
U.S. law requires all vehicles to be equipped with tire pressure monitoring systems (TPMS) that inform the driver if the tire pressure falls below the recommended 25 percent.
There are varying degrees of underinflation. Some pressure drops are mild or moderate but can still have negative effects.
How Do You Know Tire Pressure is Low?
There are a few different ways to tell if your tire pressure is low:
Poor Performance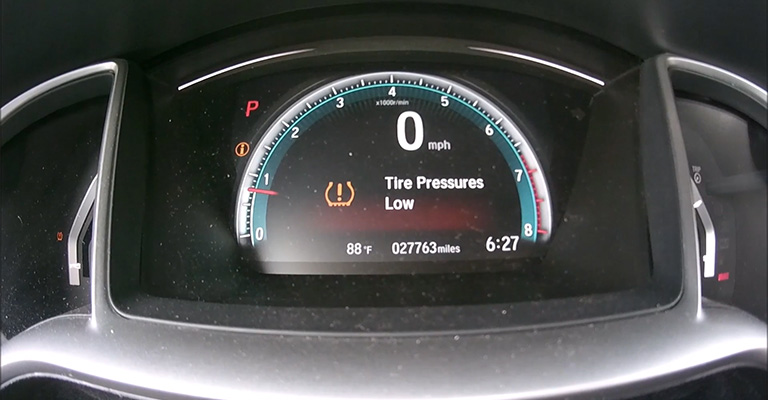 In low-tire-pressure vehicles and those with worn-down treads, the vehicle's response, and ride quality will be diminished.
Tire Pressure Gauge
Tire pressure can be checked simply by removing your tires' valve stem caps, inserting a tire pressure gauge into the stem, and pressing down. An accurate PSI reading can be obtained this way.
Tire Pressure Monitor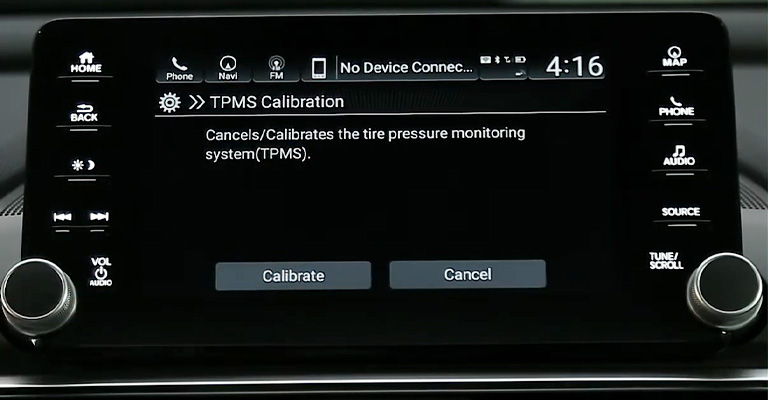 You may have a newer vehicle with a tire pressure monitoring system, which will warn you when to inflate your tires on your dashboard.
Recommended Honda Tire Pressure
Every Honda sedan or SUV requires a different tire pressure, so you should adjust it accordingly.
Both vehicles have different performance capabilities, drivetrains, body types, and more, so the recommended CR-V tire pressure might differ from the recommended Accord tire pressure.
The following is the suggested tire pressure for Honda models:
| Honda Model | Front Tire Pressure (psi) | Rear Tire Pressure (psi) |
| --- | --- | --- |
| 2020 Pilot | 32 | 32 |
| 2020 Fit (high-speed driving) | 35 | 33 |
| 2020 Fit | 33 | 33 |
| 2020 CR-V | 32 | 32 |
| 2020 Accord (high-speed driving) | 35 | 33 |
| 2020 Accord | 32 | 32 |
| 2020 Civic | 32 | 32 |
| 2020 Odyssey | 35 | 35 |
If you have a previous year's Honda model and aren't sure what your proper tire pressure is, check your Honda owner's manual or the sticker inside your driver's side door.
How To Check The Tire Pressure?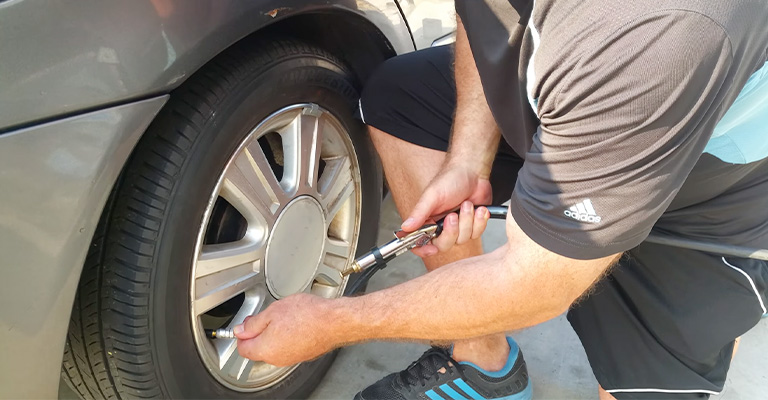 To ensure your tires are in good order, you should check your tire pressure regularly after knowing the recommended tire pressure for your vehicle.
Mechanics, car parts stores, gas stations, and some homes allow you to check your tire pressure. Checking tire pressure at home requires:
A Tire Pressure Gauge(Digital or Regular)
Air Compressor
Pen and paper / your phone
Step 1: Test With Cold Tires
If possible, you should start with cold tires, as tire pressures vary greatly with temperature and are recommended for cold inflation.
Most people check their tire pressure after a night's rest to avoid the heat caused by friction after driving.
Step 2: Check The Tire Pressure With The Gauge
The tire gauge needs to be pressed, so the hissing sound disappears after removing the valve cap. Providing the tire gauge is connected to the tire; there should be a reading.
Step 3: Note Down The Readings
If you look in your owner's manual or inside the driver's door, you can find the perfect tire pressure for each tire, and you can compare that with the tire pressure stated in the manual or inside the driver's side door.
If you are changing tires on some vehicles, check the recommended pressure for both the front and rear tires in detail.
Step 4: Fill Your Tires To The Recommended PSI
Underinflated tires can be filled with air using an air compressor. Gas stations have air compressors to rent, or you can buy one at an auto parts store.
For accurate readings, ensure your tires are cold and rest for at least half an hour before checking them.
You should fill your tires when hot with 3-4 psi higher than recommended and check your gauge again when cold.
Filling the tires with air is ok if you overinflate. You can let the air out with the gauge afterward.
Step 5: Check The Tire Pressure Again
Use your tire pressure gauge to carefully check the tire pressure after filling the tires and ensure they are within a good range. It is recommended that you press hard on the valve stem if the tires are overinflated so they can let some air out.
What Should I Know About My Indirect TPMS System?
It is necessary to initialize the TPMS calibration after adjusting your tire pressure if your Honda has the indirect TPMS.
When you reach specific driving parameters, your TPMS (Tire Pressure Monitoring System) will complete its calibration. This low tire pressure light will appear again if the driving parameters are not met.
Please follow the directions below or call us if this happens:
Make sure all 4 tires are in good condition and don't have any flat or punctured tires; if possible, double-check the tire pressure or bring your vehicle to Valley Honda for a tire pressure check.
The tires do not appear visibly low, so if it is not feasible/convenient to check their pressures, you can initialize the TPMS calibration by pressing the left-hand steering wheel button or in the Vehicle Settings menu on the I-MID screen or Infotainment screen (see your owner's manual for instructions on TPMS calibration).).
After the calibration has begun, the vehicle will need to be driven 20-30 miles at speeds between 30 mph and 60 mph. Data for speeds that are outside of these parameters will not be stored by the system.
You can test whether the TPMS has been calibrated properly by turning off the vehicle and putting it into an accessory mode (the engine is off, but the vehicle is running). It is considered complete when the low tire pressure light does not blink after one minute. The drive (step 3) needs to be repeated if the light blinks between 45-60 seconds.
This type of TPMS does not use any sensors mounted on the wheels to monitor tire pressure. Instead of using wheel speed sensors while driving, it uses VSA/ABS sensors to monitor and compare tire speeds.
While driving the calibration drive, the TPMS control unit learns the tire characteristics.
How Do You Inflate Your Tires?
The air pressure in your tires can change with cold weather, so check them every month or so:
Check the tire pressure of your vehicle at your dealer for no charge.
If your car needs an air pressure pump, visit a gas station with one (you will probably need quarters for this).
Tire gauges are helpful for checking tire pressure.
Make sure the pressure is right for your tires (if any are low, they should be checked for leaks or punctures).
Final Words
It's always important to keep an eye on tire pressure when driving safely, and it can increase fuel efficiency and improve safety.