Identifying signs that your Honda car is having a problem is half the battle with Honda car maintenance. It's essential to stay aware of any potential problems, whether you smell gas or feel the car shaking.
White smoke from your exhaust is one of the most concerning problems. Check out this article for tips on diagnosing your smoking car. Your car's exhaust pipe should not emit visible emissions when everything is working properly. A smokey engine is likely the result of something wrong in the engine.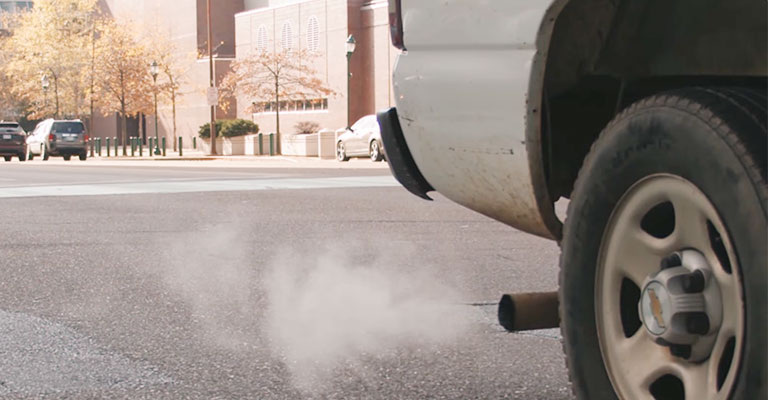 White Smoke Coming From The Exhaust | 8 Possible Causes & Diagnosis
The occurrence of white smoke billowing from a tailpipe is a sure sign that something is wrong, as opposed to benign white condensation.
In most cases, this indicates that the engine is burning coolant, which means something is terribly wrong.
In most cases, this is caused by a blown head gasket, which can quickly cause an engine to overheat. This could also be caused by a cracked cylinder or engine block; in which case the engine would have to be replaced.
Pull over and shut off your engine immediately if you see this kind of smoke. Get a tow truck to come to your aid.
1. Blown Head Gasket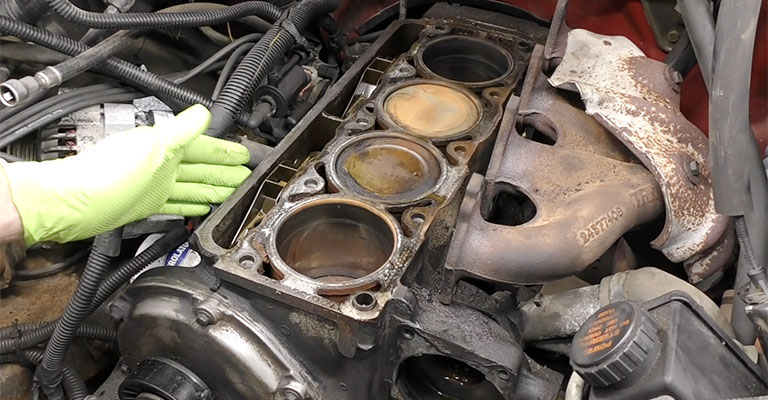 White smoke from the exhaust indicates that coolant is exposed to high pressure and combustion temperature through an opening in the cooling system. An engine block, cylinder head crack, or a head gasket leak can cause this.
Due to the design of head gasket seals, cracked engine blocks are exceedingly rare, and head gasket failure is typically the primary cause of white smoke coming from the exhaust.
2. Bad O2 Sensor
Yes, a bad 02 sensor can cause white smoke to come from the exhaust.
One or more oxygen sensors have likely become contaminated with vaporized antifreeze if white smoke pours from your exhaust. There are sensors on all fuel-injected cars, which are welded onto the exhaust system in bungs.
Catalytic converter efficiency is also monitored by additional oxygen sensors located after the converter. Oxygen sensors are a vehicle's way of regulating the amount of fuel injected.
Vaporized coolant will contaminate the sensors, causing them to stop functioning as designed and store a fault code. Because of this, you see white smoke coming out of your exhaust.
A new head gasket must always be accompanied by a new oxygen sensor for the affected bank of cylinders to restore proper engine performance.
3. The Cooling System Has Air In It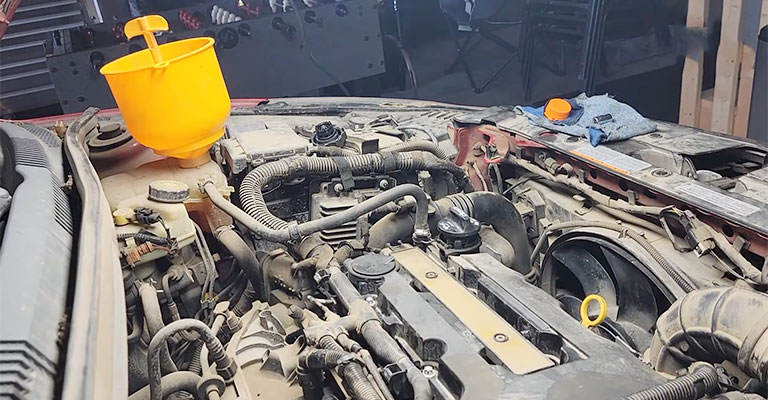 A blown head gasket can be indicated by air in the cooling system. Nevertheless, plenty of other things can cause a low coolant level.
Maintaining a full coolant system is problematic when white smoke isn't evident, and you suspect a blown head gasket. Without a leak-down test, it can be difficult to determine whether your cooling system has a stubborn air pocket. However, you can try to purge it first.
It is important to know the exact location of these burp valves so that you can relieve them before you refill your coolant system.
Coolant cannot circulate completely without these valves, so the temperature gauge will show wide swings as if a head gasket has blown.
4. Low Coolant Level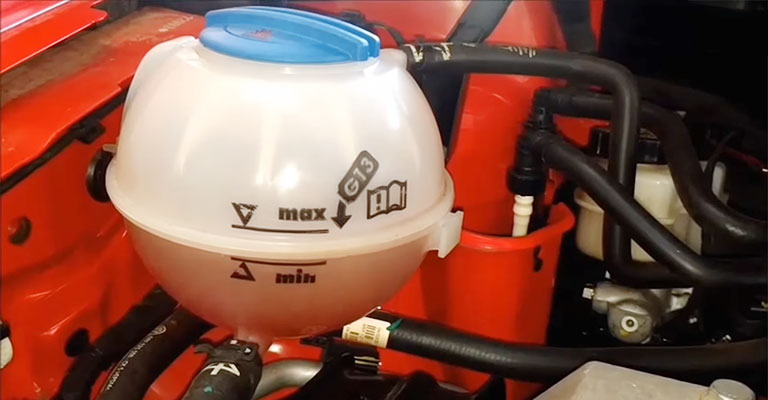 There is almost always white smoke coming from the exhaust when the head gasket has blown. The loss of coolant doesn't necessarily accompany a blown head gasket.
Further, if the gasket breach is slow enough and occurs outside the block, not between the cylinders, you won't see white smoke from your exhaust.
It may be necessary to perform a pressure test if you have to keep refilling your coolant. Additionally, coolant travels to your heater box through various hoses, valves, and junctions, many of which can corrode or break if they are plastic.
5. You're Overheating Your Car
Overheating usually causes white smoke to come from your exhaust. Regardless of how slow the coolant leak is, every time the head gasket blows, you are losing coolant continuously.
It will initially appear as occasional excursions of the temperature gauge needle into high territory over time due to the cumulative loss of coolant. As the coolant loss increases, the remaining coolant must perform the entire system's job.
A low level of coolant also makes the cooling system itself less effective, and as this spirals out of control, you will see the temperature gauge swing more frequently and more dramatically.
6. Octane Level Is Low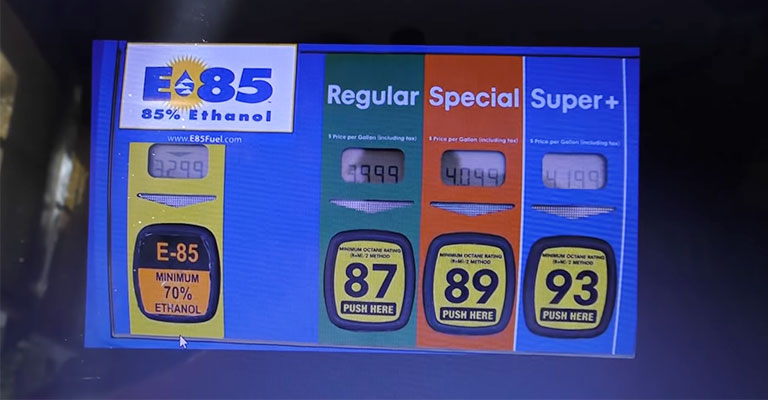 It is usually low-octane fuel combined with some aggravating factor that causes a blown head gasket. In most cases, we mean driving a stock car or truck or driving a modified car or truck regularly, not a hotrod.
A cracked cylinder head can sometimes cause white smoke in the exhaust. In the combustion chamber, preignition can result in blown gaskets and cracks. The convergence of several factors results in these spikes in pressure, causing damage.
7. A Foamy Coolant
In the same way, your engine oil is mixed with your coolant, you'll also have engine oil mixed with your coolant when you see white smoke coming from your exhaust.
High combustion pressure introduces exhaust gases and boundary layer lubricants into the cooling circuit. When your engine accumulates more miles, a blown head gasket causes coolant to escape through the exhaust.
This results in a miasma of oil foam and exhaust byproducts in place of cooling system volume. You can easily see this when you remove the radiator cap. The neck of the radiator cap and the seal of the cap will have oily foam around them.
8. The Engine Oil Contains Foam
Make sure your dipstick shows no mixture of coolant and engine oil. Most often, when a head gasket fails, you will see froth-like bubbles in the oil instead of the normally clear, dark brown oil clinging to the dipstick.
Eventually, it will resemble a milkshake in appearance. It is also highly likely that you will add bearing damage and ring wear to your list of problems if you wait long enough to repair the head gasket.
When You Start Your Car, You See Wispy White Smoke
You may not need to worry just yet if you notice white smoke coming from your car's tailpipe. Chances are it's not smoke at all, but water vapor if it's thin and goes away within a few minutes of starting your car.
A car's exhaust system can become clogged with condensation if it sits outside overnight, especially if it sits outside during rain. Condensation will turn into steam when your car is started.
Warming up the exhaust system will cause condensation to disappear and white steam to appear.
Why White Smoke?
Your combustion chamber will produce different colors of smoke if some chemical other than gasoline is present. For example, water or coolant burning produces thick white plumes.
Your combustion chamber can be flooded with water or coolant in three ways. First, if the gasket on the head of the cylinder head or engine block is blown, it can make its way through cracks in the cylinder head or the engine block.
Using the coolant level as a guide, you can determine whether you have a leak. For example, you may have blown your gasket if it is low, and you do not see a leak. Detecting leaks in engine blocks is also possible with an engine block leak detector kit.
It is a major repair if an engine block, cylinder block, or gasket head is cracked. If this happens, you should immediately hire a mechanic to fix it. Alternatively, you can rebuild the engine, replace it, or buy a new car.
How Does a Normal Exhaust Look?
You should be able to see the gas coming from your tailpipe. A thin, white wisp of cloud can appear when condensation forms on a cold day.
As a result of gasoline and air combustion, this color is produced. Catalytic converters scrub gases before they exit the tailpipe. The exhaust may have problems if it isn't clean or has a thin white wisp.
Smoke From The Exhaust Can Be Any Color Other Than White
You may be able to identify the cause of a problem by the color of the smoke. If you notice smoke of a color other than white coming from your Honda exhaust, you might know something is wrong. In addition to black, gray, and blue, there are other problem colors.
Blue Smoke
There are several causes of blue smoke. Your valve seals or piston rings are possibly breaking down, causing your engine oil to burn in the fuel system. It is more likely to happen to cars with high mileage.
Alternatively, you might have accidentally spilled engine oil when changing the oil, which is harmless. You will soon be able to see through the blue.
If you are losing engine oil, check it regularly and top it off as needed. Blue smoke may be produced by a turbocharged car if the turbocharger is worn out. If you want to rebuild or replace it, you'll have to do so.
Gray Smoke
There are several causes of gray smoke, including burning excess oil and a turbocharger that is having problems. In addition, a malfunctioning positive crankcase ventilation valve can also cause gray smoke.
Gray smoke may be produced if transmission fluid leaks into the engine of a car with an automatic transmission. A mechanic will be able to help you in that situation.
Black Smoke
When a gasoline car produces black smoke, too much fuel is being burned. If your air filter is clogged or your fuel injectors are clogged, you may need to change them. Also, you may have an over rich fuel/air mixture if your exhaust pipe emits black smoke.
If soot accumulates in the diesel particulate filter, a diesel car can produce black smoke. The soot can be dislodged by driving fast. An engine's combustible mixture needs to be precise in order to work properly.
Rich mixtures are those with too much fuel or too little air. Again, a Honda authorized service center will likely be the best choice in this case.
Is It Safe To Drive My Car If I See White Smoke Coming From The Exhaust?
Keeping the car from moving is the most important thing. An engine with a gasket failure or a crack could cause further contamination or overheating, which would be the engine's end.
It's up to you what you do next. It is not recommended for amateurs without the proper tools to attempt this car repair in their own garages, since it is one of the biggest car repairs ever.
The value of the vehicle should be considered when deciding if a repair is worth it.
Final Words
Exhaust smoke is generally not actually smoke. The first thing that happens when you start a cold engine is that it quickly heats up and emits water vapor as a byproduct.
Steam is formed when temperatures rise within the engine, which creates condensation within the exhaust system. Steam quickly evaporates as a car warms up.
The exhaust system may not get fully warm all the way to the tip if you only use a car for short trips. In addition, rust can occur in the exhaust if condensation forms inside the system and isn't cleared.
As a result, exhaust gases can leak out and blow from the system, causing exhaust leaks. As a result, the emissions test could fail the MOT because of incorrect readings.