The Honda Ridgeline is a popular pickup truck known for its versatility and reliability. While the Ridgeline is designed to handle various driving conditions, some owners may want to add an extra layer of protection to their vehicles.
That's where the bull bar and brush guard debate comes in. One common question among Ridgeline owners is whether a bull bar or a brush guard is the best choice for their vehicle.
These two front-end accessories offer different types of protection and appeal to different kinds of drivers.
In this article, we'll delve into the pros and cons of each option, giving you the information you need to make an informed decision and maximize your Ridgeline's potential. So, buckle up and get ready to explore the world of bull bars and brush guards!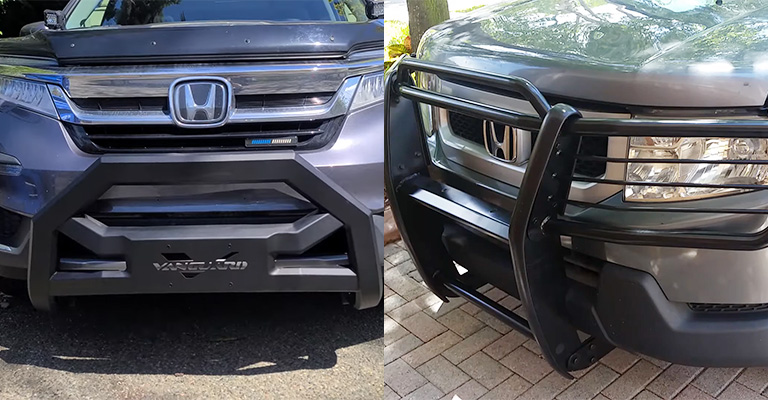 Bull Bars Vs. Brush Guards: What's Right for Your Honda Ridgeline?
A bull bar, also known as a bull guard, is a type of front-end accessory that protects the grille, headlights, and lower fascia of a vehicle. It is often made of metal and can provide some protection in low-speed impacts.
On the other hand, a brush guard is designed to protect a vehicle when driving off-road and is used to clear the brush and obstacles from the path of the vehicle. Brush guards are typically made of metal tubing and can provide some level of protection to the vehicle's front end.
Whether a Honda Ridgeline needs a bull bar, or a brush guard depends on the individual's needs and preferences. So, a brush guard may be more useful if you plan to take your Ridgeline off-road or through rough terrain.
If you want to protect the front end of your vehicle in everyday driving, a bull bar may be a better option. Ultimately, the choice between a bull bar and a brush guard will depend on the owner's specific use case and personal preference.
Grille Guard – Good Or Bad?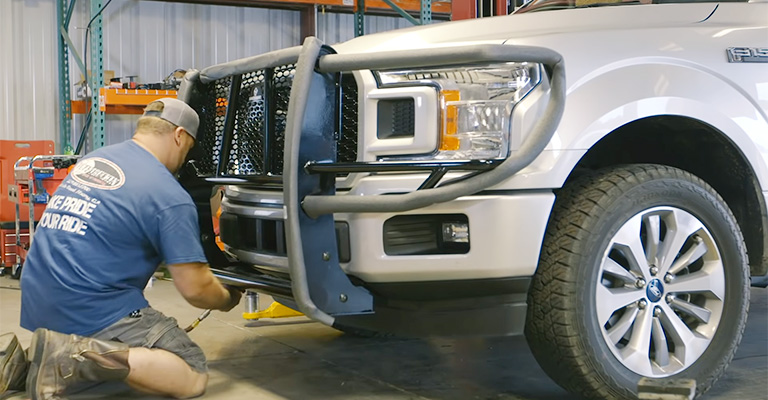 Is it pretty common for you to drive at night? A grille guard may be one way to protect your car if your car is involved in a wildlife accident.
It's wise to be sure you'll benefit from grill guards before you purchase one since they are expensive. For that purpose, we have created this guide. Let's discuss the pros and cons of grille guards for cars.
What Is A Grille Guard?
A grille guard is mounted on your vehicle's frame and is either aluminum alloy or steel. Designed with a shape and design to protect grilles, grille guards protect them.
Are Grille Guards Legal?
In the United States, grill guards are entirely legal. If you choose to install a grille guard on your truck to give yourself and your truck some extra protection while driving, make sure you hire a professional to do it.
Your sense of safety will soon return once you're ready to hit the road. By using your grille guard, you can drive safely with the knowledge that you and your vehicle will be protected from road debris and other damages.
The Pros Of Having A Grille Guard On Your Vehicle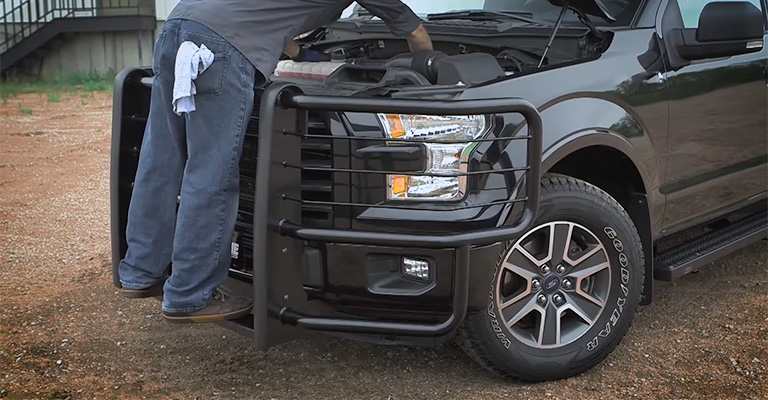 As a result of the grille guard, when the grille is hit, whether, by an animal or another car, the impact on the grille is reduced.
A grille guard acts as a radiator guard as well as protecting the grille. Many people want to "beef up" the appearance of their car with a grille guard.
The Cons Of Having A Grille Guard On Your Vehicle
There's nothing better than a grille guard to enhance the look of a car, but it's not a perfect solution. If you have to pay for repairs after a grille guard has protected your car during a crash, you may be out a lot of money.
A grille guard is attached to the frame (or to the bumper on a unibody vehicle). As a result of the mounting location, some of the impacts in a crash are taken. Thus, the mounting location needs to be repaired as well. Fixing a frame can cost thousands of dollars when it gets badly bent.
Are Grille Guards Safe?
Because grille guards protect your truck when it's doing its hardest work; they're safe to use; they make it safer when you do. A grille guard consists of four thick metal bars that fit over the front grille of a truck.
Using it can reduce the likelihood of your truck being damaged by brushes, branches, or debris on the road.
In addition to reducing the chance of you or your truck suffering severe damage, grill guards also prevent small things from causing dents or scratches. Keep yourself and your truck safe regardless of where you are in the woods or on dirt roads.
If you want to choose a grille guard, you should select an option that fits your driving requirements. The distance you typically drive and where you usually drive may influence this.
Moreover, consider what type of truck and color you want. Adding this can give your truck a tougher look and feel and add another layer of individuality.
What Is A Brush Guard On A Truck?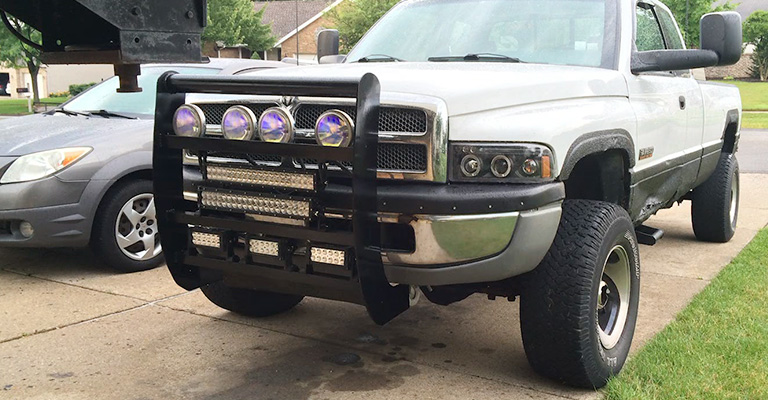 To increase the protection of your truck, a brush guard or a "full grille guard" is a set of metal bars that wrap around the front of your truck to the sides or over the hood.
In addition, it gives the truck a much bigger and tougher appearance. Many different stores sell brush guards, and some provide a wide variety of options depending on your safety and visual needs.
The majority of brush guards are made from steel and aluminum, making them light and durable at the same time. Your truck can be fitted with a guard made of these materials that will be easy to install without weighing it down.
However, it will still protect your truck from many different kinds of scrap or other issues you may run into on the highway or off-road.
How Is A Grille Guard Different From A Brush Guard?
The term "brush guard" is frequently used interchangeably with "grill guard." Grille guards and brush guards are different from each other technically.
There's no difference between the two parts, just their design. Because it only protects the grille, a grille guard is smaller than a brush guard. To protect the headlights, brush guards are used.
Alternative To Grille Guards
Despite their good looks, grille guards don't precisely protect your car when wildlife causes an accident. It doesn't help you prevent accidents but provides protection after hitting something with your car.
Keeping track of wildlife on the road requires a solution that helps you spot and avoid it. To prepare for wildlife, you need something that can detect it from a distance so that you can detect it at a distance.
Here are three types of solutions that can help you do this:
Thermal imaging systems
Night vision cameras
High-beam headlights
In the event of a wildlife collision at night, thermal imaging is the most effective prevention method. Using thermal imaging, you can see the animal's body heat up to 1300 feet (1/4 mile) away from you.
The effect occurs regardless of whether there is light outside. The thermal imaging camera will also detect animals hidden behind bushes, even those waiting up ahead.
It's possible to see farther with night vision cameras, but they aren't as reliable as they should be. Detecting an animal with a night vision camera requires some light to shine on it, so your camera needs to be a light amplifier.
Furthermore, night vision cameras don't work very well in bad weather. In most cases, high-beam headlights aren't a good idea.
The maximum distance you can see when using high beams is about 400 feet. In other words, that's about one-fourth of a mile. A driver driving at 60 mph with high-beam headlights is likely to hit the animal without even noticing it.
My Two Cents On This
Based on my extensive research, I found that no grill guards can protect the truck when a deer strikes it. According to most experts, a grill guard would cause more damage to a truck in a deer collision than having no grill guard.
Shortly grill guards are primarily designed to protect against brush and small birds. To protect yourself from deer, you would need a custom-built bumper setup that is extremely heavy.
Due to its heavy weight, it would cause the truck to lose balance. An impact from a deer, for example, could be enough to cause the frame of a BoF truck to be tweaked. My heart sinks when I imagine what a unibody vehicle might go through.
Compared to the lightweight unibody construction, anything that can withstand an impact seems overkill.
Final Words
A brush guard or full grille guard may answer your needs if you want to protect your truck's front end while adding style to it.
Your truck's appearance and feel will be significantly enhanced with brush guards or full grille guards, increasing its durability and toughness. The damage to your truck will be minimized if you have a brush guard.
As for how much damage your truck has received or may receive in the future based on where you typically drive, it depends on how much damage it has already sustained.