If you are the owner of a Honda Accord, you most likely love it and cruise in style. Of course, we all love our cars, don't we? However, besides regular maintenance and long drives, we should also know more about the vehicle itself to appreciate its value.
Ever wondered what a Honda Accord Bolt Pattern is? Let us tell you; it certainly has something to do with the wheelsets and tires of your Accord. We are aware that you must still be clueless about your Accord's bolt pattern and bolt patterns in general.
Therefore, we are here to take you on a fun read about your Honda Accord specs and its bolt patterns; keep reading with us to be enlightened!
Honda Accord Bolt Pattern [1976-2023]
The mounting holes on a tire are known as its bolt pattern. The bolt pattern is calculated by multiplying the number of lugs by the circumference of the notional circle formed by the lugs' center. For instance, 5 × 4.5 inches, or 4 x 100mm, is an example.
| Year Range | Bolt Pattern (PCD) |
| --- | --- |
| 1976-1981 | 4×100 |
| 1982-1989 | 4×100 |
| 1990-1997 | 4×114.3 |
| 1998-2002 | 4×114.3 |
| 2003-2007 | 5×114.3 |
| 2008-2012 | 5×114.3 |
| 2013-2017 | 5×114.3 |
| 2018-2023 | 5×114.3 |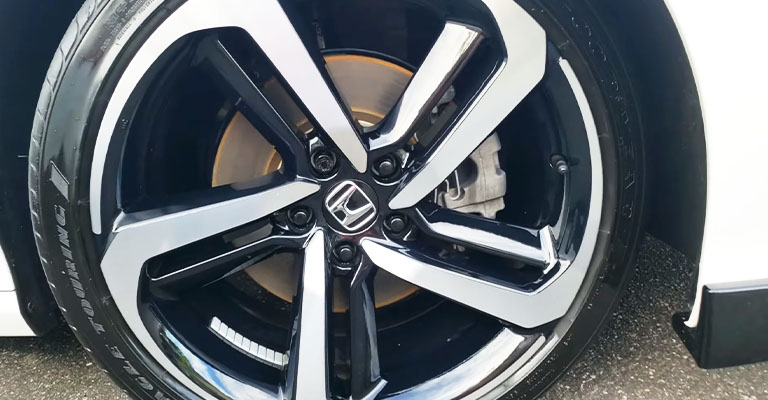 You can google illustrations of bolt patterns to get a better idea of what we are referring to.
The bolt pattern on the wheel hub should definitely match and fit the bolt pattern on the axle. The tire will be off-center if there is even a minor change. Uneven bolt patterns or poorly fitted ones are the reasons for the increased vibrations that many people face when driving their cars.
The bolt pattern on a wheel is sometimes known as the "Bolt Circle" or "Pitch Circle Diameter (PCD)."
Measuring the Bolt Pattern
Primarily, illustrations and diagram videos with labels will give you the best idea about bolt pattern measurements. Theoretically, the diameter or size of an imaginary circle/ring produced by the cores of the tire lugs is known as the bolt pattern or bolt circle. Bolt configurations might have four, five, six, or eight-lug holes.
A bolt ring of 4×100 indicates a four-lug arrangement on a 100mm diameter circular. That being said, the number of studs you're attaching to your wheels for determining the bolt pattern — 4- 5, 6-, or 8-lug.
Add up the number of studs on your vehicle at first.
After you've figured out the first portion of the bolt pattern with that information, know that the number of screws is always the first thing you look for when investigating the bolt arrangement, which can be found on the manufacturer's website.
Then, notice the wheel lugs' centers from the ring's circumference. It can be displayed in either inch or millimeter, so make sure you're looking at the right one.
Importance of Bolt Patterns
Understanding your Accord or car's bolt pattern is essential since it determines how lug nuts/lug bolts fasten your tires to your vehicle. The bolt pattern on a car is unique and cannot be modified.
Regardless of how similar one model of Accord is to another, remember that the bolt pattern for each vehicle is designed specifically to fit it.
So on the Honda Accord special wheels, it has to be the same precise pattern. On the other hand, some wheels are global and may be used on a variety of bolt patterns and automobiles. But those are uncommon and not to be taken generally.
Final Words
We know this was all new information, but we hope we covered all the queries many might have about a Honda Accord Bolt Pattern. Many people consider even getting creative with bolt patterns when modifying their car. And we will agree, the cars indeed look amazing afterward.
Check Other Honda Models Bolt Pattern –