You might think Honda Sensing is complicated at first, but it's a great way to stay safe behind the wheel. In select new vehicles, such as the Honda Accord and Honda Pilot, Honda Sensing offers safety and driver assistance.
As a result of the advanced features available in the Honda Sensing suite, you can drive with greater confidence, knowing that the system is looking out for you both front and back. You might need to reset it from time to time, however.
Before taking your Honda to an auto mechanic, try resetting the sensing system. It is sometimes necessary to reset a computer if there are software problems. The same rule applies to your vehicle.
How To Reset Honda Sensing?
Are you wondering if Honda Sensing® can be turned off or reset? If you wish, you can deactivate the system.
When you want to turn off RDM, press the ECON button on the steering wheel.
When you want to turn off LKAS, push the MAIN button on the steering wheel until no indicators appear in the instrument cluster.
Honda Sensing can be reset by pressing the MAIN button again.
It is also possible to configure Honda Sensing settings via the optional touchscreen in the center.
You can change RDM warnings, distance warnings for CMBS, and more by choosing "Settings," "Vehicle Settings," and then "Drive Assist Setup."
The Honda Sensing feature can be reset while driving by holding down the MAIN button. This will disable all Sensing features in your vehicle, including adaptive cruise control, lane-keeping, blind spot information systems, and more.
Honda Sensing allows you to keep some features while resetting others. It is possible, for instance, to reset the adaptive cruise control feature.
When you see Cruise Mode Selected on the instrument panel, just press and hold the interval button marked with a car and four bars, once again, press the interval button and hold it until the system is reset.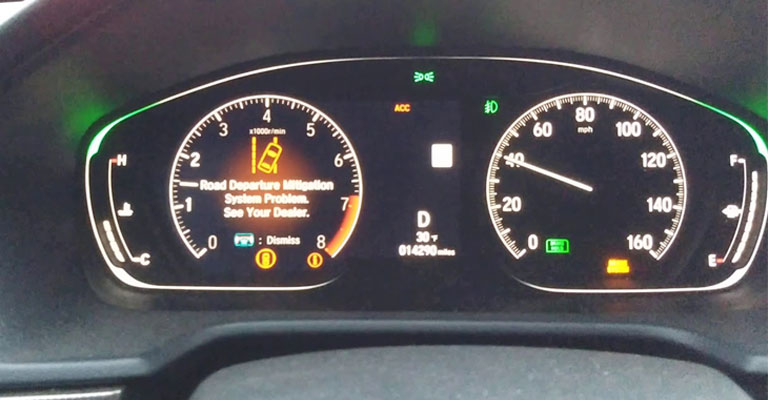 Can You Reset Individual Sensor Features?
Honda Sensing keeps you safe on the road with its revolutionary technology. The device has several sensors that alert you to potential dangers or problems. However, it can be dangerous for you, your passengers, and other road users if Honda's sensing system fails.
Press the relevant button until a sign appears on the instrument panel if you only want to reset certain sensing system features. Then, reset it by pressing and holding the same button once more.
Resetting Certain Features Of Honda Sensing
There are several reasons why your sensing system might malfunction, which we will discuss later in this post. Before panicking and calling your mechanic, try pressing and holding the button for a few seconds to reset the system.
There will be a shutdown of the entire sensing system. Hold the button for a few seconds to turn it back on, and then press it again. You can reset a failing sensor on its own if it is the only one. Your Honda's sensing functions, how they work, and how to reset them are described below.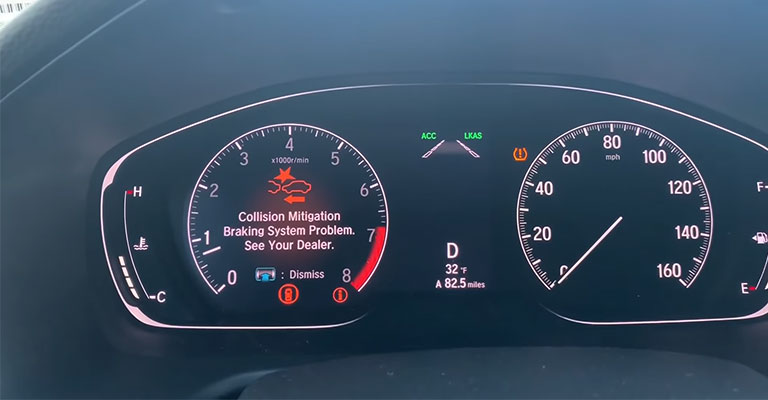 Resetting The Blind Spot Information On Honda
As you drive, your Honda's Blind Spot Information System (BSI) detects areas that are hard to see. In your side mirrors or on your window frame, your car lights up when it detects another one in a difficult-to-see spot.
A warning sound is also included. A central blind spot detection system prevents you from plowing into another vehicle. This system can be useful as you pass another car, are passed by another car, or prepare to change lanes.
The sensor is located on the rear bumper. To reset it:
Check if it is covered in dirt, mud, or debris.
Make sure it's clean if it's dirty.
Wait a few seconds after turning off your engine.
Restart it. You will be prompted to reboot and reset your blind spot system.
Take it to your mechanic if this does not work.
Alternatively, you can press the safety support switch to reset. Once the BSI symbols are on, rotate the selector wheel. A gray check system will appear after pressing it. Follow the same steps you used to turn it off to turn it back on.
Resetting The Adaptive Cruise Control On Honda
When traffic is heavy, your Honda's Adaptive Cruise Control helps you keep a safe distance from the vehicle in front of you. A radar unit is mounted on the front bumper, while a windshield-mounted camera detects how far away the car in front is.
If you get too close to the vehicle in front of you, your Honda will apply brakes and set up a suitable throttle position to maintain the predetermined distance. You can reset the ACC system of your car by pressing and holding the button for a second.
In symbolism, it is represented by a vehicle with three or four bars behind it. Your dashboard will display Cruise Mode Selected. To reset the ACC feature, press and hold the interval button.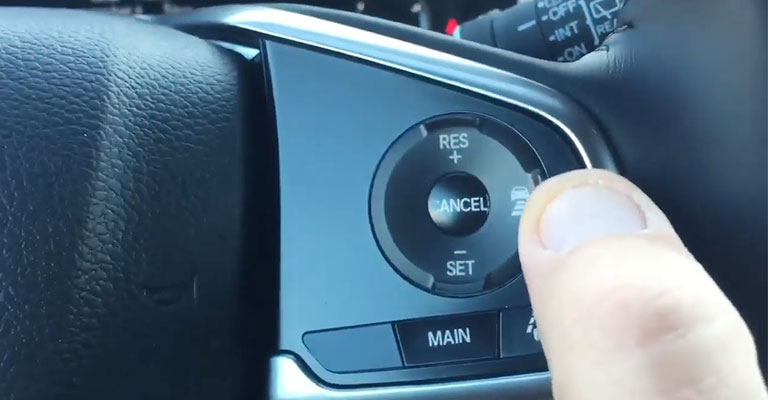 Resetting The Road Departure Mitigation System On Honda
Driving within the lane markings is made easier with this system. The system vibrates your steering wheel if you get too close to the road markings or are almost about to leave the road.
The dashboard will display a Lane Departure message. In addition, the system will automatically apply brakes if it detects that you have not steered back into your lane properly.
The support safety switch must be pressed to reset the system. Once the RDM symbol appears on the selector wheel, press it. RDM's check mark will become gray when the system is off, indicating the system is off. To turn it back on, follow the same steps.
Resetting The Collision Mitigation Braking System
With the collision mitigation brake system (CMBS), you can avoid colliding with another vehicle. Your car is automatically stopped by applying brakes automatically.
The brake lights turn on, and a constant beeping sound is made when you are about to hit another vehicle. Swerving off in time and a difference of speed of less than ten mph will prevent the warnings from appearing.
After pressing the CMBS off switch for about one second, you will hear a beeping sound. There will be a message indicating that CMBS is off. Press the switch for one second to turn back on the system, and the CMBS light will illuminate. This is how you can reset the CMBS of your Honda.
There is a problem with the CMBS system when the message CHECK CMBS SYSTEM appears on display. You should have your local Honda dealer check your system.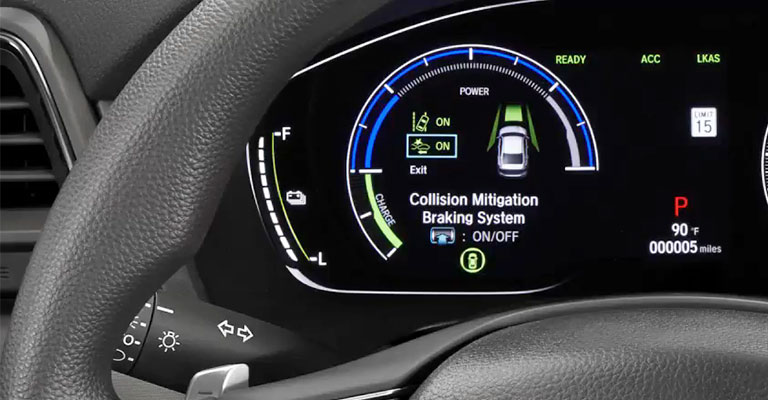 Honda Sensing Not Working? Here Are Some Causes
Why is Honda Sensing not working? Weather conditions such as rain, snow, fog, or extreme heat can obstruct the sensors and affect road conditions. In addition, certain Honda Sensing features will not function if Honda Sensing cannot detect a lane or vehicle ahead.
The sensors may also have difficulty detecting lanes on winding roads. There are several reasons why your sensors may not work, including:
Speed
These sensors only work at certain speeds. For example, the collision mitigation brake system won't activate if you drive less than ten mph.
A second example is that driving between 45 and 90 mph is necessary in order for the Road Departure system to function properly.
Road Conditions
Depending on the road conditions, some data collection may be hindered. A winding road, for instance, may prevent the sensors from detecting a lane.
Weather Conditions Are Bad
While driving, fog, snow, or rain may affect the sensors. As a result, there may be a problem with the sensing features. A foggy day, for example, might prevent your car from detecting the car ahead.
Sensors That Are Dirty And Obstructed
It is possible for mud, snow, and other debris to clog up your sensors, which will obstruct their function. These added features won't work in your car, but you can still drive it.
Use an ice scraper to scrape ice off your windshield or run your wipers to clean the camera. Don't forget to clean your radar's surrounding area. Find out where yours is located on your car, which is dependent on the model.
For example, radar can be found in the middle of the lower bumper of a Honda Accord. Locate it on the passenger side of the front fascia of a Honda HR-V.
The Sensing System Might Be Off
Before looking into what could be causing your sensors not to work, you should check this first. Then, turn it back on if it's off.
Can I Modify Honda Sensing?
Some drivers prefer to switch off or modify Honda Sensing's features for greater control, even though Honda Sensing is a fantastic protection system on the road. With a touch of a button, these features can be turned off.
You can turn off select Honda Sensing technology in seconds by pressing and holding your steering wheel's MAIN button. The customizable settings also allow you to adjust the sensitivity of certain features.
You can, for instance, change the alerts for adaptive cruise control or reduce the following distance for the Forward Collision Warning through the touchscreen.
The Bottom Line
The Honda Sensing system allows you to customize your driving experience according to your preferences. Sensing systems appear complex, but they are a network of sensors that keep your car functioning optimally and ensure your safety.
Several reasons can cause this system to fail, including rain, snow, and fog, which are natural causes. You may also experience a problem if your car is dirty or obstructed by debris. You should take the car to your auto mechanic for troubleshooting if the system fails.