Uh-oh! Did you forget to close your sunroof on a rainy day? Don't let a simple mistake ruin your car's health. Accidentally leaving your car's sunroof open during a rainstorm can lead to frustrating consequences.
From water damage to malfunctioning electronics, the effects of rain can be detrimental to your car. However, don't panic.
You can take steps to minimize the damage and ensure a quick recovery. You can turn this sticky situation around with a few quick steps and protect your beloved vehicle from any water damage.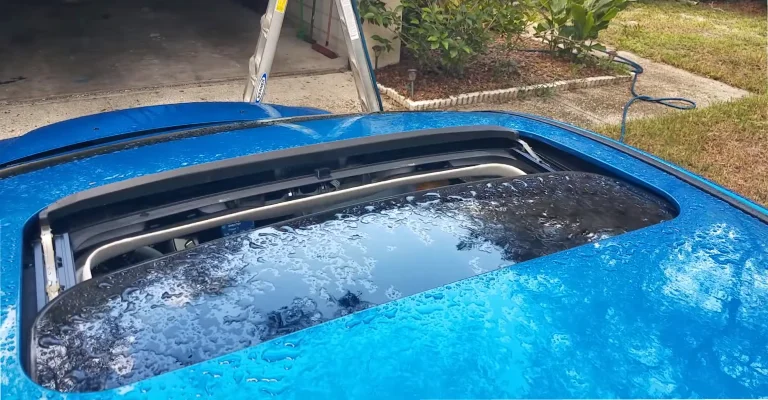 What To Do If I Left My Sunroof Open And It Rained?
The cabinet often needs ventilation, so the sunroof is often opened. As a result of your forgetfulness, it suddenly rains while you would have been glad to have closed this roof window.
The interior of your car is becoming wet, damp, and damaged. Suppose you accidentally left your sunroof open in the rain. What should you do? Take a look at our instructions!
1. Water, Water Everywhere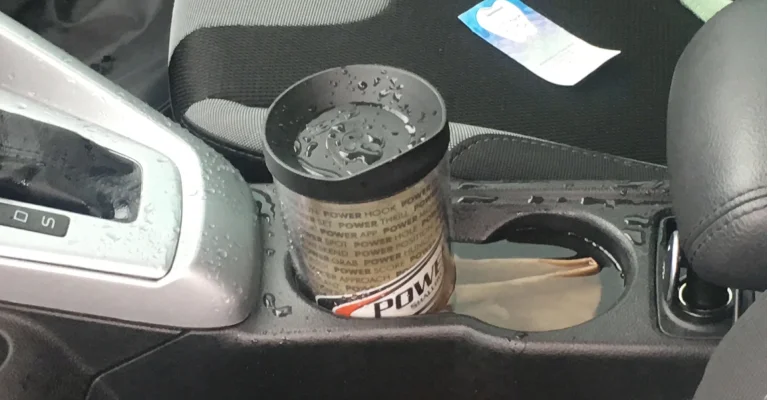 As quickly as possible, you need to remove as much water as possible from your car. Using a wet/dry vacuum, suck out any standing water that is accumulating around the floorboards. Make sure to get into the nooks and crannies between the seats, center console, and armrests.
The water can even run down a hill so it can be collected at the lowest point. The Jeep Wrangler, for example, has removable floor drain plugs that can be removed to allow water to drain.
Depending on the vehicle, drain plugs must be removed, but they may not always be easy to do. After cleaning the seats and carpets, use shop towels to absorb any remaining water.
You should always use cloth towels for this step instead of paper towels due to their greater absorbency. Additionally, you can reuse cloth towels, which reduces waste.
Ensure that the towels are really pressed into the carpet and seats to absorb water below the surface. Please ensure that you replace your floor drain plugs correctly if you remove them. Depending on the material, you may need to seal them with sealant.
2. Use Airflow To Clear Out Moisture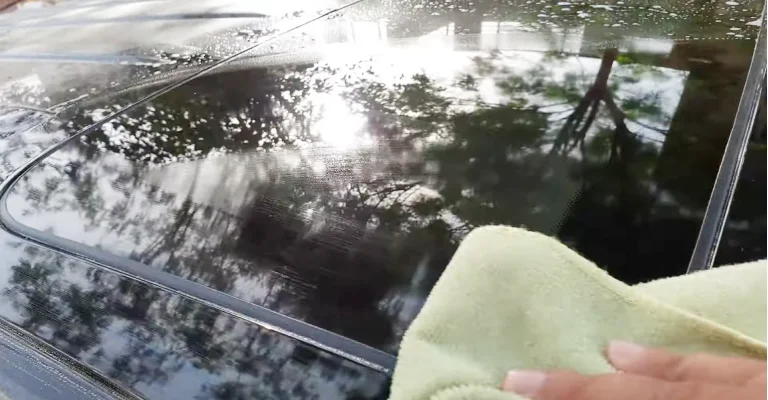 You will still feel damp when you touch your car's fabric, carpeting, and chassis, no matter how much you towel or vacuum it. Can we deal with moisture that lingers?
The first step is to place a fan, two if possible, so that air blows from one side to the other across the car's floors and seats. It would be ideal to use a shop fan for this purpose. There is nothing better than airflow.
A plug-in leaf blower will give you air power under your seats. Ensure that your garage's fans run for at least a day after opening the car's door. If there is any moisture left, this should completely dry it out.
In the garage, place a dehumidifier while the fans are running to help dry the air as much as possible.
You can also simulate the drying effect of the fans by blasting your car's heater if you are far from home. You should turn on the air conditioner, crank the temperature up to hot, set the fan speed high, and have the system recirculate.
Heater boxes are equipped with evaporators that collect moisture from recirculating heated air, which is drained out of the bottom. Although this method is less effective, it can temporarily fix until a proper ventilation system can be set up.
3. Keep Mold Out Of The Picture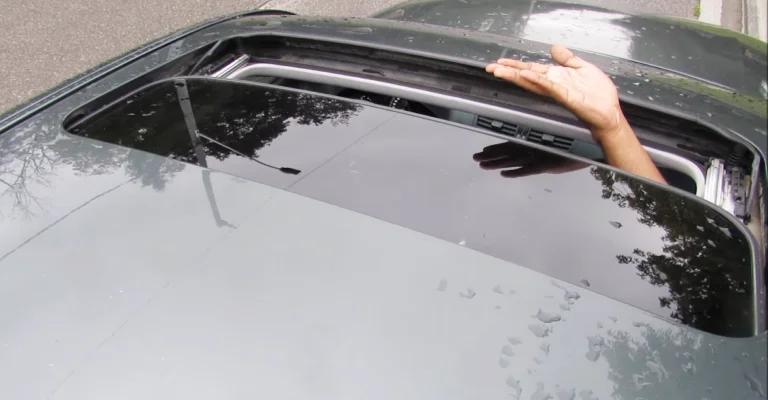 Even after following all of these steps, lingering moisture may allow mold to grow and mustiness to develop. A blow dryer might be more effective than air fresheners for areas that still feel damp.
You should then get some moisture-absorbent products that you can leave in the car behind each seat, such as baking soda or dehumidifier packs.
Doing this will reduce the chance of funky odors developing in your car's cabin over time. Be sure to air out your car whenever possible but keep an eye on the weather to prevent getting stuck in the same situation.
There is no need to worry if your car gets wet. You should be able to avoid any permanent water damage to your car as long as you stay calm and follow these steps for drying off the interior.
4. Avoid Turning Your Car On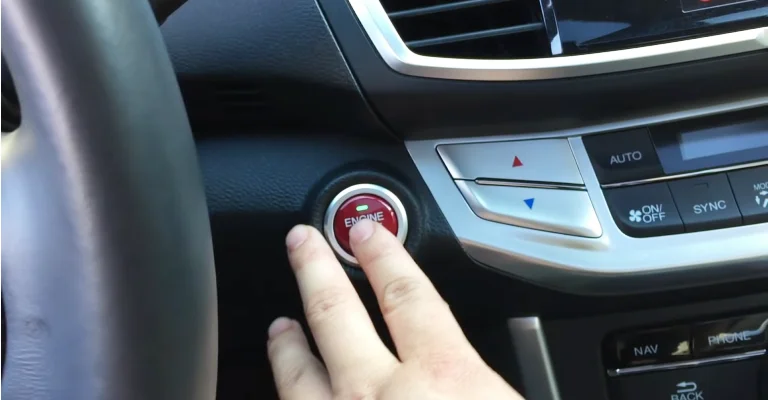 Rain has already soaked into the engine, so restarting the vehicle can allow water to penetrate more deeply. When this is done unintentionally, the engine can easily be damaged, and recovery can be difficult.
If the driver wants to change speed, he should shift the transmission to position N, which stops the car's motion. You need to remove the battery pile to prevent life-threatening electric leakage after you have taken out the car key, opened the bonnet, and removed the battery pile.
To prevent electric shocks while taking this action, you should wear specialized gloves and footwear. As a final precaution, you should have a service transport your vehicle straight to a repair garage to discover complicated errors early on.
It is possible to prevent this from happening again by installing a smart sensor device into the windshield wiper. It can detect rain and automatically close the sunroof when it begins to rain.
The following tips are directed more at freshwater that comes from rain or snow. It might be necessary to go beyond simply drying out your vehicle if it is flooded or submerged in deep water.
5. Clean The Car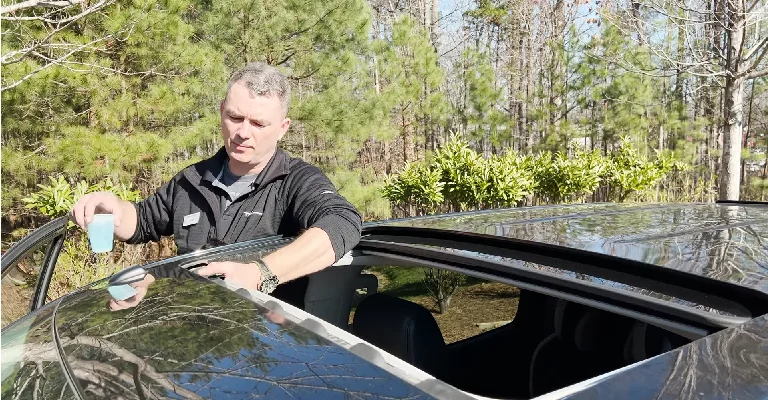 You have to find all the damp spots on the car to clean it if you leave the sunroof open in the rain. Immediately clean them if you discover them.
Whenever water gets stuck in your car's cabin, use regular towels or kitchen towels to absorb it. Your carpets and seats can be dried completely with the help of heaters, removing water from them.
6. Ventilate Your Car
The sunroof of your car must be dried after the sunroof is left open in the rain. For your car to receive adequate sunlight, you must ensure that it receives enough sunlight. The best way to accomplish this is to lower your car's windows and open the doors.
Use some battery-operated or electric fans if the parking area doesn't get enough sunlight for your car. You will be able to remove foul odors and eliminate mildew and mold growth with the fan.
What Could Happen If I Left Sunroof Open In the Rain?
It's not uncommon to encounter mild problems, such as odors, mold, deteriorated interiors, or rusting metal components. A vehicle's electrical system may withstand dangerous electrical faults, which is even worse.
Water, particularly rainwater containing acid concentration, will inevitably malfunction vehicle equipment in one way or another. As a result, here are 5 typical risks!
Quality Decrease In Interiors
Besides the engine and electrical system is seriously affected by a wet car interior, other car accessories will also be seriously affected.
Rain, the length of time in which the sunroof was left open, and the design of the sunroof and drainage system all influence how severe the consequences will be.
External Damage
As rainwater fills the car continually through the open sunroof, it can cause a "flood" within the cabinet. Most parts of the car close to the ground will be damaged, such as the accelerator, brake, and clutch.
Rust
Metal plays a vital role in the design of cars. These components can easily rust as rainwater contains corrosive acids.
Consider things such as the screws, bolt holes, bolt heads, thread starters, or any part that links the vehicle's structural components.
In addition to reducing the interior's lifespan, durability, bearing capacity, hygiene, and aesthetics, rust can also reduce its durability.
Electrical Fault
Undoubtedly, the electricity that runs through most engines is the most vulnerable to being soaked by water.
Electrical problems can cause lagging or even complete destruction of the headlights, turn signals, interior lights, dashboards, air conditioning system, speaker and radio systems, navigation system, etc., all caused by faulty electrical components.
It is possible to experience electric shocks or hazardous fires even after the vehicle is out of the water, thanks to the wet wiring and plugs located around the body and center console area.
When driving a car, sometimes the electrical system will shut off. You should not touch or come into contact with electrical parts unless they are completely dry to avoid life-threatening electrical shocks.
Hydrolock
In most cases, the hydro lock is the biggest worry for drivers. There are many ways to fix this type of damage, but it is the most severe and requires the most time and money.
The blockage of piston movement is caused by water entering the cylinder's combustion chamber and causing the engine to stop. An engine stalls because the fuel cannot burn in the combustion chamber.
Trying to restart the engine without noticing the problem results in the pistons being pushed up against the force of water, which leads to the deformity of the connecting rods.
A punctured cylinder wall and engine interruption can result if the cylinder wall is scratched, or a connecting rod becomes broken. Damaged cylinders can cause a sudden drop in coolant level.
However, a vehicle's risk of flooding increases if it moves a lot into deeply flooded areas. It is rare for this terrible case to occur when rain falls through the sunroof.
Can You Air Dry A Car By Driving It?
By driving the car, you can air dry the car. If moisture is trapped in the car, air will circulate, evaporating it. It is worth noting, however, that this method may not be as effective as leaving the windows open, using a fan, or using a dehumidifier.
Suppose the car has water damage or malfunctioning electronic components. In that case, it may cause further damage, so it is important to determine whether these issues need to be dealt with and to get them fixed professionally if necessary.
How Do You Tell If Your Sunroof Drain Is Clogged?
Sunroof drains that become clogged usually leak water onto the car's floor or headliner, which is generally the first sign of a clogged drain.
The sunroof may have caused water to accumulate in your car after it has rained. Also, you can see if it drains appropriately by running water over it while it's open. It is probably clogged if the water does not drain or drains slowly.
Is the Sunroof Easy to Break?
A sunroof may crack or break when exposed to some external agents. The occurrence is rare, however. Hard glass is comparable to the glass in a window, making the part strong.
Therefore, the essential sunroof is still strong enough to withstand medium-force impacts. It has, however, been reported that the weather has caused cracks in the sunroofs. As the weather gets hotter, the adhesive inside the glass layers melts or expands, causing cracking or breaking.
Final Words
You can get into a pickle if you forget to close the sunroof on your car. It is never a good idea to let water into your car. The opening of a sunroof in the rain is hazardous because a lot of water can enter the vehicle within seconds.