It is recommended that combustion engines have a fuel-air mixture ratio of 14.7 parts fuel to one part air for the highest efficiency. The P0174 error code is activated when there are greater than 14.7 air parts to 1 fuel part in an air-fuel mixture.
P0174 indicates too much air or insufficient fuel in Bank 2. This error code appears when bank 2's O2 sensor detects an air-fuel mixture that is beyond its ability to correct.
An air-fuel mixture can become lean due to a vacuum leak, which introduces more air into the mixture, or a poor fuel system, which does not inject enough fuel.
To maintain the proper 14.7:1 ratio, the powertrain control module (PCM) pumps more fuel into the mixture to correct the lean condition. In the case of excessive modifications, the code P0174 on your Honda appears.
P0174 Honda Meaning
Bank 2's O2 sensor recognized a lean mixture, causing a P0174 code to appear. A fuel mixture of +-15% can be corrected by the O2 sensor. The P0174 code will be stored in the correction is outside this range.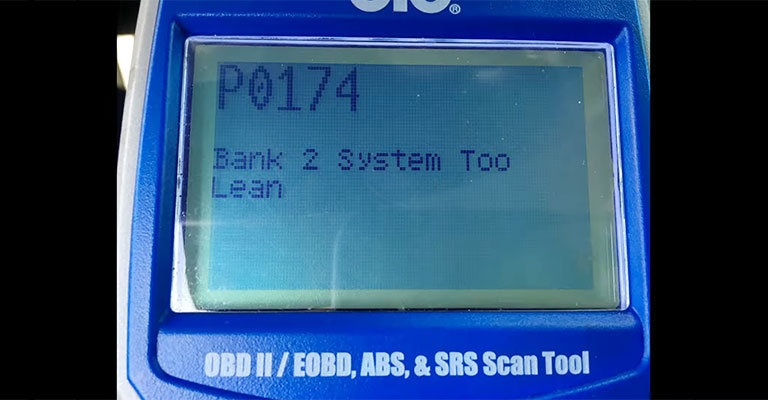 Air-fuel mixture ratios of 14.7 parts air to 1 part fuel are optimal for combustion engines. An air-fuel mixture with more than 14.7 parts air to one part fuel triggers code P0174 when this condition exists.
What Causes P0174 Code On Honda?
There are two types of lean conditions: vacuum leaks, which introduce more air into the mixture, and weak fuel systems, which do not supply enough fuel.
To maintain the proper 14.7:1 ratio, the powertrain control module (PCM) injects more fuel into the mixture to compensate for the lean condition. Code P0174 is triggered when these adjustments become too large.
Your engine may be experiencing problems with its air-fuel ratio if you receive the P0174 engine code. Many factors can contribute to this problem, including air leaks, fuel injector problems, and faulty sensors.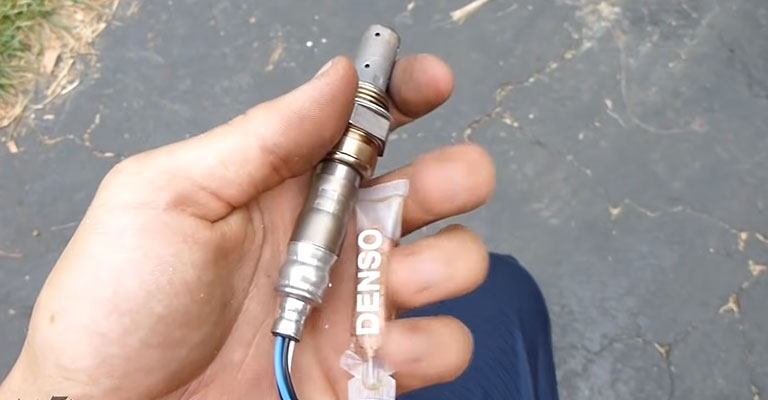 It's best to get a professional diagnosis from a mechanic. The most common causes of the P0174 error code are listed below. P0174 codes can also be caused by the following:
There is a leak in the brake booster
PCM problems
Oxygen sensor malfunction
It is possible that the vacuum connector or PCV line is damaged or cracked
Fuel pressure regulator weakening
There is a problem with the fuel pump
Injectors and fuel filters clogged
Mass airflow (MAF) sensor malfunction
What Are The Symptoms Of P0174 Code?
When you receive the code P0174, the ratio of air to fuel in your vehicle is too lean. As a result, your car's gas must combine with oxygen to burn and power your engine.
Air and gas must be in correct proportions for the mixture to burn completely. If the mixture is too lean, your vehicle will not run efficiently.
Lean situations result in error codes P0171 and P0174. P0171 codes are triggered when cylinder bank 1 becomes lean, and P0174 codes are triggered when cylinder bank 2 becomes lean.
Engine/Powertrain Control Modules (ECM/PCM) is capable of restoring lean conditions, but they cannot do so completely. To inform the user that the problem needs to be fixed, the ECM/PCM stores the P0174 code.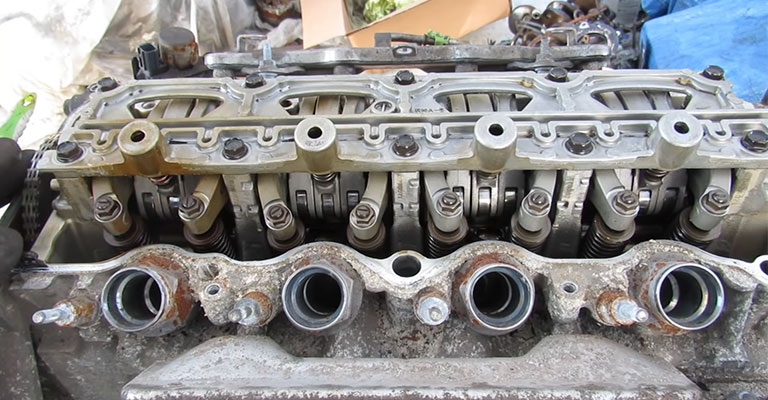 P0174 code symptoms include a check engine light and poor engine performance. You may also experience hiccups and jerky acceleration. You may experience the following symptoms if your vehicle has error code P0174.
There is a problem with the engine stalling
Idling in a rough manner
Consumption of fuel is on the rise
There is a misfiring sound coming from the engine
The performance of the engine has decreased. When you accelerate, you will feel a lack of power
The Check Engine Light comes on
Asthma and other respiratory issues can be caused by nitrogen oxide (NOx) released by lean vehicles. However, it is also possible to run lean scenarios and cause a misfire.
This can damage your catalytic converter and the internal components of your vehicle. You should take your car to a technician as soon as possible if you notice any of these symptoms.
How Much Does It Cost to Fix Code P0174?
When you bring your car in for a diagnosis, most shops will charge you an hour of diagnosis time which is the labor spent diagnosing the issue. A shop's labor rate determines how much these costs, but it typically falls between $75 and $150.
In order to resolve the underlying issue associated with the P0136 code, one or more of the following repairs may be required. Every possible repair is estimated based on the cost of the associated parts, as well as the cost of labor.
In most shops, if they are performing the repairs for you, this diagnosis fee will be applied to the repairs. If your P0174 code cannot be fixed, a shop will be able to provide you with an accurate estimate.
200-300 dollars for an oxygen sensor or an air-fuel sensor
$100-$200 for exhaust repair (if it needs to be welded).
$200-400 for a fuel pressure regulator
$1300 – $1700 for a fuel pump
$300 to replace the MAF
$100 for cleaning the MAF
$100-200 for fixing vacuum leaks
Is It Possible For An Exhaust Leak To Cause A P0174 Error Code?
It is most likely that a vacuum leak is the cause of the check engine light coming on and the codes P0171 and P0174 being stored in the computer. These codes are set by the car's computer when it detects too much oxygen in the exhaust. An excessive oxygen reading in the exhaust sets a lean code.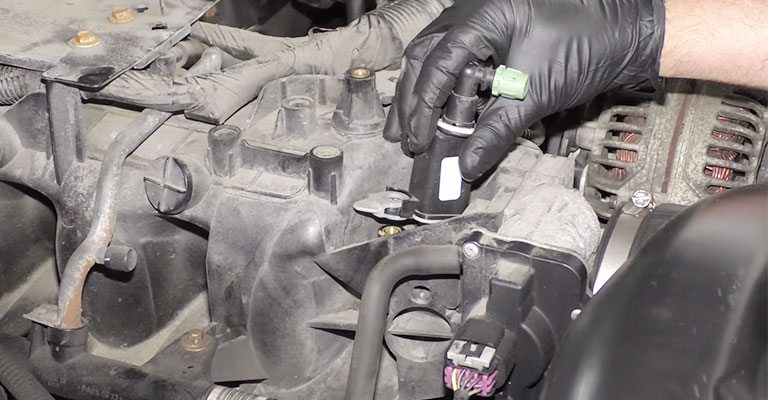 Is The P0174 Code A Serious Issue?
The parts of your car will not be destroyed right away if you keep driving your vehicle. Lean mixtures, on the other hand, can cause long-term damage to engine parts.
This trouble code should not be experienced if you make full acceleration pulls. Make sure you drive carefully to the workshop and repair the problem first. It is not recommended for beginners to attempt the repair since it requires mechanical knowledge.
Is It Safe To Drive With A P0174 Code?
It is not immediately damaging to your car parts if you drive it with a P0174 code. However, you may overheat your engine and even damage internal engine parts if you continue to drive with your engine running lean.
Keeping the engine cool is always preferable to running lean because more gasoline will keep it rich. The P0174 code may go unnoticed since other vehicle problems are not immediately noticeable.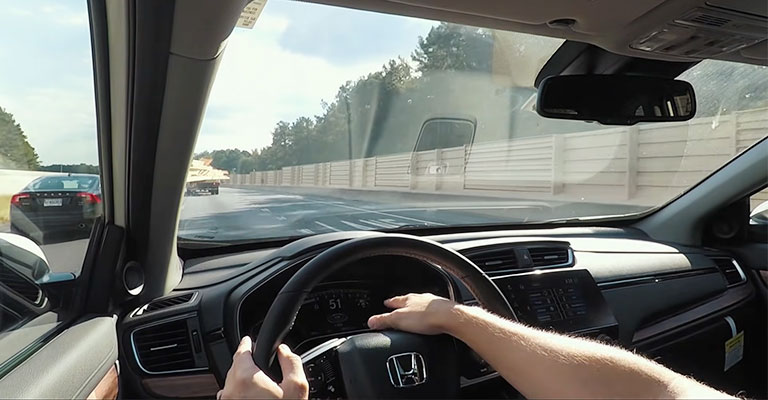 However, you will have serious drivability problems when your engine doesn't get enough gasoline due to an air-fuel mixture problem.
You should avoid making full acceleration pulls if you see this error code. Rather than driving to the workshop, drive slowly and let the workshop diagnose the problem first.
There may also be some harmful side effects associated with some of the causes of this problem. Carbon monoxide emissions can be lethal as a result of an exhaust leak, for example.
Final Words
An intake leak likely causes the problem if the P0174 code accompanies the P0171 code. Following the inspection of the intake system, the air filter should be replaced, and the airflow meter cleaned.
If the problem persists, it may be necessary to replace the front oxygen sensor (O2). The engine parts can be damaged if you drive the car in this condition for a long time. When you see the code on your vehicle, please take it to a mechanic as soon as possible.