If your Honda Accord dates back to 1997-2002, it has a timing belt.
If you have a 4-cylinder model from 2003-2007, you engine has a timing chain;
if you have the V6 model from those years, it's a timing belt.
An Accord from 2008-2012 with a 4-cylinder engine will have a timing chain, whereas the V6 engine models have a timing belt.
From 2013-2017, the 4-cylinder models still have a timing chain and the V6 models have a timing belt. Starting with the 2018 model year, all the available engines come with a timing chain.

Year by Year QA
Does a 2007 Honda Accord Have a Timing Belt?
The 4 cylinder model of 2007 Honda Accord has a timing chain, but the V6 model of 2007 Honda Accord has its timing belt.
How Much Is a Timing Belt for a 2007 Honda Accord?
In all honesty, timing belts aren't exactly cheap – expect to pay anywhere from $409 to $919 (including parts and labor). But if it means keeping your car running smoothly for years on end, then it's definitely worth looking into."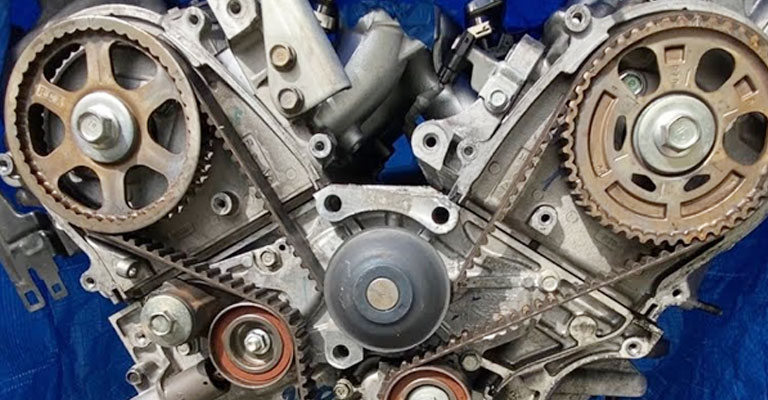 There are lots of parts that need to be taken apart in order to replace the belt, so make sure you get multiple quotes before making a decision. The cost of labor is where most people end up spending the majority of their money when replacing this type of gear and part.
Does a 2008 Honda Accord Have a Timing Belt?
Honda Accord 2008 4 cylinder engine has a timing chain, on the other hand, the V6 Honda Accord have a timing belt.
How much does it cost to replace a timing chain on a 2008 Honda Accord?
According to repairpal – A timing chain tensioner on a Honda Accord can go bad and require replacement costing anywhere from $437 to $478 on average.
The main culprit for this issue is usually the tensioner itself, which can fail due to wear or incorrect installation by the owner.
Labor costs for this repair range from $155 to $195 while parts cost an estimated $282 in total.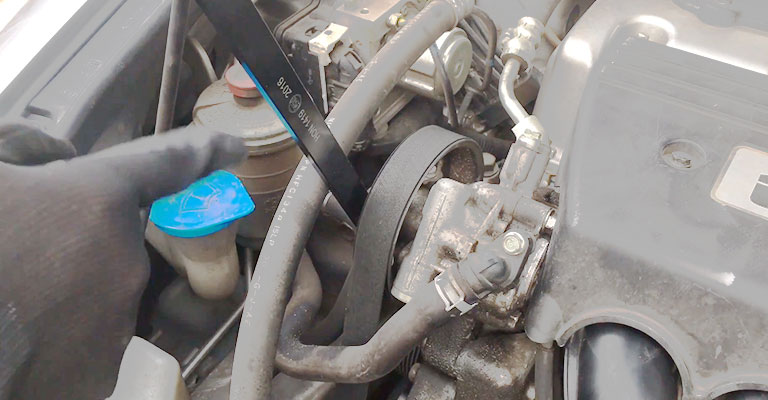 If you're experiencing hesitation or trouble starting your car, it may be time to have your timing chain tensioner replaced as soon as possible at a local mechanic shop.
Be aware that not all Honda Accords require a timing chain tensioner replacement – consult your owners manual first if unsure about what needs attention on your car.
Does a 2009 Honda Accord Have a Timing Belt?
The 2009 Honda Accord V6 model has a timing belt, where as the 2009 Honda Accord 4 cylinder version has the timing chain.
The belt replacement cost for 2007, 2008 and 2009 are close. $409 to $909 including the labor and parts bill.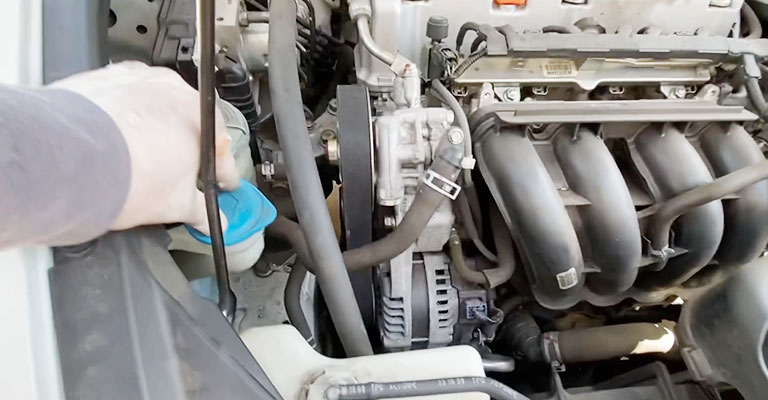 Does a Honda Accord timing chain need to be replaced?
Honda Accord timing chains normally need to be replaced between 80,000 and 120,000 miles. If the chain is showing wear or signs of being damaged, it should be replaced as soon as possible.
The cost of a timing chain replacement varies depending on the age and model of your Honda Accord; however, they usually aren't expensive. Checking your engine's timing may require taking your car in for service- so make sure you have an accurate time before doing anything else.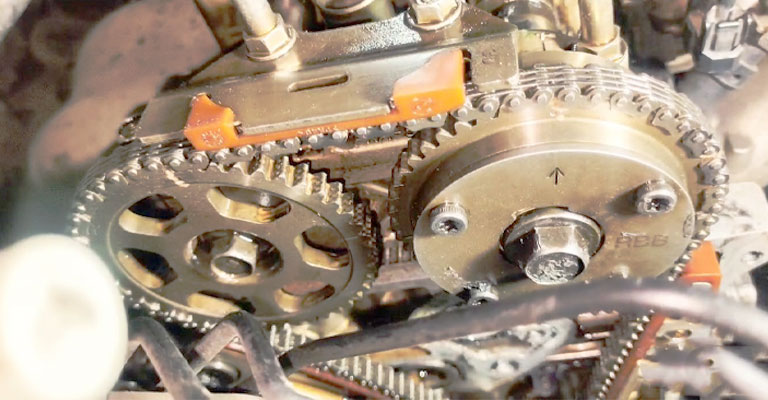 Keep this information in mind if you're ever experiencing issues with your Honda Accord's timing chain- replacing it could save you money and hassle down the road.
What year did Honda stop using timing belts?
Honda stopped using timing belts in 2006 on all its models, including the 2019 Civic. A timing chain replaces a belt on newer Hondas without any required maintenance and is typically less expensive to replace than a belt will be over time.
If you're looking for your first Honda Civic and are wondering if it has a belt or chain, 2017-2018 Civics have both while earlier years only have a chain (though all of them still don't require replacement).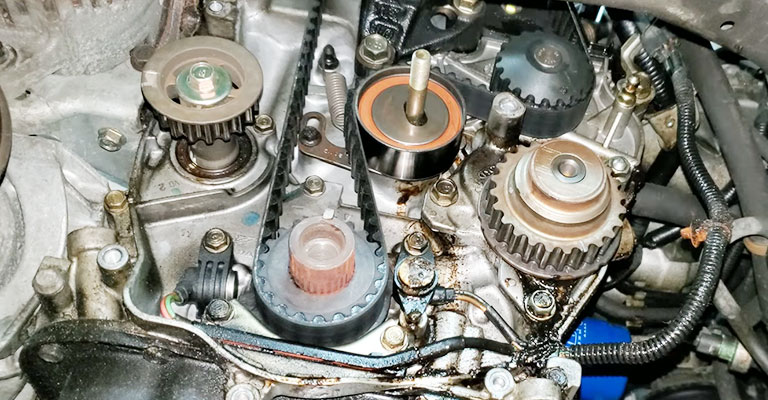 Even if your car doesn't have a Belt/Chain system anymore, it's worth checking the manual just to make sure–sometimes things change over time.
Be aware that some aftermarket parts may not fit properly or work as intended with certain model years and may need to be replaced
Does a 2015 Honda Accord with a V6 have a timing belt or timing chain?
Honda released a new Accord model in 2017 with a V6 engine. The 4-cylinder and V6 models have different types of timing belts and chains. If your car has a timing chain, it should be replaced around 100,000 miles or every 8 years, whichever comes first.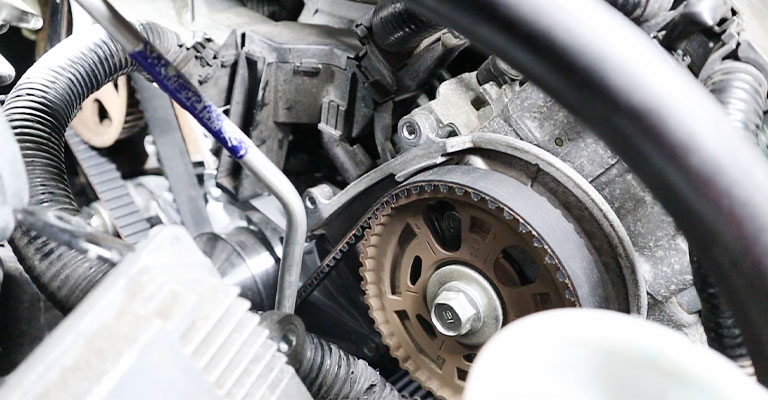 A timing belt will last between 150,000 to 300,000 miles before it needs to be replaced; however the chain can last up to 500k miles without issue. Make sure you schedule an inspection for your vehicle's engine if it reaches these mileage marks – sometimes small repairs can turn into big issues down the road.
When did Honda switch from timing belt to chain?
Honda switched from timing belts to chains on their engines starting in 2018. This change was made in order to improve engine performance and longevity.
If you own a 2002 or older Accord, it will still have a timing belt instead of a chain drivetrain. It is important to check your vehicle's owner's manual for the specific year and model to ensure proper fitment with the new drivetrain type.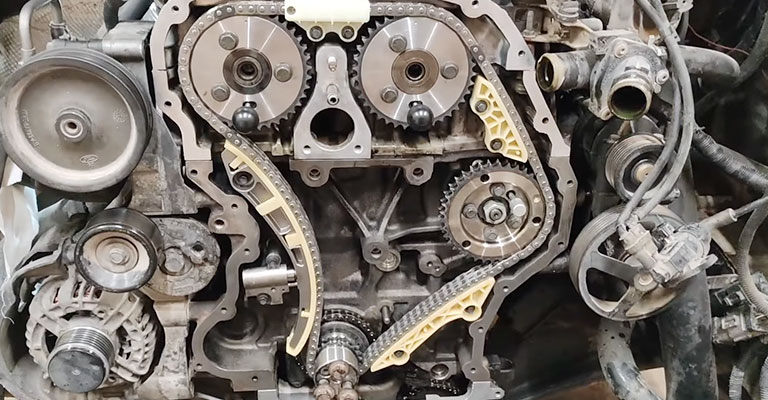 Changing gears can be tricky, so make sure you consult your owner's manual before taking any action.
How long do Honda timing chains last?
Honda recommends replacing the timing chain at 80,000 to 120,000 miles if it appears to be in good condition. If your Honda still runs and drives well after the timing chain is replaced, it's likely that there isn't a problem with it.
However, if you experience any abnormalities or problems with your car after having the timing chain replaced, don't hesitate to take it in for inspection by a mechanic. A worn out or defective timing chain can cause many different issues with your car including decreased fuel efficiency and premature engine wear.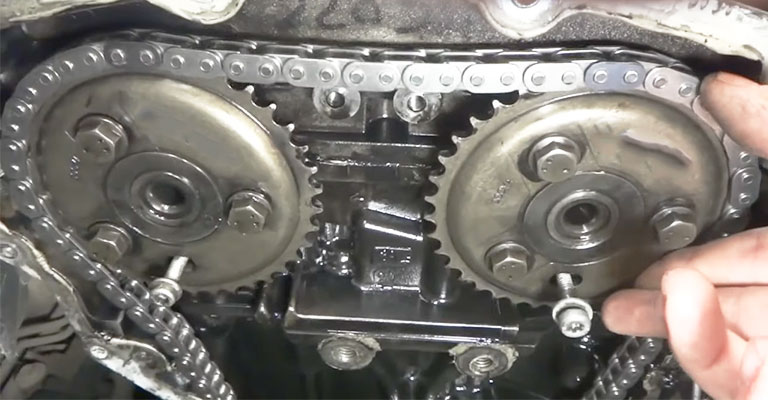 Be sure to keep track of how many miles are on your Honda's timer chains so you know when they should be replaced for maximum reliability
How much does it cost to replace a timing chain on a Honda Accord?
Honda Accord timing chains can fail due to many factors, including excessive wear and tear or incorrect maintenance. The average cost for a replacement chain is $827, which may be expensive if your car has low mileage or you have had it serviced regularly.
If you notice irregular engine noise, the time might be right to replace your timing chain before it fails completely and causes more damage. To save money on the repair, take measures such as regular oil changes and keeping your car tuned-up at the mechanic's shop .
Be sure to consult with an experienced technician who can diagnose the issue properly and recommend a course of action that will save you money in the long run
What's better timing belt or chain?
Timing belts and chains both have their pros and cons, so it really depends on your needs which one you should choose. Chains will generally last longer than timing belts because they're made from metal, but this isn't always the case.
If you need to replace your belt or chain very often, a timing belt might be better for you as they are more affordable in the long run. If you value reliability over everything else, then a chain would be best for you as it is essentially unbreakable – assuming it's of high quality of course.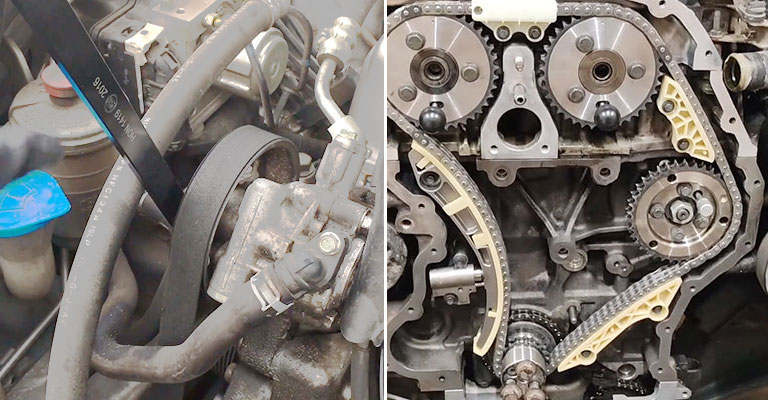 Ultimately, what matters most is how each option fares under normal use – if that's within your budget and tolerances too.
Frequently Asked Questions
What happens when the timing belt breaks on a Honda Accord?
If your Honda Accord timing belt breaks, you will need to have it towed to an auto repair workshop.
What year Honda Accord has timing chain?
The engine choice for 2003-2007 Honda Accords remains a four-cylinder and a V6. However, in recent years, the Accord has begun to feature an updated K Series of engines that features a timing chain rather than a rubber belt.
How long does a Honda Accord timing belt last?
Honda Accord timing belts typically last between 60,000 and 100,000 miles. However, the general timeline you'll want to follow is to replace your timing belt anywhere between 60,000 and 100,000 miles.
Which Hondas use timing chains?
Honda CR-V and Civic models are equipped with a timing chain.
How much does a timing chain job cost?
For those who are not mechanically inclined, it is recommended to have a mechanic do the job.
How much does a timing chain repair cost?
Timing chain replacement can cost between $600 and $800 for a DIY repair. A mechanic may charge much more depending on the complexity of the job. If you want to do a timing chain replacement yourself, parts will cost around $650.
To Recap
The Honda Accord began production in 1982 and employs a timing belt or chain to keep the engine running at its optimum rpm. This change happened with the current model, which is powered by a turbocharged four-cylinder engine.
Unlike other models that use petrol engines, the hybrid Accord uses an unconventional petrol engine with a timing chain instead of gears or belts.
So if you're looking for an older Honda Accord without any added tech features, opt for one with a timing chain rather than gears or belts.