The Honda B series is a line of inline four-cylinder engines produced by Honda. These engines were first introduced in 1989 and have been used in various Honda vehicles, including the Civic, Integra, and Accord.
The B series engines are known for their performance and reliability, making them a popular choice among Honda enthusiasts and tuners. The B series engines quickly gained popularity among enthusiasts for their high power-to-weight ratio and reliability.
The B series has been used in a wide range of Honda vehicles and has also been a popular choice for engine swaps in other makes and models. Over the years, the B series has undergone several updates and changes, with the latest version being the B20Z found in the Honda CR-V.
This article will provide a brief overview of the Honda B series engines, including their history, specs, and common modifications. Whether you want to upgrade your Honda with a B series engine or learn more about these engines, this article has you covered.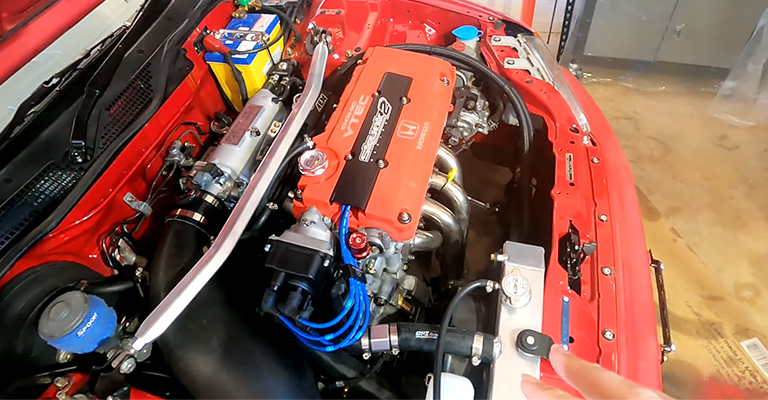 An Introduction To The Honda B-Series Engine
It is a challenging task to rebuild any engine. It can be for any number of reasons you are rebuilding your engine: from wanting to refresh an engine with millions of miles on it to maximizing performance.
With the information provided here, you will not only be familiar with the Honda B-Series engine but also be able to prepare yourself for rebuilding it.
Whether you love them or hate them, Honda was the world's leading manufacturer of inline four-cylinder engines from the 80s to the 2000s.
During the Honda B Series' 12-year production run, a cult following emerged among tuning enthusiasts. Here are some things that make them stand out.
It has been argued that the Honda B-Series is the best of all (after many heated discussions among Honda fans on the internet).
A comparison to the Chevy small-block era of the 1960s is a worthy comparison if you still need to become familiar with the popularity of the B-Series hot hatch.
You probably know about Honda's impressive potential, whether you love it or hate it. That's why we've put together this guide to give you all the information you need.
What Makes Honda B-Series Engines So Good?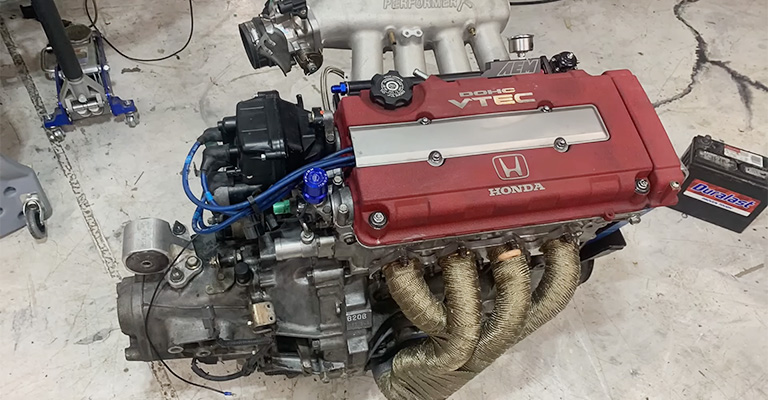 In terms of power, the Honda B-series engine is comparable to the old-fashioned small-block Chevy engine. The engine of choice for amazing third-generation hot rodders has powered two generations.
Honda/Acura enthusiasts have been choosing this engine as their preferred performance engine for decades. B-series engines are also very popular and easy to swap into lightweight Civics such as the Integra, del Sol Si, and Civic Si.
This makes a hot rod a classic: a powerful engine mounted on the lightest and most compact chassis possible.
There are many relatively cheap used JDM engines imported here to serve as bases for hybrid Civic swaps or to be used as parts for other builds.
This is because the B engine was more widely available in the Japanese domestic market (JDM).
Superior Engineering
B engines put out amazing power levels despite having small displacements thanks to Honda's superior engineering. In addition to the pentroof design, the B has a shallow included angle and excellent combustion chambers.
In addition, a shallow included angle uses less heat energy to heat the water jacket than a shallow included angle has a lower surface-to-volume area.
Flow is excellent right out of the box thanks to the generous intake, exhaust ports, and appropriately contoured valves.
Several variants of the B engine have generous quench zones in the cylinder head to improve fuel-air mixing and turbulent combustion.
Unparalleled Reliability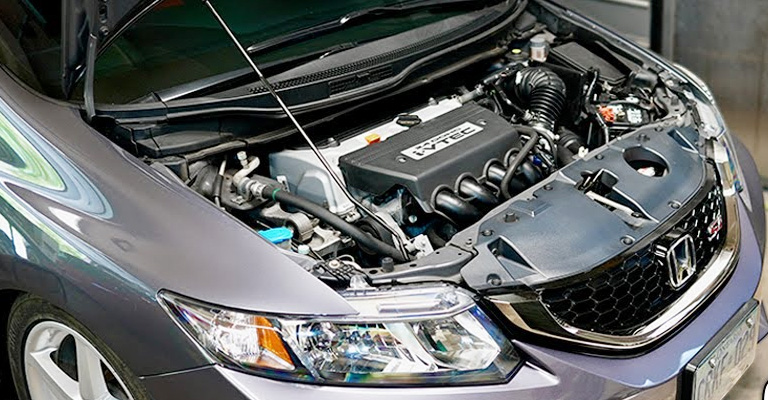 A fully counterweighted high alloy steel forged crankshaft is also included in the big B, as well as a lightweight die-cast aluminum block with strong semi-girdled main caps. Bottom-end failure on these engines is almost unheard of thanks to the large bolts and generous caps attached to the forged high alloy steel rods.
VTEC
It is true that many import engines from established Japanese car manufacturers, such as Nissan, Mitsubishi, and Toyota, share many of these excellent characteristics; however, Honda has one more ace up its sleeve with its excellent innovation, VTEC.
B engines are distinguished from other production engines by their VTEC technology. VTEC stands for Variable valve timing with electronic control and allows a stock cam to deliver smooth idle performance, good fuel economy, low emissions, and decent low-end power without sacrificing top-end power.
There are no disadvantages of a race cam, such as poor idle quality, lack of low-end power, poor part-throttle driveability, poor fuel mileage, and hydrocarbon-rich tailpipe emissions.
Evolution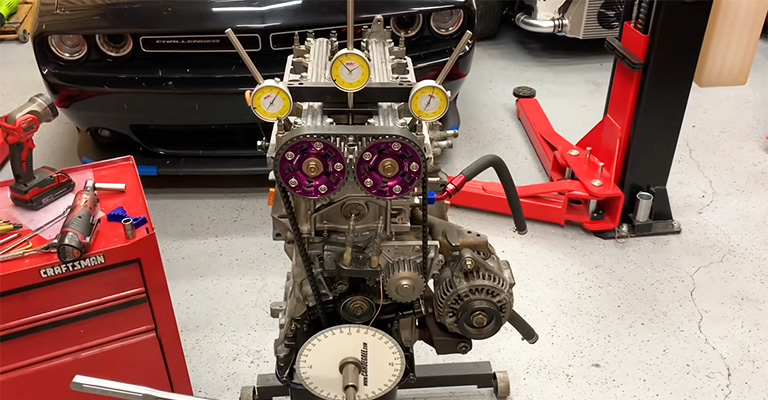 A sort of evolution has taken place with the B-series. A rare power plant found under the hood of the Integra Type R is the B18C5.
In stock naturally aspirated form, this variant of the B-series produced 195 horsepower. Compared to some factory turbocharged and supercharged engines, this engine produces more than 100 horsepower per liter.
A production car engine producing more than 100 horsepower per liter was first found under the hood of the del Sol Si.
What Makes Honda B Series Engines So Iconic?
There are several reasons why the Honda B series has gained a reputation as an iconic engine. Performance is one of the main reasons for its popularity. Honda enthusiasts who want to boost the performance of their vehicles choose this engine series because of its high power-to-weight ratio.
The B series is also known for its reliability and long-lasting performance, making it popular among tuners and racers. The engine also has a strong aftermarket, with several performance parts and modifications available to further boost its performance and power.
B series Honda engines are regarded as one of the most iconic and highly sought-after engines due to their combination of performance, reliability, and aftermarket support.
Despite not being the most popular engine for drifting, it's hard to forget such an iconic engine that's earned its reputation as a JDM legend.
If you want a B Series motor for a particular purpose, some engines are better than others. This guide is intended to cover all the B Series-related questions that we often receive due to the seemingly indestructible nature of these engines.
History Of Honda B Engines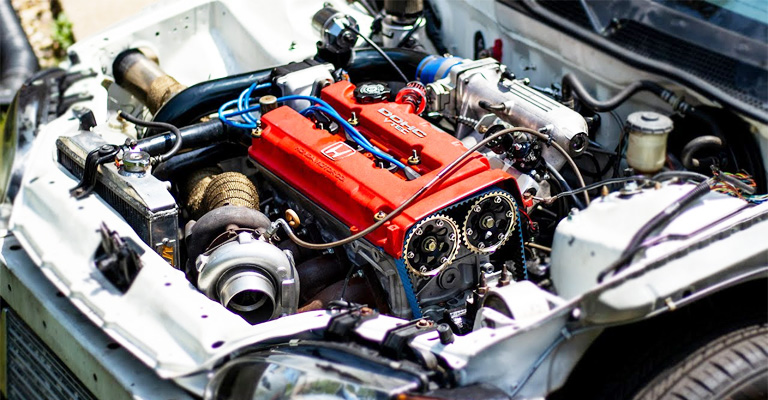 Between 1989 and 2001, Honda produced four-cylinder inline-four DOHC and SOHC engines. It hasn't stopped their incredible popularity, despite the earliest engines being over thirty years old.
In Japan, the B20A engine was first introduced in the 1986–1987 Prelude 2.0Si and the 1986–1989 Honda Vigor and Accord.
In the Honda Prelude, the B20A engine evolved into many variants from 1987–1991, but it began as a very different engine than the B16/B17/B18.
By pushing out an incredible 116 horsepower per liter, the tiny B Series could shame many of its larger competitors in an era where America was known for producing large, low-powered engines.
Known for its legendary reliability, the B Series was one of the engine families that earned Honda its "bulletproof" reputation.
Power and reliability came in a high-quality, affordable package thanks to these extremely efficient, performance-oriented engines.
With the B16, Honda integrated Honda's soon-to-be-legendary VTEC system within an inline-four, lightweight aluminum block, creating one of the most important engines in the history of the B Series.
Among the popular B-Series parts (OEM and aftermarket), the B16/B18 family is where we focus most of our attention.
Japanese-Spec B-Series Engines
The B16B and B18C Type-R engines from the Civic Type-R and Integra Type-R are among the most valuable and rare Japanese B-Series engines.
U.S. sales of Civics were never fortunate enough to receive a B-Series straight from the factory, except for the 1999–2000 Civic Si.
However, because the B16A was factory-installed in the Civic in Japan, it was extremely popular.
The B16 Family
Over the years, Honda has released six different versions of the B16. Normally, the letter B is followed by two numbers, which designate the engine's displacement, another letter, and a final number if it is a US-spec engine. Engines built to Japanese specifications usually have four-digit alphanumeric designations.
B16A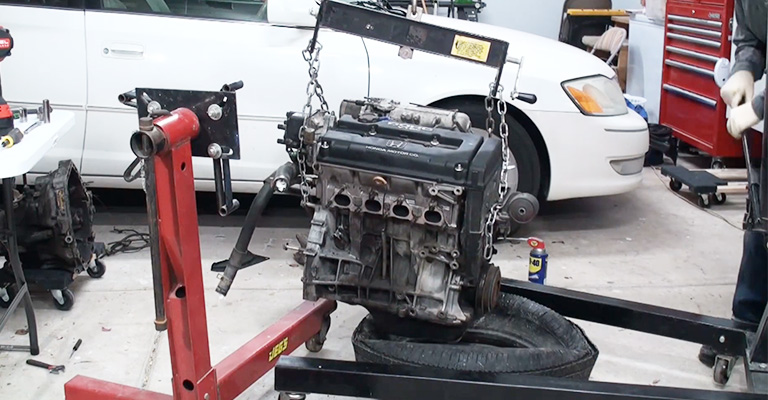 Honda Integra RSi and XSi vehicles with a Japanese-spec B16A engine first appeared in 1989–1993 from Japan. Furthermore, it was included in the 1989-1991 Honda CRX SiR and Honda Civic SiR/SiRII Japanese-spec models.
B16As were four-cylinder 16-valve engines with a displacement of 1595 cubic centimeters, or just over 1.6 liters. The engine produced 158 horsepower @ 7,600 rpm and 112 ft-lbs of torque @ 7,000 rpm with a 10.2:1 compression ratio.
A DOHC VTEC engine based on this first generation of Honda technology became the most popular engine in its class.
The Japanese-market B16A, which featured a slightly higher compression ratio of 10.4:1, was used in Honda Civic SiRII and SiR chassis from 1992 to 1995.
Honda Civic VTi in Europe and Honda CRX del Sol SiR were also powered by B16A engines of that generation with 10.4:1 compression ratio. These engines produced 158 to 170 horsepower.
B16A1
Honda CRX and Honda Civic models with B16A1 engines are available in European-spec models from 1989–1991. With a displacement of 1,595 cc and a compression ratio of 10.2:1, it produced 160 horsepower.
B16A2
Honda reintroduced the Civic Si coupe in 1999-2000 with the B16A2, which was more popular in 1996-1997 and 1999-2000.
In addition to its 160 horsepower, the B16A2 had a 1.6L displacement and was a great choice for Civic coupes. Additionally, the B16A2 was used in the 1992–2000 Honda Civic VTi in European specification.
B16A3
B16-series engines were first seen on American soil in the B16A3-powered Honda del Sol between 1994 and 1995.
In addition to the 1595-cc displacement, it boasts a 10.4:1 compression ratio, 160 horsepower at 7,800 rpm, and 111 lb.-ft of torque at 7,000 rpm. Honda owners were envious of the B16A3's 8,200-rpm redline.
B16A5
The B16A5 was designed for Honda Civic SiR automatic transmissions and provided 174hp at 7,800 rpm but 111 lb./ft of torque at 6,300 rpm. A 10.4:1 compression ratio and an 8,300rpm redline were maintained.
B16A6
South Africans are less likely to know about or even see the B16A6 found in Honda Civics from 1996 to 2000.
B16B
Last but not least, the legendary B16B can be found in Japanese-spec Civic Type-Rs. It delivered 185 horsepower at 8,200 rpm and 118 ft-lbs. of torque at 7,500 rpm with a 10.8:1 compression ratio. In the present day, the B16B remains one of the most sought-after swaps.
The B17 Family
Integra GS-Rs of 1992-1993 were the only ones to feature the B17-Series. It produces 170 horsepower at 7,600 rpm and 117 ft-lbs. of torque at 8,000 rpm. There aren't many of these around.
Do not be afraid if you own a B17-series powerplant and are looking to rebuild it! This engine can also be rebuilt using the same methods and procedures.
B17A1
However, the B17A1 engine was only found in USDM Integra GSRs and is just as desirable as the B16.
With a compression ratio of 9.7:1, VTEC engages at 5,750 rpm, reaches its redline at 8,000 rpm, and eventually reaches the limiter at 8,250 rpm.
With 160 horsepower at 7,600 rpm and 117 lb./ft of torque at 7,000 rpm, it performs similarly to the rest of the B16 range.
In North America, the B17 engine was the first DOHC VTEC B Series sold for export and was never sold in Japan.
The B18 Family
Among the B-Series models, the B18 is arguably the most popular. Both non-VTEC and VTEC versions of the B18 were available. Japanese aerodecks, EXL-S/EX-S, and Vigor MXL-S first featured the B18A non-VTEC power plant from 1986–1989.
With dual Keihin carburetors, it produced 160 horsepower and 128 ft-lbs. of torque. There are very few B18A engines seen in the United States, which are basically destroked versions of the Honda B20A engine.
A non-VTEC 1.8L engine produced 130 horsepower from 1990-1991, while a 140-horsepower version was available from 1992–1993 in the Acura Integra RS/LS/GS.
Its 121 ft-lbs. of torque made the 1.8L powerplant stand out. In 1994-2001, the B18A1 was updated to the B18B1 that was used in Acura Integra RS/LS/GS models.
B18B1 engines became popular among Honda enthusiasts as "LS swaps". As well as producing 142 horsepower and 127 lb.-ft of torque, the 1.8L also became the donor for the popular LS/VTEC swap.
B18A
Perhaps you're wondering why we didn't mention the B18A as the earliest B-Series model. This is mainly due to the JDM-only engine not being considered a modern B-Series engine.
Although it shares some similarities with the B18A1 and B20A/B21, the old-school engine only produces 99 horsepower.
B18A1
It provides 130 horsepower and 121 lb./ft torque with a redline of 6,500 rpm and a limiter of 7,200 rpm. The 1990-1991 non-VTEC B18A1 has a compression ratio of 9.2:1.
A later 1992-93 model had a higher redline of 6,700 rpm, but the redline remained the same. It produced 140 horsepower and 126 pound-feet of torque.
B18B
For Honda enthusiasts, the B18B1 is often referred to as the "LS VTEC" for the 1994-2001 Acura Integra. This option produces excellent top-end power by combining a non-VTEC B18 and a VTEC cylinder head.
B18C
From the B18C family comes the most sought-after and arguably most popular B-Series engine. With its 1.8L displacement and DOHC VTEC technology, the B18C engine inherits all the best of the B-Series.
Similarly to the B16A, the Japanese-spec B18C could be found in GS-R and Type-R engines, while American-spec engines were B18C1s in the GS-R.
Both the popular Integra Si-R and Type-R featured versions of the Japanese-spec B18C. Type-R B18C had 197 horsepower as opposed to Si-R B18C's 178 horsepower, even though there was no way to distinguish between the two engines.
A US-spec B18C1 engine can produce 170 horsepower at 7,600 rpm and 128 ft-lbs of torque when installed in the Acura Integra GS-R. A USA-spec B18C5 engine made 195 horsepower @ 8,000 rpm and 130 foot-pounds of torque when the Type-R was introduced stateside in 1997.
The B20 Family
Despite the B20 not being popular initially, many enthusiasts started using it for their "Frankenstein" swaps once LS/VTEC swaps became popular.
It was possible to extract plenty of torque and high-end horsepower for Honda cars by combining the 2.0L engine's bottom end and a VTEC B-Series engine's head.
Prelude S and Si models featured the B20A3 and B20A5, rated at 104 and 135 horsepower, respectively, in 1990-1991. With 126 horsepower and 133 ft-lbs. of torque, the B20B was found in the 1997-up CR-Vs.
During 1995–1998 Japan also saw the B20B, which was similar to the USA-spec model. In 1999–2000, however, the JDM B20B was rated at 146 hp and featured higher compression pistons.
1999–2000 marked the transition from the Japanese B20B to the US B20Z, which boasted 146 horsepower. In 1996, Honda reintroduced the B20B and B20Z in the first-generation Honda CR-V.
In contrast to the B16/B18 family of engines, and as a result of the enthusiasts' development of the B20/VTEC engine, this generation of the B20B and B20Z engines is more like the B16/B18 family of engines. B16/B18-like traits were also found in the B20B and B20Z.
OBD Differences
On-Board Diagnostics is also known as OBD. Depending on the generation, diagnostic systems in your B-Series engine are classified as OBD1 or OBD2.
The B-Series application follows a general rule for determining which OBD generation your engine has.
OBD0 was used before 1991, while OBD1 was used between 1992 and 1995. From 1996 to 1999, Civic Si and various Integra models were equipped with OBD2; from 1999 to 2004, Civic Si and various Integra models were equipped with OBD2.
Honda B Series Mods, Upgrades & Tuning
As one of the most sought-after motors ever produced, B Series engines have an enormous amount of untapped potential.
Your B-Series engine must be well maintained when you're tuning an engine since you're building upon the best possible base.
There's no doubt that most of these engines have been driven hard, and although they're extremely reliable and able to take a beating, tuning adds stress level.
You may want to consider a rebuild first, using a rebuild kit if you suspect issues. You will be amazed at the true power potential of the B-Series when you start with a decent engine.
The stock B16 engine should produce 250-300 horsepower, while a B18 LS/VTEC swap should produce 300-350 horsepower. The B20 has a maximum power output of around 250 horsepower.
With crazy power figures (and budgets), a full-blown sleeved block, forged bottom-end B Series engine with a big turbo kit can eventually top 1,000 horsepower but expect to pay a lot for it.
There are plenty more ponies in the B Series that you can unlock even if you don't have the budget for a 1,000-horsepower build.
Breathing mods will always be the best starting point to get the engine flowing properly.
End Of Production
In 2001, the B engine had its last production run. Don't worry, Honda fans. In the world of import performance, the B's easy availability on the used market and the number of aftermarket parts available will ensure its longevity.
B engines have many interchangeable parts, allowing for various power and displacement combinations. As a result of this interchangeability, there is also a substantial increase in the pool of used parts.
Which Honda B-Series Engine Is The Best?
It is the B18C engine that remains the holy grail of B Series engines. As a result, Honda fans have been searching for alternatives due to fewer opportunities to acquire them and an ever-increasing price tag.
In addition to the B16B, several other options are available within the B Series family, so don't limit yourself to these engines alone.
The increased displacement and reduced stress of the B18 or B20 engines make them ideal for forced induction applications.
As a result, if you spend the time and effort, you should be able to achieve four-figure horsepower with the B16, B18, or B20 engines if you choose to upgrade and tune them properly.
You can always bore out your B16 to 1.8L if necessary, so don't worry about regretting not opting for a bigger displacement down the road.
One of the most incredible engine families ever developed continues to prove itself with bolt-on modifications, forced induction, Frankenstein swaps, and B20V upgrades.
Final Words
Regarding reliability, only a few engines can compare to the B-series. Because of their reliability and ability to produce high horsepower relative to their displacement, Honda's B-Series engines have become some of the most coveted engines in the world.
Furthermore, they can be found at reasonable prices and are readily available. A major benefit of the B-Series engine is that it can be transplanted into various Honda chassis, including the Honda Civic.
With Honda's legendary build quality and a redline of 9,000 rpm in stock form, it's no wonder the B16 has become such a legendary engine.
Other Honda engine series –