If you're a car enthusiast, you've probably heard of the Honda H series engine. This powerful and reliable engine is known for its high-performance capabilities and has been a favorite among car enthusiasts for decades.
As someone who has had the pleasure of working with these engines, I can tell you firsthand that they are truly a work of art.
From the smooth-revving of the engine to the advanced technology of the VTEC system, the Honda H engine is a force to be reckoned with on the road.
In this post, I want to give you a little taste of what makes this engine so special and why it's earned its place in the hearts of gearheads everywhere.
So, whether you're a seasoned pro or just starting to dip your toes into the world of high-performance engines, read on to discover why the Honda H series engine is truly one of a kind.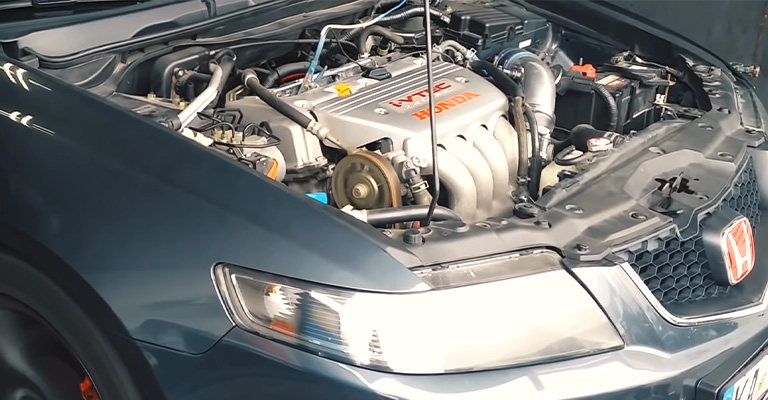 Honda H Series Engines
The Honda H series engine is a series of inline-four-cylinder engines produced by Honda. These engines were used in various Honda vehicles and produced from 1991 to 2001.
The H series engines have a high-revving design, with redlines typically around 8,200 rpm. They also have VTEC (Variable Valve Timing and Lift Electronic Control) system, which allows for increased power and efficiency.
The H series engine is popular among Honda enthusiasts for its high-performance potential when modified. Some popular models that used the H series engine include the Honda Civic Type R and the Honda Integra Type R.
People often swap H-Series engines into D-Series powered Civics to increase power on 90s Hondas, one of the most popular tuner cars in history.
Many questions can be raised about the various variants of the H-Series, specifications, and basic information that would otherwise be hard to find. Let's get started.
Engine Basics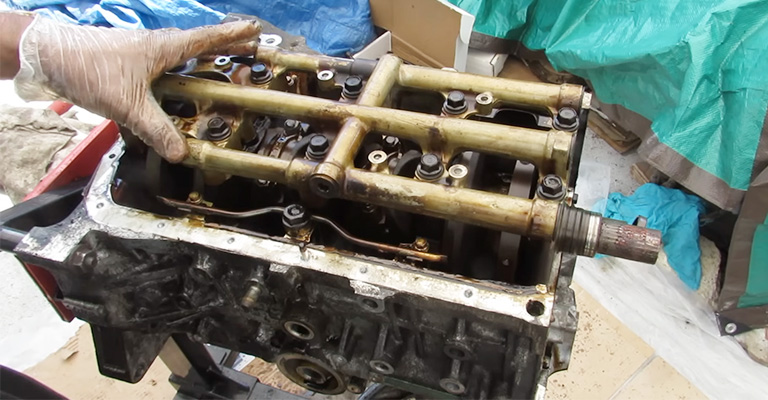 In terms of performance, Honda's H-Series engines are its more powerful offerings. Its design is very similar to that of the F-Series of engines. The F20B is essentially just a destroyed H22 that Honda used for international racing in the 2-liter class.
Unlike many other Honda 4-cylinders, the H-Series uses a fully aluminum design that saves weight, maximizes performance, and improves efficiency. Honda's VTEC system further enhances performance, contributing to the H-Series' high redline and great top-end power.
How did it turn out? Depending on the variant, it can produce up to 217 horsepower. Many other Honda performance engines at the time made close to or more than 100 horsepower per liter.
H22 and H23 are the two main variants of the H-Series. Each variant has a sub-variant with slightly different specifications and power ratings. A closed desk design was used on H22 engines made before 1996, while an open deck design was used on engines made after that.
Despite being designed to be a performance engine, most H23 engines output around 160 horsepower. No VTEC cylinder head was on the standard H23 engine, which explains the significant power decrease.
Performance-oriented H23 engines are the H23A and H23B, which use the VTEC cylinder heads from the H22A and produce 197 horsepower and 163 pounds-feet of torque.
Honda H-Series Engines: Application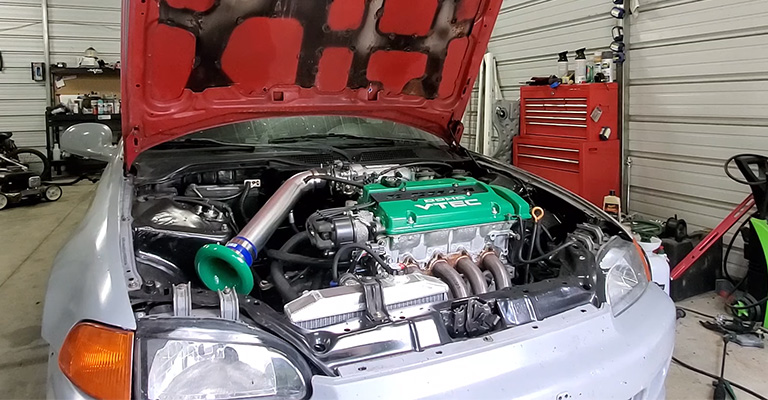 S2000s, Civics, and Integras are Honda's best-known VTEC four-cylinders. What about the Japanese market's Prelude and similar-sized cars?
These vehicles are available with H-series 2.2 and 2.3-liter VTEC engines (the largest four-cylinder engines ever produced), and they're so underrated it's ridiculous. This article focuses on the 'big block' Honda VTEC four.
H22A
In late 1991, the Honda Prelude Si VTEC began using four-cylinder H-series engines in the nose.
A total of 2156cc is dispersed by the BB1/BB4 Prelude's H22A engine, which has an 87mm bore and 90.7mm stroke.
There is a DOHC, a four-valve-per-cylinder head, a PGM-FI multi-point injection system, and a distributor ignition system.
But the VTEC variable valve timing and lift system gives the engine great top-end power – try 147kW at 6800 rpm and 219Nm at 5500 rpm. With a compression ratio of 10.6:1, the VTEC H22A requires premium unleaded fuel.
The H-series engine is transverse-mounted and can be paired with either a five-speed manual or four-speed automatic transmission in the Prelude. A front-wheel-drive system is used.
In Japan, a high-performance version of the Honda Accord Si-R was also equipped with the VTEC H22A in 1993.
A sibling to the go-fast Prelude, the Accord Si-R engine delivers 140kW/206 Nm, slightly less than its Prelude counterpart. A more restrictive exhaust system may be to blame for this.
Both five-speed manuals and four-speed automatics are available on the Prelude. Accord Si-R coupes and wagons were also offered as auto-only models during 1994 and 1996 (chassis codes CD8 and CF2).
As part of the 1997 model year update, the BB6 Prelude Si-R received a sports-shift automatic transmission and Honda's ATTS (Active Torque Transfer System). Still, Japanese versions appear less powerful than their American counterparts.
H23A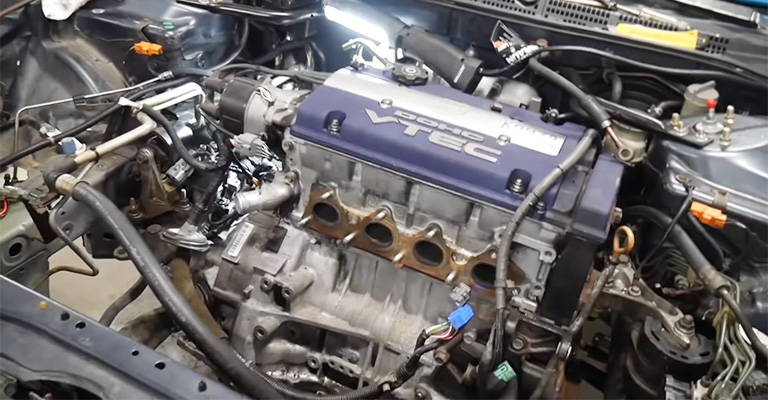 As part of the 1992 release, the engine design was modified to incorporate a 95mm stroke, increasing the engine's capacity by 2258cc (2.3 liters). The newly created H23A engine does not have VTEC breathing and has a lower compression ratio (9.8:1).
Even though the H23A has a slightly higher capacity, its output is far behind the VTEC H22A – peak power is 121kW, and torque is 211 Nm.
This performance is reached at revs much lower than 5800 rpm or 4500 rpm. On the Japanese market, this engine is available only on top-of-the-line CC4/CC5 Ascot Innova hardtop sedans. Automatic transmissions are standard on most vehicles.
Non-VTEC H23A
The Prelude of late 1991 was Australia's first car to use the H-series engine. However, the first examples of the Innova were not fitted with the VTEC H23A (as used by Ascot Innovas).
In Australian specification, the H23A produces 118kW at 5800 rpm and 209 Nm at 4500 rpm. There is also a 96kW 2.2-liter F22A engine in the base model, which is separate from the more powerful H-series!
It took until 1994 for the muscular VTEC H22A to reach the Australian market.
A VTEC-equipped Prelude VTi-R, weighing 1300 kilograms, can accelerate from zero to 100 km/h in 8 seconds at 6800 rpm with 142kW at 6800 rpm and 212Nm at 5250 rpm.
Prelude was significantly altered when it was delivered from Australia in 1997. A revised 118kW F22A engine replaced the non-VTEC H23A.
In addition to the existing open-deck block, fiber-reinforced metal cylinder liners, full floating pistons, an aluminum oil pan, and improved intake and exhaust flow, the VTEC H22A has been updated with new features.
Compared to the previous generation Australian-spec H22A, these changes increased output to 143kW. In late 1998, an update increased power to 147kW. From 1997, the Prelude was available with a sports-shift auto and ATTS.
Engine Development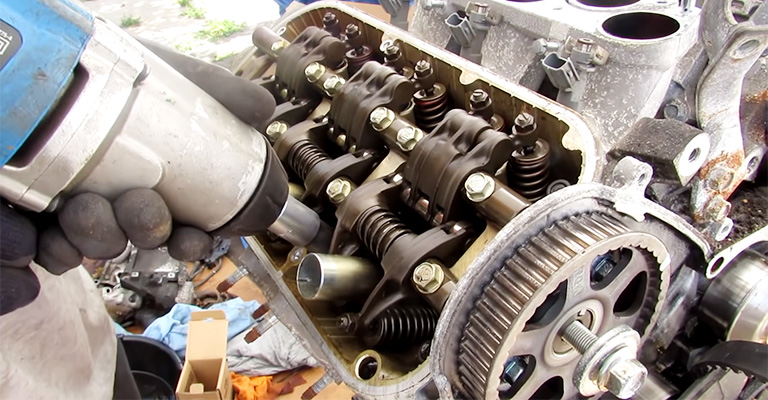 During 1997, the most significant development was the release of the Japanese market Prelude Si-R Type S.
Type S is a hotter version of the VTEC H22A, with 11:1 compression piston, a ported head, a larger throttle body, altered cams and VTEC characteristics, and improved headers and exhaust.
As a result of these changes, the engine produces 162kW at an rpm of 7200 and 221Nm at an rpm of 6700, which are healthy gains. In 2000, the same engine was used in the "new generation" Honda Accord Euro R and the 2000 Torneo Euro R.
Only a five-speed manual transmission is available on the Prelude Si-R Type S, Accord Euro R, and Torneo Euro R. These high-spec engines have a red valve cover.
Honda H-Series: Tuning Potential
H-Series engines have been tuned by thousands of enthusiasts all over the world, just like any other Honda four-cylinder engine. From crazy naturally aspirated builds to forced induction race machines.
In a figurative sense, the H-Series engine has been redesigned from top to bottom. A tune is one of the most popular modifications, but simple bolt-ons like an intake and exhaust are also popular.
There is, however, only so much you can achieve through these modifications, which is why many owners choose forced induction in the end, since it offers a much greater range of possibilities.
The H-Series engines were quite common in the EK Civic and other small Honda vehicles of the time.
The "H2B" system comes into play here. As the name implies, H2B is an H-Series engine coupled to a B-Series transmission, which makes it fairly easy to install into a different chassis like a Civic.
Mods & Updates
There is now a question you might be wondering about: can the long-stroke H23A be combined with VTEC variable valve lift and timing?
In 1999, Honda built the Accord wagon Si-R (chassis code CH9) for the Japanese market. With a 10.6:1 compression ratio (0.4 lower than the Prelude Si-R Type S), the Accord wagon Si-R has a VTEC H23A engine with a relatively mild tune.
It is disappointing that the VTEC H23A is not much more powerful than the original VTEC H22A. It generates 147kW at 6800 rpm and produces 221 Nm at 5300 rpm. From 2000, an AWD driveline was available with a four-speed sports-shift automatic transmission (CL2 chassis code).
Honda H-Series: Known Problems
As with many Honda four-cylinder engines at the time, the H-Series is fairly reliable as long as it is properly maintained. Several owners have reported online some fairly common issues.
In most cases, timing belt issues are caused by premature failures of both the belt and the auto tensioner.
The amount of burning oil and slug buildup in your engine may depend on how well you maintain it.
The FRM cylinder wall is the most problematic aspect of the H-Series. Honda used FRM instead of iron for the cylinder walls in the H-Series. The heat transfer characteristics of FRM are much better than those of iron, resulting in a significantly more efficient cooling system.
FRM wears more quickly than iron, contributing to the oil-burning problem. Furthermore, FRM cannot be used to bore out cylinders.
Most aftermarket pistons are also incompatible with FRM cylinder walls, so iron cylinder walls must be substituted.
Final Words
There were no other applications for the H-series four besides the Prelude, Accord, Ascot Innova, and Torneo Euro R. The production of the H-series four ended when the K-series four appeared in 2002.
The H-series VTEC engines are the largest Honda VTEC fours, and their underrated power is difficult to understand. They have proven very reliable as one of the ultimate fours on the market (early '90s Prelude VTi-Rs are still going strong).
You won't find much more power with conventional tuning methods – maybe 10% more. To boost these engines significantly throughout the rev range, you will need forced induction or a multi-stage nitrous kit. The cost and ease of adding a turbo have never been lower.