Welcome to the exciting world of Honda's K-series engine! These powerful, yet efficient engines have been impressing drivers and mechanics alike since their introduction in 2001.
With Honda's innovative i-VTEC technology at its core, the K-series engine delivers a dynamic driving experience while also being friendly to the environment.
Whether you're cruising down the highway in a Civic, tackling off-road terrain in a CR-V, or hauling cargo in an Element, the K-series engine has the perfect combination of power and efficiency to get the job done.
With displacements ranging from 1.4 liters to 2.4 liters, there's a K-series engine for every need. So, strap in, start the engine, and get ready for an exhilarating ride.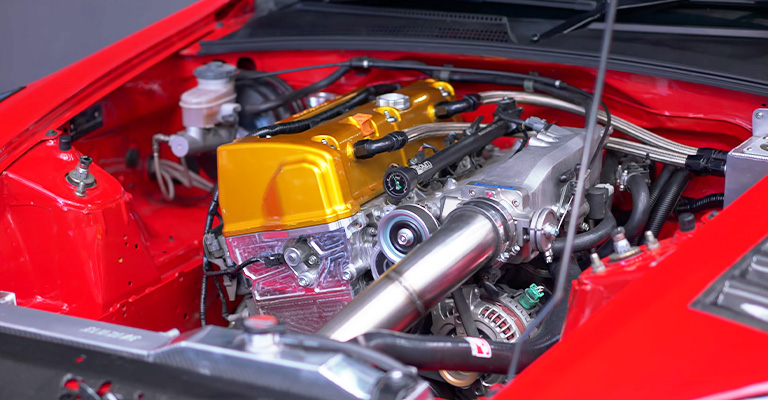 A Brief History Of Honda K Series Engines
It's more than just an engine when it comes to the Honda K-series. This petrol-powered Swiss army knife provides solutions not only for the Honda FF family but also for FR and MR chassis made by various manufacturers.
Despite this, Honda's K-series was already a solution to almost half of their vehicle range long before it became the go-to engine for engine swappers.
The Honda Odyssey and CR-V SUVs, as well as the popular Accords, Integras, and Civics, have all been modified with the four-cylinder K since 2001.
As a result of Honda's proliferation of the engine platform across numerous models, its high development cost was amortized over a long period.
The K-series was the only platform on which they put their focus, resources, and money rather than spreading themselves across several compromised platforms.
A modular structure allows standard engines to be modified for fuel economy, power, and everything in between through changes in compression ratio, rotating assembly, and VTEC system.
For tuners, this provides an almost Lego-like capability of swapping and changing components to create a package that meets their needs. The performance credentials of certain standard parts can command a premium, but most are inexpensive and readily available.
Although 21 years have passed since the launch of the K20A, the final spec list still reads well (does that make anyone else feel old?). Here are a few highlights:
Constructed entirely of aluminum
A coil-on-plug ignition system
Timing variable camshafts
Hollow camshafts with chain timing
Crankshaft made of forged steel
Sleeves made of cast iron
Cylinder heads with roller rockers
Over 100 horsepower per liter
A DOHC four-cylinder engine has been Honda's goal since its inception, and the K20 epitomizes that commitment.
Japanese manufacturers are committed to continuous improvement, even within a single model lineage (the M3, for instance: I4, I6, V8, I6 turbo).
Looking back at the lineage, you can see where innovations were added and perfected over time.
All of the above, plus some, were included in the K-series. Among the improvements Honda made along the way are oiling, balancing, and low-friction materials.
That's all I have to say about history.
Interesting Facts You Should Know About The Honda K-Series Engine
Many car models feature Honda K-series engines, which are known for being highly tunable. K-series engines power the majority of Japanese automaker's vehicles.
It has become the go-to four-cylinder engine for gearheads looking to add some serious power to their cars. To get a better understanding of Honda's K-series engine, let's look at what it has to offer.
1. Potential For Tuning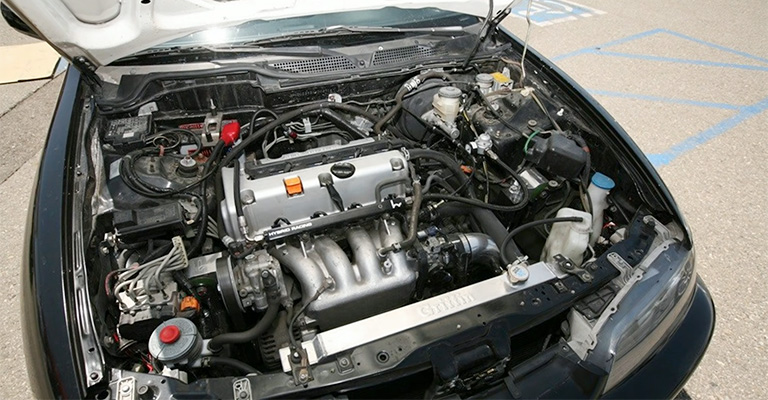 K-series engines have high output from the get-go, making them a favorite among enthusiasts when swapping engines. Almost everyone today views the K-series as the Chevrolet LS engine, which has also made its way into other car manufacturers' engine bays.
Some tuners can make K-series engines turn over 9000 rpm naturally aspirated, while others can make K20A engines safely produce 500 horsepower forced induction.
2. Applications For Non-Honda Vehicles
In addition to Honda models, the K-series engine has been used in non-Honda models as standard equipment. Two generations of Atom open-wheel sports cars have been powered by the K20 engine manufactured by British manufacturer Ariel.
The Atom 3 had a naturally aspirated or supercharged K20Z4 engine, while the Atom 4 uses the same turbocharged K20C1 crate engine found in the Civic Type R.
3. VTEC Turbo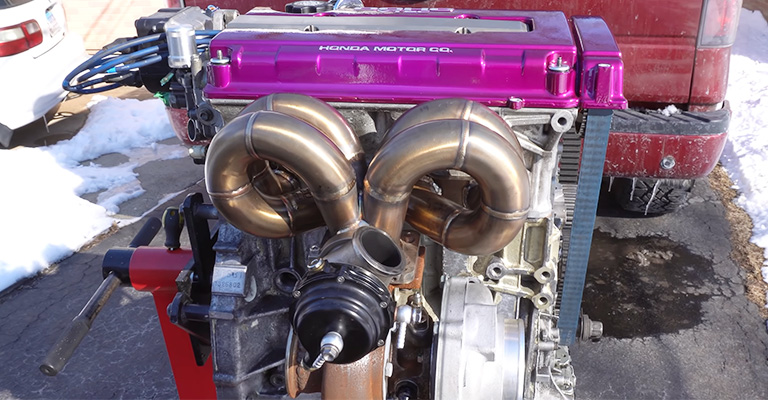 Earlier, we mentioned that the VTEC Turbo K20C1 powers the FK2 and FK8 Civic Type R. Because of forced induction, the K20C1 achieves peak power at a lower rpm than the naturally aspirated K20A.
In addition to the Honda Accord, Acura RDX, and TLX, the K20C VTEC Turbo engine can also be found in the current Acura RDX and TLX. The Type R version produces 316 horsepower, whereas these versions produce 252 to 272 horsepower.
4. Formula 4
The K-series engine, like its predecessor, powered racing open-wheelers. A naturally aspirated K20C2 engine, which produces 158 horsepower and 138 pound-feet of torque, has been used in Formula 4 cars in the SCCA series since 2016.
It sits on a Formula 4 chassis built by Onroak Automotive and is supplied by Honda Performance Development. Since 2016, this engine has also powered USDM Civic base models.
5. Economy Variants
i-VTEC lettering can be seen on black intake manifold covers on economy variants of the K-series. There is nothing weak about these engines, just that their i-VTEC systems were designed for economy rather than outright performance, so when revved hard, they don't produce that familiar VTEC switchover sound.
With 150 to 178 horsepower, these K-series engines rev lower than their high-performance counterparts but still deliver decent power and torque.
6. High-Performance Variants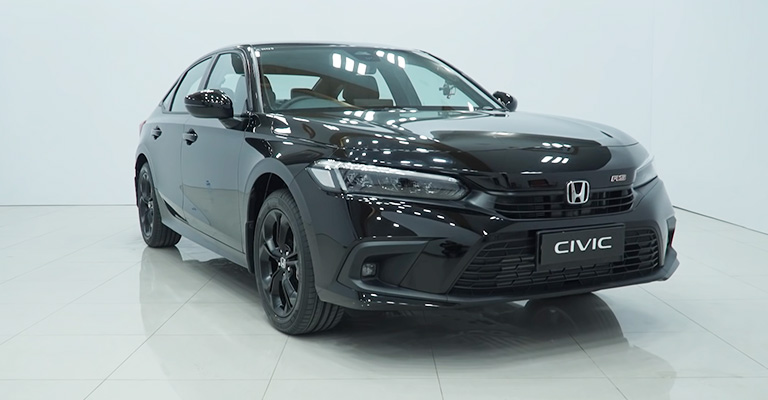 It is possible to identify high-performance variants of the K-series from their appearance since the K20A engine has a red valve cover and a red intake manifold cover. Typically, you'll see the version with between 212 and 221 horsepower.
In addition to the red i-VTEC decal on the intake manifold cover, other naturally aspirated high-performance K-series variants, such as the K20A2, the K20Z1, and the K24A, also have silver valve covers. There is a range of power between 197 and 210 horsepower available on these engines.
7. i-VTEC
As on the K-series engine, Honda's innovative VTEC system is still present, but it is now paired with Variable Timing Control, which advances or retards engine speed depending on load.
A K-series engine has two types of i-VTEC; one is designed after the DOHC VTEC system of the B16A, and the other is an economy model.
8. Type R
JDM enthusiasts refer to the first-generation Civic Type R as the EK9, the only Civic Type R that did not use K-Series engines. With the second-generation EP3 that had the K20A engine, Honda began using the K-series engine on the Civic Type R in 2001.
For 2015, the Civic Type R FK2 was powered by a turbocharged K20A engine, and the K20C1 engine will continue to power the 2022 Civic Type R.
9. Revised Engine Layout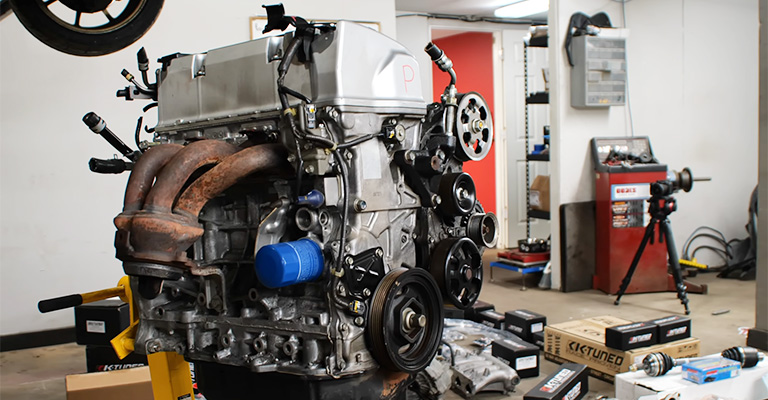 Honda redesigned its engine layout to make the K-series completely different from its predecessor. By looking at the engine placement, it's easy to determine whether a car has a K-series or a B-series.
Upon opening the hood, a K-series is positioned on the left, while the B-series is on the right. There is more to the difference than that. Coil-on-plug, distributors ignition has replaced the intake and exhaust manifolds, tidier up the engine bay.
10. A Successor To The B-Series
With the introduction of Honda's K-series engines in 2001, the B-series engine was replaced as the company's flagship four-cylinder DOHC engine.
As opposed to the B-series, this engine line had a larger range of engine displacements, ranging from 2.0 to 2.4 liters and 1.6 to 2.0 liters for the B-series.
As of that time, almost all their models were equipped with K-series variants, including the Odyssey, CR-V, Integra, and Civic.
11. Swap Time
Honda enthusiasts have long known that the K-series engine could be swapped into older Honda models, but since then, its cost-effectiveness has improved.
Today, there is a wide range of motor mounts, wiring harnesses, and second-hand engines, making it easier and cheaper to K-swap an older Honda.
The LEGO-like ability to build and modify Hondas and Acuras from the 1980s and 1990s makes them so appealing, and the K-series just enhances that. Lightweight Civics or Integras with double wishbone suspensions and modern K20 or K24 engines have a lot of potential.
There's Something Special About The K
K-series swaps are the most popular for Hondas with front-wheel drive. Since they hit the market, the early 2000s Honda owners have been dumping their D, F, and even B series engines in favor of the K-series.
The Honda K-series was introduced in 2001 in the Type-R trims of the Civic and Integra and is still available in DI form on several Honda and Acura models today. Since this engine has a nearly 20-year lifespan, there are many variants to choose from.
Swapping and performance applications are most popular with the early K20 engines from 2001-2006 EP3 Civics and DC5 Integras, as well as the K24 engines from 2002-2008 Honda Accords and Acura TSX.
High-flowing K20 heads and large-displacement K24 bottom ends are often touted as the best-performing package.
K-swaps have become increasingly popular over the last few years, with several aftermarket manufacturers making rear-wheel drive gearbox adapters, conversion kits, and even complete kits for Honda S2000s, Mazda RX-7s, Mazda MX-5s and Nissan S and R chassis.
Honda's four-cylinder engine can be installed into virtually any chassis with parts and accessories from these manufacturers.
Due to its plentiful supply, low cost, and advantageous exhaust packaging with cast-in exhaust manifold runners, the K24 from the 2009-2014 Accord/TSX is also extremely popular within this segment.
Final Words
The legendary JDM engines Honda makes are no stranger to the world. Because of the VTEC system, Hondas became high-performance vehicles in the 90s.
The Integra XSi 1.6-liter B16A DOHC VTEC engine was the first to use this technology, allowing them to produce great amounts of horsepower without sacrificing fuel efficiency. In the new millennium, Honda came up with the K-series engine to perfect the four-cylinder DOHC engine format for high performance.
Honda's K-series name lives on in its latest turbocharged and direct-injected Civic Type R. Still, it is fundamentally relegated to Honda's history books simply because it was so simple and dependable. The dream of tuning will, however, continue to live thanks to tuners.