If you've noticed a strange noise coming from your vehicle's power steering system, it could be a sign of a problem with the power steering pump.
The power steering pump plays a crucial role in assisting the steering effort and ensuring smooth maneuverability of your vehicle.
When it starts making unusual noises, it's essential to address the issue promptly to prevent further damage and potential steering failure.
In this informative guide, we will explore the common causes of power steering pump noise and discuss possible fixes to restore smooth and quiet operation to your steering system.
By understanding the underlying issues and taking appropriate action, you can maintain the functionality and reliability of your power steering system while ensuring a safer driving experience.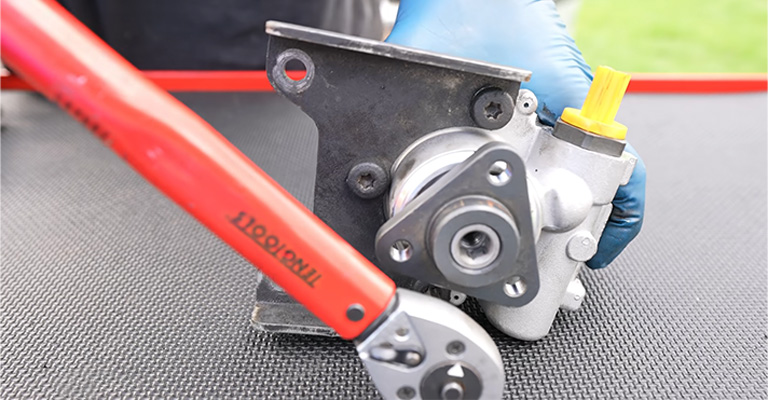 Top Reasons For A Noisy Power Steering Pump
Whenever you turn the steering wheel, the power steering pump will make squealing or low groaning noises to let you know it is failing.
Turning the steering wheel and hearing sounds doesn't mean your car is singing, it means you're about to have a much harder time turning it.
Although power steering has been around for a while, it is still relatively new in terms of its widespread adoption. People used to steer cars just fine before it came along, but they grunted a bit more.
Despite the fact that you can drive without a power steering pump, the noises may continue, and you may get tired of maneuvering your steering wheel every time you need to park.
To help you understand the power steering systems and pumps that power them, we've put together a primer. Let's get started.
Your power steering pump could be about to fail if you hear squealing or groaning when you turn the steering wheel.
Failing Power Steering Pump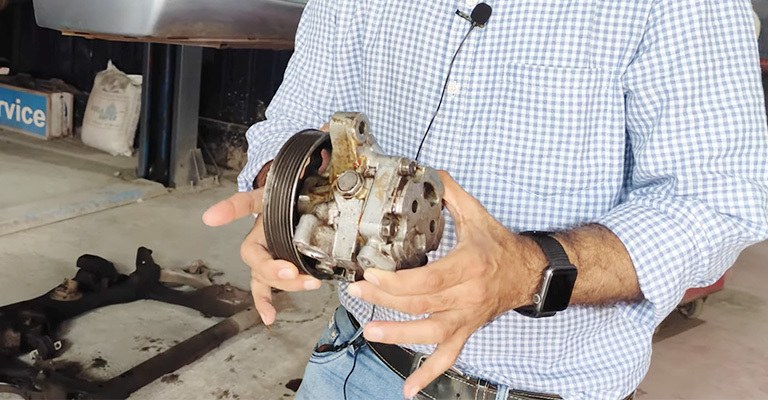 It is also possible to hear power steering noises as a result of a failing pump. Power steering fluid leaking around the pulley or difficulty steering your car are signs of a failing pump.
Before your vehicle gives out while you are on the road, replace the power steering pump if you notice multiple symptoms.
Trapped Air
Turning the steering wheel can result in noise and unexpected vibrations if air is able to enter the system.
Low Fluid
Most power steering noises are caused by low fluid levels. There's only a small reservoir for power steering fluid, so it won't take much fluid loss to cause a problem.
How To Fix Power Steering Pump Noise?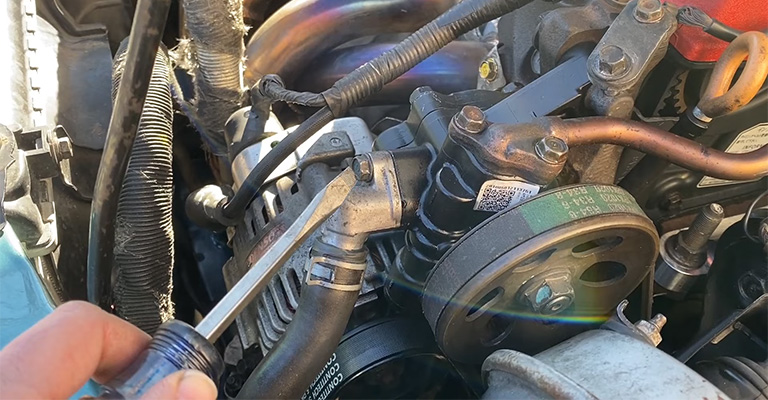 Understanding why the power steering pump becomes noisy can help you figure out how to fix it.
It is due to the unique design of your power steering pump that it makes a specific noise when something goes wrong.
You need your power steering pump to assist you in turning your car's heavy wheels by converting the rotary motion of your engine's crankshaft into high pressure fluid.
Using a belt and pulley, your power steering pump activates a rotary vane pump. Rotating vane pumps are actually designed more like fans than typical pumps.
A rotor attached to a blade or vanes is found inside the pump housing. In order for the system to work properly, high pressure is needed on the pump outlet hose when the vanes spin.
When your power steering isn't working correctly, the whine you hear is caused by the special design of the vane and rotor.
When the pump is trying to move power steering fluid, a whine is usually created.
Small air bubbles in the power steering fluid are a common cause of whining and vibration caused by worn out fluid that has lost its additives or physical properties.
You are most likely suffering from one of these problems if your power steering pump makes noise.
Your car's whine is probably caused by air bubbles in the system if you've kept up with regular maintenance and changed the power steering fluid.
Power steering systems can be contaminated by air in a few different ways. A loose low pressure hose may cause air bubbles in your power steering fluid.
Due to the vacuum created by your pump, air can also enter the rotor and vanes if there is any loose hose connection. It can cause foaming of the fluid and whining of your pump as a result of this air.
Can I Drive My Car With a Faulty Power Steering Pump?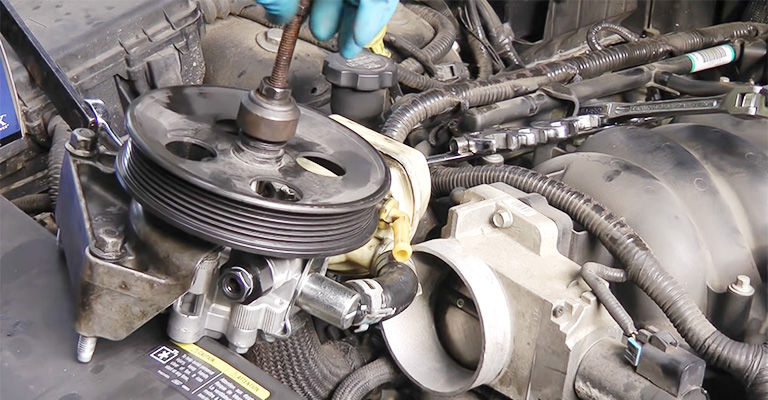 You can drive until your car is fixed if the leak is caused by a tiny crack in the hose. You won't be left stranded.
It is important to remember, however, that the hole will not remain small for long. If you do that, you run the risk of losing too much fluid and damaging the steering system as a result.
You could damage your steering mechanism if you ignore the sound coming from your steering pump.
In this case, the mechanic may have to perform costly repairs that could have easily been avoided. In addition, being unable to steer the vehicle properly puts you at risk of having an accident.
You might need to replace the fluid in your power steering pump if you hear noises from the pump. Whatever the case may be, you will be able to tell how serious the problem is by how loud the whining becomes.
You should tend to it sooner if it becomes louder. It is likely that your steering pump broke down completely if it becomes more like a groan.
FAQs
How Do You Test a Power Steering Pump?
A pressure tester is required to test a power steering pump. In order to get pressure readings, idling the engine and turning the steering wheel are required.
How Long Should My Power Steering Pump Last?
Your power steering pump doesn't have an expiration date. In any case, expect to replace the pump after 100,000 miles or so. In some cases, the life expectancy is longer and in others, it is shorter.
How Much Does The Power Steering Pump Cost To Replace?
It costs between $500 and $700 to replace a power steering pump. Parts cost between $350 and $500, which makes up most of that number.
Can I Drive With A Broken Pump?
It's possible. It will take more muscle to turn the car without a power steering pump, so you'll need more strength.
How Hard Is The Power Steering Pump To Replace?
Changing your own power steering pump doesn't require any special skills, but you will need some time and a flat surface.
For those just starting out with automotive maintenance, replacing a power steering pump may take upwards of four hours.
Maintain Your Power Steering Pump
In order to prevent this problem from recurring, you will want to take all necessary precautions once the power steering pump noise is removed and your system is functioning normally again. Maintaining your steering pump involves:
Make sure the steering fluid level is checked every month. It is usually possible to see the amount of oil inside the reservoir as it is usually see-through.
Make sure you use good-quality oil in your system. As a result, it will last longer and won't leave any residue that can cause clogs.
Watch out for leaks. Make sure you check your car's undercarriage every now and then for drops.
Regularly visit the mechanic. It will help you avoid costly major repairs by identifying any problems early on.
Final Words
You can identify a broken power steering pump noise by listening to it when your car is running.
A whining power steering pump can indicate many different problems, including clunks, squeaks, and hums.
You may not be familiar with what a power steering pump is before experiencing a noisy one, but once you hear it, you won't be able to ignore it any longer.
As they use similar fluids and have similar pumps, transmissions can also make whining sounds in rare cases.
If you pop your hood and listen for a sound at idle, you can usually figure out where the sound is coming from since your transmission is much bigger and on the other side of your engine.