You might be wondering if your trusty ride can be flat towed. Flat towing is a popular way of transporting vehicles behind an RV. But before you hit the gas, it's crucial to know if your Honda CR-V is up for the challenge.
Here comes the question, "can a Honda CRV be flat towed?" Yes, certain Honda CR-V models can be flat towed, including CR-V models 2014, 2013, 2009, 2008, 2006, 2004, and 2003. But it is important to consult the manufacturer and check the manual for specific instructions and requirements.
In this article, we'll dive more into what flat towing means, how to flat tow, pros, and cons of flat towing. That said, let's get started.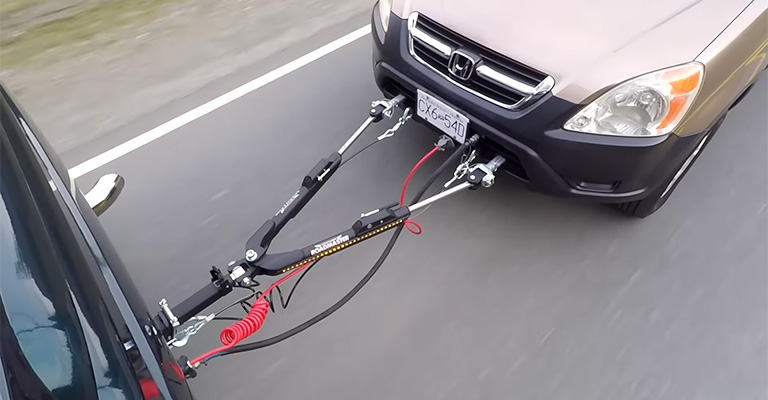 Meaning Of Flat Towing
Flat towing refers to the practice of towing an automobile behind another car without using a trailer. In this method, the wheels of the towed vehicle are on the floor and it is attached to the tow vehicle by a tow bar.
The key advantage of flat towing is that it eliminates the need for a trailer and makes it easier to maneuver vehicles in tight spaces.
Can A Honda CRV Flat Tow?
Yes, you can flat tow your Honda CR-V (also known as dinghy towing) behind the RV. This will work once it has the proper equipment and is properly set up for flat towing.
But some models of Honda CR-V are equipped and constructed to undergo flat towing while others are not. So, it's essential to check the owner's manual or consult the manufacturer to determine if you can flat tow your Honda vehicle.
Typically, the Honda CR-V is an ideal candidate for flat towing, as it is a lightweight and compact SUV that is easy to maneuver. It also has a strong and reliable transmission system, making it ideal for towing behind your RV or motorhome.
Furthermore, the CR-V is equipped with a powerful and efficient engine, ensuring that it will not overwork or overheat during extended towing periods.
Honda CRVs That Can and Cannot Flat Tow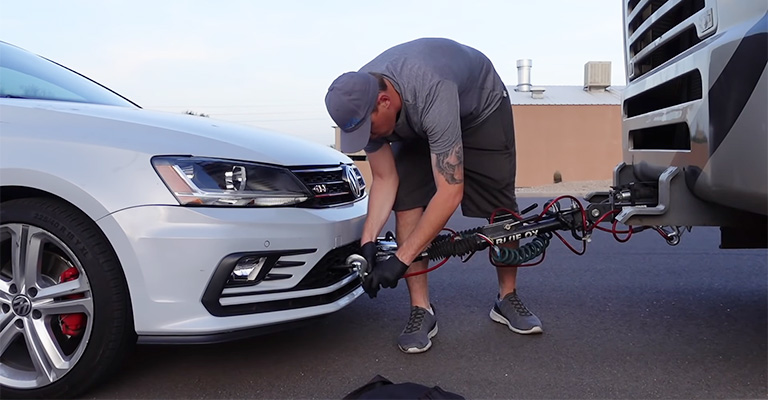 As we said, not all Honda CR-V models can flat tow.
Honda CR-V models with an all-wheel drive (AWD) or front-wheel drive (FWD) system and manual and automatic transmission can undergo flat towing. This includes Honda CR-V models 2014, 2013, 2009, 2008, 2006, 2004 and 2003.
On the other hand, Honda CR-V models 2017, 2019 and 2021 cannot undergo flat towing.
Steps To Flat Tow The Honda CRV
It is crucial to ensure proper flat towing to avoid any damage to the vehicle and ensure a safe and comfortable experience. Before you consider flat towing your Honda CR-V, you will need to follow these guidelines step by step.
Step 1. Verify That Your Honda CRV Is Flat Towable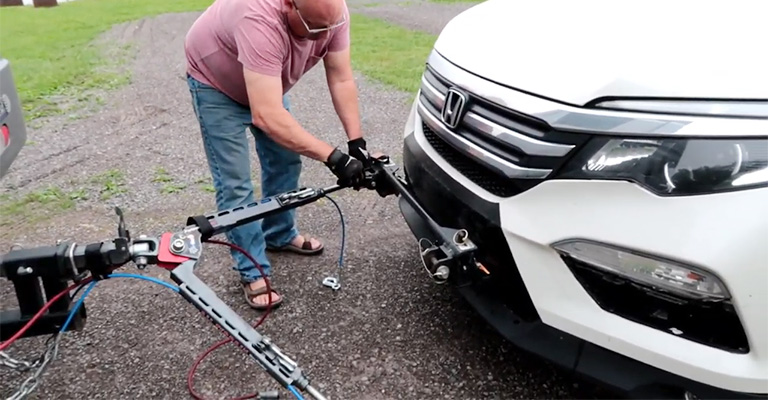 Check whether your Honda CR-V is flat towable or not. It is crucial to go through the owner's manual or consult a dealership for specific guidelines.
Step 2. Install A Flat Towing Setup On The Honda CR-V
Ensure to close all doors and windows, and the trunk should be closed.
Then, set up with all the equipment, such
A base plate
Tow bar
Safety cables
A lighting kit
Attach the base plate to the vehicle's frame, and connect the towing bar to the base plate.
Tie your Honda vehicle with the safety cables to the pulling motorhome.
Then ensure the lighting kit provides the necessary lights to make the towing vehicle and the flat-towed vehicle visible to other drivers.
Step 3. The Vehicle's Transmission Should Be In Neutral
Put the vehicle's transmission in neutral.
Unlock the Honda CR-V's steering wheel and the parking brakes should be released.
Step 4. Remove The Keys From The Ignition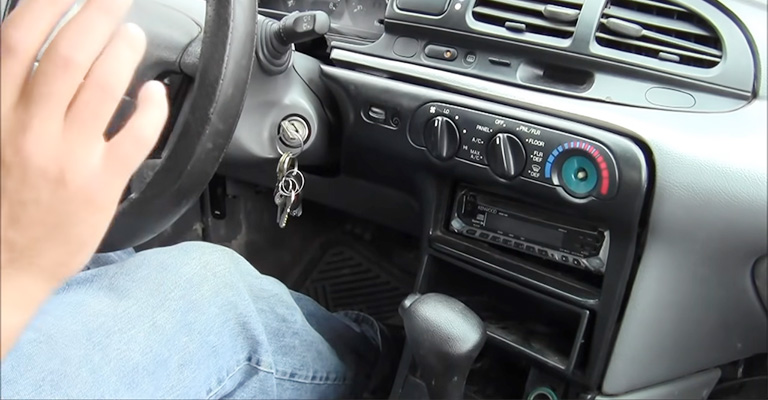 Don't forget to do this, because it will prevent the CR-V from being driven while it is being towed.
Step 5. Set The Parking Brake
Engage the parking brake to ensure that the CR-V does not roll while it is being towed.
Step 6. Drive Safely When Flat Towing The Honda CR-V:
The towing vehicle should be driven at a moderate speed, and sudden stops, turns, or changes in speed should be avoided.
Towing speeds should not exceed 65 mph, as going faster can result in severe transmission damage.
In addition, the flat-towed vehicle should be checked frequently to make sure that it is properly secured and that the safety cables are right.
What Is The Towing Capacity Of Honda CR-Vs?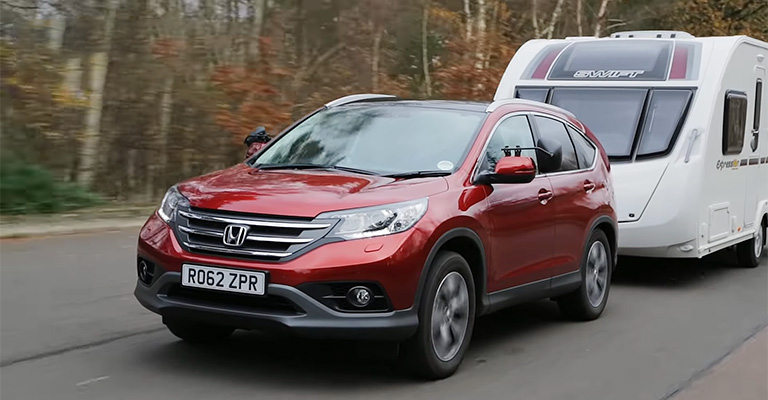 Most Honda CR-V vehicles have a consistent towing capacity of 1,500 pounds, with the only differences being gross combined weight and vehicle weight ratings. Some CR-Vs produced between 2000 and 2002 had a lower capacity of 1,000 pounds, while models after 2003 maintained a 1,500 lbs. capacity.
Pros And Cons Of Flat Towing Honda CRV
Flat towing the Honda CRV has some pros and cons associated with it. Below are some of them.
Pros
Flat towing eliminates the need for a separate trailer, making it easier to transport the vehicle.
Flat towing can be a more cost-effective option compared to using a trailer, as it eliminates the need to purchase or rent a trailer.
With the vehicle being directly attached to the tow vehicle, it's easier to maneuver in tight spaces and during turns.
Flat towing can result in improved fuel efficiency, as the tow vehicle's weight is carried by the tow vehicle instead of a separate trailer.
Cons
Not All Honda CR-V Models Can Flat Tow
Not all Honda CR-V models are equipped or designed to flat tow, which can limit the available options for transportation.
Wear And Tear On The Vehicle
Flat towing can put additional stress and wear on the wheels, brakes, and transmission of the towed vehicle.
Some states have specific regulations regarding flat towing, and it's essential to check local laws before attempting to flat tow a vehicle.
Requires Specialized Equipment
Flat towing requires a tow bar and other specialized equipment, which can be costly to purchase or rent.
Cost of Flat Towing a CRV
On average, the cost can range anywhere from $800 to $2,000 or more. However, the cost of flat towing the Honda CR-V is dependent on several factors, such as the type of tow bar you use and the price of installation.
Also, the cost may vary because of a brake system, if required, and any additional equipment you need to make your CR-V safe.
Conclusion
We've answered the intention of the article. But take note that flat towing your Honda CR-V can be a cost-effective and convenient option for transporting the vehicle. However, it's important to note that not all Honda CR-V models can allow for flat towing.
Also, checking the owner's manual or consulting a Honda dealership for specific information is essential. Flat towing requires specialized equipment, and it's vital to consider the additional stress and wear on the vehicle before deciding if it's the right option.