All car key remotes eventually stop working, which is a bummer. You can pretty much guarantee at least once that your car door will not open with the remote, even if it's just a dead battery.
Is there a problem with the buttons on the key fob? In most cases, you can repair a non-functional key fob with little hassle and without spending a lot of money.
The majority of the time, you won't need to visit a Honda dealer to fix a faulty key fob.
Keyless entry remotes occasionally stop working for a variety of reasons, but most of them can be verified on your own.
Most of the time, these key fobs go dead due to the batteries deteriorating over time, in which case it is best to replace the battery.
What Causes Honda Accord Key Fob To Stop Working?
It's possible to fix some key remote problems that are harder to diagnose. In order to figure out what is wrong with a car key remote, the first step is verifying whether the remote is the problem.
This is very basic stuff, and it will probably not apply to many people. In other words, if you have a second remote and you haven't already checked it, you'll want to do it now.
You will know that there is a problem with your main remote if the backup remote can lock and unlock your doors.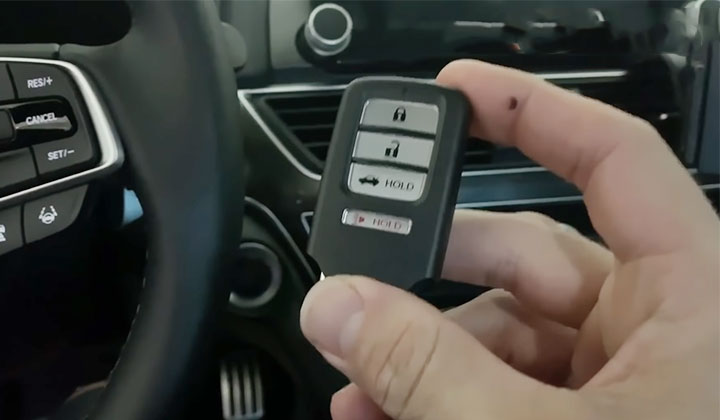 It's always possible that the backup remote is defective as well if it also doesn't work. It is possible that the door locks are malfunctioning due to a mechanical or electrical problem.
It is important to check that your physical key, or emergency valet key, can operate the locks at this point.
Buying a used remote or requesting one from your local dealership may be an option if you do not have a spare.
If your remote lock mechanism does not work, you may be able to check it with a universal remote at your local dealership.
Dead Battery
If your Honda Accord key fob stops working, there may be a dead battery. You can test to see if this is the case by trying to turn the car on with the key fob and without inserting any coins into the ignition.
If you still cannot get your Honda Accord started, it might be best to take it in for service so that an expert can diagnose and fix the issue.
Sometimes a dead battery will cause other issues too such as not being able to start your car from a remote location or having trouble locking/unlocking your vehicle doors using the key fob.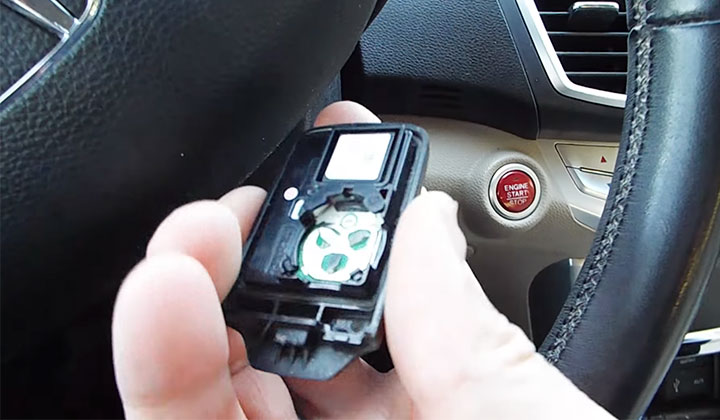 Be sure to keep track of how many times you have used your Honda Accord's key fob before it starts malfunctioning–this information could help you determine when it was last charged.
Poor Wiring
A poor wiring job can be the cause of your Honda Accord key fob not working. If you're experiencing this issue, it's important to have a professional inspect your car for any potential problems and correct them as needed before continuing with repairs or replacements.
The fuse box in most Hondas is located under the hood near the battery, so finding and fixing the problem may require removing panels or accessing hidden parts of your vehicle.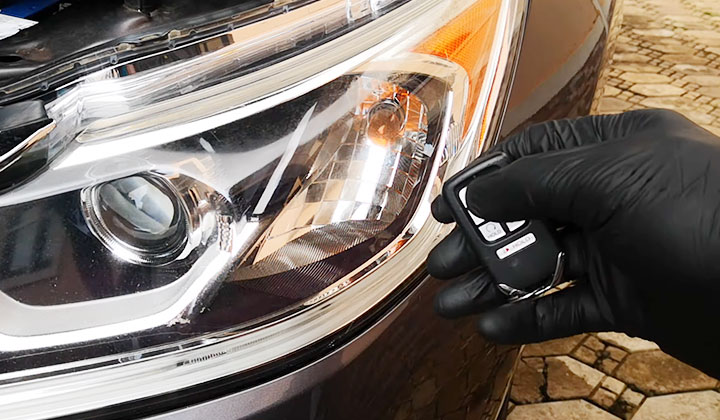 Make sure that all wires are properly insulated and securely fastened; if they're loose or corroded, they could cause interference with electrical signals traveling through your car's systems.
Finally, if you've tried everything and still cannot get your Honda Accord key fob to work, consider replacing it altogether with a new unit – there's always a chance that an old faulty one was causing the problem in the first place.
Corrosion On Connector Or Broken Wire Within Controller
Honda Accord key fobs can stop working for a variety of reasons, such as corrosion on the connector or a broken wire within the controller. If your key fob isn't working, it's important to take action and have it repaired as soon as possible.
There are several steps you can take in order to prevent corrosion from occurring on your Honda key fob connector: using caution when washing the car, keeping water away from the area, and properly storing your vehicle.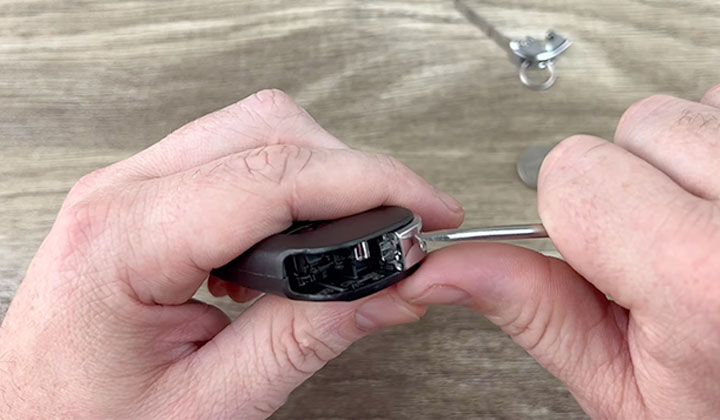 Sometimes even replacing the entire key fob controller is necessary in order to restore functionality to an affected unit; consult a mechanic if this is your case.
Be aware of warning signs that indicate there may be trouble with your Honda Accord key fob controller- if anything seems out of place or doesn't seem right, don't hesitate to get it fixed ASAP.
Low Strength Signal From Key Fob To Vehicle
If the key fob doesn't work after being registered and charged, there may be a low-strength signal from the key fob to the vehicle. You can try re-registering the key fob by following the steps in your owner's manual or contacting Honda customer service.
Sometimes if there is too much metal between the battery in the key fob and car door, it can cause a weak signal.
Try cleaning off any dirt or debris on both sides of the contact points between the device and the car door with a dry cloth before trying again to register it.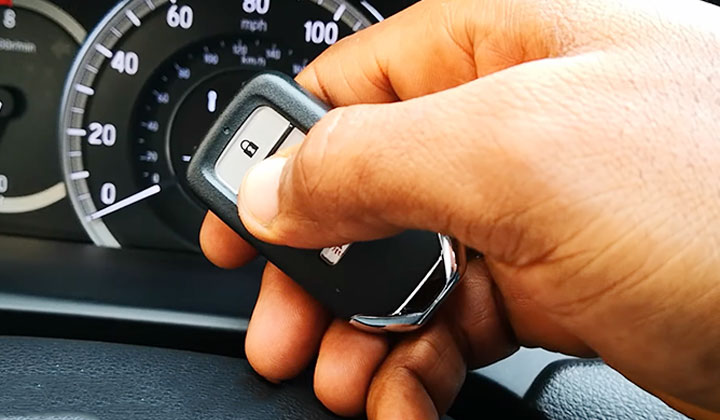 In some cases, if you have lost or misplaced your original Honda Accord Key Fob, you can buy an identical replacement from our website at a discounted price.
Weak Battery
If your Honda Accord key fob doesn't work, there may be a weak battery. Check the battery level in your car's keyless entry system and make sure it is at or above 50%.
Replace the battery if needed and try to program your new fob again. If all else fails, you can take your car to an authorized Honda dealership for help restoring programming or replacing the entire keyless entry system.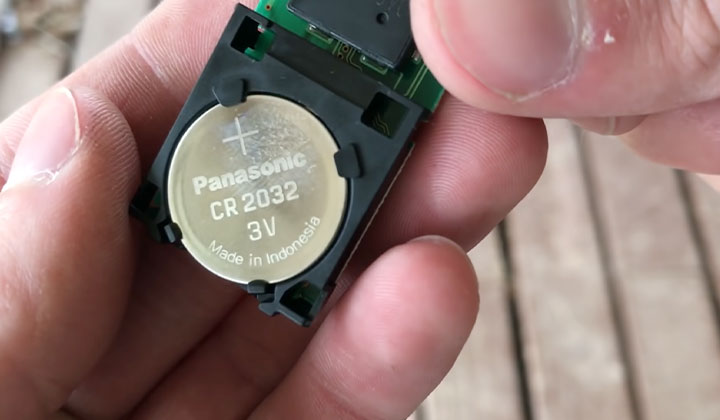 Why won't my key fob work after I changed the battery?
Make sure that the remote fob is receiving power by trying a different battery or re-aligning the button. If you have broken contact, replace the key fob's lock mechanism.
If your car door is locked from the inside, check to see if there is a dead battery within reach or if the car's security system may be malfunctioning.
Finally, in case of a defective lock mechanism, it may be necessary to open your car door and reset the code using your original key.
What interferes with key fobs?
Interference can come from a variety of sources, including automatic door sensors, shopping cart proximity locks, Wi-Fi signals, and security camera systems.
If you have broken key fobs or lost them altogether, try replacing them with new ones or getting an extra set to keep in case yours get damaged or misplaced again.
Keep your keys as close to the sensor on your front door as possible to avoid any problems with unlocking it automatically.
And lastly, if you're concerned about having surveillance cameras installed in your home for added safety and protection against theft (or vandalism), be sure to discuss that option with a professional before making a decision.
How do I reset my Honda Accord key fob?
If your Honda Accord key fob isn't working, first make sure it's turned off. Next, hold down the lock button for 1 second and then release it. Finally, turn the key to the "on" position and repeat these steps two more times.
FAQ
Why did my Honda key fob stop working?
If you've lost your Honda key fob, there's a good chance the battery went dead. If the key fob doesn't seem to be working at all, it could be because of a damaged RFID chip or a faulty radio frequency signal.
Why did my key fob suddenly stop working?
If your key fob doesn't work, there are a few things you can do to troubleshoot the issue.
First of all, check if your key fob battery is dead by trying to insert the spare key into the ignition and turning it on.
If that doesn't work, remove the key from the fob and try inserting it into another car's ignitor.
Do you have to reprogram a Honda key fob after changing the battery?
If you have a new battery and your old key fob doesn't work, you'll need to replace both. You will also need to reprogram your key fob if the battery was dead or if you changed it yourself.
The process is easy–it only takes about 10 seconds. Even if the old battery was dead, you still need to program the new one into your remote control.
Why isn't my key fob unlocking my car?
If your key fob isn't unlocking your car, there are a few things you can do to check the battery and wiring. If the keyless entry antenna or wiring is bad, you may need to replace it. It also prevents key to turn properly.
The unlock button on the key fob may be defective- in this case, replacing it will fix the issue. If your battery is weak, you can try charging it up using a portable charger before trying again to unlock the car with your key fob.
To Recap
There are a few potential causes of the Honda Accord key fob not working, so it is important to inspect the device for any signs of damage or problems.
If there are no obvious issues, try updating the firmware on the key fob and see if that resolves the issue. If all else fails, you may need to replace the key fob.