The 2015 Honda Accord is a popular and well-regarded midsize sedan that offers a blend of comfort, reliability, and performance. Known for its stylish design and advanced features, the Accord has been a consistent favorite among car buyers.
Whether you're interested in the fuel-efficient LX model or the more powerful EX-L V-6 Touring edition, this comprehensive overview will provide you with all the essential information about the 2015 Honda Accord.
From its engine specifications and transmission options to its exterior measurements and interior features, you'll find everything you need to know to make an informed decision about this exceptional vehicle.
So, let's delve into the details and discover what makes the 2015 Honda Accord an impressive choice in the midsize sedan segment.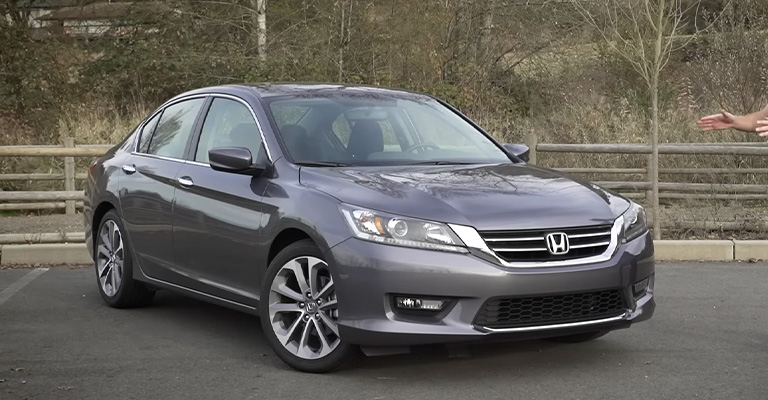 Key Specifications of the 2015 Honda Accord
Engine Type: In-Line 4-Cylinder / V-6
Engine Displacement: 2356 cc / 3471 cc
Horsepower: 185 – 278 hp
Torque: 181 – 252 lb-ft
Transmission Options: 6-speed manual / Continuously Variable Transmission (CVT) / 6-speed automatic
Fuel Efficiency (City/Highway/Combined): 24-27 mpg / 34-36 mpg / 26-31 mpg
Drive Type: Front-wheel drive
Seating Capacity: 5 passengers
Cargo Volume: 15.5 – 15.8 cubic feet
The Good
Strong and efficient engines: The Accord offers a range of engine options that strike a balance between power and fuel efficiency. The available V-6 engine provides impressive performance for those seeking more exhilaration.
Spacious and comfortable interior: With its roomy cabin, the Accord provides ample space for both front and rear passengers. The seats are comfortable and supportive, making long drives more enjoyable.
Advanced safety features: The Accord is equipped with a host of safety features, including forward collision warning, lane departure warning, vehicle stability assist, and anti-lock braking system, ensuring a safe driving experience.
User-friendly technology: The Accord comes with a variety of tech features, such as Bluetooth connectivity, HondaLink infotainment system, touchscreen display, and available navigation, enhancing convenience and entertainment for occupants.
Well-balanced ride and handling: The Accord offers a smooth and composed ride, along with precise steering and agile handling, providing a confident driving experience.
The Bad
Limited rear visibility: The Accord's sleek design can impact rear visibility, especially in the coupe version, which may require extra caution while parking or changing lanes.
Lack of all-wheel drive: The Accord is only available with front-wheel drive, which may not suit those living in areas with harsh weather conditions or seeking enhanced traction.
Improvements Over Previous Models
Compared to previous Honda models in similar segments, the 2015 Honda Accord offers several noteworthy improvements, including:
Refreshed exterior styling: The 2015 Accord features a refreshed design with updated front and rear fascias, giving it a more modern and dynamic appearance.
Enhanced fuel efficiency: The Accord incorporates Honda's Eco Assist system, which helps optimize fuel consumption. Additionally, the continuously variable transmission (CVT) option contributes to improved fuel efficiency compared to previous models.
Advanced safety features: The 2015 Accord introduces new safety features such as forward collision warning and lane departure warning, providing an added layer of protection for drivers and passengers.
Updated technology: The infotainment system receives updates, including the introduction of HondaLink compatibility, allowing seamless integration with smartphones and access to various apps and services.
Refined ride quality: Honda made suspension adjustments to improve the overall ride comfort and handling characteristics, resulting in a smoother and more enjoyable driving experience.
These improvements make the 2015 Honda Accord an appealing option for those seeking a reliable and feature-packed midsize sedan with modern updates over its predecessors.
The Trim Levels of the 2015 Honda Accord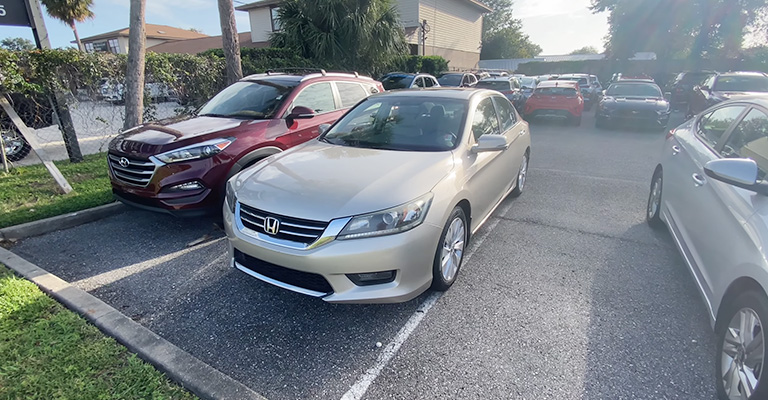 List of Trim Levels with Key Specifications:
LX
The LX trim serves as the base model for the 2015 Honda Accord. It is equipped with a 2.4L inline-4 engine producing 185 horsepower.
The LX offers features like a 160-watt AM/FM/CD audio system with four speakers, Bluetooth HandsFreeLink, dual-zone automatic climate control, and a rearview camera with guidelines.
It also includes Honda's Vehicle Stability Assist (VSA) with traction control and an advanced compatibility engineering body structure for enhanced safety.
Sport
The Sport trim adds a touch of sportiness to the Accord. It features a 2.4L inline-4 engine with 189 horsepower for a slightly higher performance.
The Sport trim includes 18-inch alloy wheels, a rear spoiler, a 10-way power-adjustable driver's seat, and a leather-wrapped steering wheel.
It also offers paddle shifters for models equipped with the available Continuously Variable Transmission (CVT) with Sport mode.
EX
The EX trim level builds upon the LX trim and adds more comfort and convenience features. It retains the 2.4L inline-4 engine with 185 horsepower.
The EX includes features like a one-touch power moonroof, Honda's LaneWatch blind-spot display, a 7-speaker 360-watt audio system, push-button start, and the HondaLink infotainment system with an 8-inch high-resolution display.
EX-L
The EX-L trim brings a touch of luxury to the Accord. It offers the same features as the EX trim but adds leather-trimmed seats, a 4-way power-adjustable front passenger seat, heated front seats, and a 10-way power-adjustable driver's seat with memory function.
The EX-L is available with either the inline-4 engine or a more powerful V-6 engine.
EX-L V-6
The EX-L V-6 trim is similar to the EX-L trim but comes exclusively with a 3.5L V-6 engine producing 278 horsepower. It offers the added performance of a V-6 engine along with all the luxury features of the EX-L trim.
Touring
The Touring trim represents the top-of-the-line model in the 2015 Honda Accord lineup. It includes all the features of the EX-L V-6 trim and adds LED headlights, adaptive cruise control, a navigation system, and a 7-speaker premium audio system.
The Touring trim offers a comprehensive package of luxury, performance, and advanced technology.
Comparison Table of the 2015 Honda Accord Trim Levels
| Trim Level | Engine Options | Key Features |
| --- | --- | --- |
| LX | 2.4L I4 | Rearview camera, Bluetooth, Dual-zone climate |
| Sport | 2.4L I4 | 18″ alloy wheels, Paddle shifters, Rear spoiler |
| EX | 2.4L I4 | One-touch moonroof, LaneWatch, HondaLink |
| EX-L | 2.4L I4 / V-6 | Leather seats, Heated front seats, Power seats |
| EX-L V-6 | 3.5L V-6 | Same as EX-L + V-6 engine |
| Touring | 3.5L V-6 | LED headlights, Adaptive cruise control, Navi |
Performance of the 2015 Honda Accord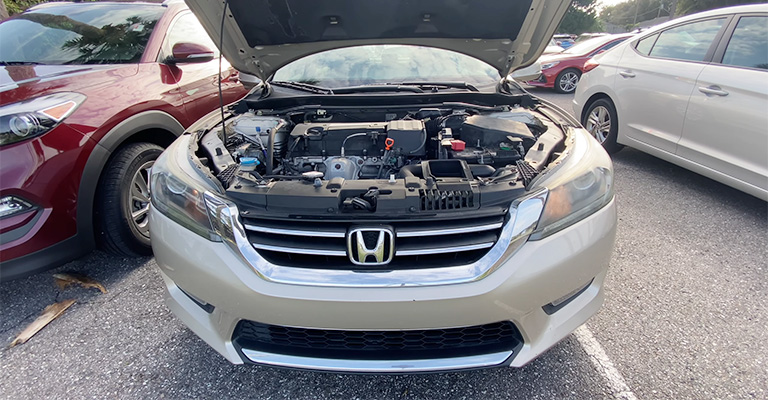 Engine Size, Power, and Type
The 2015 Honda Accord offers two engine options. The base engine is a 2.4L inline-4 cylinder engine, while the higher trims feature a more powerful 3.5L V-6 engine.
Horsepower (Hp)
The horsepower output varies depending on the engine choice. The 2.4L inline-4 engine produces 185 horsepower, providing sufficient power for daily driving and highway cruising.
The 3.5L V-6 engine, available in the EX-L V-6 and Touring trims, delivers an impressive 278 horsepower, offering a more exhilarating and dynamic driving experience.
Torque
The torque output of the 2015 Honda Accord also varies with the engine choice. The 2.4L inline-4 engine generates 181 lb-ft of torque, providing ample low-end torque for smooth acceleration.
The 3.5L V-6 engine produces 252 lb-ft of torque, delivering robust mid-range power and effortless passing maneuvers.
Transmission Options
The 2015 Honda Accord offers multiple transmission options. The base LX and Sport trims come with a 6-speed manual transmission, which provides a more engaging driving experience for enthusiasts.
The Continuously Variable Transmission (CVT) is available across all trims, offering smooth and efficient performance. The higher trims, such as the EX-L V-6 and Touring, offer a 6-speed automatic transmission for enhanced power delivery and control.
Fuel Efficiency
The 2015 Honda Accord is known for its impressive fuel efficiency in the midsize sedan segment.
With the base 2.4L inline-4 engine and CVT, the Accord achieves fuel economy ratings of 27 mpg in the city, 36 mpg on the highway, and a combined rating of 31 mpg.
The V-6 engine has slightly lower fuel efficiency, with ratings of 21 mpg city, 34 mpg highway, and 26 mpg combined.
Suspension and Handling
The 2015 Honda Accord features a well-balanced suspension system, with a MacPherson strut front suspension and a multi-link rear suspension.
This setup provides a comfortable ride quality while maintaining good stability and handling characteristics.
The Accord's precise steering and agile handling make it enjoyable to drive, whether navigating city streets or cruising on the highway.
Braking System
The Accord is equipped with power-assisted ventilated front disc brakes and solid rear disc brakes, providing reliable stopping power.
The braking system offers a responsive pedal feel and efficient braking performance, contributing to the overall safety and control of the vehicle.
Additional Performance Factors
Other performance factors to consider in the 2015 Honda Accord include the power-assisted rack-and-pinion steering system, which offers precise and responsive steering control.
Additionally, the Accord features a well-tuned suspension, optimized weight distribution, and advanced stability control systems, all contributing to its confident and composed performance on the road.
Off-road Ability Depends on Several Factors, Including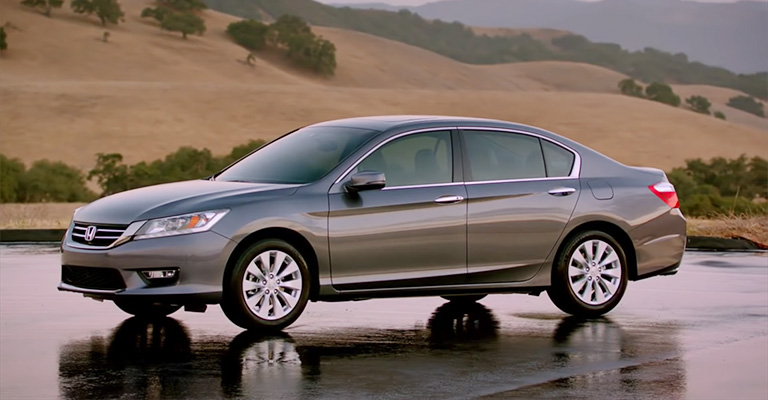 Four-wheel Drive
The 2015 Honda Accord is primarily designed as a front-wheel-drive sedan and does not come with a standard four-wheel-drive (4WD) system. It is not specifically built or optimized for off-road adventures.
However, the front-wheel-drive configuration provides good traction on various road surfaces and is suitable for most everyday driving situations.
Ground Clearance
The ground clearance of the 2015 Honda Accord measures approximately 5.8 inches. While this ground clearance is sufficient for navigating normal road conditions, it may limit the car's ability to tackle more challenging off-road terrains.
The Accord's lower ground clearance is better suited for on-road performance and efficiency rather than off-road adventures.
Traction System
The Honda Accord is equipped with Honda's Vehicle Stability Assist (VSA) with traction control, which helps optimize traction and stability on different road surfaces.
While this system enhances the car's performance and safety on paved roads, it is not specifically designed for off-road conditions.
Towing Capacity
The 2015 Honda Accord presents a diverse lineup of trims to cater to a wide range of preferences and needs. The Sport Hybrid variant stands out with its innovative powertrain, combining a 2.0L unleaded petrol engine with an electric motor.
Equipped with a speed continuous variable transmission, this hybrid model offers impressive fuel efficiency while producing zero emissions.
However, it should be noted that the Sport Hybrid trim has a braked capacity of 0kg, indicating that it is not designed for towing purposes.
For those seeking a more traditional petrol-powered sedan, the V6-L, VTi, VTi-L, and VTi-S trims are available. The V6-L boasts a robust 3.5L engine paired with a 6-speed automatic transmission, providing ample power and performance.
With a braked capacity of 1600kg, this variant is capable of towing moderate loads. The VTi, VTi-L, and VTi-S trims feature a 2.4L engine and a 5-speed automatic transmission, offering a balance of efficiency and performance.
These trims also share the same braked capacity of 1600kg, allowing them to handle towing requirements effectively.
| 2015 Honda Accord | Specs | Braked capacity |
| --- | --- | --- |
| Sport Hybrid | 2.0L, Unleaded Petrol/Electric, SPEED CONTINUOUS VARIABLE | 0kg |
| V6-L | 3.5L, Unleaded Petrol, 6 SPEED AUTOMATIC | 1600kg |
| VTi | 2.4L, Unleaded Petrol, 5 SPEED AUTOMATIC | 1600kg |
| VTi-L | 2.4L, Unleaded Petrol, 5 SPEED AUTOMATIC | 1600kg |
| VTi-S | 2.4L, Unleaded Petrol, 5 SPEED AUTOMATIC | 1600kg |
Cargo Space and Storage
The 2015 Honda Accord offers a decent amount of cargo space, with a trunk volume of approximately 15.8 cubic feet.
While this provides ample room for everyday items and luggage, it may not be ideal for carrying large or bulky off-road equipment.
The Accord's cargo space is more suitable for regular passenger use rather than off-road gear.
Other Considerations
It's important to note that the Honda Accord's design and features are primarily focused on providing a comfortable and efficient driving experience on paved roads.
While it may handle light off-road conditions, such as gravel or dirt roads, it is not intended for more demanding off-road adventures.
If you require a vehicle specifically designed for off-road capabilities, it is recommended to explore other options such as SUVs or trucks with dedicated off-road features and capabilities.
Exterior and Styling of the 2015 Honda Accord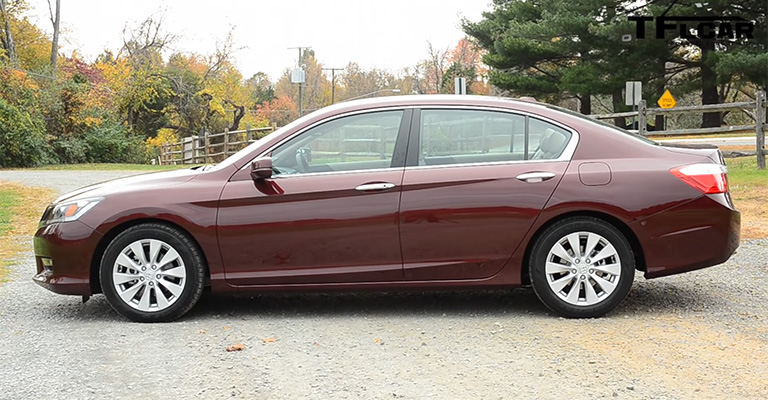 The 2015 Honda Accord features a sleek and sophisticated exterior design that exudes a sense of modernity and elegance. Its aerodynamic profile is complemented by well-defined character lines and a stylish front grille.
The Accord's overall exterior styling is refined and appealing, making it an attractive choice in the midsize sedan segment.
The availability of features such as LED headlights, fog lights, and a power moonroof adds to the car's visual appeal and functionality.
Interior Design and Aesthetics
Inside the 2015 Honda Accord, you'll find a well-crafted and comfortable interior that reflects Honda's commitment to quality and attention to detail.
The cabin features high-quality materials, refined surfaces, and a clean layout. The design aesthetic is modern and driver-focused, with intuitive controls and a user-friendly interface.
The Accord offers a spacious and well-appointed interior that provides ample room for passengers and a comfortable driving experience.
Smooth Driving Experience
The 2015 Honda Accord is known for its smooth and refined driving experience. It delivers a balanced combination of comfort and performance, making it a pleasant car to drive in its segment.
The Accord's suspension system effectively absorbs road imperfections, providing a smooth and controlled ride. The well-tuned steering and responsive handling contribute to its overall driving dynamics.
Compared to other car models in its segment, the Accord stands out for its excellent ride comfort and refined driving characteristics.
Ergonomics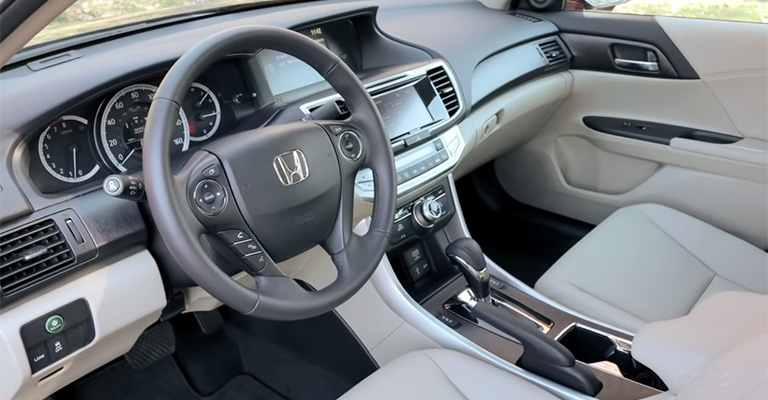 Upper Dashboard Size
The upper dashboard of the 2015 Honda Accord is well-designed, offering a good balance between functionality and aesthetics. The placement and size of controls and displays are well-thought-out, allowing for easy reach and visibility.
Driving Position
The Accord provides a comfortable and adjustable driving position, allowing drivers of various sizes to find their preferred seating posture.
The seat adjustments, along with the adjustable steering column, enable drivers to customize their driving position for optimal comfort and control.
Controls and Instrumentation
The controls and instrumentation in the Accord are logically placed and easy to use. The buttons, knobs, and switches have a quality feel and provide tactile feedback.
The instrument cluster features clear and legible gauges, ensuring that essential information is easily accessible to the driver.
Visibility and Sightlines
The Accord offers good visibility from the driver's seat, with well-positioned pillars and large windows. The side mirrors provide adequate coverage, and the rearview camera, available in higher trims, enhances visibility while parking or maneuvering in tight spaces.
Comfort and Seating
The 2015 Honda Accord provides comfortable seating for both the driver and passengers. The seats offer adequate support and cushioning, ensuring long-distance comfort.
The available leather-trimmed seats in higher trims add a touch of luxury to the interior. The rear seats offer ample legroom and headroom, making them suitable for adult passengers.
Additional Ergonomic Features
The Accord incorporates other ergonomic features, such as well-placed cup holders, conveniently located storage compartments, and thoughtful amenities like illuminated vanity mirrors and a sunglasses holder.
These elements enhance the overall comfort and convenience for occupants during their journeys.
Safety Features and Iihs Safety Ratings
The 2015 Honda Accord comes equipped with a range of safety features designed to provide a secure driving experience. Some of the notable safety features available in the Accord include:
Vehicle Stability Assist™ (VSA®) with Traction Control: Helps enhance stability and traction on various road surfaces.
Anti-Lock Braking System (ABS): Helps prevent wheel lock-up during braking to maintain steering control.
Forward Collision Warning (FCW): Available in certain trims, it alerts the driver if a potential frontal collision is detected.
Lane Departure Warning (LDW): Available in certain trims, it alerts the driver when the vehicle drifts out of the detected lane without using the turn signal.
Multiple Airbags: The Accord is equipped with dual-stage front airbags, front side airbags, and side curtain airbags to help protect occupants in the event of a collision.
Advanced Compatibility EngineeringTM (ACETM) Body Structure: Honda's proprietary body structure is designed to absorb and disperse crash energy, enhancing occupant protection.
In terms of safety ratings, the Insurance Institute for Highway Safety (IIHS) awarded the 2015 Honda Accord with excellent scores in various crash tests.
It received the highest rating of "Good" in the moderate overlap front, side, roof strength, and head restraint tests.
Warranty Coverage and Reliability
Honda provides warranty coverage for the 2015 Accord to give customers peace of mind. The standard warranty package for the Accord typically includes:
Basic Warranty: Typically covers the vehicle for 3 years or 36,000 miles, whichever comes first.
Powertrain Warranty: Generally covers the engine, transmission, and other powertrain components for 5 years or 60,000 miles, whichever comes first.
Corrosion Warranty: Usually covers corrosion damage to specific components for a period of time.
Honda has a reputation for building reliable vehicles, and the Accord is no exception. However, reliability can vary based on factors such as proper maintenance, driving habits, and environmental conditions.
It is recommended to follow the manufacturer's maintenance schedule and address any issues promptly to ensure optimal reliability.
Life Expectancy
The life expectancy of a 2015 Honda Accord can vary depending on several factors, including maintenance, driving conditions, and usage.
With proper care and regular maintenance, the Accord has the potential to last well over 100,000 miles or more.
Honda vehicles, including the Accord, have a reputation for longevity and durability, making them a popular choice among long-term vehicle owners.
Oil Type Used
The recommended oil type for the 2015 Honda Accord can vary based on the engine variant and other factors.
It is important to refer to the owner's manual or consult with a certified Honda service center for the specific oil type and viscosity grade that should be used in the Accord.
Using the recommended oil type and following the manufacturer's guidelines for oil changes can help maintain engine performance and longevity.
Problems
While the 2015 Honda Accord generally has a good reputation for reliability, it is important to note that no vehicle is entirely free from potential issues.
Some common problems reported by owners of the 2015 Accord include transmission-related concerns, such as hesitation or rough shifting in certain automatic transmission models.
It is advisable to stay up-to-date with any recalls or technical service bulletins related to the specific model year and address any concerns promptly with an authorized Honda dealership or qualified mechanic.
Regular maintenance and adhering to the manufacturer's guidelines can help minimize the occurrence of potential problems and ensure the longevity of the vehicle.
Other Honda Accord Models –