The 2017 Honda Accord is a popular and well-regarded midsize sedan that offers a winning combination of style, performance, and reliability. Known for its solid build quality and comfortable ride, the Accord has consistently been one of the top choices in its segment.
This comprehensive guide provides detailed information about the various trim levels, engine options, transmission choices, exterior and interior measurements, safety features, and technology offerings available in the 2017 Honda Accord.
Whether you're interested in the engine specifications, fuel efficiency ratings, or the convenience and comfort features, this guide covers everything you need to know about the 2017 Honda Accord.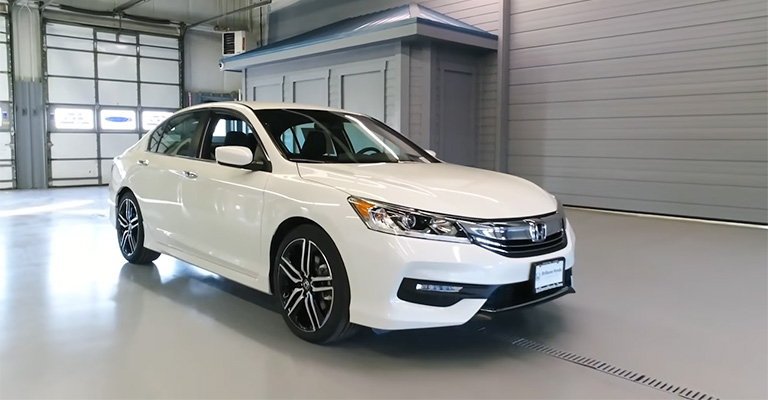 Key Specifications of the 2017 Honda Accord
Engine Type: Inline 4-cylinder or V6
Displacement: 2,356 cc (4-cylinder), 3,471 cc (V6)
Horsepower: 185-278 hp, depending on trim level and engine
Torque: 181-252 lb-ft, depending on trim level and engine
Transmission: 6-speed manual, continuously variable transmission (CVT), or 6-speed automatic
Fuel Efficiency: City/Highway/Combined ranges from 23/32/26 MPG to 27/36/30 MPG, depending on trim and transmission
Drive Type: Front-wheel drive
Seating Capacity: 5 passengers
Cargo Volume: 15.5-15.8 cubic feet, depending on trim
The Good
Strong reputation for reliability and resale value. .
Comfortable and spacious interior.
Smooth and composed ride quality.
Fuel-efficient engines, especially with the 4-cylinder option.
Well-designed and intuitive infotainment system.
Advanced safety features available, such as forward collision warning and lane departure warning.
Wide range of trim levels and options to suit different preferences and budgets.
The Bad
Limited availability of advanced safety features on lower trim levels.
Rear visibility can be hindered by thick roof pillars. . .
Some competitors offer more engaging handling and sportier driving dynamics. .
Lack of all-wheel drive option.
Improvements Over Previous Models
Compared to previous Honda models of similar segments, the 2017 Honda Accord introduced several noteworthy improvements:.
Available advanced safety features: The 2017 Accord offered features like forward collision warning, lane departure warning, and collision mitigation braking system (CMBS) on higher trim levels, enhancing overall safety and driver assistance.
Revised exterior styling: The Accord received updated front and rear fascias, a bolder grille design, and revised LED taillights, giving it a more modern and stylish appearance.
Upgraded infotainment system: The 2017 Accord introduced an improved touchscreen infotainment system with a higher-resolution display and enhanced functionality. It included features like Bluetooth connectivity, Pandora compatibility, and available Apple CarPlay and Android Auto integration.
Refined interior: The cabin of the 2017 Accord showcased higher-quality materials, improved fit and finish, and increased sound insulation, resulting in a more comfortable and refined driving experience.
Expanded availability of Honda Sensing: Honda Sensing, a suite of advanced driver assistance features, became available on more trim levels of the 2017 Accord. It included features like adaptive cruise control, lane keeping assist, and road departure mitigation, enhancing overall safety and convenience.
These improvements made the 2017 Honda Accord a more appealing choice, offering updated styling, enhanced technology, improved safety features, and a refined driving experience compared to its predecessors.
The Trim Levels of the 2017 Honda Accord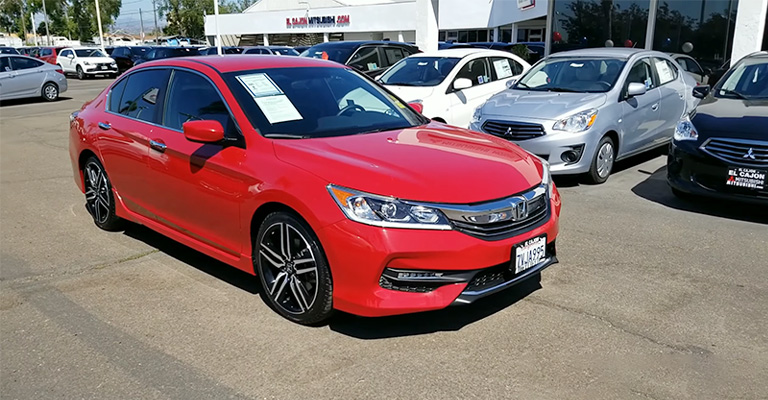 The 2017 Honda Accord was available in several trim levels, each offering a unique set of features and specifications. Here are the main trim levels of the 2017 Honda Accord:
LX
The LX trim served as the base model of the Accord lineup. It came equipped with a 2.4L inline-4 engine producing 185 horsepower and 181 lb-ft of torque.
Standard features included dual-zone automatic climate control, Bluetooth connectivity, a multi-angle rearview camera, and a 7-speaker audio system.
Sport
The Sport trim added sportier styling cues and enhancements. It featured 19-inch alloy wheels, a rear spoiler, LED daytime running lights, fog lights, and a leather-wrapped steering wheel. The Sport trim offered the same engine and transmission options as the LX trim.
EX
Moving up to the EX trim, additional features included a power moonroof, keyless entry with push-button start, Honda's LaneWatch blind-spot display system, a 7-inch touchscreen display, and Apple CarPlay and Android Auto compatibility.
EX-L
The EX-L trim added luxury-oriented features such as leather-trimmed seats, a 10-way power-adjustable driver's seat with memory function, a 4-way power-adjustable front passenger seat, and heated front seats.
The EX-L also offered the choice of a 2.4L inline-4 engine or a more powerful 3.5L V6 engine.
Touring
Sitting at the top of the lineup, the Touring trim boasted the most advanced features. It came standard with the V6 engine, along with LED headlights, adaptive cruise control, forward collision warning, lane departure warning, navigation, and a premium 7-speaker audio system.
Comparison Table of the 2017 Honda Accord Trim Levels
| Trim Level | LX | Sport | EX | EX-L | Touring |
| --- | --- | --- | --- | --- | --- |
| Engine | 2.4L I4 | 2.4L I4 | 2.4L I4 | 2.4L I4 | 3.5L V6 |
| Horsepower | 185 | 189 | 185 | 185 | 278 |
| Torque | 181 lb-ft | 182 lb-ft | 181 lb-ft | 181 lb-ft | 252 lb-ft |
| Transmission | 6-speed Manual or CVT | 6-speed Manual or CVT | CVT | CVT or 6-speed Automatic | 6-speed Automatic |
| Features | Dual-zone automatic climate control, Bluetooth, Multi-angle rearview camera | Sporty exterior enhancements, Leather-wrapped steering wheel, LED DRLs | Power moonroof, Keyless entry with push-button start, 7-inch touchscreen | Leather-trimmed seats, 10-way power driver's seat, Heated front seats | LED headlights, Adaptive cruise control, Navigation, Premium audio |
Performance of the 2017 Honda Accord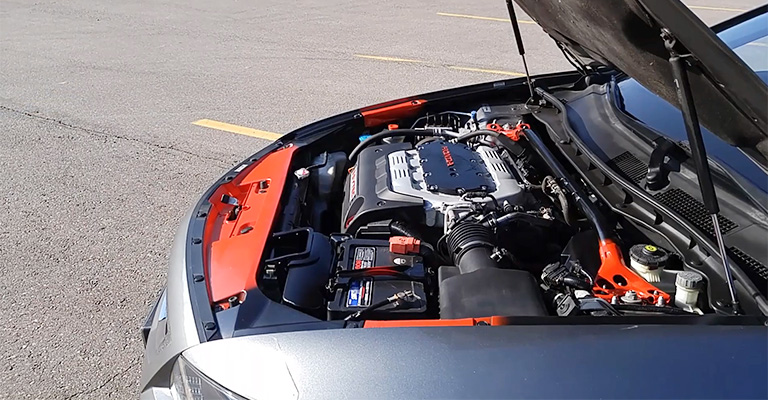 Engine Size, Power, and Type
The 2017 Honda Accord offered two engine options. The base engine was a 2.4L inline-4 cylinder engine, which delivered 185 horsepower. For those seeking more power, there was a 3.5L V6 engine available in higher trim levels, producing an impressive 278 horsepower.
Both engines featured Honda's renowned i-VTEC technology for improved efficiency and performance.
Horsepower
With 185 horsepower in the base engine and 278 horsepower in the V6 engine, the 2017 Honda Accord offered ample power for most driving situations. The horsepower output provided a satisfying acceleration and ensured a confident driving experience, especially in the V6 variant.
Torque
The 2017 Accord's torque output was 181 lb-ft for the inline-4 engine, and the V6 engine generated 252 lb-ft of torque.
Torque is a measure of rotational force, and a higher torque value generally indicates improved low-end power and acceleration.
The Accord's torque figures allowed for smooth and responsive performance, contributing to enjoyable driving dynamics.
Transmission Options
The 2017 Honda Accord provided different transmission options based on the trim level and engine choice. The base LX and Sport trims offered a choice between a 6-speed manual transmission or a Continuously Variable Transmission (CVT).
The higher trims, such as the EX, EX-L, and Touring, were equipped with a CVT as the standard transmission. The transmission options influenced the car's performance by offering a balance between manual control and smooth, efficient shifting in the CVT variants.
Fuel Efficiency
The 2017 Accord excelled in terms of fuel efficiency. The inline-4 engine with the CVT transmission achieved an EPA-estimated fuel economy of 27 mpg city, 36 mpg highway, and a combined rating of 30 mpg.
The V6 engine, although more powerful, delivered slightly lower fuel efficiency ratings with an estimated 21 mpg city, 33 mpg highway, and a combined rating of 25 mpg.
These fuel efficiency numbers made the Accord an economical choice for daily commuting and long-distance driving.
Suspension and Handling
The 2017 Honda Accord featured a well-tuned suspension system for a comfortable and composed ride. It utilized a MacPherson strut front suspension and a multi-link rear suspension, providing a balanced combination of smoothness and agility.
The Accord's handling was praised for its precise steering, responsive cornering, and stable road manners, making it enjoyable to drive both in city traffic and on winding roads.
Braking System
The braking system of the 2017 Accord included power-assisted ventilated front disc brakes and solid rear disc brakes. The specific brake sizes varied depending on the trim level.
The Accord's braking performance was highly effective, providing responsive and confident stopping power.
The braking system was complemented by various safety features like Vehicle Stability Assist (VSA) and anti-lock braking system (ABS), further enhancing the overall braking performance.
Additional Performance Factors
Some other performance factors that could be considered for the 2017 Honda Accord include:
Acceleration: The Accord showcased impressive acceleration capabilities, especially with the V6 engine, allowing for quick merging and overtaking maneuvers.
Handling Stability: The Accord's chassis and suspension setup contributed to its stability during high-speed maneuvers and provided a confident driving experience.
Weight Distribution: The Accord's weight distribution played a role in its balanced handling characteristics and contributed to improved traction and stability.
Top Speed: While specific top speed figures may vary based on various factors, the Accord had a good potential for reaching highway speeds comfortably.
Off-road Ability Depends on Several Factors, Including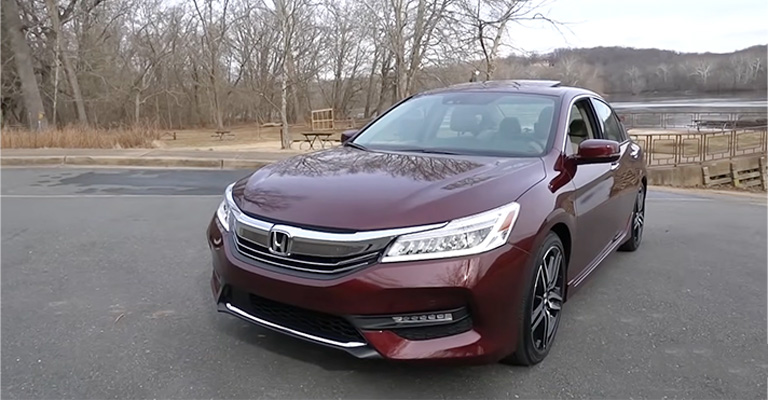 Four-wheel Drive
The 2017 Honda Accord is primarily a front-wheel-drive sedan and does not come equipped with four-wheel drive (4WD) or all-wheel drive (AWD) as standard.
It is designed more for on-road performance and efficiency rather than off-road adventures. However, the absence of 4WD doesn't necessarily limit its ability to handle occasional light off-road conditions.
Ground Clearance
The ground clearance of the 2017 Accord measures approximately 5.8 inches (varies slightly based on trim level and load). While this ground clearance is suitable for most paved roads and moderate off-road conditions, it may not be ideal for tackling challenging off-road terrains.
The Accord's lower ground clearance makes it more suitable for urban and highway driving rather than serious off-roading.
Traction System
The 2017 Accord is equipped with Honda's Vehicle Stability Assist (VSA) system, which helps enhance traction and stability on various road surfaces. While this system can improve grip in certain situations, it is not specifically designed for off-road performance.
Towing Capacity
The 2017 Honda Accord offers a selection of trims designed to cater to different driving preferences. The V6-L variant is powered by a robust 3.5L unleaded petrol engine paired with a 6-speed automatic transmission.
With a braked capacity of 1600kg, this trim is well-equipped to handle moderate towing needs.
The VTi and VTi-L trims feature a 2.4L unleaded petrol engine and a 6-speed automatic transmission, providing a balance of performance and efficiency.
Like the V6-L, these trims also offer a braked capacity of 1600kg, indicating their capability for towing similar loads.
Whether you opt for the powerful V6-L or choose the VTi or VTi-L with their 2.4L engines, the 2017 Honda Accord delivers a range of options to suit various driving preferences.
With their shared braked capacity of 1600kg, these trims ensure that you can confidently tow medium-sized loads while enjoying the performance and comfort that the Accord has to offer.
| 2017 Honda Accord | Specs | Braked capacity |
| --- | --- | --- |
| V6-L | 3.5L, Unleaded Petrol, 6 SPEED AUTOMATIC | 1600kg |
| VTi | 2.4L, Unleaded Petrol, 6 SPEED AUTOMATIC | 1600kg |
| VTi-L | 2.4L, Unleaded Petrol, 6 SPEED AUTOMATIC | 1600kg |
Cargo Space and Storage
The 2017 Accord offers a decent amount of cargo space with a trunk volume of approximately 15.8 cubic feet. This space is adequate for everyday items, groceries, or luggage.
However, for off-roading adventures that require carrying larger equipment or additional cargo, the limited cargo volume may pose some limitations. It is recommended to plan and pack accordingly for off-road trips.
Additional Considerations
When venturing off-road in the 2017 Honda Accord, it is important to consider its limitations. While it may handle light off-road conditions, it is primarily designed as a comfortable and efficient sedan for on-road driving.
It is not equipped with specialized off-road features such as dedicated off-road suspension, skid plates, or reinforced underbody components.
Therefore, it is advisable to exercise caution and ensure the chosen off-road routes are within the Accord's capabilities.
Exterior and Styling of the 2017 Honda Accord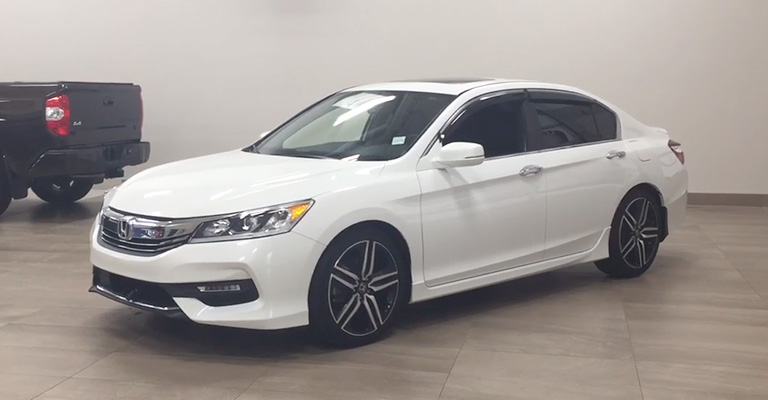 The 2017 Honda Accord showcases a sleek and sophisticated exterior design that has stood the test of time. With its clean lines, aerodynamic profile, and refined styling cues, the Accord exudes a sense of elegance and modernity.
The front fascia features a bold grille, complemented by stylish headlights and available LED daytime running lights.
The sculpted body lines add a touch of athleticism to the overall appearance, while the rear end features distinctive taillights and a subtle integrated decklid spoiler (available on select trims).
Overall, the exterior of the 2017 Accord strikes a perfect balance between timeless appeal and contemporary design elements.
Interior Designs and Aesthetics
Step inside the 2017 Honda Accord, and you'll find a thoughtfully designed and well-appointed interior. The cabin offers a clean and uncluttered layout with high-quality materials and meticulous attention to detail.
The seats are comfortable and supportive, providing ample space for both the driver and passengers. The dashboard features a user-friendly design, with intuitive controls and a logical placement of buttons and knobs.
Depending on the trim level, you may find premium features such as leather upholstery, woodgrain accents, and soft-touch surfaces, further enhancing the overall aesthetics of the interior.
Driving Smoothness
The 2017 Honda Accord is known for its smooth and composed driving experience. With its well-tuned suspension system and precise steering, the Accord delivers a comfortable and controlled ride, both on highways and city streets.
The suspension absorbs bumps and road imperfections with ease, providing a smooth and balanced ride quality. Compared to other car models in its segment, the Accord's suspension setup strikes a good balance between comfort and sportiness, offering a refined driving experience that is both engaging and enjoyable.
Ergonomics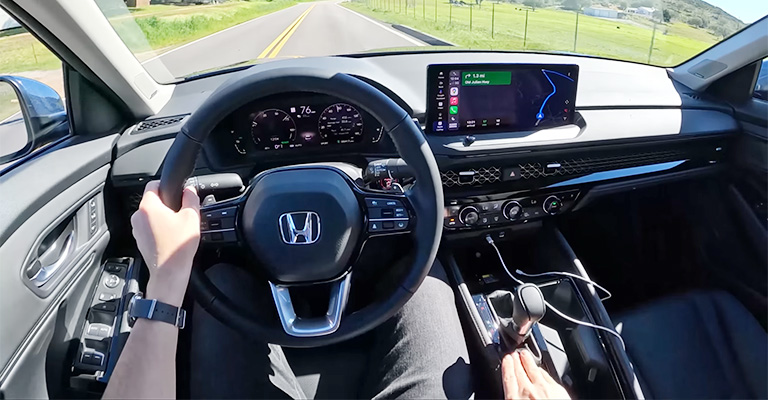 Upper Dashboard Size
The upper dashboard of the 2017 Accord provides a clean and uncluttered layout, with a focus on functionality and ease of use.
The size of the upper dashboard is well-proportioned, offering clear visibility of essential information and controls without obstructing the driver's line of sight.
Driving Position
The Accord offers a well-designed driving position that promotes comfort and good visibility. The seats are adjustable, allowing drivers of different heights to find their ideal position.
The placement of the pedals, steering wheel, and controls is ergonomic, ensuring a natural and comfortable driving posture.
Controls and Instrumentation
The controls and instrumentation in the 2017 Accord are well-laid out and user-friendly. The buttons and knobs are logically placed and within easy reach, allowing for intuitive operation while minimizing distractions.
The instrument cluster provides clear and legible information, keeping the driver informed of essential vehicle data.
Visibility and Sightlines
The Accord prioritizes visibility, with large windows and thin roof pillars that enhance all-around visibility. This design feature contributes to a better view of the road and minimizes blind spots, making lane changes and maneuvering easier and safer.
Comfort and Seating
The Accord offers comfortable and supportive seating for both the driver and passengers. The seats provide adequate cushioning and lumbar support, ensuring long-lasting comfort, even on extended journeys.
The rear seats offer ample legroom and headroom, allowing passengers to relax and enjoy the ride.
Additional Considerations
In terms of ergonomics, the 2017 Accord excels in providing a driver-centric and user-friendly environment.
Features such as a tilt and telescopic steering column, easily accessible storage compartments, and well-placed cup holders further enhance the overall ergonomic experience.
Safety Features and Iihs Safety Ratings
The 2017 Honda Accord comes equipped with a wide range of advanced safety features to ensure the safety of its occupants. These features may vary depending on the trim level and optional packages.
Some of the key safety features available in the 2017 Accord include:
Advanced Compatibility Engineering™ (ACE™) body structure.
Anti-lock Braking System (ABS).
Vehicle Stability Assist™ (VSA®) with Traction Control.
Multi-angle rearview camera with guidelines.
Tire Pressure Monitoring System (TPMS).
Daytime Running Lights (DRL).
Advanced front airbags, front side airbags, and side curtain airbags.
Lane Departure Warning (LDW).
Forward Collision Warning (FCW).
Collision Mitigation Braking System™ (CMBS™).
Adaptive Cruise Control (ACC).
In terms of safety ratings, the 2017 Honda Accord received top marks in various crash tests conducted by the Insurance Institute for Highway Safety (IIHS).
It achieved the highest rating of "Good" in the moderate overlap front, side, roof strength, and head restraints & seats tests.
Additionally, it was rated as "Superior" for front crash prevention with the available Honda Sensing® suite of safety and driver-assistive technologies.
Warranty Coverage and Reliability
The 2017 Honda Accord comes with a comprehensive warranty coverage package. Honda offers a limited warranty that covers the vehicle for 3 years or 36,000 miles, whichever comes first.
Additionally, it provides a powertrain warranty for 5 years or 60,000 miles, and corrosion coverage for 5 years with unlimited mileage.
Honda is known for its reputation for reliability, and the Accord has a long-standing history of dependability. The Accord's reliability is attributed to Honda's commitment to quality manufacturing and engineering.
Regular maintenance and following the manufacturer's recommended service schedule will contribute to the long-term reliability of the vehicle.
Life Expectancy
The life expectancy of a 2017 Honda Accord can vary depending on various factors such as maintenance, driving conditions, and individual usage. With proper care and maintenance, including regular servicing, the Accord has the potential to last well beyond 100,000 miles and continue to provide reliable transportation for many years.
Honda vehicles, including the Accord, are known for their longevity and durability, and with proper care, they can often exceed expectations in terms of life expectancy.
Oil Type Used
The 2017 Honda Accord typically requires synthetic oil. It is recommended to use the oil viscosity grade and type specified in the owner's manual for optimal performance and protection.
It's important to follow the manufacturer's guidelines and use high-quality oils that meet the required specifications to ensure proper lubrication and engine longevity.
Problems
Like any vehicle model, the 2017 Honda Accord may experience certain issues or problems. However, it's important to note that the occurrence and severity of problems can vary between individual vehicles.
Some common issues reported by owners of the 2017 Accord include:
Transmission problems: Some owners have reported issues with the automatic transmission, such as rough shifting or hesitation.
Battery drain: Some owners have experienced battery draining issues, which may require investigation and potential repairs.
Infotainment system glitches: Some users have reported occasional malfunctions or glitches with the infotainment system, such as freezing or restarting.
It's worth mentioning that Honda has a strong reputation for addressing such issues and providing appropriate solutions through recalls, technical service bulletins, or warranty coverage.
If you encounter any problems with your 2017 Accord, it is advisable to consult with a certified Honda dealership or authorized service center to address the specific issue.
Other Honda Accord Models –