The 2014 Honda Accord is a popular and well-regarded vehicle known for its reliability, comfort, and fuel efficiency.
Available in both sedan and coupe body styles, the Accord offers a range of features and options to suit different preferences.
Under the hood, it offers a choice of engines, including a powerful V6 option. The Accord also boasts a well-designed and spacious interior, providing ample room for passengers and cargo.
In terms of safety, it comes equipped with advanced features to enhance driver and passenger protection. Whether you're looking for a comfortable daily driver or a stylish and sporty coupe, the Honda Accord 2014 has something to offer.
We will explore the key specifications, features, and options of the Accord, providing you with all the information you need to know about this popular vehicle.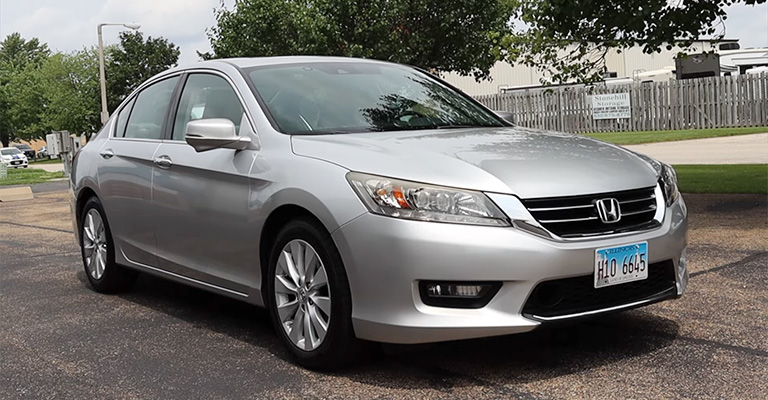 Key Specifications of the 2014 Honda Accord
Engine Options: The 2014 Accord offers two engine options: a 2.4L inline-4 cylinder engine and a 3.5L V6 engine.
Transmission Options: It is available with a 6-speed manual transmission, a continuously variable transmission (CVT), or a 6-speed automatic transmission.
Horsepower: The inline-4 cylinder engine produces 185 horsepower, while the V6 engine generates 278 horsepower.
Fuel Efficiency: The Accord achieves excellent fuel efficiency, with the inline-4 cylinder engine providing an EPA-estimated 27 city/36 highway mpg (with CVT) and the V6 engine offering an estimated 21 city/34 highway mpg.
Interior Space: The Accord provides a spacious and comfortable interior, with seating for up to five passengers and ample legroom and headroom in both the front and rear seats.
Cargo Capacity: It offers a generous trunk space of 15.8 cubic feet, providing plenty of room for luggage or other belongings.
The Good
Reliability: The Honda Accord 2014 is known for its reliability, making it a dependable choice for daily commuting and long-distance travel.
Fuel Efficiency: With its efficient engines and aerodynamic design, the Accord offers excellent fuel efficiency, helping to save on fuel costs.
Comfortable Interior: The Accord features well-cushioned seats and a spacious cabin, providing a comfortable driving and riding experience for all occupants.
Smooth Ride: Thanks to its refined suspension system, the Accord delivers a smooth and comfortable ride, absorbing bumps and road imperfections with ease.
Advanced Safety Features: It comes equipped with a range of advanced safety features, such as stability control, antilock brakes, and a rearview camera, enhancing driver and passenger safety.
The Bad
Limited Rear Visibility: Some drivers may find the rear visibility to be slightly restricted due to the Accord's sloping roofline and thick rear pillars.
Lack of Standard Features: The base trim of the 2014 Accord does not come with certain features that are commonly found in competitors' base models, such as a touchscreen infotainment system or smartphone integration.
Road Noise: While the Accord offers a comfortable ride, some reviewers have noted that there can be noticeable road noise at higher speeds.
Improvements Compared to Previous Models
Enhanced Fuel Efficiency: The 2014 Accord introduced improved fuel efficiency compared to its previous models, thanks to features like direct injection and an available CVT.
Increased Power: The V6 engine option in the 2014 Accord received a power boost, providing more horsepower compared to previous iterations, resulting in improved acceleration and performance.
Refined Styling: The 2014 Accord received updated exterior styling, giving it a more modern and aerodynamic appearance.
Advanced Safety Features: Honda incorporated additional advanced safety features into the 2014 Accord, such as lane departure warning and forward collision warning systems, which were not available in previous models.
Improved Technology: The 2014 Accord introduced an updated infotainment system with a larger display screen and improved functionality, offering features like Bluetooth connectivity, Pandora compatibility, and available HondaLink with Aha integration.
These improvements in the 2014 Honda Accord enhanced its fuel efficiency, power, safety, and technology, making it a more competitive choice within its segment compared to previous Honda models.
The Trim Levels of the Honda Accord 2014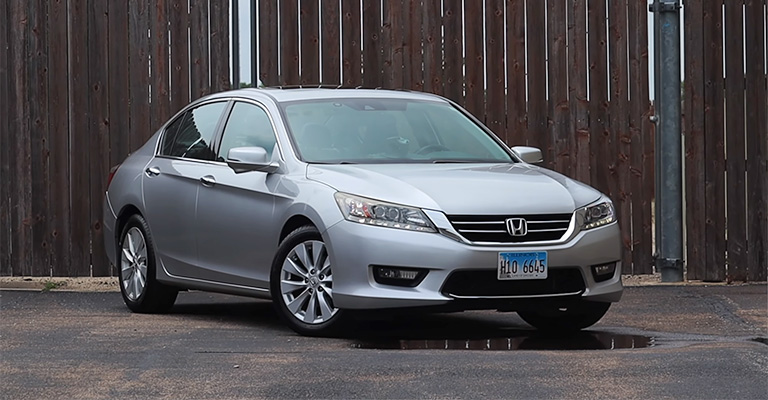 The 2014 Honda Accord is available in multiple trim levels, each offering its own set of features and specifications. Here are the trim levels of the Accord 2014 with key specifications.
LX
The LX trim is the base model and comes equipped with a 2.4L inline-4 cylinder engine producing 185 horsepower. It offers features like dual-zone automatic climate control, Bluetooth HandsFreeLink, a rearview camera, and an 8-inch intelligent Multi-Information Display (i-MID).
Sport
The Sport trim adds a sportier touch to the Accord, featuring larger 18-inch alloy wheels, a rear spoiler, fog lights, and a leather-wrapped steering wheel with paddle shifters.
It also includes a 10-way power-adjustable driver's seat and a 160-watt audio system with six speakers.
EX
The EX trim level includes all the features of the LX trim and adds a power moonroof, Smart Entry with push-button start, heated front seats, Honda LaneWatch blind spot display, and a 360-watt premium audio system with seven speakers and a subwoofer.
EX-L
The EX-L trim offers additional luxury features such as leather-trimmed seats, a four-way power-adjustable front passenger seat, driver's seat memory, and a one-touch power moonroof.
It also includes the Lane Departure Warning system and the Forward Collision Warning system.
EX-L V6
The EX-L V6 trim includes a powerful 3.5L V6 engine producing 278 horsepower. It offers all the features of the EX-L trim but with the added performance of the V6 engine.
Touring
The top-of-the-line Touring trim combines luxury and performance, featuring LED headlights, adaptive cruise control, a navigation system with voice recognition, and a 10-speaker premium audio system.
It also includes the HondaLink infotainment system with Aha integration.
Comparison Table of the 2014 Honda Accord Trim Levels
| Trim Level | Key Features |
| --- | --- |
| LX | 2.4L inline-4 engine, dual-zone climate control, rearview camera, Bluetooth, 8-inch i-MID |
| Sport | 18-inch alloy wheels, leather-wrapped steering wheel, 10-way power driver's seat |
| EX | Power moonroof, Smart Entry, LaneWatch, heated front seats, 360-watt premium audio |
| EX-L | Leather-trimmed seats, power front passenger seat, driver's seat memory, Lane Departure Warning, Forward Collision Warning |
| EX-L V6 | 3.5L V6 engine, all features of EX-L trim with added performance |
| Touring | LED headlights, adaptive cruise control, navigation system, 10-speaker premium audio, HondaLink with Aha integration |
Performance of the 2014 Accord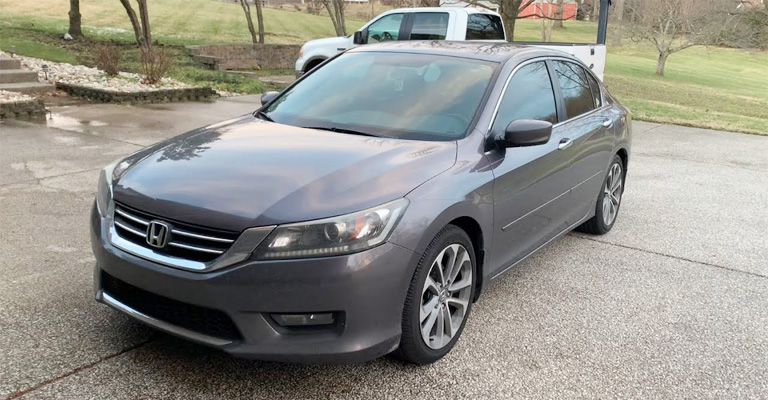 Engine Size, Power, and Type
The Accord 2014 offers two engine options. The base engine is a 2.4L inline-4 cylinder engine, while the higher trim levels come with a more powerful 3.5L V6 engine.
Horsepower (Hp)
The inline-4-cylinder engine produces 185 horsepower, providing sufficient power for daily driving and highway cruising. The V6 engine, on the other hand, delivers an impressive 278 horsepower, offering a more exhilarating and responsive driving experience.
Torque
The torque output of the inline-4 cylinder engine is 181 lb-ft, while the V6 engine generates 252 lb-ft of torque. The torque provided by these engines contributes to quick acceleration and passing power, allowing for confident overtaking on the road.
Transmission Options
The 2014 Honda Accord offers multiple transmission options to suit different driving preferences. It is available with a 6-speed manual transmission, a continuously variable transmission (CVT), or a 6-speed automatic transmission.
The choice of transmission can impact the car's performance, with the manual transmission offering a more engaging driving experience and the CVT providing smooth and efficient power delivery.
Fuel Efficiency
The Honda Accord 2014 is known for its impressive fuel efficiency. With the inline-4 cylinder engine and CVT, it achieves an EPA-estimated 27 city/36 highway mpg, making it an economical choice for daily commuting and long-distance travel.
Suspension and Handling
The Accord features a well-engineered suspension system, with a MacPherson strut front suspension and an independent multi-link rear suspension. This setup allows for a balanced and composed ride, providing a comfortable and controlled driving experience.
The Accord's handling is precise and responsive, making it enjoyable to maneuver through corners and navigate city streets.
Braking System
The 2014 Accord is equipped with a power-assisted ventilated front disc and solid rear disc braking system. This system offers reliable stopping power, ensuring confident braking performance and responsiveness when needed.
Additional Performance Factors
Acceleration: The Accord's engines provide smooth and responsive acceleration, allowing for quick merging and passing on highways.
Redline: The redline of both the inline-4 cylinder and V6 engines is set at 6800 rpm, indicating their capability to deliver power at high engine speeds.
Weight Distribution: The Accord's weight distribution between the front and rear axles contributes to its balanced handling and stability on the road.
Electric Power Steering: The Accord is equipped with electric power-assisted rack-and-pinion steering, which offers precise and responsive steering control.
These performance factors collectively contribute to the 2014 Honda Accord's reputation for delivering a comfortable, efficient, and enjoyable driving experience, whether in daily commuting or on longer journeys.
Off-road Ability Depends on Several Factors, Including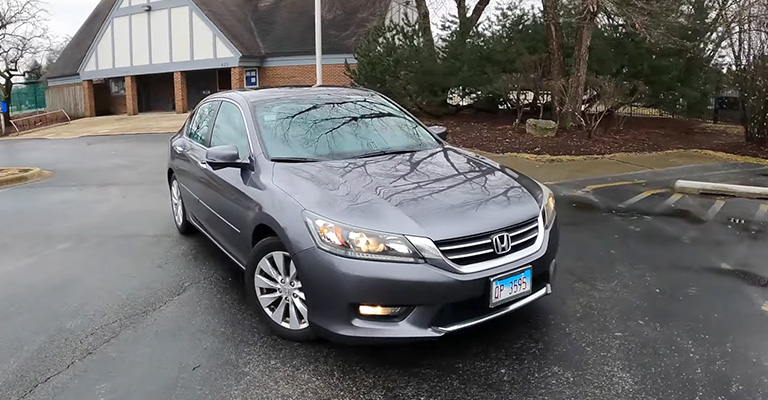 Off-road ability depends on several factors that determine a vehicle's capability to handle off-road conditions.
Let's explore these factors in relation to the 2014 Honda Accord:
Four-wheel Drive (4wd)
This car does not come with four-wheel drive (4WD) as a standard feature. It is primarily designed as a front-wheel-drive vehicle, which is more suitable for on-road driving.
The absence of 4WD limits its off-road capabilities compared to dedicated off-road vehicles.
Ground Clearance
The ground clearance of is approximately 5.8 inches (varies slightly depending on the trim level and tire size).
While this ground clearance is sufficient for traversing moderately rough roads, it may not be ideal for more challenging off-road terrains. The Accord's lower ground clearance prioritizes on-road handling and stability.
Traction System
The 2014 Accord is equipped with a traction control system that helps enhance stability and traction on slippery or uneven road surfaces.
However, it is important to note that the Accord's traction system is primarily designed to assist in maintaining grip during normal on-road conditions and may not be optimized for demanding off-road situations.
Towing Capacity
The 2014 Honda Accord offers a range of trims, each tailored to meet specific preferences and requirements. The V6-L variant is equipped with a robust 3.5L engine that runs on unleaded petrol and is paired with a 6-speed automatic transmission.
With a braked capacity of 1600kg, this trim is capable of towing medium-sized loads effortlessly. The VTi, VTi-L, and VTi-S trims all feature a 2.4L engine and a 5-speed automatic transmission.
These trims, like the V6-L, also offer a braked capacity of 1600kg, ensuring they can handle towing demands effectively.
Whether you opt for the V6-L with its powerful engine or any of the 2.4L trims, the 2014 Honda Accord delivers a blend of performance, fuel efficiency, and towing capabilities to suit diverse driving needs.
| 2014 Honda Accord | Specs | Braked capacity |
| --- | --- | --- |
| V6-L | 3.5L, Unleaded Petrol, 6 SPEED AUTOMATIC | 1600kg |
| VTi | 2.4L, Unleaded Petrol, 5 SPEED AUTOMATIC | 1600kg |
| VTi-L | 2.4L, Unleaded Petrol, 5 SPEED AUTOMATIC | 1600kg |
| VTi-S | 2.4L, Unleaded Petrol, 5 SPEED AUTOMATIC | 1600kg |
Cargo Space and Storage
The 2014 Accord provides a spacious interior with ample cargo volume. The sedan model offers a trunk capacity of 15.8 cubic feet, allowing for sufficient storage of luggage and essentials.
The coupe variant has a slightly smaller trunk capacity of 13.4 cubic feet. While these cargo volumes are suitable for carrying equipment or supplies, they do not cater specifically to off-road adventures that may require additional storage for off-road gear.
Additional Considerations
It is important to note that the 2014 Honda Accord is primarily designed as a comfortable and efficient midsize sedan or coupe for everyday driving.
While it may handle light off-road conditions, it is not intended or optimized for rugged off-road excursions or extreme terrain.
If you are seeking a vehicle with dedicated off-road capabilities, you may want to explore Honda's lineup of SUVs or trucks, which are better suited for off-road adventures.
Always exercise caution and evaluate the conditions before venturing off-road with any vehicle. Off-road driving may require specialized equipment, skills, and a vehicle specifically designed for such purposes.
Exterior and Styling of the 2014 Honda Accord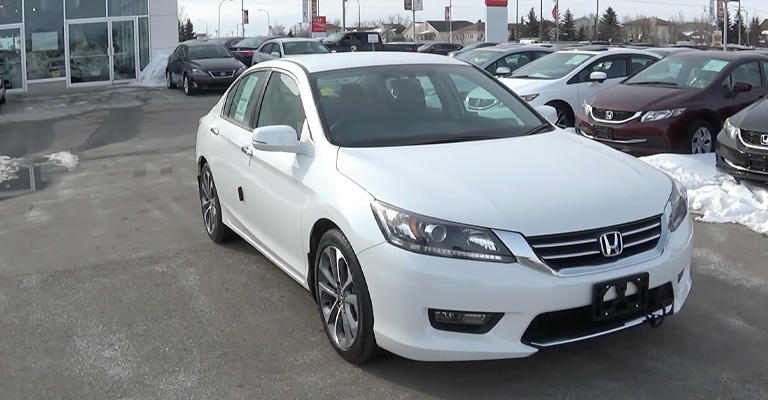 The 2014 Honda Accord boasts an attractive and modern exterior design. Its sleek lines and aerodynamic profile give it a refined and sporty appearance.
The front fascia features a bold grille design, flanked by stylish headlights that provide excellent illumination. The sculpted body panels and well-defined character lines contribute to its dynamic and sophisticated look.
With its well-proportioned dimensions and tasteful styling elements, the Accord exudes a sense of elegance and contemporary appeal.
Interior Design and Aesthetics
Step inside the 2014 Honda Accord, and you'll be greeted by a thoughtfully designed interior. The cabin offers a harmonious blend of style and functionality.
High-quality materials and finishes create a refined ambiance, while the modern layout ensures easy accessibility to controls and features. The interior design is clean and uncluttered, providing a visually appealing and inviting atmosphere.
Attention to detail is evident in the fit and finish, contributing to an overall sense of quality and craftsmanship.
Driving Smoothness
The 2014 Honda Accord is known for its smooth and comfortable driving experience. The suspension system effectively absorbs road imperfections, delivering a supple ride quality.
The well-tuned chassis and responsive steering contribute to precise handling and maneuverability, making it enjoyable to drive both in city traffic and on the highway.
Compared to other car models in its segment, the Accord's driving smoothness stands out, providing a balance between comfort and engaging dynamics.
Ergonomics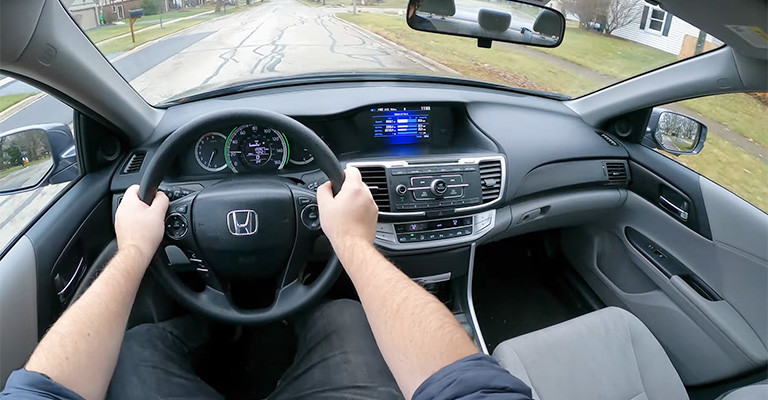 Upper Dashboard Size
The upper dashboard of the 2014 Accord offers a well-proportioned size, providing an optimal view of essential information displayed on the instrument cluster and the central infotainment screen.
The layout ensures that key information is easily visible and within the driver's line of sight.
Driving Position
The Accord offers a comfortable and adjustable driving position. The seats are ergonomically designed to provide adequate support and comfort for extended periods of driving.
The driver's seat typically features multiple power adjustments, allowing drivers to find their preferred seating position easily.
Controls and Instrumentation
The placement of controls and instrumentation in the Accord is intuitive and driver-friendly. Essential controls such as audio, climate, and cruise control are logically positioned and within reach, minimizing distraction.
The instrument cluster provides clear and easy-to-read gauges, offering crucial information at a glance.
Visibility and Sightlines
The 2014 Accord prioritizes good visibility and sightlines, enhancing safety and maneuverability. The expansive windshield and well-sized side windows provide a broad field of vision, minimizing blind spots.
Additionally, thoughtful design elements such as slim pillars and well-positioned side mirrors contribute to excellent visibility and enhance overall driving confidence.
Comfort and Seating
The Accord offers comfortable seating for both the driver and passengers. The seats are well-padded and supportive, providing adequate cushioning for long drives.
The rear seats offer ample legroom and headroom, ensuring a pleasant experience for rear passengers as well. The cabin is designed to minimize road and wind noise, contributing to a quiet and serene environment.
Additional Considerations
The Accord's ergonomics prioritize driver comfort and convenience. Features such as a tilt and telescopic steering column, well-placed storage compartments, and easily accessible cup holders enhance the overall user experience.
Attention to detail in the placement of controls and the overall layout of the cabin ensures that everything is within easy reach and promotes a seamless and user-friendly driving experience.
Safety Features and Iihs Safety Ratings
The 2014 Honda Accord is equipped with a comprehensive range of safety features to provide enhanced protection for both the driver and passengers. Some notable safety features include:
Advanced Compatibility Engineering™ (ACE™) body structure: This design feature helps distribute crash energy evenly and enhances occupant protection in the event of a collision.
Dual-stage, multiple-threshold front airbags: These airbags deploy with varying levels of force based on crash severity to provide optimal protection.
Side curtain airbags with rollover sensor: In the event of a side impact or rollover, the side curtain airbags deploy to protect occupants' heads.
Anti-lock Braking System (ABS) with Electronic Brake Distribution (EBD): ABS helps prevent wheel lockup during sudden braking, while EBD ensures proper distribution of braking force to all wheels for improved stability.
Vehicle Stability Assist™ (VSA®) with Traction Control: VSA® helps enhance stability during cornering and mitigates understeer or oversteer situations, while traction control improves grip in low-traction conditions.
Tire Pressure Monitoring System (TPMS Light): This system alerts the driver if any of the tires have low air pressure, helping to maintain proper tire inflation and optimize safety.
In terms of safety ratings, the 2014 Honda Accord performed well in crash tests conducted by the Insurance Institute for Highway Safety (IIHS).
It received the highest rating of "Good" in the moderate overlap front, side, roof strength, and head restraints and seats categories, earning it the IIHS Top Safety Pick designation.
Warranty Coverage and Reliability
The 2014 Honda Accord comes with a comprehensive warranty package to provide peace of mind to owners. Honda offers a 3-year/36,000-mile limited warranty, which covers the repair or replacement of any defective parts due to material or workmanship issues.
Additionally, it includes a 5-year/60,000-mile powertrain warranty, ensuring coverage for major powertrain components.
In terms of reliability, Honda has a longstanding reputation for building reliable vehicles, and the Accord is no exception. With proper maintenance and care, the 2014 Accord has the potential to provide reliable performance and longevity.
Life Expectancy
The life expectancy of a vehicle can vary depending on various factors, including maintenance, driving conditions, and driving habits. With regular maintenance and proper care, the 2014 Honda Accord has the potential to provide a long service life.
Many Accord owners have reported driving their vehicles well over 150,000 miles and beyond. However, it's important to note that individual experiences may vary.
Oil Type Used
The 2014 Honda Accord typically requires the use of 5W-20 viscosity engine oil. It is recommended to refer to the owner's manual or consult with a certified Honda technician to ensure the use of the correct oil type and specifications for optimal engine performance.
Problems
While the 2014 Honda Accord generally enjoys a good reputation for reliability, like any vehicle, it may experience some issues over time.
Common problems reported by owners of the 2014 Accord include transmission issues, such as shifting concerns or delayed engagement, and electrical issues related to the infotainment system or power accessories.
It's important to note that these issues may not be representative of every Accord, and Honda has been proactive in addressing them through recalls or technical service bulletins.
Regular maintenance and prompt attention to any potential issues can help mitigate and resolve problems effectively.
Other Honda Accord Models –