The Honda Accord Hybrid is a popular midsize sedan that combines fuel efficiency with a comfortable driving experience.
One of the features that set the Accord Hybrid apart from its competitors is the EV Mode, an innovative technology that allows the car to operate solely on electric power.
The EV Mode feature on the Honda Accord Hybrid can be used to reduce fuel consumption and emissions.
This feature is designed to work in specific driving conditions, and it enables drivers to drive using only the electric motor, without using gasoline.
By understanding how to use the EV Mode feature, drivers can maximize the benefits of their Accord Hybrid's hybrid powertrain, improving fuel efficiency, and reducing their carbon footprint.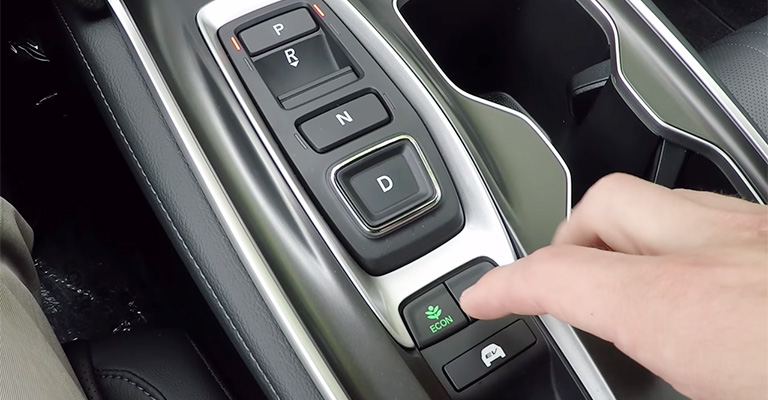 Honda Accord Hybrid Three Drive Modes
The 2023 Honda Accord Hybrid is capable of running solely on stored electricity under certain conditions
With three driving modes, the Accord Hybrid can select the most fuel-efficient mode for the driving conditions. As a result of three power modes, the Accord Hybrid is able to operate at its optimum efficiency.
The Display Audio or, if equipped, Driver Information Interface provides power flow indicators to the driver. In EV Drive, the Accord Hybrid is powered solely by an electric motor and lithium-ion batteries.
The EV button can be used to select this mode and to use it for short distances. Electricity is supplied to the drive motor by the generator driven by the engine in Hybrid Drive.
During highway speeds, an engine drive clutch engages to mechanically link the engine to the front wheels.
What Does EV Mean In Honda Hybrid?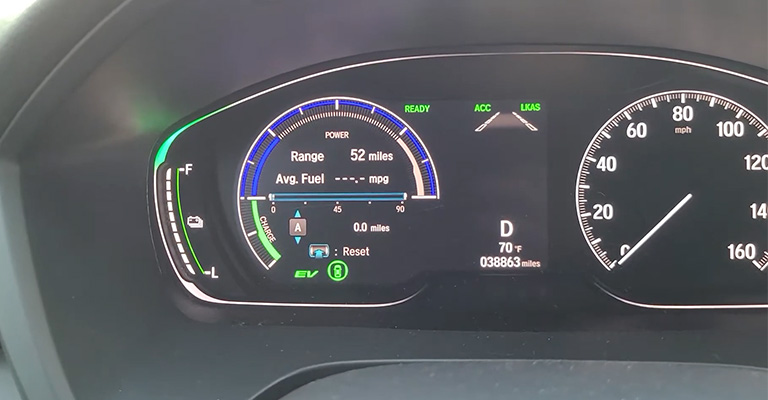 "EV" in Honda Hybrid refers to the electric-only mode of the vehicle, which allows it to run on electric power alone.
When the vehicle is in EV mode, the gasoline engine is not running and the car is powered solely by the electric motor and the battery pack.
This is one of the driving modes available in Honda Hybrid vehicles, and it is designed to be used in low-speed situations such as stop-and-go traffic or parking.
In some Honda Hybrid models, the EV mode can also be activated manually by the driver using a button or a switch on the dashboard.
How Do You Use EV Mode On A Honda Hybrid?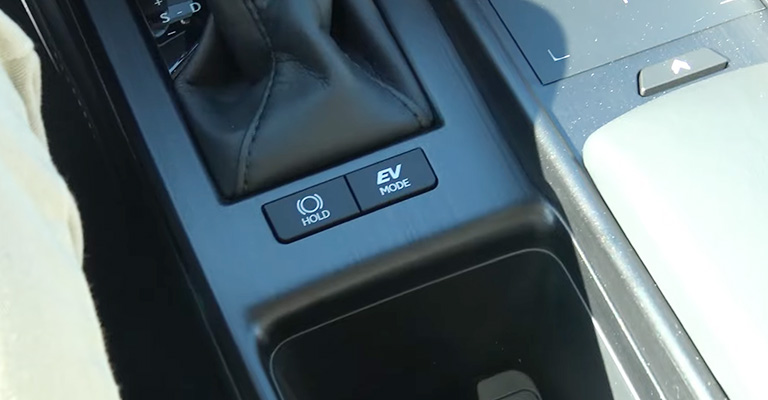 The method for activating the EV mode on a Honda hybrid varies depending on the specific model and year of the vehicle, but here are some general steps that should work for most Honda hybrids:
Check that the vehicle's battery level is sufficient to power the electric motor. In general, Honda Hybrids will only activate EV mode when the battery has a certain amount of charge remaining.
Start the vehicle and put it into "Drive" or "Reverse" mode.
Look for a button or switch on the dashboard labeled "EV" or "EV Mode." Press or toggle this button to activate EV mode.
Depending on the vehicle, you may need to be driving at a low speed for EV mode to engage. Check your owner's manual for specifics on the speed requirements for your Honda Hybrid.
Drive the vehicle as normal while in EV mode. The gasoline engine should not turn on while the car is in this mode but keep in mind that the range and power of the electric motor may be limited.
To exit EV mode and return to normal hybrid operation, simply press the EV button again or accelerate more aggressively to require more power than the electric motor can provide. The vehicle will then switch back to hybrid mode and use both the gasoline engine and electric motor to power the car.
How Far Can Accord Hybrid Go On EV Mode?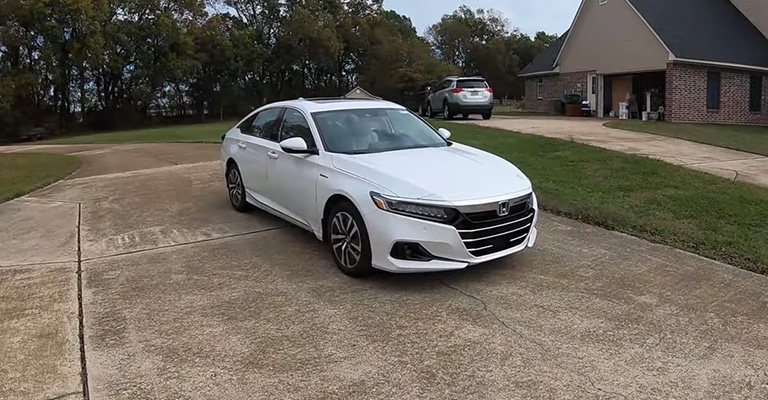 The distance that a Honda Accord Hybrid can travel in EV mode varies depending on a number of factors, such as the age and condition of the vehicle's battery pack, the outside temperature, and the driving conditions.
In general, the EV range for the Honda Accord Hybrid is relatively short, as the vehicle is primarily designed to operate in a hybrid mode, where both the gasoline engine and electric motor work together.
According to Honda's specifications, the Accord Hybrid can travel up to one mile on electric power alone at speeds up to 43 to 47 mph in optimal conditions.
However, this range may be shorter in colder temperatures or if the battery is not fully charged.
Keep in mind that the Accord Hybrid's EV mode is intended for low-speed driving, such as in traffic or parking situations, and is not designed for extended use.
How Long Should EV Mode Last?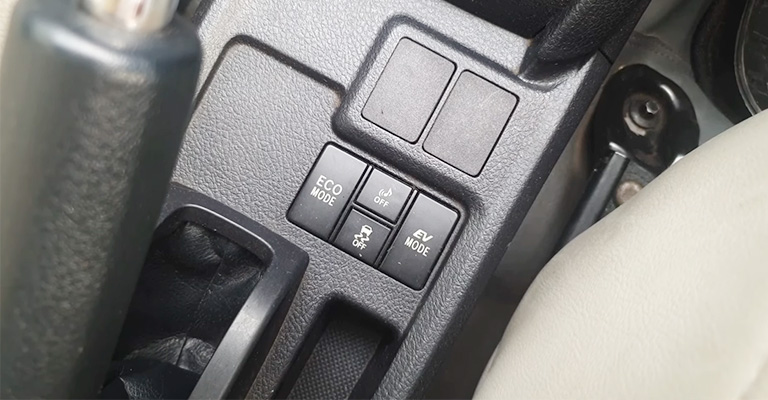 The duration of EV mode in a hybrid vehicle varies depending on several factors, including the specific make and model of the vehicle, the age and condition of the battery pack, and driving conditions.
In general, the EV mode in most hybrid vehicles is designed to operate at low speeds, typically under 25-30 mph, and for short distances, usually a mile or less.
This is because the battery pack in a hybrid vehicle is relatively small compared to that of a pure electric vehicle, and is intended to provide supplemental power to the gasoline engine rather than serve as the primary source of power.
Therefore, it's important to remember that EV mode in a hybrid vehicle is not meant to last for extended periods of time, but rather to provide an option for driving short distances at low speeds without using gasoline.
The duration of EV mode will depend on the specific vehicle and driving conditions, but it is generally only a few minutes at a time.
The gasoline engine will automatically engage when more power is needed, such as when driving at higher speeds or when the battery charge is depleted.
When Should You Use EV Mode?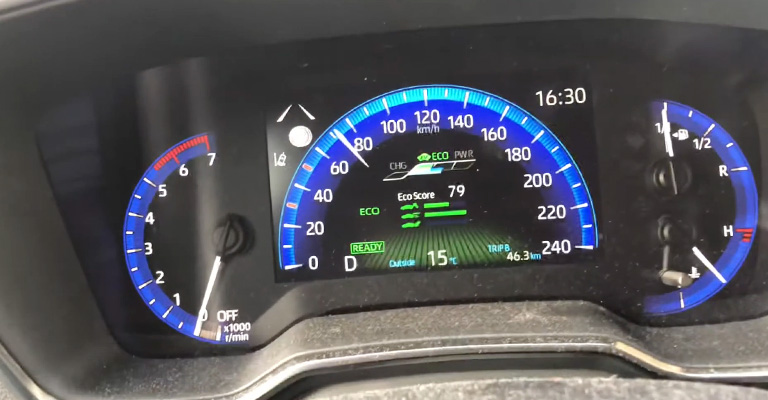 You should use EV mode in a hybrid vehicle when you want to drive short distances at low speeds and in areas where gasoline engines are not allowed or preferred, such as parking lots or residential areas. Here are some situations where you may want to use EV mode in a hybrid vehicle:
Slow-speed driving: EV mode is most effective at low speeds, typically under 25-30 mph. In heavy traffic, parking lots, or other low-speed situations, you can use EV mode to drive without using gasoline.
Noise and emissions restrictions: In some areas, noise and emissions regulations may limit the use of gasoline engines, particularly in residential neighborhoods or city centers. EV mode can be used in these areas to reduce emissions and noise pollution.
Fuel economy: Driving in EV mode can improve the fuel economy of your hybrid vehicle. If you have a short commute or are driving in an area with a lot of stop-and-go traffic, using EV mode can help you save on gas.
Battery charging: Using EV mode can help charge the battery pack in your hybrid vehicle. When you use EV mode, the electric motor draws power from the battery pack, which can help recharge the battery over time.
Keep in mind that the duration and effectiveness of EV mode will depend on the specific vehicle and driving conditions and that it is generally intended for short-distance, low-speed driving. Consult your vehicle's owner manual for guidance on using EV mode in your specific hybrid vehicle.
Can I Use EV Mode On the Highway?
The use of EV mode in a hybrid vehicle on the highway is generally limited. Hybrid vehicles are designed to operate in a way that maximizes fuel efficiency, which means that the gasoline engine and electric motor work together to provide power as needed.
In general, the EV mode in a hybrid vehicle is intended for low-speed, stop-and-go driving, and is not designed for sustained highway speeds.
While some hybrid vehicles may have an EV mode that can be used at higher speeds, it is important to keep in mind that using EV mode at high speeds will drain the battery quickly and reduce the vehicle's overall fuel efficiency.
In addition, the electric motor may not provide enough power to maintain highway speeds, which could result in slower acceleration and reduced safety.
Therefore, it is generally not recommended to use EV mode on the highway in a hybrid vehicle, unless the vehicle is specifically designed for high-speed electric-only driving, such as some plug-in hybrid electric vehicles (PHEVs).
In most cases, it is best to allow the vehicle's hybrid system to automatically manage the use of the electric motor and gasoline engine to optimize fuel efficiency and performance on the highway.
Why Hybrid Cars Are Better Than EV?
Hybrid cars and electric vehicles (EVs) both have their advantages and disadvantages, and the choice between them depends on your individual needs and preferences.
The emissions of hybrid cars are lower than those of gas-only vehicles, and charging is less complicated than for pure electric vehicles. You might even save money compared to going fully electric in some cases.
Final Words
If you prefer to travel without using any gasoline at all, then switching EV mode on will use the electric motors without the engine being utilized at all.
Understandably, this drive mode offers the least amount of performance but can be useful in situations that call for it, such as when you have to be mindful of the fuel you're burning between fill-ups.